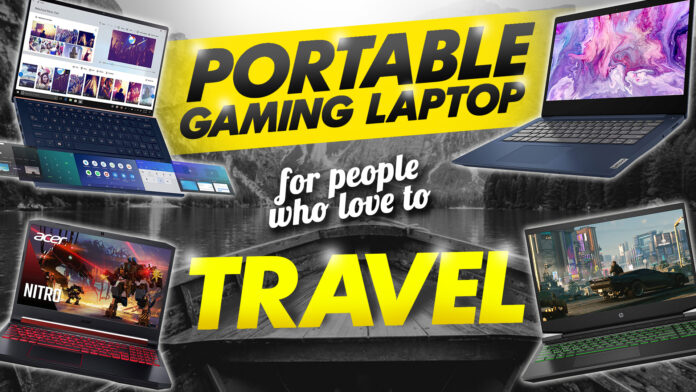 Have you ever dreamed of playing your favorite video games while on a cruise or vacation? If you answered in the affirmative, you should get a portable gaming laptop!
You might think that a portable gaming laptop is not powerful enough to run the latest games. That's a popular misconception because people tend to equate power to bulkiness. Some users even believe that lightweight laptops are only suitable for office work.
Ready to shop around for a portable gaming laptop? Start with our comprehensive reviews!
HP Pavilion 15
Sleek and Powerful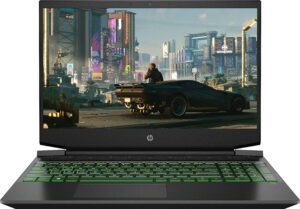 The HP Pavilion 15 is one of the most reliable gaming laptops on the market. It packs powerful hardware inside a sleek and lightweight chassis to strike a balance between portability and performance. If you want to play titles like Cyberpunk 2077, PlayerUnknown's Battlegrounds, and No Man's Sky at decent settings, this laptop is worth considering.
The Pavilion 15 houses an AMD Ryzen 5 4600H and an NVIDIA GeForce GTX 1650 to offer desktop-level performance on a portable device. One of its most outstanding features is the excellent cooling capability and stellar battery life that allow for extended gaming sessions.
The only downside of the Pavilion 15 is its low onboard memory. You might want to consider upgrading it in the future to take full advantage of the other powerful components.
Acer Nitro 5
For the Gaming Enthusiast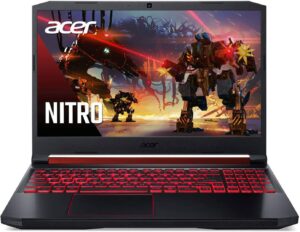 If you value style and performance, take a look at Acer Nitro 5. This portable gaming laptop runs on an Intel Core i5-9300H and an NVIDIA GeForce GTX 1650 to handle modern games at reasonable settings without frame rate drops.
The Nitro 5 features a red backlit keyboard that provides a calming ambiance and makes it suitable for night use. The backlighting also complements the black exterior, achieving a sleek and professional style.
One problem with the Nitro 5 is that it has only 8 GB of 2666 MHz DDR4 RAM. You can play previous-generation titles with such a memory capacity, but it may struggle with newer games. Nevertheless, the onboard memory and storage of this laptop are upgradable, allowing you to improve its overall performance down the line.
Lenovo Legion 5
The Real Deal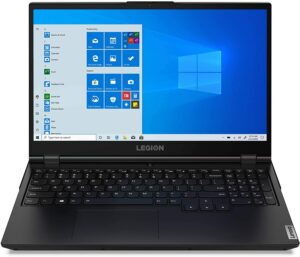 While there are thousands of gaming laptops on the market, very few meet the demands of professional esports players. One such laptop is the Lenovo Legion 5. This particular model has an Intel Core i7-10750H, an NVIDIA GeForce GTX 1660 Ti, and 8 GB of DDR4 RAM to run esports games like Counter-Strike: Global Offensive and League of Legends without a sweat. This laptop also supports a proprietary technology that pushes the processor and the graphics system to their limits so you can experience stable frame rates without thermal throttling.
While the Legion 5 is an undeniable powerhouse, it has some downsides. Its battery is rated for only four hours of gameplay – give and take. Like most of the gaming laptops on this list, it also has unremarkable audio quality, but it can be improved with programs like Twisted Wave and Audio Alter.
MSI GF75
All You Need and More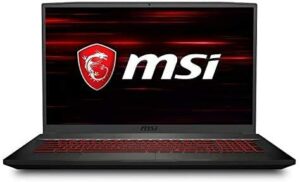 Gaming laptops are so versatile that they are suitable for virtually anyone who needs a powerful portable device. However, not all gaming laptops are made equal, and only a select few, like the MSI GF75, offer all-around functionality. This ultra-lightweight laptop houses an Intel Core i5-10300H paired with an NVIDIA GeForce GTX 1650 and 8 GB of 2666MHz DDR4 RAM to run the latest games at decent settings.
In terms of style, the GF75 features a sleek black finish and a fierce red backlit keyboard that gives it some character. It doesn't have the most aggressive design, making it ideal for office use.
Still, GF75 has its fair share of drawbacks, most notably its fans that get noticeably loud when the laptop performs intensive tasks. The audio is also subpar, and you may want to use a pair of headphones or dedicated speakers for a more immersive experience.
MSI GL65 Leopard
The Meaning of Performance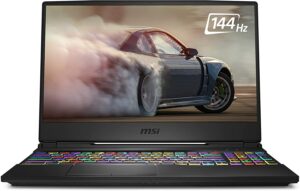 If you're looking for a reliable and portable premium gaming laptop, consider the MSI GL65 Leopard. This laptop effectively combines durability and aesthetics to meet the demands of power users. It is also a popular choice among professional gaming circles because of its excellent hardware.
The GL65 Leopard features an NVIDIA GeForce RTX 2070 to support cutting-edge gaming features like deep learning super sampling and ray tracing. The powerful graphics system is complemented by an Intel Core i7-10750H and 16 GB of 2666 MHz DDR4 RAM, allowing you to run modern games at high to ultra settings. This laptop also boasts a high refresh rate display on a thin-bezel screen to deliver an immersive gaming experience.
The GL65 Leopard has a customizable backlit keyboard that gives it some personality. The keyboard also supports anti-ghosting technology to process simultaneous key presses during heated gaming moments. Sound quality is a drawback for this laptop, but it can be addressed with a dedicated gaming headset.
Prostar NH58DPQ
Built for True Gaming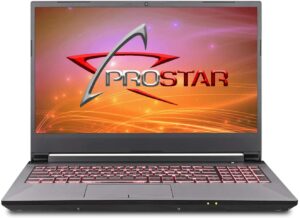 The Prostar NH58DPQ is a lightweight gaming laptop with exceptional hardware under the hood. It houses an Intel Intel Core i7-10870H clocked at 2.20 GHz paired with an NVIDIA GeForce RTX 3060 and 16 GB of 2933 MHz DDR4 RAM to handle virtually anything you throw at it. While you may find the 500 GB SSD inadequate, you are given the option to upgrade to a higher capacity down the line.
One drawback of this gaming laptop is its poor battery life. On average, you can play graphically-intensive games for around two hours. It also has underwhelming speaker quality, but you shouldn't be gaming without a proper headset anyway.
How To Buy a Portable Gaming Laptop – the Smart Way
Even if you have a shortlist of the best portable gaming laptops, you can still end up with the wrong device. It is important that you consider some important factors to ensure you make an informed decision.
Consider Your Budget
Finding a gaming laptop that fits your budget can be difficult, but you have to avoid overspending without compromising performance. If you have a sizable budget, it should be easy to find a laptop suitable for your use case. Conversely, it can be hard to find a portable gaming laptop on a tight budget without compromising on some features.
Portability vs. Power
In the past, laptops were considerably inferior to desktop computers in terms of raw performance. This statement is still true today, but gaming laptops have closed the gap significantly to meet the demands of power users.
While you can get portability and power in one package, it wouldn't hurt to set priorities based on your budget and preferences. If you need an ultra-lightweight laptop for your work vacations, it might be ideal to prioritize portability over power. On the other hand, pick a high-performance gaming laptop if you want to play the most graphically-intensive games and have the case to spare. Some of the most powerful gaming laptops are bulky, but they are perfect for video editing, streaming, and even cryptocurrency mining.
Watch Out for Special Deals
Every now and then, online retail stores like Amazon, eBay, and Alibaba offer special deals on portable gaming laptops. If you're really serious about getting the best laptop promos, check popular tech websites and forums regularly. Some websites even offer exclusive deals, but you must stay vigilant because prices fluctuate all the time.
Assess Your Chosen Games
The hardware capabilities of a gaming laptop should be appropriate for the games you play. For instance, getting a high-end gaming laptop for old titles is counterintuitive and may cause incompatibility issues.
Final Reminders
Even if you're always traveling, you can allocate some time for gaming. You don't even need an ultra-expensive machine that will bust a hole in your wallet. Just pick from any of our suggestions above, and start gaming on the move!
Do you agree with our list of portable gaming laptops? Let us know in the comments section below!