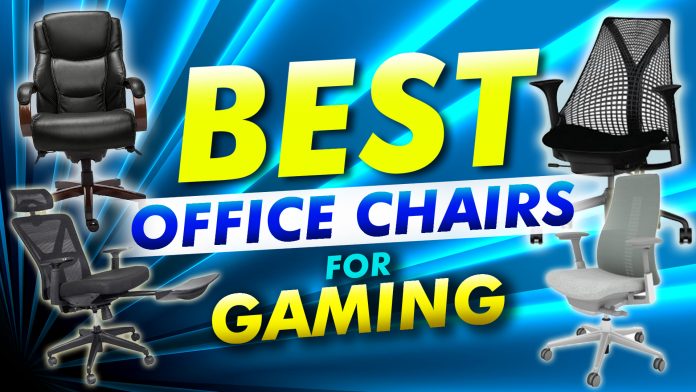 Office chairs are for working in the office while gaming chairs are for gaming. That's the usual concept that comes to mind. But, it's actually not the case at this point in time. As manufacturers dive into ergonomics, more and more office chairs can now be used for gaming.
These office chairs take into account factors such as comfort, adjustability, reduced fatigue, and sitting for long periods of time — the actual things we need when looking for a gaming chair. And much to our delight, office chairs look aesthetically pleasing too!
It seems like office chairs are now the rave for gaming and we're not surprised. They have the features we need for sitting comfortably without experiencing back pains and body aches. So, we dug deep into the top office chairs that can be used for gaming to give you the best possible options the market can offer.
The best office chairs for gamers at a glance:
1. La-Z-Boy Delano Big & Tall Executive Office Chair
Best For Big & Tall Gamers
Colors: Black With Mahogany Wood Finish, Black With Weathered Gray Wood, Brown, Brown With Weathered Gray Wood | Material: Leather | Dimensions: 32.35 x 27.5 x 28.75 inches | Seat Back Height: 27 inches | Seat Depth: 19 inches | Weight Capacity: 400 pounds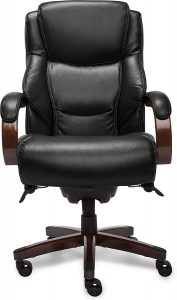 La-Z-Boy is popular for its recliner couches and is a staple in the world of manufacturing comfortable chairs. The Delano Big & Tall Office Executive Office Chair is no exception. With a warm, inviting look made of black leather upholstery, this surely looks pleasing to the eyes.
It was designed for big and tall individuals with a 45- to 48-inch height range and a seat width of 21 ¾ inches. The components are very sturdy and durable and passed the rigorous BIFMA testing standards.
This swivel chair was designed for support and comfort with its advanced memory foam cushion layering system and contoured back lumbar panel. It has adjustable height, lift, and tilt allowing gamers to achieve the best sitting position and body alignment.
2. EUROTECH Ergohuman High Back Swivel Chair
Best For Dynamic Adjustability
Colors: Black, Blue, Burgundy, Copper, Green, Grey | Material: Mesh With Aluminum Frame | Dimensions: 26 x 27.5 x 5.1 inches | Seat Height: 18.5 to 22.2 inches | Seat Dimensions: 20.5 x 18.5 inches | Back Dimensions: 20.5 x 28 inches | Weight Capacity: 250 pounds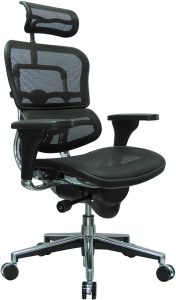 The EUROTECH Ergohuman High Back Swivel Chair is the best in terms of adjustability features. It has a back angle adjustment allowing you to tilt the chair in three different positions. Plus, the tension control adjustment allows you to manage the amount of force necessary to recline or straighten it.
The pivoting armrests have an adjustable height to suit different seating positions and tasks. This EUROTECH Ergohuman chair also has a pneumatic cylinder used to lower or raise the chair quickly. Whether you are sitting straight or reclining, the seat depth can be adjusted to ensure that you sit properly and get the necessary support.
The entire frame consists of a back support, seat cushion, and headrest that can all be adjusted for various body types. As you might notice, the flexibility of this chair makes it suited for households who have different users.
3. Herman Miller Sayl Ergonomic Office Chair
Best For Design-Conscious Gamers
Color: Black | Material: Plastic | Dimensions: 26 x 24.5 x 37 inches | Seat Depth: 18 inches | Weight Capacity: 350 pounds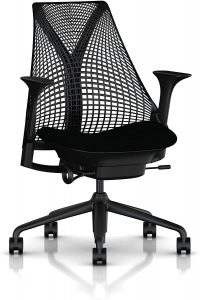 If you're looking for an office chair to use for gaming and you're conscious of how it looks in your room, then this is the best bet for you. The Herman Miller Sayl ergonomic office chair is an eye candy and will fit most spaces with a modern design.
It has an unframed back support that allows a balance between freedom and support letting you move and stretch as you wish. Dynamic seated movement is made possible by the elastomer strands of its suspension back. This is due to its varied thickness and tension offering optimum support in the spine's transition areas and less support in other sections.
It is constructed in a manner that allows you to maintain your spine's natural S shape ensuring better posture with reduced experiences of fatigue. The seat height can be adjusted within a range of 15.5 and 20 inches.
4. Humanscale Freedom Headrest
Best Splurge
Colors: Black, Blue, Cayenne, Graphite, Navy, Sage | Material: Textile | Dimensions: 29 x 25 x 27 inches | Weight Capacity: 300 pounds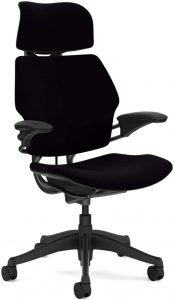 The Humanscale Freedom Headrest chair was designed by Niels Diffrient to adapt to the user allowing dynamic movement while seated on it. The recline mechanism adjusts to the user without the need for back tension dials and inconvenient recline levers.
Comfort is at its peak with the Humanscale Freedom Headrest ergonomic chair. It boasts of sculpted cushions perfectly-crafted to reduce pressure point loads and capture the body's natural shape.
It is designed for prolonged periods of use and has an articulating headrest for head and neck support. You can change posture without having to make manual adjustments to this office chair — a good thing for gamers who are focused on an intense gaming activity but need to make modifications to their seated position.
Armrests are synchronous, meaning they both move up and down at the same time. Unlike other ergonomic office chairs, the Humanscale Freedom has armrests that are connected to its back portion ensuring synchronous use.
5. Bonzy Home Reclining Office Chair With Black Footrest
Best For Gamers On A Budget
Color: Black | Dimensions: 25.59 x 24.21 x 44.88 inches | Weight Capacity: 300 pounds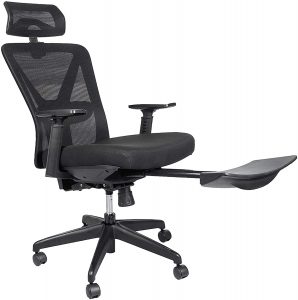 If you're on a budget, you can get the Bonzy Home Reclining Office Chair for your gaming needs. It has state-of-the-art adjustable features allowing you to find a comfortable position while playing your much-loved video games.
These adjustable features include the footrest, armrest height, headrest angle, backrest reclined angle, and seat height. Having a weight capacity of 300 pounds, the chair is composed of high quality materials such as a mesh headrest, robust nylon five-legged chassis, aluminum alloy pneumatic lifting rod, smooth-rolling casters, PU-padded armrests, and steel butterfly tray.
All these top-grade materials make up one sturdy Bonzy office chair. The brand advertises easy assembly of the entire chair for about 20 minutes even by non-savvy beginners. The footrest stretches up to 19 inches and can be concealed when not in use.
You can stay cool and comfortable with its breathable mesh backrest providing a sweat-free gaming experience. The armrests are adjustable and are padded for superior comfort. A key is provided to help you operate seat lift and you can also use it to lock (or unlock) the backrest.
Noteworthy Office Chairs You Can Use For Gaming
We've pulled up a list of five office chairs you can purchase based on your budget and needs. Still, we can't pass up some noteworthy office chairs you can use for gaming. Check them out below:
Haworth Fern High-Performance Office Chair
Colors: Coal, Cornflower, Mushroom, Silver Leaf | Dimensions: 29 x 28.5 x 41.5 – 74 inches | Weight Capacity: 325 pounds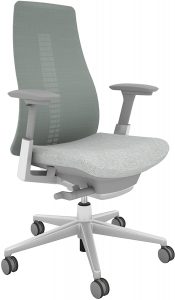 This-award winning chair doesn't compromise on looks. Crafted by Haworth, the Fern High-Performance Ergonomic Chair is scientifically-designed for comfort, well-being, and health. Because it doesn't have an outer frame, it doesn't limit your movement while playing games.
This high-performance chair can accommodate a maximum weight of 325 pounds which is great for the average-sized gamer. It includes a pneumatic seat height adjustment, back stop, 4-dimensional arms, aluminum base, rolling casters, seat depth adjustment, and breathable mesh back support.
You don't have to figure out how to assemble the entire chair since you can use it directly from its packaging. Inspired by the style of a "Fern" leaf (as you may have noticed), the chair's stem works with the brand's so-called "Fronds" and "Cradle" for ultimate back comfort and flexibility.
The key to this office chair is the Wave Suspension system backed by top-notch innovation, science, and engineering research. It offers complete support for your back while allowing responsiveness to your every move.
HON Ignition 2.0 Computer Chair
Color: Black | Material: Mesh | Dimensions: 28.5 x 27 x 44.5 inches | Weight Capacity: 300 pounds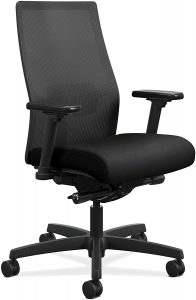 This breathable mesh executive chair is very stylish keeping your body cool while gaming or performing other computer tasks. Taking pride in having customizable features, it offers adjustable back recline, back height, and seat positioning. This means it will provide the support and comfort you need while seated on the chair.
Armrests are also adjustable and can move up or down and toward or away from your body. You can use it to swivel around your space with its five-star resin base and sturdy wheels. High-quality materials were used making up a durable, long-lasting ergonomic chair that doesn't wear out easily. It was made to fit perfectly for a wide variety of medium to large-sized individuals, work styles, and spaces.
Steelcase Leap Task Chair
Colors: Colors: Black, Burgundy, Alpine, Blue, Cyan, Grey Fabric, Buzz2 Sable, Camel, Coconut, Graphite, Nickel, Navy | Material: Textile | Dimensions: 24.8 x 27 x 43.5 inches | Weight Capacity: 300 pounds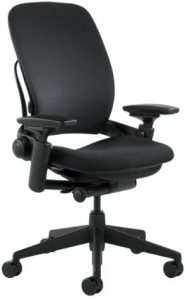 The Steelcase Leap Task Chair is a best-selling ergonomic chair that utilizes patented technology leading to enhanced productivity in users. Although described as a task chair, it's still a great choice for gaming.
The LiveBack feature allows the chair to change its shape while mimicking the spine's movement thus supporting your body as you move. The durable casters are less prone to rolling which are best for smooth floors.
Arms can be adjusted in four different ways including width, height, depth, and pivot giving gamers the support they need for their neck and shoulders. The seat can also glide forward and backward giving you the optimum position while using your computer. It also boasts of a breathable back support through a special foam designed for cool gaming or task periods.
AKRacing Office Series Onyx Deluxe Executive Real Leather Desk Chair
Color: Black Option Only | Material: Real Leather | Frame Material: Steel | Dimensions: 25.59 x 23.62 x 59.06 inches | Weight Capacity: 330 pounds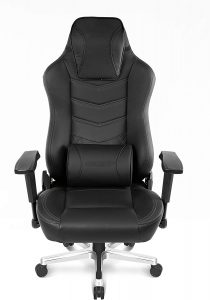 AKRacing is best known for its gaming chairs but they have an Office Series that can be used for playing video games for extensive hours. The AKRacing Office Series Onyx Deluxe is made of high-quality leather on the front and PU leather on the back that ensures a material that is easy to clean and spill-proof.
It is backed by a 5-year manufacturer warranty giving you the relief you need in case an issue with the chair arises. This office chair boasts of maximum durability and comfort with its wide metal frame covered in anti-corrosive coating and high-density foam padding.
If you're a gaming addict, you will benefit from its 4D adjustable armrests which can be modified in four directions: up and down, back and forth, in and out, and sidewards rotation. It has an adjustable rocking function and lockable tilt positions from 90 to 180 degrees best for shifts from working to idle mode.
The aluminum base is very durable with a 5-star rating for advanced, high-tensile strength. Gaslift boasts of a class 4 score allowing you to adjust the height of the entire chair. It also prides itself in having a wide flat seat perfect for big individuals and those who need additional space for seating.
AmazonBasic High-Back Leather Executive Office Desk Chair
Color: Black, Brown, White | Material: Leather and PVC | Dimensions: 29.1 x 26.1 x 45.5 inches | Seat Depth: 1 inches | Weight Capacity: 275 pounds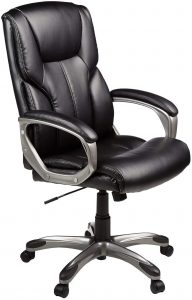 We're not leaving our list of the best office chairs that are good for gaming without mentioning Amazon's offering. The AmazonBasics High-Back Executive Office Desk Chair provides ultimate comfort with its padded seat and back.
BIFMA certified, this chair has a maximum capacity of 275 pounds making it great for the average user. Features include a 360-degree swivel, smooth rolling caster, pneumatic seat height adjustment, and leather and pewter finish frame.
Adjustments that can be made include seat height, back support tilt, 360-degree swivel, and a tilt tension knob. But what's the downside? The armrests can't be adjusted to fit your elbows' positions — a big turn off for a lot of gamers.
How To Choose The Perfect Office Chair For Gaming
Now that we've given you a list of the best office chairs you can use for your gaming needs, let's dig deep into what we should look for when purchasing one. Below are some of the things you should consider.
Armrests And Their Features
As you may have noticed, all of the office chairs we have recommended for gaming have armrests. Well, if you're in the ultimate boss level, you're going to need support for your arms or it'll definitely strain out.
Armrests are necessary to support your elbows so they don't stretch for long periods of time. The reason being, you're placing the weight on your wrists when you're holding the mouse and the elbows are stretched out for hours. Thus, you're putting in a lot of energy in that position making you feel more strained after quite some time. Plus, this can also lead to neck and shoulder aches.
It is recommended that you choose office chairs that have adjustable armrests if you want to use it for extended hours of gaming. Go for those that have adjustable height and depth allowing you to put your elbows in the optimum position.
Back Support
You wouldn't want to sit on a chair that doesn't have a comfortable back support. It is important to choose a chair with great lumbar support that will reduce the strain experienced by gamers on their lower backs.
It is best to go for office chairs that encourage good posture by mimicking the natural curves of your spine. Adjustable lumbar supports are good too as they allow you to modify the angle up or down to fit your back.
Material
With regards to material, we're talking about those used for the entire chair. For instance, the textile or the fabric will depend on what you prefer. Leather chairs are best if you're looking for a material that is spill-proof and durable. Chairs made out of fabric are known for being comfortable. Mesh are best for breathability and cool gaming experiences.
In terms of the legs and wheels, you have to ensure they can actually support the loads (a.k.a. your weight). If necessary, go for chairs that have a capacity significantly higher than the weight of the users who will sit on it.
Design
Most office chairs you can use for gaming look slick. If you're conscious about the appearance of your gaming setup, then you may want to opt for a chair that fits your theme. For example, if you have a modern space, you may have to go for a modern-looking office chair. If you have a black-and-white gaming area, then you may want to opt for the same colors to suit your space.
Headrests
Why opt for office chairs that have headrests? Well, it's best for those who experience neck or back pains brought about by sitting upright for long periods of time without the proper support. A headrest is also best if you want to play games in a reclined position.
When looking for headrests, you should get those that are adjustable in height and depth. There are periods when you don't need a headrest so the adjustable option would be useful in these times.
Footrests
Footrests are great if you're playing games in a reclined position. You may want to have this added feature if you're in non-intense parts of your games and just like to relax while playing. Not all office chairs you can use for gaming have footrests. So, if you really want this feature, you may go for the ones that have it.
Mobility
Most office chairs have mobility through rolling casters at their base and are a great choice for gamers who want a more dynamic movement while playing. Other gaming chairs, for instance pedestal and rocket versions, limit mobility because they don't have a movable base.
Size
If you're petite, then you definitely don't need a big and tall office chair made for huge-sized individuals. This won't give you the necessary back support you need to avoid strain and feel comfortable while gaming. It's best to go for office chairs that are suitable for both your weight and height.
Space
Are you sure the office chair you're getting fits into your room? If you have a limited amount of space, you may go for less bulkier options. This is because a cramped gaming space can make your playing experience less enjoyable. So, make sure to check dimensions before you purchase your office chair.
Budget
Ah! One of the biggest factors of them all, your budget. If you have the money to splurge on a pricey, feature-packed office chair, then go for it. But, you must also consider your budget and ensure that you're getting what you paid for. Jot down the most important features you need and make sure to find a chair that has most (if not all) of these features at the price point you want.
Recap: The 10 Best Office Chairs Good For Gaming
Ergonomic office chairs are not for working purposes alone. They can also be used for enjoyable gaming experiences because of their features and adjustable mechanisms.
To choose the perfect ergonomic office chair for your gaming needs, you must take note of the various factors we have listed above. Our ultimate guide on choosing the best office-slash-gaming chair will give you the information you need to make an informed decision. The best part is, these office chairs are slick and a total eye candy to any gaming setup.
Let's take advantage of these ergonomic office chairs and create fun, gaming experiences with our loved ones!