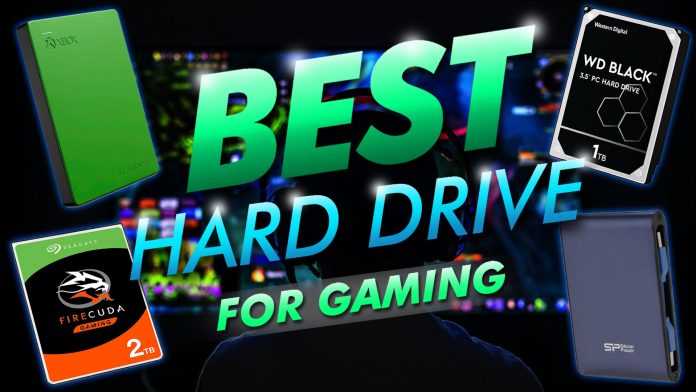 While hard drives aren't necessarily the first piece of hardware that you think of when building a gaming rig, it is, without a doubt, one of the most important. A good hard drive can make gaming much smoother and will help with the overload load on your computer.
However, not all HDD are the same when it comes to performance output. So, if this is your first time building your gaming rig, this buyer's guide got you covered. Before you jump right in, know that there are several factors to consider when choosing the best hard drives for gaming. Read this listing, and may you find one that suits you best!
Without further ado, let's get into the list of the Best Hard Drives for Gaming.
Seagate FireCuda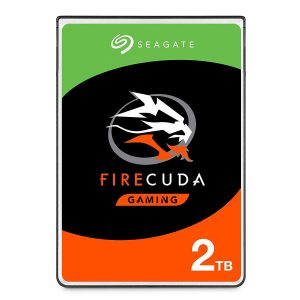 The only SSHD to make it onto the list, the Seagate FireCuda, is the top of the line when it comes to hybrid drives. It has an affordable price even if you are considering 2TBs of space, which can allow you to hold 80 games at 25GB each. It has a writing speed of over 200MB/s, and its five-year warranty is an assurance for a long lifespan. Even with the fact that deterioration is a concern for most gamers.
Seagate continues to make a stand when it comes to storage devices, and the size of the FireCuda is enough for it to fit in both laptops and consoles. Tests show that it is faster than a 7200 HDD, and its 8GB NAND Solid State memory helps it load games much faster. It has SATA 3 connectivity and a 64MB cache on par with today's standards. The only downside of this hard drive is that it's not capable of working on multiple applications simultaneously, a weakness for its Solid-State aspect. If you are the type to work on numerous programs at the same time, then this may not be the drive for you, as it may just cause deterioration to happen at a faster rate.
Seagate Barracuda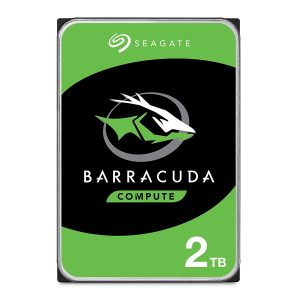 Another entry from Seagate, the Barracuda is one of the best HDD's in the market in terms of storage space. At a cost-effective price, one can easily acquire a 3TB Barracuda. One of its big points is its ability to multi-cache, with many gamerd pairing it with an SSD to make it a superior secondary drive. The ample space also means that it can accommodate other things aside from games. When tested with the FireCuda, even though the other is a hybrid drive, it performs similarly in terms of loading. It is also straightforward to install and comes with a 3-year warranty.
If you do choose to pair it with an SSD, then it may come at a much higher cost. The Barracuda performs well on its own as a primary drive if need be. A lot of high-end builds use the Barracuda due to its storage, but its size also means that it can only be used for personal computers. Another concern that some buyers have is that the Barracuda doesn't necessarily have the best older versions. Its earlier iterations were marred with its share of failures and kinks. The current versions of the Barracuda, however, are far removed from the mistakes of their predecessors.
Western Digital Blue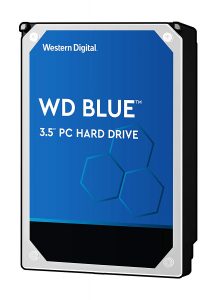 The Western Digital Blue comes out in a lot of recommendations, and it is the top-selling hard drive for a reason. It offers a lot of storage space at an affordable price. It is the go-to option for those on a budget. Also, for those not willing to spend too much on their hard drive. It is easy to install, and Western Digital prides itself on data protection. Its speed and connectivity are no joke as well as it is on par with high-end hard drives.
One of its few downsides is that it only has 150MB/s in data speed, making it just on the borderline of what we'd consider for a gaming rig. However, at its price, it's a compromise many would make. It also only has a 2-year warranty.
Toshiba X300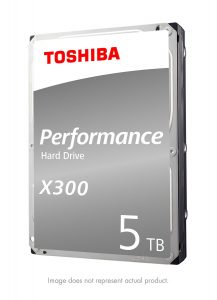 Toshiba has been making waves in recent years when it comes to storage devices, and they are not backing down when it comes to HDDs. The X300 is available in sizes from 4TB to 10TB, easily outshining many of its competitors when it comes to storage space. It also has 128 MB data buffering and a 7200 RPM speed making it as fast as many hard drives in the high end. It is a hard drive that specializes in cache allocation, optimizing it so that it can remain efficient and quiet at a full load.
It is also a hard drive that has been engineered with gaming in mind, created with a shockproof system to help against vibrations that can wear the hard drive down. One of its downsides is that it only has a 2-year warranty. Being a relative newcomer compared to WD and Seagate, it also hasn't proven itself much in terms of longevity. Still, the brand Toshiba itself has been excellent in terms of electronics, making its transition easier compared to other newer companies.
Western Digital Ultrastar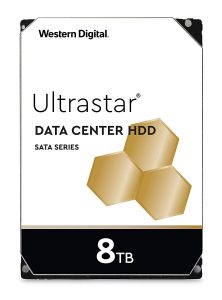 At a whopping 14TB, the Ultrastar was created for gamers that want to stream. It was designed to support 4K resolution and for multiple computers to be able to access it at once. Initially, it was never marketed for gamers, but for video editors wanting to work on 4K quality. Still, people quickly realized how good it would be for games that are also entering 4K resolution territory.
Some concerns for it, however, is that even though it was made for 4k, that type of technology will probably be overshadowed in a few years, especially with 8k resolution technology being showcased. However, no one comes close to its 14TB, and it has a 512MB cache and 7200 rpm in speed. It is quite expensive though compared to other drives.
Toshiba L200 Internal Hard Drive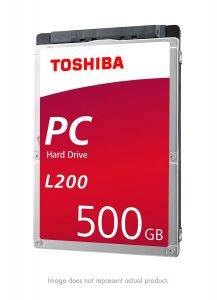 The Toshiba L200 is a relatively small drive at 2.5-inches. Aside from offering outstanding gaming performance, it is also pretty durable. It has a total of 2TB of storage with Advanced Format technology to make sure that your storage system gets updated in real-time. The included 128MB cache helps in maintaining low latency and extra power during gaming sessions.
This HDD will give you the best data protection technology available. In addition to its ramp loading technology, it also helps with decreasing the toll to the recording head and media to increase its lifespan.
Western Digital Black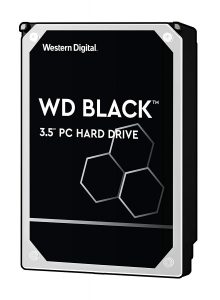 Unlike its Blue counterpart, Western Digital Black is created with efficiency, durability, and consistency in mind. It has WD's trademark Dynamic Cache technology, allowing it to read large files with 64 to 256 MB of cache. It also has trademark StableTrac technology to help with its stability and long-term durability. With 7200 RPM speed and SATA 3 connectivity, it is becoming a vital consideration over the more affordable Blue HDD.
The one big downside is the heat, and if you plan on using Black, you must have a perfect cooling system. Black performs well, but its capabilities also mean that it heats up pretty fast, so you must have a system that can accommodate it.
Silicon Power Rugged Armor A80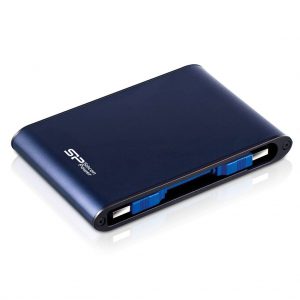 Rugged Armor is a gaming hard drive created to be portable and durable. It has shockproof and waterproof technology. With its small size, it can quickly be brought anywhere, a good option for those wanting to bring their games but not necessarily bring their entire units. It was also created to withstand heavy weights and pressure, a trait that many hard drives lack, making them unsuitable for constant traveling. It has a 3-year warranty, and USB 3.0 means fast connectivity as well.
WD VelociRaptor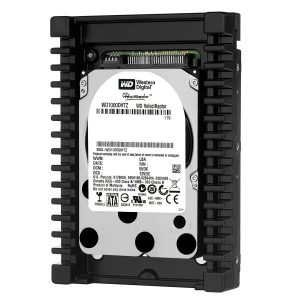 When we are talking about PC gaming, there are times when you need to prioritize speed than storage capacity. So, if you are not in the mood to jump ship to SSD yet but still covets the speed, then the WD VelociRaptor is something that you will be interested in. It has a 10,000-rpm spin speed perfect for loading your files faster than a regular HDD. Though it comes with a price as it only has a 1TB option, however, I'm sure you will gladly take the storage compromise anytime in exchange for speed and durability.
Western Digital Caviar Green Internal Hard Drive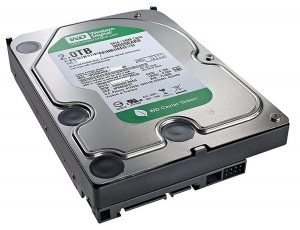 The Western Digital Caviar Green is another great pick if you are looking for an HDD that performs and can endure the test of time. It's one of the best hard drive for gaming due to Western Digital's proprietary IntelliPower technology. This absolutely balanced the spin rate, while IntelliSeek calculates the best seek speeds. As for storage capacity, the Caviar Green comes in sizes of 500GB to up to 6TB, ideal for accommodating your whole gaming library. The 2- year warranty is also an excellent addition and gives this HDD additional value.
Seagate Barracuda Compute Pro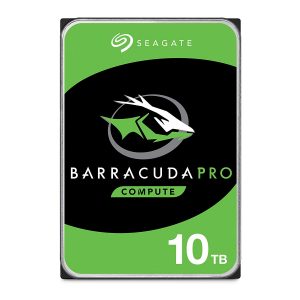 The Seagate BarraCuda Compute Pro is a member of the Guardian series line. It is designed to deliver results to users without breaking the bank. The BarraCuda Pro 6TB HDD features 7200rpm plus a 256MB cache. This HDD is fast, affordable and offers big storage for gamers out there. It is a whole packaged, especially those who want quality but are working on a limited budget.
Also, don't forget to download and install the Seagate Disc Wizard software that you can get from Seagate's official website. This application will help make the installation process go in smoothly and fuss-free.
Bonus: The Best Storage Drives for Xbox and PS4
PS4 – Fantom Drives Hard Drive Upgrade Kit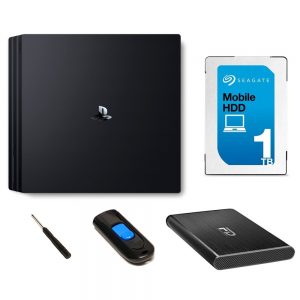 Fantom Drives was created to help the PS4 increase its capacity not just in storage but also in overall memory. With many games available to the console, extra storage is crucial, and Fantom Drives can allow users to save games at a much faster rate than standard drives. The increased memory also means that games can be accessed faster, and it also comes with a 16GB USB 3.0 Flash Drive. While it is mainly marketed as an external hard drive for PS4 units, the hard drive can also be used for the PS3, and it comes with a 5-year warranty.
Xbox One – Seagate Game Drive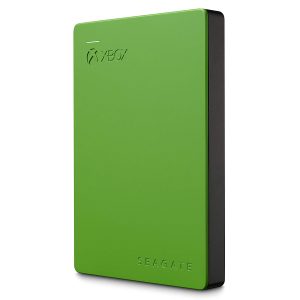 Another creation from Seagate, the game drive is a plug and play hard drive, making it very easy to install. It comes with 4 TB of space, which can accommodate around 100 Xbox games for secure storage and use. It is designed to be portable and has a writing speed of 140MB/s, which is much higher than most external drives. It also comes with USB 3.0 capabilities and can transfer 25GB of data in under three minutes. It also doesn't require any power cable, making it a natural addition to Xbox One users.
Things to Consider When Buying A Gaming HDD
Storage Capacity
Over the last few years, games have become enormous. Newer technology has made graphics and animation better, but ultimately it increases the sizes of games tenfold, thus costing more storage. With digitally purchased games becoming the forefront of retail. Ample storage will ensure that you have all the games you want to play ready at a moment's notice, while still having the capacity when a new title comes along. With that said, if you are tight on budget, consider sacrificing a bit of storage for better performance.
Speed
Hard drives can be essential when it comes to the speed of a gaming rig. An excellent hard drive means fast data transfer, quick loading times, fast reading, and writing. They are often overlooked but essential for that optimal gaming experience. It is a general rule of thumb to consider that gaming hard drives should be at least above 150 MB/s in speed. With external drives, however, we can accept over 100MB/s as you are sacrificing speed for portability.
Cache and Connectivity
Unlike hard drives of the past, cache didn't have as many issues as it did generations ago. This is because there is very little difference in performance with 32 MB cache drives compared to 64 MB cache drives. While a higher cache is better in most cases, even optimized caches will only see up to 10% difference in speed. Connectivity, on the other hand, is critical, as we want to take advantage of the latest technology for faster transfers. A SATA3 is a must as it is the quicker option. A USB 3.0 is also recommended for its speed and because more and more computers are adapting 3.0 as the norm.
Brand
Like many technological products, a reputable brand with a proven track record is an excellent way to start figuring things out. When you have multiple renowned brands with good records, it then comes down to preference. In terms of hard drives, there are only a few brands that have withstood the years with consistently good reviews, quality, and longevity. Brands like Western Digital and Seagate have become go-to brands due to their effectiveness is proven for years. The brands considered by gaming publications, enthusiasts, professional gamers, and popular streamers are also things to give attention to as professionals need to consider their equipment carefully.
The Argument for an SSHD
Due to the limitations that SSDs have and the potential HDDs have, hybrid drives have become one of the more recent technological innovations. It is much faster than an HDD and has a lot more storage than an SSD giving the best of both worlds. It is, however, still a compromise as hybrid drives still have the sensitivity of SSDs. Solid State Drives don't usually do well when performing large tasks like HDD. As such, there is still much to improve on the technology. Though some SSHDs have begun to stand out due to their overall benefits.
What Do You Prefer?
While we can recommend hard drives based on price, performance, and experience, the choice will ultimately come down to what you need the most at the moment. What type of gaming experience will you want to have? If you consider yourself a hardcore gamer, then optimizing will be your goal, and you'd want the best regardless of the price. You'd still have to see what is more important, though, whether it is speed, storage, cost, etc. Every person can prioritize different things making for some unique choices if you consider any of the ones listed here.
Storage will also be a heavy consideration for gamers wanting to stream of edit videos as ample storage space is essential to store high-quality video content. If you consider yourself a casual player or one that wants a budget option, then consider finding a hard drive at the right price that will still give you the performance you need. What's unique about hardware is that there is always a company willing to make a budget option for you.
Recap: The Best Hard Drives for Gaming in 2020