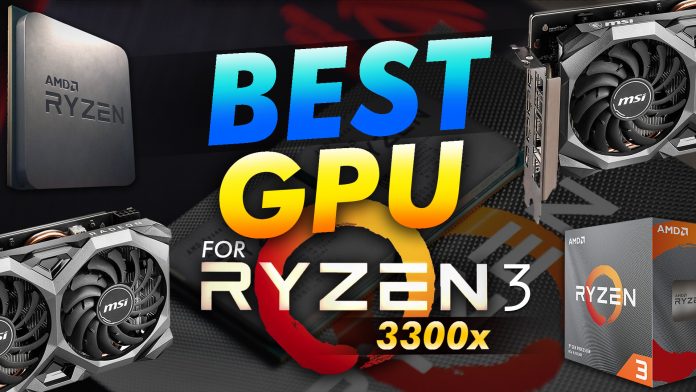 AMD pushes the boundaries with the new Ryzen 3 3300X. Gaming rig owners have the option to choose from a wide range of GPU cards to supplement the 3300X. Gamers that are playing on a budget can expect a quality processor out of the 3300X. Even though it's a four-core processor, it cuts down significantly on power consumption.
This trade-off comes at the cost of having a smaller memory cache (18MB) versus the 32MB available on the Ryzen 5 3600. From reading all this, you may be thinking that the 3300 series is essentially a collection of Ryzen reject parts, which is most definitely untrue. The processor will still be on par with that of the i3 and i5 quad-core processors.
Built on the Zen architecture, the processor features a built-in overclocking utility that helps to push your gaming to the limits and is VR-ready to allow you to play VR-based applications.
The 5 best GPU to couple with your Ryzen 3 3300X rig.
1. RX 5500 XT: Best Budget GPU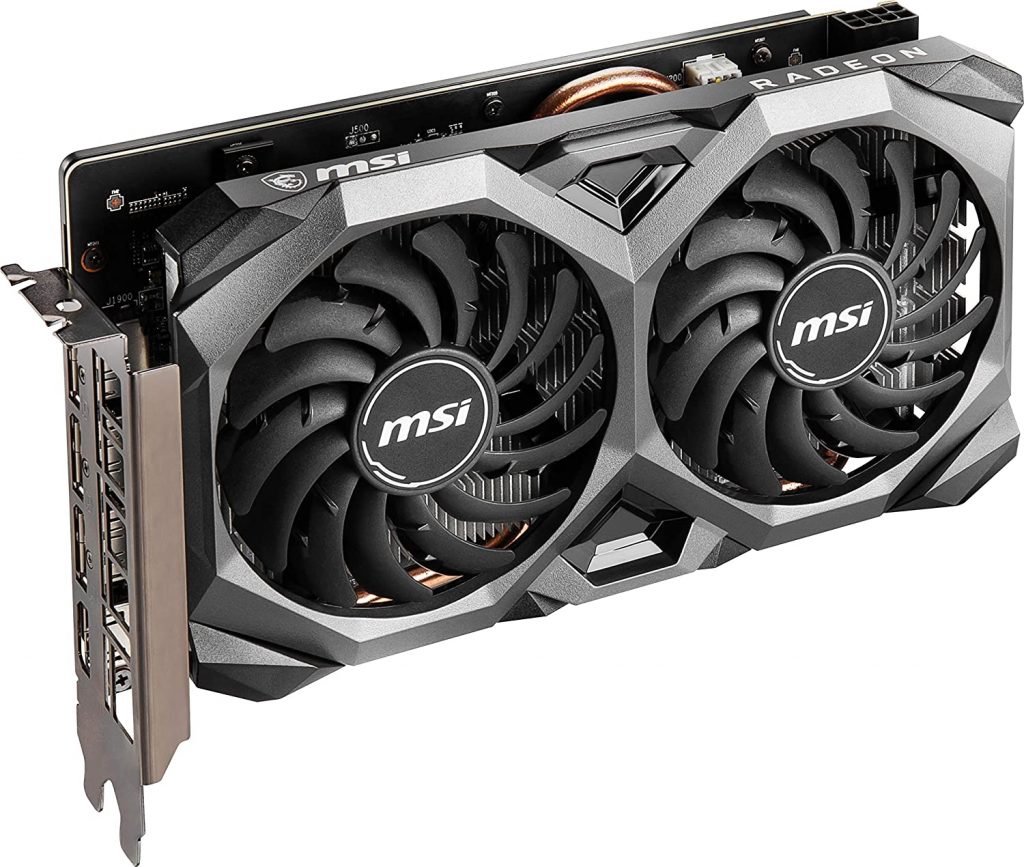 If you're looking for a tanky graphics card for 1080p gaming, the RX5500 XT tops the list. It provides high fidelity graphics power up to 90FPS for eSports enthusiasts. Coupled with a high-tier processor, the RX 5500 can easily run titles like Shadow of the Tomb Raider and The Witcher 3 at ultra settings well within margins. The amount of detail provided at these resolutions run nothing short of stunning.
The card is manufactured via TSMC 7nm finFET process and is a variant of the Navi 14 XTX GPU. It comes in 6.4 billion transistors packed into a 158-square millimeter die. The amount of power packed into this card is a significant improvement over AMD's older Polaris GPUs. According to AMD, it provides better performance at 1.6 times per Watt, putting it well on par with Nvidia in terms of power efficiency.
Design-wise the card is measured at roughly 9 x 4.8 x 1.63 inches, which makes it a dual-slot GPU. While it's not small-form-factor by any means, it's also not a giant monstrosity of a card that takes up a lot of space. The Dual-X cooler Sapphire on the card adds some extra inches on it, so you'll need to check your rig to ensure you have enough clearance to put on the motherboard.
2. GTX 1650 Super: Best Card for High Volume Workloads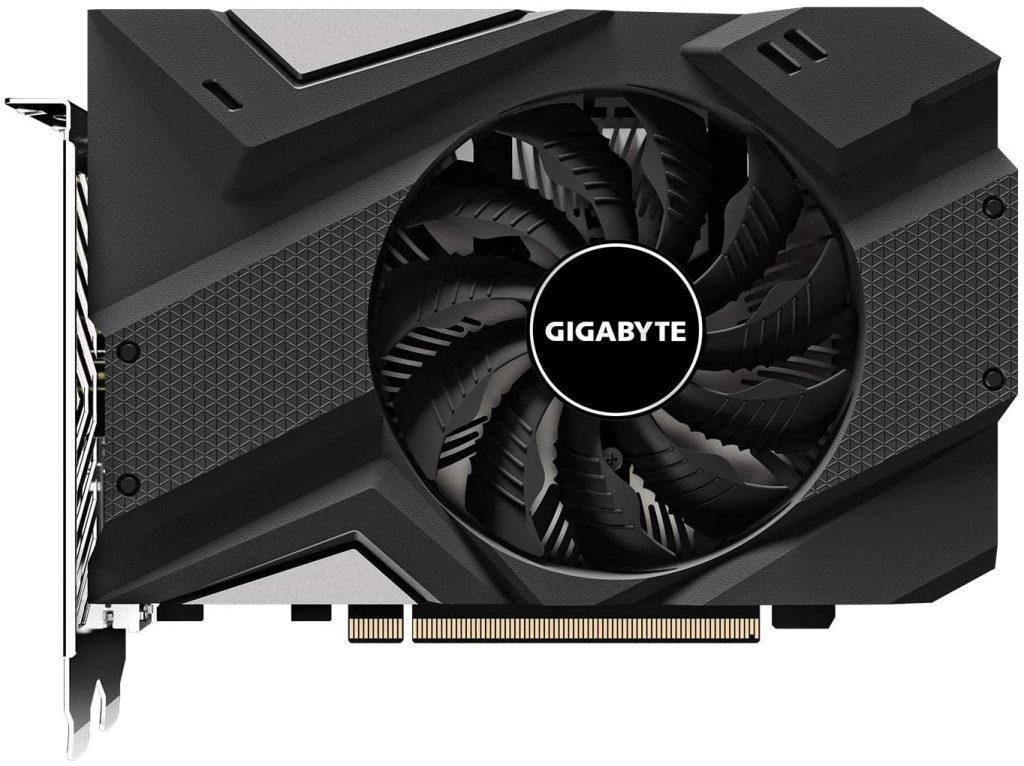 While not as high-performance as the GeForce RTX 2060, the GTX 1650 Super is still quite a powerful card. The Super is an upgraded variant of the original GTX 1650, where it offers extra CUDA cores, buffed up clock speeds, and additional memory. On top of that, the GPU of the 1650 Super is derived from Nvidia's 1660 graphics tech to beef up the card. VRAM-wise, it comes with a 12GB GDDR6 dedicated video memory compared to the 1660's 8GB GDDR5. This upgrade in RAM along with the increased clock speed of 1,530 MHz makes it superior to the standard 1650. It's quite ambitious with the number of features packed inside of the 1650 Super. It can overclock up to 1,755MHz, but that is pretty much negligible since the differences between the cards in the 1650 series run between the mid-1730s-1750s.
Compared to previous Super cards, this one comes with a 46% increase in GPU throughput. This essentially makes the 1650 Super a 1660 LE in relative terms. If you're a video editor, this card is very ideal to use for custom video content creation and graphics-intensive applications.
3. RX 5700: Best Efficiency Card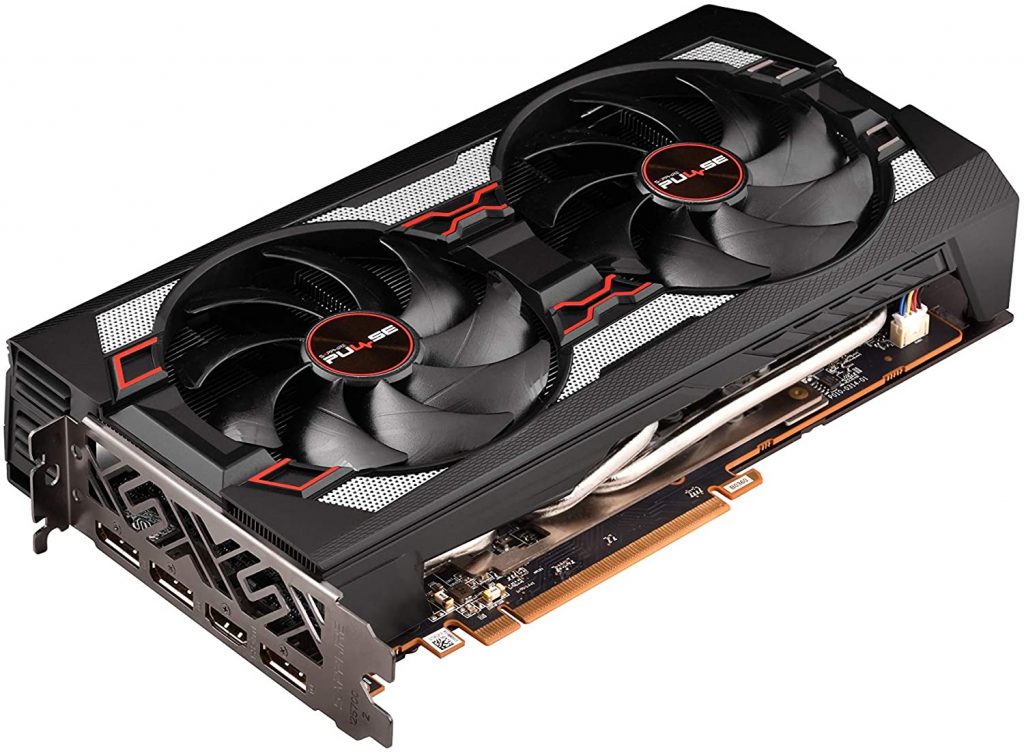 Based on the Navi GPU, the card offers some impressive features for a card of its class. Radeon Image Sharpening improves images through the use of intelligent sharpening. It's the second of AMD's Navi 10 GPU cards, which comes with improved RDNA architecture. The card uses less CUs and only 256 cores. Also, the boost clock is dropped slightly by 180MHz to improve the efficiency of the card. The exterior construction of the card makes it a very tough-looking and durable card, but also one that is susceptible to heat.
The card consumes a staggering 175w of power while consuming less than the Vega cards that came before it. You will still need a large power supply to keep the card and all of the other components in your rig running.
Unfortunately, the card doesn't support ray tracing, which will be featured in the upcoming open-world RPG Cyberpunk 2077. The card also consumes a sizable amount of power to put out the levels it performs at. AMD plans to provide ray tracing support via DirectX updates that will be introduced in future GPU cards.
4. GTX 1660: Best High-Speed GPU for Ryzen 3 3300X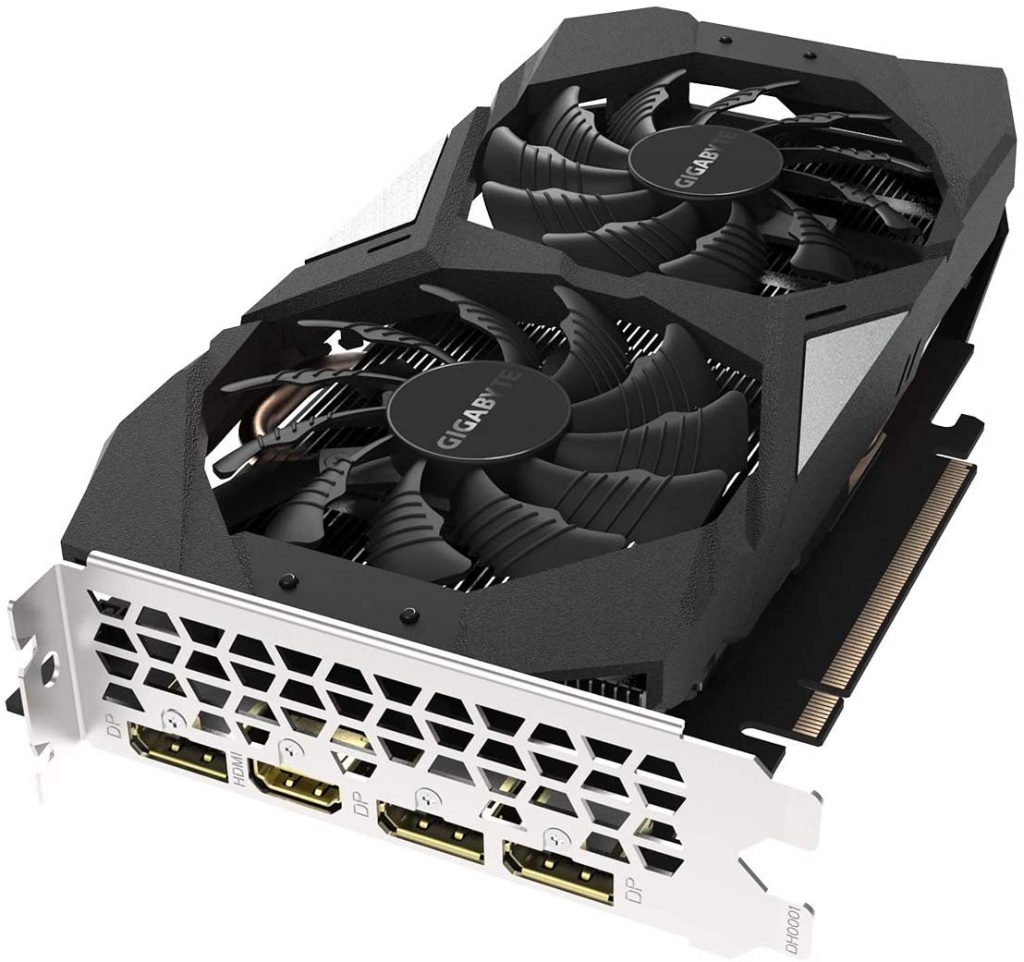 The GTX 1660 is based off the TU116 GPU, making it another iteration of the famed Turing architecture from Nvidia. Even though it cut out the ray tracing feature made famous in the GTX 1660 Ti and GTX 1660 Super along with fewer cores, the GTX 1660 is still an efficient card. This card can be used to replace your legacy card (if it's older by two generations). Two of the SMs are disabled along with 8 texture units and 128 CUDA cores disabled. The improvements as far as the sizing is concerned is minuscule at best, which downgraded the size from 16nm to 12nm.
Another point of comparison between the GTX 1660 vs the GTX 1060 is the number of transistor counts bumped up from 4.4 billion to 6.6 billion. This increase results in variable-rate shading, faster FP16 support, and improved color compression. Playing graphics-heavy titles like Doom: Eternal for prolonged periods, the card doesn't run too hot and stays relatively cool. In addition to steady temperature, it performs well with other titles such as Middle Earth: Shadow of War where it runs at 54fps. This makes the GTX 1660 an ideal card if you need a GPU that is not only quiet but speedy in its efficiency.
5. GeForce RTX 2060 Super: Best New Shiny Card on the Market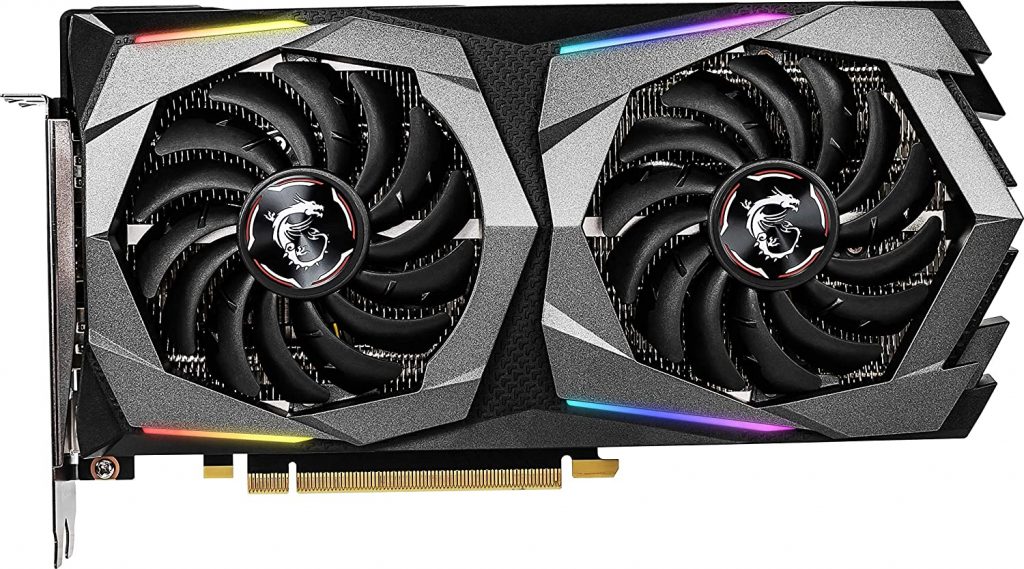 Nvidia's RTX2060 Super is many steps up from its dated GTX 1060 card and a few extra above the standard RTX 2060. It's based on the same Turing GPU architecture like the cards before it, with improvements made to the VRAM and core counts. The card comes with 2,176 CUDA cores, which is more than the standard RTX 2060's 1,920 cores. The boost clock is also clocked higher at 1,650MHz, which enhances the power offered by the 2060 Super.
Since it's loaded with 8GB of GDDR6 VRAM, you'll be able to play many titles at 1440p without too much of a hassle. Even the shooter Metro Exodus ran smoothly and is perhaps one of the most hardware-intensive titles available. DLSS and ray tracing was enabled with graphics pushed up to Ultra, making it a pleasant playthrough experience. Firing up Shadows of the Tomb Raider with this card, and there were no performance issues when the intro cinematic played through.
The card's components are packed neatly within a shiny exterior that makes it a wonderful addition for your gaming rig, and something that you cannot do without.
AMD Ryzen 3 3300X: What You Need to Know
Revealed last month, the Ryzen 3 3300X and the Ryzen 3100 arrived on the gaming scene to compensate for AMD's 3rd Gen Zen 2 processors. The processors were developed in response to Intel's 10th Gen processors that will be unveiled later this month.
Side by side, you might be wondering if the small speed change offered by the 3300X is worth the price of admission even though the total power consumption (65W) and cache memory (18MB) is the same. The short answer for that is yes, as speeds combined with graphics can make all the difference, whether you're playing games solo or online with friends. The base clock of the 3300X runs at 3.8GHz, up to a maximum of 4.3GHz. Both feature the Wraith Stealth cooler and works with AMD's B550 chipsets. The cooler itself is a fairly large fan that spans 3.93 inches and comes with a 4-pin connector and runs silently in the background to keep the processor cool under intense workloads.
Its overclocking feature trumps the more expensive Intel i7-7700k and is the most recent quad-core processor on the shelves from AMD's rival. On the benchmark side, the 3300X scored 5,874 points when running on a single-core, up to 20,948 points when using all cores at once. It suggests that AMD did some memory modifications in the background to the 3300X, which pushes its overclocking ability above industry standards.
Intel's 7700K only scored 5,816 and 20,329 points for its single and multi-core performance benchmarks. During the evaluations, the 3300X was paired with DDR4-3733 memory chipset while the 7700K used only DDR4-3200 memory. RAM and GPU memory speeds can tip the scales to either vendor when it comes to overall performance. Performance-wise, the Ryzen 3 3300X will on par with that of the 7700K based on the benchmark data we've collected. The processor itself is capable of supporting DDR4-3600/3733 memory if you're looking to bolster the amount of RAM you have in your rig. AMD is looking to outperform itself at the lower-priced processor market as it continues to compete against Intel, whose processors are the in the i3 and i5 categories.
The Ryzen 3 3300X is an effort by AMD to push the affordability of its proprietary Zen 2 processors further through its consumer base. It runs on four cores while supporting up to eight processing threads, giving it more value for a smaller price tag. It's made for those who already have budgetary constraints and are interested in newer processors within their price range to keep pace with current technologies. The PCIe interface included in the motherboard also opens up opportunities to leverage these technologies, such as M.2 solid-state drives.
Another thing to keep in mind is that gaming developers aren't making games for multi-threaded processing since the PlayStation 4 or Xbox One doesn't come with that feature. Microsoft and Sony will be pushing out the Xbox Series X and PS5 to take advantage of the advanced computing power offered by the latest processors around the winter season this year. Considering how fast the consoles are coming up around the corner, Ryzen 3 would end up being left behind pretty quickly.
We applied the Handbrake test on the processor's multiple cores via the Blender program, which benchmarks how well they will perform. Video editing-related functions such as conversion and rendering often consume a great deal of processing power requiring the use of all cores. The Ryzen 3 3300X managed to outperform the i3-9100 and render videos in less than 11 minutes versus the 9100's 16 minutes.
While the Ryzen 3 3300X may not be the most top-tier processor on the market the further we go into 2020. However, considering the formidable specs it possesses, especially when coupled with the right component, it provides more than enough value to make it last in the months and years to come.
How to Choose the Right GPU for Ryzen Builds
Choosing the right graphics card for your Ryzen processor can be a tricky affair, finding the right balance of processing power to mesh along with the appropriate amount of graphics output so that one doesn't bottleneck the other. Graphics bump up the threshold based on the amount of detail rendered by the card and comes with imaging features to help enhance the resolution picture for a more enjoyable viewing experience. Whether your monitor supports Nvidia G-Sync or AMD FreeSync comes into play, since both technologies synchronize the video card with the refresh rate to eliminate tearing on your screen. If your monitor supports neither, you can go with whatever GPU you'd like.
Picking the right GPU also boils down to what you intend to use it for. If your gaming, streaming, creating content, and uploading videos on your social media accounts regularly, chances are you'll need a card that is durable and able to handle multiple workloads at once.
Here's a quick rundown on what you need to do when figuring out what graphics card you to get for yourself:
CPU: The CPU is arguably the most important component you'll need for your rig. In terms of real-world gameplay, your rig will rate low even though you have the most expensive card installed on your system.
Bandwidth/Shader Cores: When GPUs have more bandwidth, data transmissions are fed to the shader cores much faster. Shader cores help breathe life into graphics by the way the light and darkness are oriented against objects in an in-game world. More shader cores equal faster image rendering on-screen.
Resolution: Most cards that are on the market are sufficient enough to play your library between 30-60FPS. If you're going to play your games at 4K resolution, consider getting a higher-end card when pushing your resolution settings at maximum.
Clock speed: Speeds for GPUs are measured in MHz and affect the frame rates provided by your card. Video cards typically provide 64 bits of information at any given time. The most advanced GPUs should be able to read more than one chip at a time.
Refresh rates: When you couple high-end graphics cards with upper-tier monitors, you will be able to push these GPUs to their full potential. On the flip side, if your monitor is capped at 60FPS, it doesn't make sense to purchase an extremely expensive card to get the most out of your graphics.
Spacing: Check to ensure that your rig has enough space inside of it to mount all of the components you need for your games to run smoothly. The cards tend to emit lots of heat, so you'll need cooling fans to recirculate the hot air circulating your tower. Small desktop PCs utilize GPUs that have low TDP (Thermal Design Power) values. The larger your tower is, the more flexibility you'll have as far as where to place your parts, and add in heat sinks to help keep the insides of the rig cool.
Dual cards: Dual card setups can vary between different titles and seems to be declining. Ideally, you should just stick with one card unless you want to make a super-sized rig.
Many of the cards that are on the market are dominated by two vendors: Nvidia and AMD. Intel intends to partake in the graphics market along with the two giants this year. AMD is known for its budget GPUs, which tend to go in the upper mid-range.
GPU memory amount: A must for your graphics. If the card has between 3-4GB, you can run your games at 1080p. Additional memory will be needed when your settings are maxed out or whenever you're downloading additional texture packs.
Advanced graphics cards include anti-aliasing that removes jagged edges on real-world objects and make their in-game presentation look more realistic.
TDP: The measurement of heat dissipation is done through TDP (Thermal Design Power), which gives an estimation of the amount of wattage you'll need to run your card at its baseline settings. A case example is if you have a rig with a 400-watt PSU (power supply unit) inside and you're trying to install a graphics card that consumes more than 250W, you'll need to upgrade your power supply.
Form factor: The thickness, height, and length of the card dictates how much space it will take up inside of your rig. On top of that, these cards can come as half-height (slim), single-slot, dual-slot, or even triple-slot variants. Most gaming-oriented cards take up two slots, and sometimes come with a fan shroud and a heatsink,
Power connectors: GPUs draw up more than the 75W provided by standard PCIe connections. Graphics cards need PCIe connectors, which come in 6-pin and 8-pin configurations. The types of connectors that the cards themselves come with will vary:
VR Support: With the increasing amount of VR applications coming online, vendors are expected to have VR-ready processors ready to give the most surreal virtual experience.
Ryzen 3 3300X Bottleneck Benchmark vs. 2080 Ti, 2070 Super, 2060 KO, & More GPUs
Recap: The best video cards for Ryzen 3 3300X rig to create the best gaming machine.