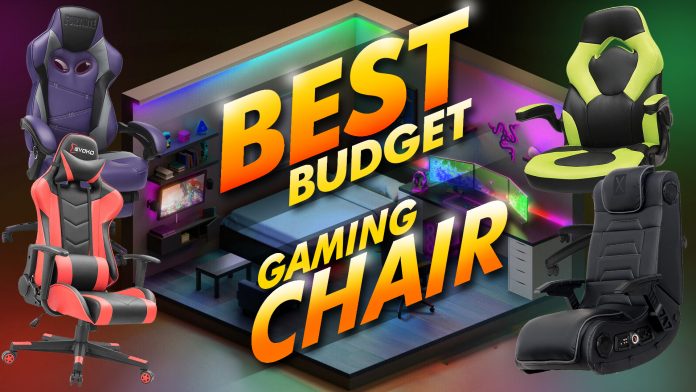 Every serious gamer knows that it takes more than just an excellent game and a powerful gaming console to create a gratifying experience. Yes, even the chair that you sit on during your gaming marathons.
Remember, sitting in a particular position during long gaming sessions can strain your body, which could lead to back and neck pains. To counter this, you must invest in a good gaming chair.
Unfortunately, popular high-end gaming chairs tend to cost a fortune. That's why we've scoured the net for you to come up with this list of comfortable chairs that won't bust your wallets.
Best budget gaming chairs at a glance:
Homall PC Racer Executive Gaming Chair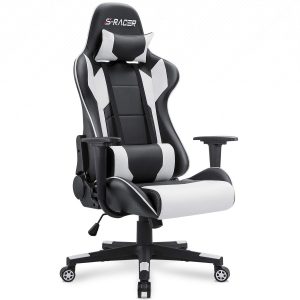 If you're looking for a tried-and-tested budget gaming chair, then look no further than Homall. Countless gamers have already used the chair, and more than 4,000 satisfied buyers gave it a solid rating of 4 out of 5 stars on Amazon.
Those who've tried the chair are impressed by its customization features. For instance, you can adjust its tilt from an upright 90 degrees to the ultra-relaxing 180 degrees, where your body is practically lying horizontally, which is the perfect position for a well-deserved power nap in-between games.
Comfort, while playing, is also assured as the chair is ergonomically designed for such activity. It's made out of premium PU leather material. There are a headrest pillow and lumbar cushion for added comfort. The chair is also highly mobile with its five multi-directional wheels, so you can just glide across the room if you don't feel like getting out of the chair. You can also swivel it 360 degrees for added mobility.
Its durable metal base makes it ideal even for bulkier gamers as it is designed to accommodate users weighing up to 300 pounds. For added comfort, you can likewise adjust its seat height so suit your body type.
AmazonBasics High-Back Executive Chair
For those whose gaming room also serves as their home office, it's probably best to maintain some semblance of executive ambiance to space. If you are this type of player who wants to keep the gamer vibe down a notch, then your best bet is the AmazonBasics High-Back Executive Chair.
I know this piece of furniture isn't exactly marketed as gaming fixture, but it is super comfortable enough that gamers wouldn't likely complain about its office look once they've given it a try. Bonded black leather covers the adequately-padded seat and armrests, ensuring a very comfortable round of gaming or office work. It also swivels 360 degrees and has 5 wheels so you don't have to get up to get from one area to the other as you can simply glide while seated.
Devoko Ergonomic Gaming Chair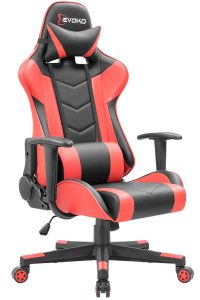 All it takes is one look, and gamers will surely fall in love with this chair from Devoko. It basically screams gaming chair with its sleek racing style design and black and red color scheme.
But aesthetic appeal aside, this chair has all the requirements that make it superb gaming furniture. For instance, it is ergonomically designed for maximal comfort, even if you spend hours immersed in your favorite game.
It has a curved high back headrest and adjustable lumbar cushion, so you'll stay relaxed and comfortably seated even during long your gaming sessions. The upholstery is made from breathable premium PU leather, so your body remains luxuriously pampered throughout.
You can tinker with its tilt to find the perfect recline angle you need. It features top-quality mute rolling wheels so you can silently glide anywhere in the room. The chair is designed to support up to 300 pounds.
GTRACING E-sports Gaming Chair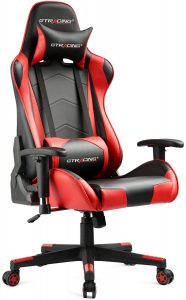 If you've been browsing the net for the perfect gaming chair, you're probably aware by now that the high-end ones are quite expensive. That's why it's a bit surprising to find GTRacing's offering – one of the best budget gaming chair that carries the looks and the features of its pricier counterparts.
As every gamer knows, customization is the name of the game when it comes to chairs. Thankfully, you won't be disappointed with the number of adjustments you can make to the GTRacing seat.
For instance, you can change the tilt of the backrest to suit your needs. You can set it at 90 degrees if you want to sit upright or adjust it to 170 degrees, also known as the "take a rest mode." In this position, you're virtually lying flat, the perfect spot when you want to take a breather.
You can also adjust the seat height to suit your body size. Also, it features headrest and lumbar pillows for additional comfort, which you can opt to remove as well. However, there's no such thing as one size fits all when it comes to gaming chairs. While the GTRacing suits most gamers, it might not be perfect for some players due to height and weight considerations.
The chair is built to handle up to 300 pounds, which means that it is not the right fit for gamers who weigh more than the recommended maximum capacity. Also, it is designed for people who are 5 feet 10 inches or below in height, so it might not be as comfortable for taller people.
OFM Leather Gaming Chair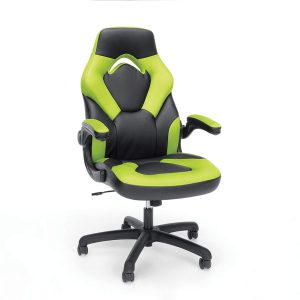 If you're looking for another racing style gaming chair option, then OFM Essentials Collection is a brand you might want to consider. The brand's Racing Style Bonded Leather Gaming Chair has the same aesthetics and features one can find in high-end models but with the added assurance that its budget friendly.
It also features an ergonomic design to keep you comfortable even after long gaming sessions. It has integrated padded headrest, padded arms, and contoured segmented padding on the seat and back to keep you in top condition longer.
The chair is upholstered in premium leather to give you that luxurious feel that only high-end chairs can pull off. The upholstery is done in a contrasting colored mesh, which provides the chair with its aggressive yet sophisticated look.
The chair can also be swiveled 360 degrees for ease of use. You can adjust the seat's height as well as its recline tilt to better suit your needs. One feature that this chair has but is not commonly found in other is its flip-up armrests. You can form them out of the way so you can move the chair closer to the gaming desk if you want to.
X Rocker Pro Series H3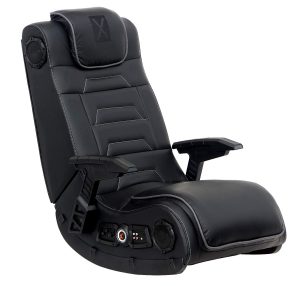 The X-Rocker Pro Series H3 is a good option if you're looking for a super comfortable chair without going overboard on your budget. Aside from the perks of good ergonomic design, it also comes with built-in tech such as audio and wireless functionality.
You got that right – this chair has its built-in audio system as surprising as that may sound. Specifically, it has four speakers and a subwoofer built into it, paving the way for a truly immersive experience with its vibration motors to enhance bass tones. With this extra audio hardware, you can even use the chair for merely listening to your favorite songs.
For seamless listening pleasure, the chair will even allow you to control the audio output remotely as you can connect it to your Gameboy, PlayStation 4, Xbox, home theater system, or any MP3, DVD, or CD player.
As its name suggests, it has a rocking chair mechanism making it ideal for those days that you just feel like kicking back and unwind.
Furmax Gaming Chair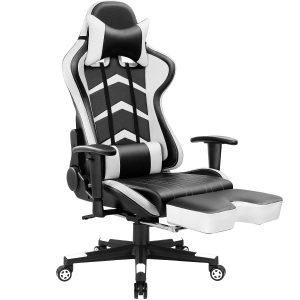 Most gaming chairs excel at giving support for your back and arms to ensure that you stay comfortable throughout your session. But Furmax goes a step further by providing support to your legs, one of the few products available in the market today that offer this feature.
The Furmax chair has a flip over footrest that helps you feel more relaxed. By deploying the feature, you can stretch your legs and place them on the thickly padded footrest for added comfort.
Another exciting feature of this product is that you can actually adjust the height of the armrest as well. This allows you further customization options to hit that sweet spot ideal for your body type. Some players tend to rock their chairs back and forth during a stressful game. Thankfully, the Furmax chair allows you to do just that as it has this feature incorporated into its design.
Ficmax Ergonomic High-back Gaming Chair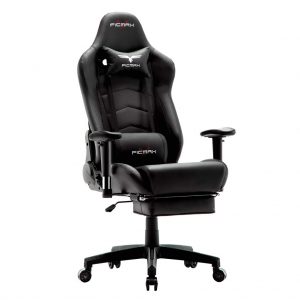 The Ficmax Ergonomic High-back Gaming Chair includes all the standard characteristics of a comfortable gaming chair. It can swivel, has smooth wheels, and sports a highly ergonomic design. Unlike some budget picks, this chair has adjustable backrest and armrests.
The chair is fitted with high-quality PU leather. It is also fade-resistant and effortless to wipe clean. Also, the thick cushion is super elastic, and doesn't deform easily. The chair also comes with a lumbar cushion and a headrest pillow for better comfort. It also has a tilt mechanism and a retractable footrest, so you can rest your back when taking a break. The chair is also equipped with a heavy-duty base plus castors to improve its durability.
One of its best features is its USB massager. This gaming chair will also function as a massage by just pressing a button. Very welcome after extended game sessions. Overall, this affordable gaming chair is perfect for gamers who fancy a chair with a massage feature. After all, this chair provides total relaxation thanks to its innovative function.
E-Win Ergonomic Gaming Racing Chair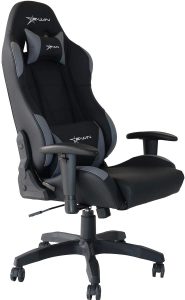 The E-WIN Ergonomic Gaming Racing Chair is easily one of the most comfortable chairs you will ever sit on, especially if you're looking for a big guy chair. This chair will make you feel like you're on a premium car seat in front of your gaming rig. It has an ergonomic design that lets you adjust the height, tilt and rock the backrest, swivel, and adjust the armrests until you find the perfect posture for your body.
The seat and backrest are covered in breathable and soft artificial leather with adequate padding that holds up very well. You can spend most of your day sitting on this chair, and it will still spring back to its original form the moment you get up.
In terms of build quality, the frame of this chair is made of metal and is coated with rust-resistant environmental paint to avoid corrosion. It has a heavy-duty base that supports the explosion-proof gas spring. Moreover, it is very easy to put together and will only take you half an hour to finish assembly since all the hardware comes pre-installed. The only downside to this chair is how cheaply the logos are embroidered, but this is easy to look past once you experience the premium comfort.
OFM Essentials Racing Style Leather Gaming Chair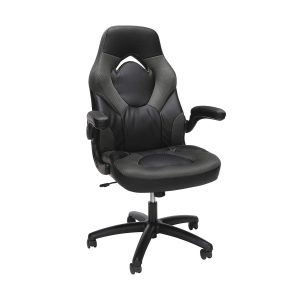 If you're not overly fond of the standard racing design of gaming chairs, then the OFM Essentials Gaming Chair will sure take your fancy. Its discreet and compact design will effortlessly blend in with your bedroom gaming set-up. The quality and comfort of this chair are way above its budget friendly price. The seat is padded in SofThread Leather, which is a premium, fluffier version of the regular PU leather covering.
Unfortunately, this chair doesn't have extra features like some chairs on this list. For instance, the backrest only tilts when you apply some, and it doesn't recline. The armrests are not adjustable either, they just flip up. However, if all you require is a pleasant spot to sit while you play, then this pick is more than enough.
The Essentials Mid-Back Computer Gaming Chair sports an ergonomic design and slapped with excellent warranties deals. If you are scanning for something modest but comfortable, then this chair got your back, literally.
Cyrola Large Gaming Chair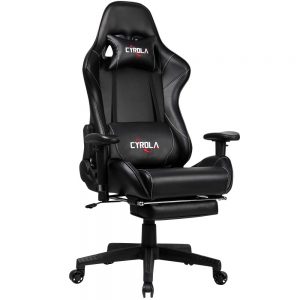 The Cyrola Gaming Chair is another excellent chair for gentle giants out there who want to have ergonomic support while playing. It also sports a tall backrest so you can relax with no issues. The seat cushion is padded with a thick foam to keep gamers from sinking in too much. It also sports a built-in footrest for maximum relaxation.
This chair also has additional features like adjustable lumbar and neck pillows, ideal for long gaming sessions. Unfortunately, it does tend to get warm after a while, but if you have the AC on, no issues here. Overall this chair is best for tall and big people who just want to enjoy a gaming chair without paying a fortune.
Racing Gaming Chair by BestOffice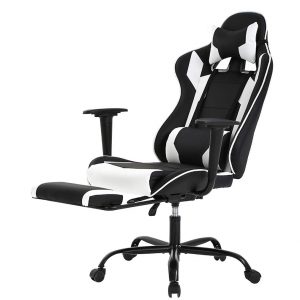 This chair combines ergonomics and gamer design to better suit the needs of PC players. This design enables you to relax and game even for extended hours without having back and neck pains. To optimize your gaming experience, it sports a bucket seat design, which reduces stress on your back.
Also, the backrest has a snug fit for better spine support. This innovation is ingenious especially if you frequently suffer from muscle cramps after gaming.
The backrest is roomy and capable of doing a full-tilt to accommodate power naps. The height can be adjusted, so short and tall people will have no problem fitting in. The chair has scratch-resistant and can swivel at 360 degrees. You will get all these premium features at a lesser price and that is definitely a good deal.
UOMAX Big and Tall Gaming Chair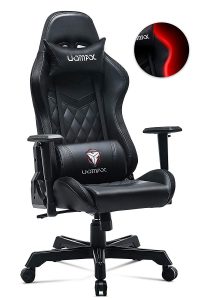 UOMAX is a heavy-duty, ergonomic gaming chair perfect for big gamers. It also sports reinforced stitches and PU leather upholstery to cover the cold foam padding. The use of these materials has ensured breathability and better temperature control.
This gaming chair is also equipped with a rocking and tilt function for better comfort. The chair also reclines back o up to 180 degrees and has a pull-out footrest, combine that, and you will have a chair ideal for power naps.
Other ergonomic features of the UOMAX chair are its lumbar pillow and headrest cushion. The lumbar support also functions as a massage pillow, now that is a fantastic extra.
RESPAWN Fornite Raven-Xi Gaming Chair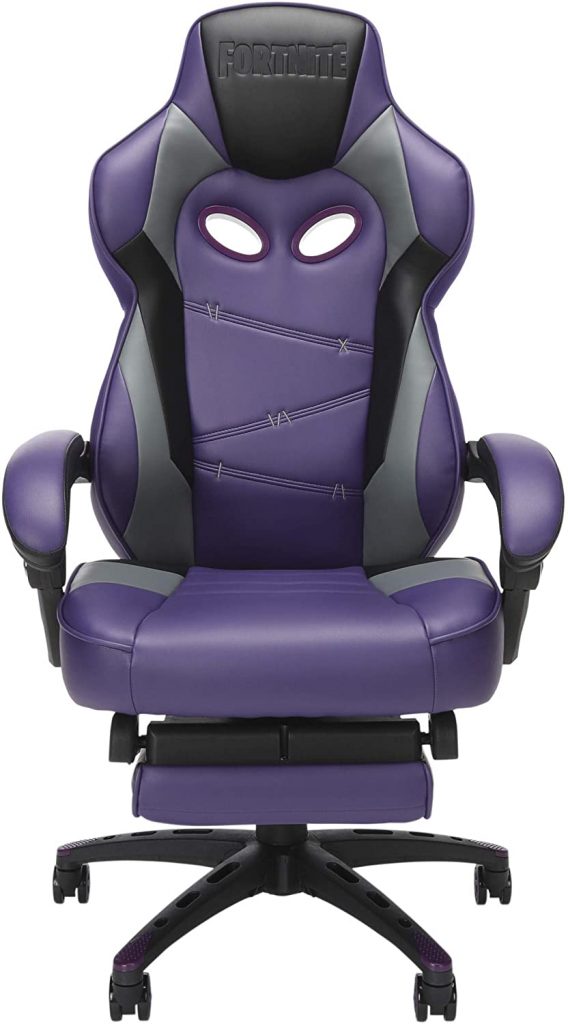 The Fortnite RAVEN-Xi Gaming Chair is designed to look like a race car and provides the ultimate luxury and comfort you need. It is best used for sitting for long periods whether you're working on an upcoming report or playing an intense game.
In terms of design, this chair features a high back that has segmented padding. The integrated headrest is combined with an extendable footrest and padded armrest for optimum comfort. You can put your feet up while playing if you want to.
If you love Fortnite, then you'll definitely fall head over heels with this game-inspired chair. The headrest is embossed with the game's logo allowing you to express your devotion to it. You can find the best position while gaming because it reclines and locks between 90 to 155 degrees. Swivel rotation is at 360 degrees allowing you to shift instantly if you want to. The maximum load is at 275 lbs which is enough for most gamers.
RESPAWN 200 Racing Style Gaming Chair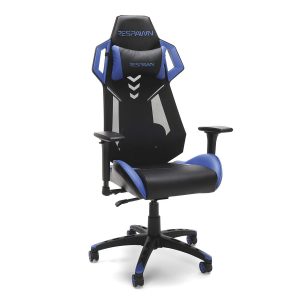 The RESPAWN-RSP 200 Gaming Chair offers the next level of comfort for gamers that comes with lifelong customer support at an attractive price tag. Instead of the small plastic armrests that are commonly spotted in most budget chairs, the RESPAWN-200 chair has more extended, fully padded armrests to keep your elbows relaxed while gaming.
This gaming chair also has an extendable built-in footrest for better relaxation. If you love your cushion super soft, then you might find this chair a bit stiffer than usual. But for those who want theirs to be firm, then this chair is the way to go. Overall, the RESPAWN-200 Gaming Chair is a good buy, with amazing after-sale support.
13. Vertagear S-Line SL2000
The Vertagear S-Line SL2000 is a mid-range gaming chair that offers premium features and an attractive design. It resembles some of the most popular racing gaming chairs on the market but bears a much more affordable price tag. It also has a neck pillow and reclining capabilities to provide stellar versatility. Most of the adjustment controls are ergonomically placed under the armrest for added convenience.
The SL2000 features a water-resistance polyvinyl chloride leather exterior to keep it protected from accidental spills. Although this chair provides adequate lumbar support for extended gaming sessions, the back post is reportedly stiffer compared to some of the more premium alternatives. Nonetheless, it's still a comfortable option for average-sized gamers.
14. Homall Ergonomic High-Back Gaming Chair
The Homall Ergonomic High-Back Gaming Chair is another excellent budget option. While this chair doesn't have the fancy features offered by more expensive alternatives, it provides the same level of comfort and proposes excellent value for money.
This gaming chair has a long back post to provide adequate neck and shoulder support for tall users. It has an adjustable armrest and a footrest, which are rare features for chairs at this price point. It even has weight-activated and auto-locking rubber casters to allow unimpeded movement while seated.
In terms of ergonomic adjustments, this gaming chair has a dynamic reclining system that can adapt to the bodyweight of the user. It also features adjustable lumbar support to prevent back pains during gaming marathons.
15. Flash Furniture BL-X-5M-BK-GG
The Flash Furniture BL-X-5M-BK-GG is a budget pick that offers outstanding performance for the price. It provides sufficient lumbar support and breathable mesh fabric to ensure a comfortable gaming experience. The upholstery is also padded with fire-retardant foam as an added security measure. If you don't like the mesh seat cover, you can opt for the leather seat variant.
When it comes to ergonomic adjustment options, this gaming chair has a tilt tension adjustment knob and a pneumatic seat height lever. The armrests can also be tucked away if you want to maximize productivity and mobility. If you're a big guy, this chair features a heavy-duty nylon base to improve its weight capacity.
Tips on Choosing the Chair For You
Before you go ahead and take a pick at our suggestions, here are a few points to consider when buying your gaming chair.
Customization Options
It's vital to choose a piece of furniture that allows you to make a few adjustments. This way, you can make changes to its configuration, such as its backrest tilt, seat, or armrest heights for a more pleasant gaming experience.
Size Matters
There is no one-size-fits-all in gaming chairs. That's why you need to pay attention to the specifications of the chair you are eyeing on. Make sure you fall within the height, and weight ranges that the chair is designed for.
Comfort Level
Another aspect of being mindful is the comfort level of the chair. While all chairs might appear comfortable when you sit in them for shorter periods, remember that some gaming sessions might last for hours. In this case, you'll appreciate the extra comfort given by that furniture with thicker paddings and cushions can provide.
6 Things to Consider Before Buying a Gaming Chair
When shopping for a gaming chair, it's essential to know what factors to consider to ensure that your needs and preferences are met.
1. Dimensions and Weight Capacity
Always check the dimensions and weight capacity of a gaming chair before making a purchase because the last thing you want is a chair that doesn't match your height or can't support your weight. You also want to ensure that you have adequate space in your room for the chair.
If you're between 5'2" to 5'10", a 42" to 48" gaming chair is ideal. If you're over 5'10", get a chair between 48" to 55" in height.
2. Budget
Now that you have an idea of your preferred dimensions and weight capacity, it's time to establish a budget. Gaming chairs range from $50 to $500, but the $200 mark is widely considered the sweet spot in terms of value for money. You should also be aware of what features to prioritize to avoid overspending.
Some of the features that could increase the price of a gaming chair include:
Premium fabric

Ergonomic design

Built-in speakers

Durable materials
3. Adjustability
A gaming chair that supports ergonomic adjustments is a worthwhile investment. It allows you to achieve an optimal sitting position without restricting your movement when playing games. Some of the most common adjustment options for gaming chairs include the pneumatic height, armrest height, and seat sliders.
4. Durability
The internal frame of a gaming chair is just as important as the exterior upholstery. You want your chair to be sturdy enough to hold your weight without compromising the structure. Some chairs have frames made of flimsy material that puts you at risk of accidents. That is why you must check the frame material before making a purchase.
5. Back Support
Perhaps the most important factor to consider when shopping for a gaming chair is back support. Gamers often sit in front of a display for hours on end, and they require adequate lumbar support to maintain a comfortable sitting position and prevent health issues like:
Back pain

Varicose veins

Ineffective blood circulation

Spinal issues

Constricted digestive tract
If you're a streamer or a competitive gamer, a gaming chair with sufficient back support is a worthy investment.
6. Upholstery
The upholstery fabric and quality can impact a gaming chair's price significantly. Most of the gaming chairs that have premium upholstery are generally expensive, but they provide superior comfort compared to more affordable alternatives.
Wrap-Up
Your comfort is just as important as winning matches, maybe even more. After all, a healthy gamer is a happy gamer. So, investing in a fully functional, ergonomically designed gaming chair is of utmost importance.
However, it is also true that gaming chairs can be expensive at times. Good thing that there are hidden gems out there as proven by this list. So, browse through them and prepare to meet the chair of your dreams.
Roundup: The 15 Best Budget Gaming Chairs 2020
Vertagear S-Line SL2000

Homall Ergonomic High-Back Gaming Chair

Flash Furniture BL-X-5M-BK-GG