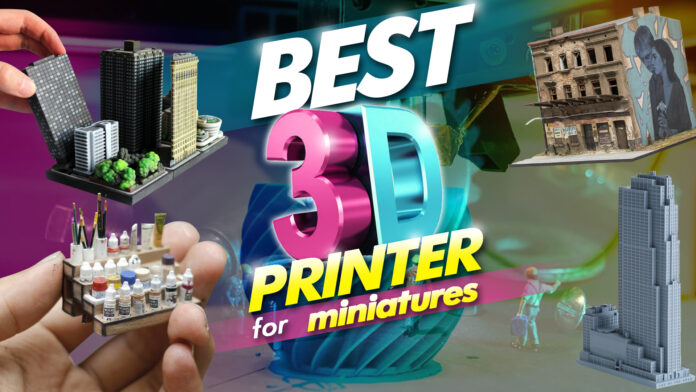 3D printers have a growing place in tabletop miniature design and game creation. They allow users to create custom figures and terrains or even create an original game!
Only a few years ago, the quality of 3D printers was not quite suited for creating tabletop gaming models. Nowadays, home 3D printers are more than capable of producing high-quality miniatures. You would still have to purchase other printing materials like brush and miniature holders, but you don't need to dig deep into your pockets to create detailed figures. As a matter of fact, 3D printing can save you roughly 50-80% less compared to buying a stock miniature figure in stores!
If you're a new hobbyist, there is plenty of support from an ever-growing army of online enthusiasts. The prices of these printers have also dropped in recent years, but they are becoming more and more reliable, durable, and easy to use.
However, there is a wide variety of 3D printers on the market, and not all of them are suitable for miniatures. That is why we generated this list of the best 3D printers for miniatures to help you get started creating your fantasy figures. We also included a definitive buyer's guide to help you determine the factors that matter when choosing a 3D printer.
Top 9 Best 3D Printers for Miniatures
Comgrow Creality Ender 3
Best 3D Printer for Beginners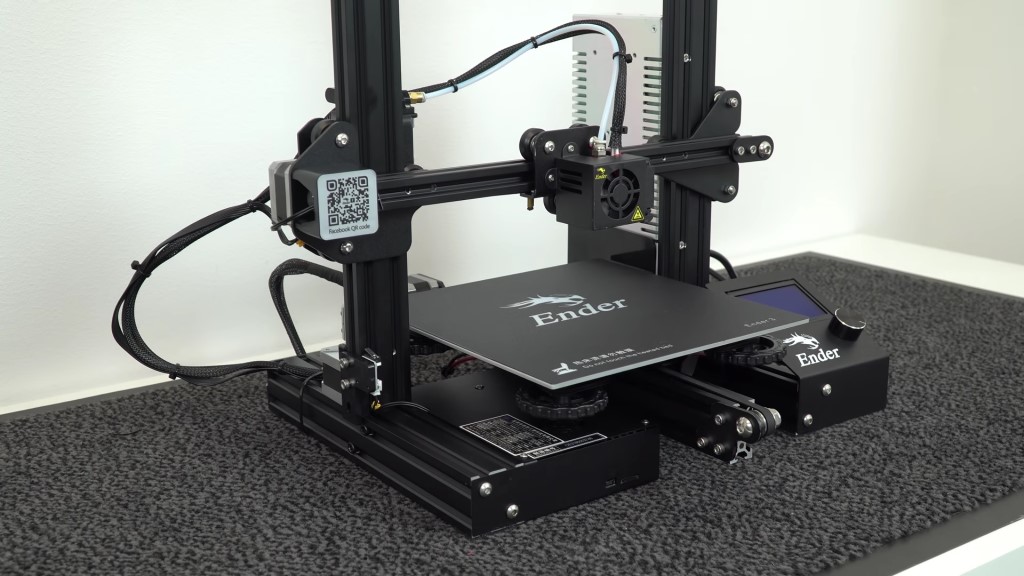 Image Source
Specifications

Printer Type

FDM

Nozzle Diameter

0.4 mm

Printing Accuracy

100 μm

Printing Speed

40 to 180 mm/s

Build Volume

220 x 220 x 250 mm

Weight

17.6 lbs
Comgrow is one of the most renowned brands in the 3D printing industry, and the Creality Ender 3 is their most popular addition. The company even has a massive online community that helps fellow users produce high-quality models.
The Creality Ender 3 requires assembly, so it is not the most suitable option for beginners. Nevertheless, the included guide is detailed and easy to follow. It takes roughly two hours to assemble, which is relatively quick compared to other printers on the market.
The Creality Ender 3 is a highly versatile unit. It has a massive print area, which is perfect for printing terrain. Once assembly is complete, you can start printing models right away. However, if you want to print at the highest possible quality, you should make a few adjustments to the settings.
A unique feature of the Creality Ender 3 is its ability to resume printing automatically after a power interruption. While it is a very well-rounded printer, it still has a few downsides. Most notably, the base is slightly uneven and can cause wobbling. Nonetheless, you can easily address this issue by using extra adhesions to stabilize your models.
The Creality Ender 3 has room for enhancements to further improve the printing quality. You can swap out the stock nozzle for something even smaller to improve accuracy. Since it is an FDM 3D printer, you will need filaments like PLA and ABS to start printing miniatures.
Overall, the Creality Ender 3 is an excellent option for beginners who want to start 3D printing without spending excessively. It features solid build quality and is popular among users on a budget. If you're an absolute beginner and don't want to deal with complicated assembly, check out some of our alternatives below.
FlashForge Creator Pro
Most Versatile 3D Printer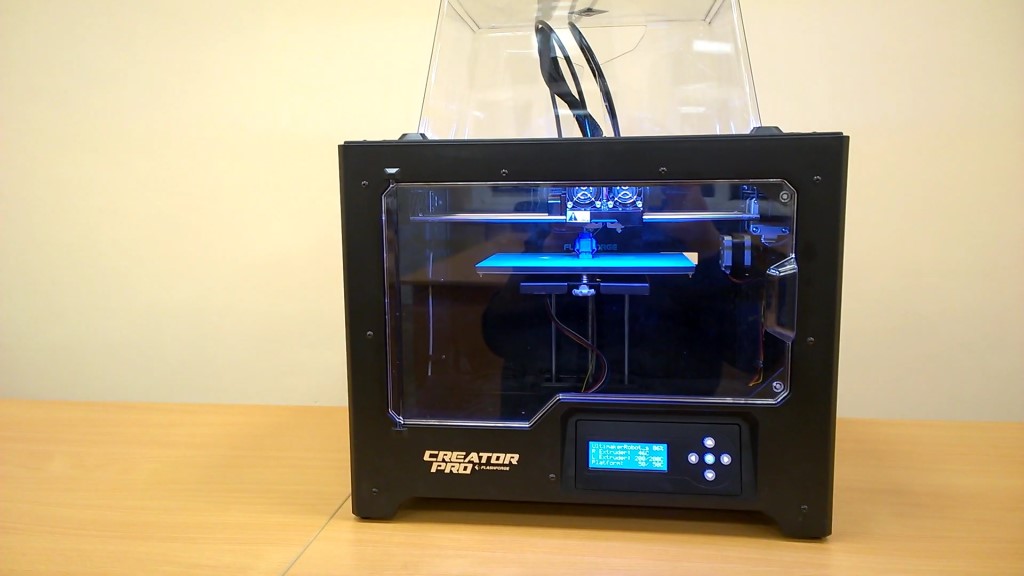 Specifications

Printer Type

FDM

Nozzle Diameter

0.4 mm

Printing Accuracy

200 μm

Printing Speed

10 to 100 mm/s

Build Volume

227 x 148 x 150 mm

Weight

32.6 lbs
The FlashForge Creator Pro has a lot of things going for it that make it stand out among the competition. Unlike most of the 3D printers on this list, it comes fully assembled out of the box. It has a durable plate and an enclosed acrylic chamber that can withstand very high temperatures, making it ideal for printing with specific materials. It also features an LCD screen that is intuitive and user-friendly.
If accuracy is one of your primary concerns, the Creator Pro delivers precise z-axis movement to produce detailed miniatures. It has dual extruders that let you make two copies of the same model simultaneously at high resolution. It also features a front door and an illuminated chamber that gives you convenient access to your printed objects in the dark.
The Creator Pro is one of the most beginner-friendly 3D printers on the market. Besides requiring no assembly, it can print for days with little to no maintenance. It allows you to print several miniature models within hours, but you might want to change some settings for optimal printing quality.
The Creator Pro can print with either ABS or PLA filament. Its support for water-soluble materials makes it suitable for printing detailed miniatures without multiple overhangs.
The Creator Pro can use filaments that aren't specific to FlashForge, but you may need to make your own spool holders since the ones that come with the unit have a proprietary design.
Overall, the Creator Pro is one of the strongest performers on this list. Its versatility makes it an appealing option for beginners and enthusiasts alike. The metal support arms for the aircraft aluminum build plate deliver thermal stability and prevent the plate from moving during printing. Moreover, the plastic-coated adjusters make it easy to adjust the build plate.
The only downside of the Creator Pro is the limited build volume. It doesn't have enough space to print large models like terrains, but it is more than enough for miniatures and model tools.
Dremel Digilab 3D20
Most User-Friendly 3D Printer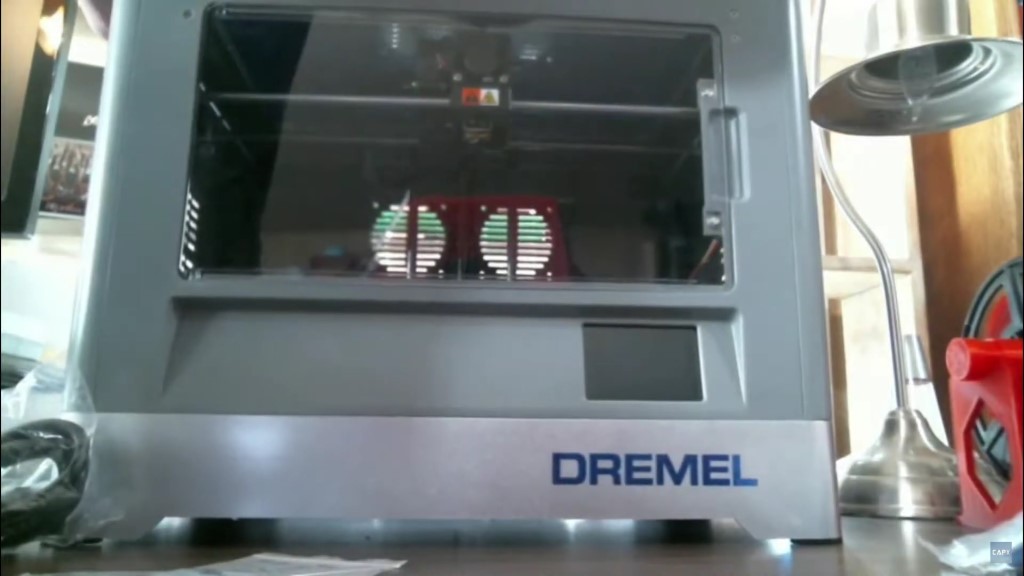 Specifications

Printer Type

FDM

Nozzle Diameter

0.4 mm

Printing Accuracy

100 μm

Printing Speed

100 mm/s

Build Volume

230 x 150 x 140 mm

Weight

19 lbs
The Dremel Digilab 3D20 is a popular choice for colleges and universities because of its ease of use, making it a viable option for absolute beginners. It features plug-and-play functionality that lets you start printing miniatures right away. The package even includes 0.5 kg of filament so you don't have to buy some separately to start testing the unit.
The Digilab 3D20 has a user-friendly ecosystem that guides you throughout the printing process. 3D printing has an undeniably steep learning curve, and this ecosystem makes it much easier to learn everything from scratch.
The Digilab3D20 has a considerably large build volume that lets you print large models like terrains. It is perfect for beginners who want to try printing other models besides miniatures.
ELEGOO Mars 2 Pro Mono
Best Budget SLA 3D Printer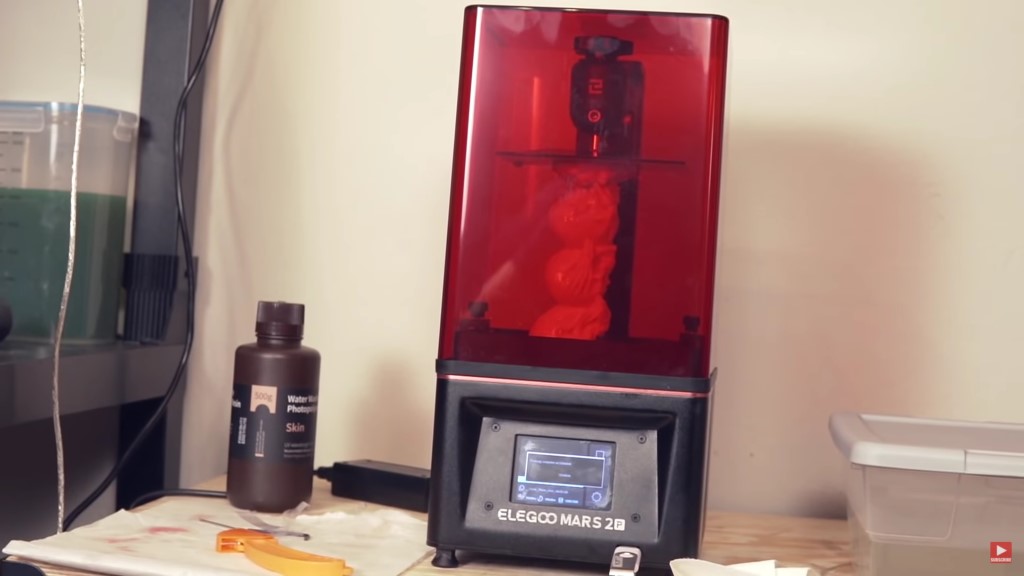 Specifications

Printer Type

SLA

Printing Accuracy

50 μm

Printing Speed

30 to 50 mm/h

Build Volume

129 x 80 x 160 mm

Weight

13.7 lbs
The ELEGOO Mars 2 Pro Mono is an LCD SLA 3D printer that can operate at fast speeds without compromising detail. It is also becoming a mainstay in desktop printing because of its stellar quality and speedy performance.
If you already have some experience using resin, Mars 2 Pro Mono is a remarkable option. It can print miniatures and tabletop models with detail and smoothness that just isn't possible with FDM alternatives. The LCD screen lets you adjust the precision when solidifying resins with precise layer resolutions.
The Mars 2 Pro Mono comes with a resin 3D slicer that allows for efficient slicing of models to save time. The package also includes useful features like tools that hollow out models before printing to reduce material costs.
All in all, the Mars 2 Pro Mono is one of the best budget resin 3D printers available today. If you want to print detailed and smooth models without shelling out a ton of cash, this printer is for you.
QIDI Technology X-ONE 2
Best Single-Extruder 3D Printer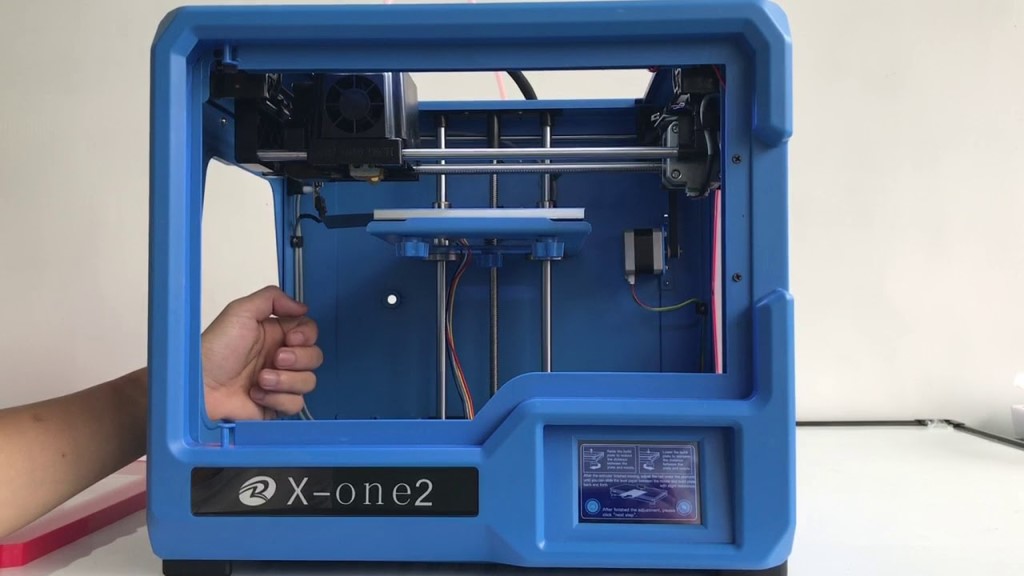 Specifications

Printer Type

FDM

Nozzle Diameter

0.4 mm

Printing Accuracy

50 μm

Printing Speed

50 to 150 mm/s

Build Volume

145 x 145 x 145 mm

Weight

41.9 lbs
The QIDI Technology X-ONE 2 is a single extruder 3D printer with a massive print volume. Besides being suitable for miniatures, it can also be used to print larger pieces and models. It is one of the heaviest options on this list, so it is best for use only in an office or home setting.
The X-ONE 2 uses 1.75 mm filaments with a standard-sized nozzle. It has a proprietary software program that lets you upload your models for printing. The program also lets you tweak the printing settings to get optimal results. When used correctly, you can print models with a layer resolution of 100 to 500 μm. This printer also comes with a user-friendly touchscreen interface for added convenience.
BIBO Dual Extruder
Best 3D Printer for Terrain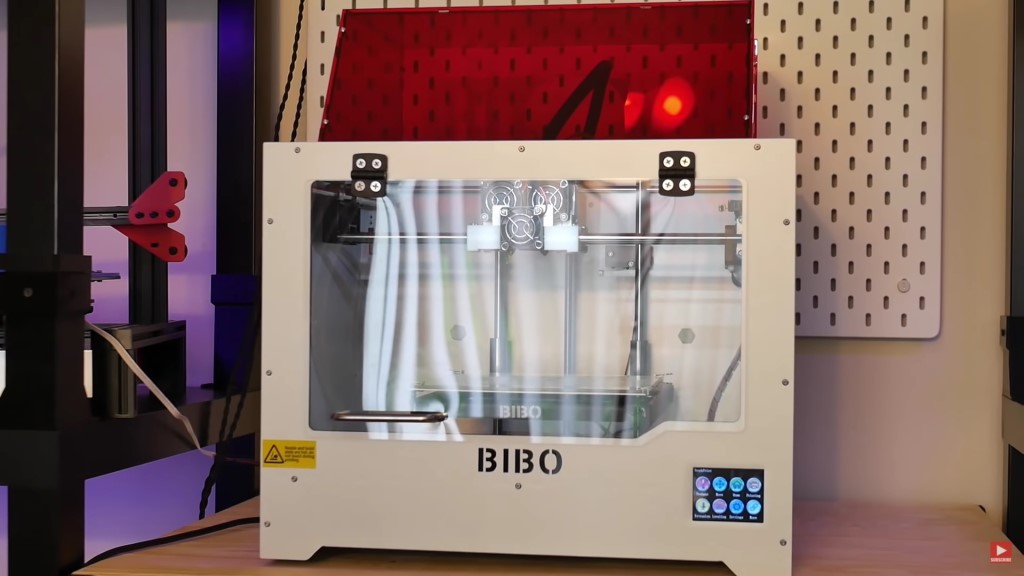 Specifications

Printer Type

FDM

Nozzle Diameter

0.4 mm and 1.75 mm

Printing Accuracy

50 μm

Printing Speed

60 to 350 mm/s

Build Volume

214 x 186 x 160 mm

Weight

35.3 lbs
If you're planning to print large models besides miniatures, the BIBO Dual Extruder is a no-brainer. It has a large build volume that lets you print terrains and other big objects. Although it requires some experience to run at optimal settings, it can produce detailed models and use a wide variety of materials like wood, leather, plastic, and even paper.
The BIBO Dual Extruder printer can automatically detect when the filament spool has run out and immediately pause the printing process. This ability allows you to seamlessly change spools without affecting the quality of the final product. It also has a wireless control option that lets you track the progress using your phone.
Since this printer features dual extruders, you can print two copies of the same model simultaneously to save time. It even has a touchscreen interface that makes everything much easier to control.
One of the most unique features of the BIBO Dual Extruder is the inclusion of a laser engraver. It lets you personalize your models with runes and marking to set them apart from stock figures.
On the downside, the BIBO Dual Extruder is quite difficult to put together initially. You may struggle to assemble the unit out of the box, but there are plenty of video guides online to help you through the process.
Overall, the BIBO Dual Extruder is one of the best picks for tabletop enthusiasts who want to print a combination of miniatures and terrains. It is also ideal if you wish to mass-produce pieces while maintaining high quality. While it has a steep learning curve, it is an excellent investment for enthusiasts.
Anycubic Photon Mono
Best SLA Printer for Characters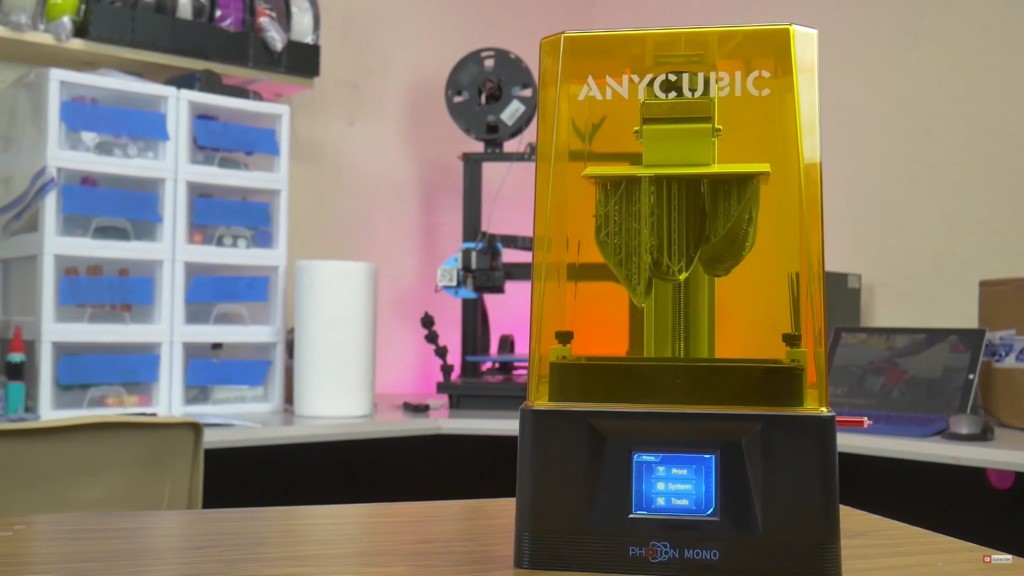 Specifications

Printer Type

SLA

Printing Accuracy

51 μm

Printing Speed

50 to 60 mm/h

Build Volume

130 x 80 x 165 mm

Weight

9.9 lbs
The Anycubic Photon Mono is another budget-friendly resin 3D printer suitable for enthusiasts who don't mind spending extra time to produce extremely detailed miniatures. It has a uniquely shaped build chamber that allows it to print tall models, which is suitable for printing tabletop characters.
Compared to its previous iterations, the Photon Mono has been upgraded with a more stable dual rain and dual z-axis slides for improved stability. It can print objects at a maximum speed of 50 mm/h, taking twice longer than most 3D printers on the market. Nevertheless, miniatures take a relatively short time to print, so it shouldn't be a significant issue.
The Photon Mono features a monochrome screen that provides uniform curing to enhance fine details. This screen enables you to print down to a resolution of a remarkable 47 μm, meaning you can replicate the tiniest facial details of your models. It is in a similar price range to the ELEGOO Mars 2 Pro Mono, and both units offer similar benefits.
Considering the precision, good build volume, and decent printing speed, the Photon Mono is a great purchase for anyone looking to print miniatures at high resolution.
If you want a superior part finish compared to FDM printers, the Photon Mono is a serious contender. It also has an active online community that you can reach out to for tips and tricks to print the highest-quality miniatures. However, we don't recommend it if you want to produce large quantities of your models since it requires a lot of post-processing and takes significantly longer to finish compared to FDM alternatives.
Anycubic Photon S
Best Mid Range SLA 3D Printer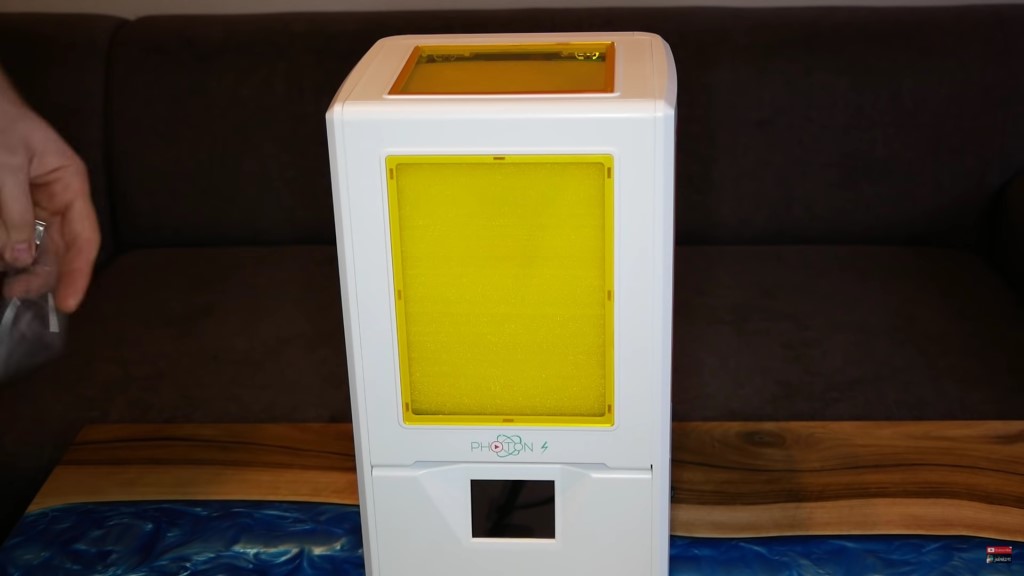 Specifications

Printer Type

SLA

Printing Accuracy

47 μm

Printing Speed

20 mm/h

Build Volume

115 x 65 x 165 mm

Weight

20.9 lbs
The Anycubic Photon S is yet another entry-level resin printer for those who value detail and precision for their miniatures. This printer has a resolution of 47 μm and a minimum layer height of 25 μm to produce some of the smoothest and detailed models for your tabletop games.
The Photon S features twin rails on the z-axis to prevent z-wobble and maintain superior precision. It has one of the smallest maximum print volumes of all the printers on this list, but it is more than enough for printing miniatures and other tabletop pieces. The unit comes pre-built out of the box, so you don't need to worry about complicated assembly. Anycubic has been around for a long time and it has an active online community that offers helpful tips.
All in all, the Photon S presents a remarkable value for money proposition. It is one of the best 3D printers you can get for miniatures, especially if you want to produce smooth and detailed models.
Comgrow Creality Ender 5
Best Budget FDM for Miniatures and Terrain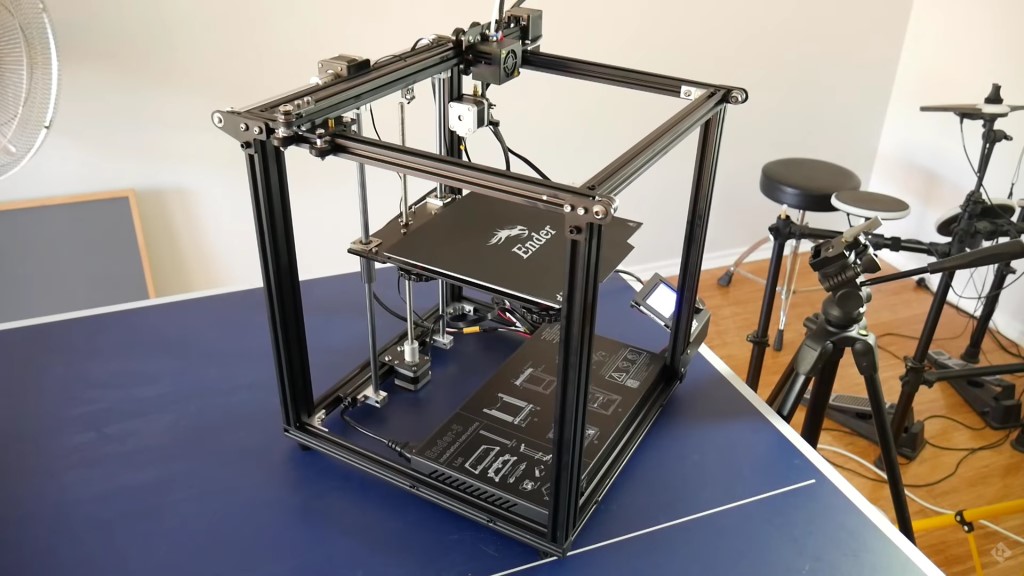 Specifications

Printer Type

FDM

Nozzle Diameter

0.4 mm

Printing Accuracy

100 μm

Printing Speed

40 to 80 mm/s

Build Volume

350 x 350 x 400 mm

Weight

40.1 lbs
The Comgrow Creality Ender 5 is an FDM printer with a low price tag that delivers incredible results. It features a large build volume that provides the needed versatility to print objects of varying sizes, from miniatures to massive terrains. One of the aspects that contribute to its affordability is the fact that it doesn't come pre-assembled. You have to put it together yourself, but it is a very straightforward process if you have the necessary experience.
The Creality Ender 5 has a maximum nozzle temperature of 255 °C, allowing it to print virtually any material type. The bed can go up to 110 °C, which is a remarkable feature to have, especially for a printer this affordable.
Like its previous iterations, the Creality Ender 5 has a feature that lets it resume the printing process automatically after a power outage. However, the print plate tends to have problems with adhesion as it is quite flexible and the first layer can sometimes have trouble staying in place. Nevertheless, you can easily address this issue with a glue stick.
Beginner's Guide to Resin 3D Printing Miniatures
How To Choose the Best 3D Printer for Miniatures
It is crucial that you know what factors to consider when shopping for the best 3D printer for miniatures. There are hundreds of options on the market, but not all models are suitable for printing miniature figures. Some are also unsuitable for beginners because of their complexity, requiring experience for smooth operation.
3D Printer Types: FDM vs. SLA
FDM stands for Fused Deposition Modeling. FDM 3D printers require a plastic strand or filament placed through a heated extruder and deposited in layers to create a 3D object. The extruder softens the plastic and lays it down layer by layer to create the finished model.
There is a wide range of FDM 3D printers for every budget and spools of filament are generally very affordable. Because of their low-cost materials and maintenance, FDM 3D printers are very popular among home-based hobbyists.
On the other hand, SLA stands for Stereolithography Apparatus. This process prints layer by layer like FDM technology, but it utilizes photopolymer – often a liquid resin that is then hardened with UV light or focused light (curing).
In SLA, the printed models are built from top to bottom. They are lifted upward out of a liquid resin bath by a build platform.
Generally, SLA 3D printers are more expensive than FDM 3D printers. They are the preferred alternative in professional settings than in home studios. However, prices have come down in recent years, and there are now affordable SLA 3D printers in the market that are suitable for home use.
Generally, there are two predominant technologies in 3D printing: filament (FDM) and resin (SLA). They have their respective share of advantages and disadvantages, and both are popular among hobbyists for different reasons. In this section, we contrast the two technologies to help you decide which one suits your needs and preferences.
FDM 3D printers utilize an extruder or nozzle with a hot end to melt the filament material. Once the filament is melted, it is deposited onto the build platform or plate to generate the 3D model.
The main drawback with FDM 3D printers is that they do a single layer at a time. However, they are much easier to use and offer lower operating costs than their SLA counterparts.
With SLA 3D printers, the post-print process is significantly more laborious than FDM 3D printers. However, they offer much better overall print quality than FDM 3D printers.
Detail and Smoothness Level
SLA 3D printers are known to produce smoother and more detailed models than FDM printers. However, FDM 3D printers can also produce highly detailed and smooth models with the help of these factors:
Nozzle Diameter: The diameter of the nozzle or extruder affects the amount of filament and the width of each printed line. Most FDM 3D printers, including those on this list, are equipped with a 4 mm nozzle, which is suitable for printing miniatures. Moreover, you can purchase an affordable set of nozzles in various sizes separately.
Precision: Most FDM 3D printers are based on the Cartesian coordinate system in mathematics. This technology uses three axes: X, Y, and Z to determine the correct position and direction of the print head to print the filament. Most FDM 3D printers have the print bed move up and down, creating an overall strong printing structure, leading to consistent, accurate, and steady prints. Precision is especially relevant when printing miniatures to make details like faces recognizable.
Layer Thickness: The bond between layers is generally weaker in FDM 3D printing compared to SLA. As layers are added on top of each other, there is a tendency for the top layers to weigh down and flatten the layers below. As such, the object needs to support the weight of its layers, which can be regulated by the thickness of the layers. Layer thickness can also affect printing accuracy. Ideally, you should print in the smallest possible layer height – around 100 microns – for excellent print quality.
Post-Processing
Both FDM and SLA 3D printing requires some post-processing of the printed models. However, SLA miniature post-processing is much more tedious than FDM.
With an FDM printer, all you need to do is clip off support sprues and optionally sand rough edges with sandpaper for better smoothness. On the other hand, SLA printers use toxic resin material, so it requires a lot of safety precautionary measures. For instance, you need nitrile gloves to avoid skin contact and safety glasses to protect your eyes. If resin comes in contact with your skin, you need to clean the area immediately with soap and water. You also need to clear your workspace to prevent resin spills. In case of a resin spill, clean the area before the resin hardens. You can also protect your work area with a layer of plastic sheeting. It is a good idea to provide adequate ventilation in your workspace to address resin fumes.
When a model comes out of the resin bath, it will be covered in liquid resin, so you need to rinse it off to remove the uncured resin. If you want an extra smooth finish, you can use an ultrasonic bath filled with isopropyl alcohol. You can also rinse your models in a tub of isopropyl alcohol in two to three cycles to remove all residue from the surface.
After rinsing the uncured resin, you need to remove the support structures of the model by snapping them off or using flush cutters to get a clean edge. Either way, there will most likely be nubs left where the support sprues were connected, so you need to sand the leftover nubs with sandpaper for a smooth finish.
The final step is curing the model. You can use a curing station or opt for a more affordable option. Most SLA 3D printer manufacturers also sell curing stations, but you can also use nail polish or cure your models under the sun, which will take longer than placing them under a lamp.
In conclusion, FDM 3D printers require much less effort post-processing but produce less detailed models. SLA 3D printers provide precise, crisp, and smooth prints, but they require post-processing work. You can base your decision on the amount of time you have, the level of detail, and your budget you want to achieve for your models.
So, which printer type is most suitable for creating 3D miniatures? Take a look at the comparative table below and decide for yourself.
| | | |
| --- | --- | --- |
| | FDM 3D Printer | SLA 3D Printer |
| Printing Miniatures | Decent quality prints. Can be improved using upgrades and tweaks. | Undoubtedly the best printing quality for small models. |
| Printing Terrain | Excellent at printing terrain. Some FDM 3D printers have large print areas to accommodate big pieces. | Remarkable quality, but SLA 3D printers have limited print areas. |
| Ease of Use | Moderate learning curve, relatively easy to set up. | Significant learning curve to print. More steps involved when it comes to setting up. |
| Clean-Up and Safety | Safe and straightforward; doesn't require extra clean-up. | Resin requires gloves for handling. Prints must be cleaned with isopropyl alcohol and cured in sunlight or UV light. |
| Extra Items Needed | Filament spools only. | Resin, isopropyl alcohol, gloves. |
Single-Extruder vs. Dual-Extruder
Dual extruder printers can print supports in water-soluble materials like PVA to produce smoother surfaces when removing support. Also, they are ideal for miniature models with two colors.
Build Volume
While build volume isn't an important consideration when printing miniatures, it matters if you want to build multiple small models or when building a large piece of terrain. If you have a small build volume, you can print a terrain piece by piece and then assemble it, while a large build volume allows you to print a terrain in one sitting.
For FDM 3D printers, a printing bed or build plate is a flat surface that is used to build your model. There are a variety of materials used for printing beds, including glass, plastic, and metal. The filament forms a temporary bond with the build plate as the model is printed, and the size of the plate limits the size and dimensions of your models.
It should be noted that the build volume listed by manufacturers only indicates the allowable print size, not the optimal print size for the best resolution and detail. That means you will likely lose print resolution and detail if you try to print at the maximum build volume.
If you want to print multiple miniatures at once, having a large build volume is beneficial.
Cooling
FDM 3D printers print miniature models quickly, and each layer may not have enough time to cool down before the next layer is printed. For this reason, you need adequate cooling from all angles of the print area to prevent deformation.
Build Quality
3D printers require a stable frame to prevent movements like vibrations, which can negatively affect the print quality.
Best Practices for 3D Printing Miniatures
Use Slow Printing Speeds
Printing miniatures at slow speeds allow for more detail. Ideally, you want to set your printer to the slowest printing speed to crate detailed miniatures.
Increase Infill Percentage
If you want your miniatures to be durable, set your infill percentage to a high setting. Otherwise, you can reduce it to as low as 10% if you don't mind giving up some part strength and save on printing material.
Optimize Retraction Settings
If you use an FDM 3D printer, optimizing your retraction settings is crucial to prevent oozing and stringing of filament.
Frequently Asked Questions
How Much Does It Cost To Print a 3D Miniature?
Hobbyists prefer 3D printing over buying stock figures primarily because they cost less. The average cost of printing an unpainted miniature is around $5 to $10. Beyond the initial investment of buying a 3D printer, the only sizable cost is the filament or resin material. However, SLA 3D printing costs more than FDM 3D printing because of the extra materials needed for post-processing.
How Long Does It Take to Print a 3D Miniature?
If you value printing speed over detail and smoothness, you can print a miniature figure in ten minutes. On the other hand, a highly detailed model can take as long as a few hours to a day to finish. You can check the software on your 3D printer to get an idea of how long it can take to complete a project with your desired settings.
What Is the Best Filament Type for FDM 3D Printing?
Acrylonitrile Butadiene Styrene (ABS) and PolyLactic Acid (PLA) are two of the most popular filament types for FDM 3D printers. They are types of thermoplastic, meaning they can be heated to a temperature to make them act like a liquid.
Although ABS technically has better properties than PLA, the latter is ideal if you want to produce aesthetically pleasing models. However, ABA is significantly more durable than PLA. Another thing to keep in mind is that ABS tends to warp during printing, diminishing the quality of your miniatures.
Are 3D Printers Safe?
Most 3D printers on the market come with features that ensure safety during operation. One of the most notable features of a quality 3D printer is the ability to cool the heated bed and nozzle after printing. Some 3D printers automatically point the nozzle away from the figure if you pause the job.
Where Can I Download 3D Miniatures To Print?
3D printers use .STL files, which are generated using CAD software. If you have experience in 3D modeling, you can use your preferred CAD program to generate your own miniature designs. You can also use a 3D scanner to scan a reference model and print it yourself.
If you have no experience with CAD software and have no access to a 3D scanner, there are online repositories that provide .STL files optimized for 3D printing. Some of these sites even let you make changes to the model using a CAD program.
The most popular of these websites is GrabCAD because they also offer a 3D printer monitoring software, allowing you to manipulate the CAD files before printing. While their technology is catered towards professional-grade Stratasys 3D printers, hobbyists can use the software too with a minimal learning curve.
Another platform that lets you grab .STL files is Pinshape. It is powered by a community of tinkerers who upload their own 3D printable files for you to manipulate or download yourself. It offers a wide variety of models to meet your demands.
Important Disclaimer
It should be noted that intellectual property laws often prevent the download and printing of trademarked characters. If you print trademarked characters from shows like Pokémon, you could get into some legal trouble since large companies are becoming more and more vigilant of people who break these laws.
Quick Recap: The 9 Best 3D Printers for Miniatures
Wrap-Up
That concludes our list of the best 3D printers for miniatures. Which unit are you looking to acquire for your tabletop miniatures and terrains? Let us know in the comments section below!