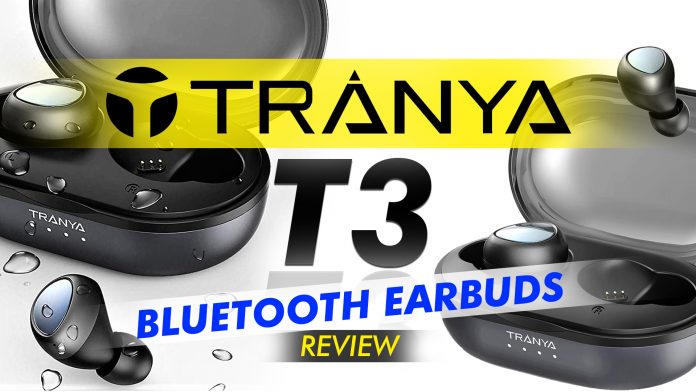 Introduction – The Unboxing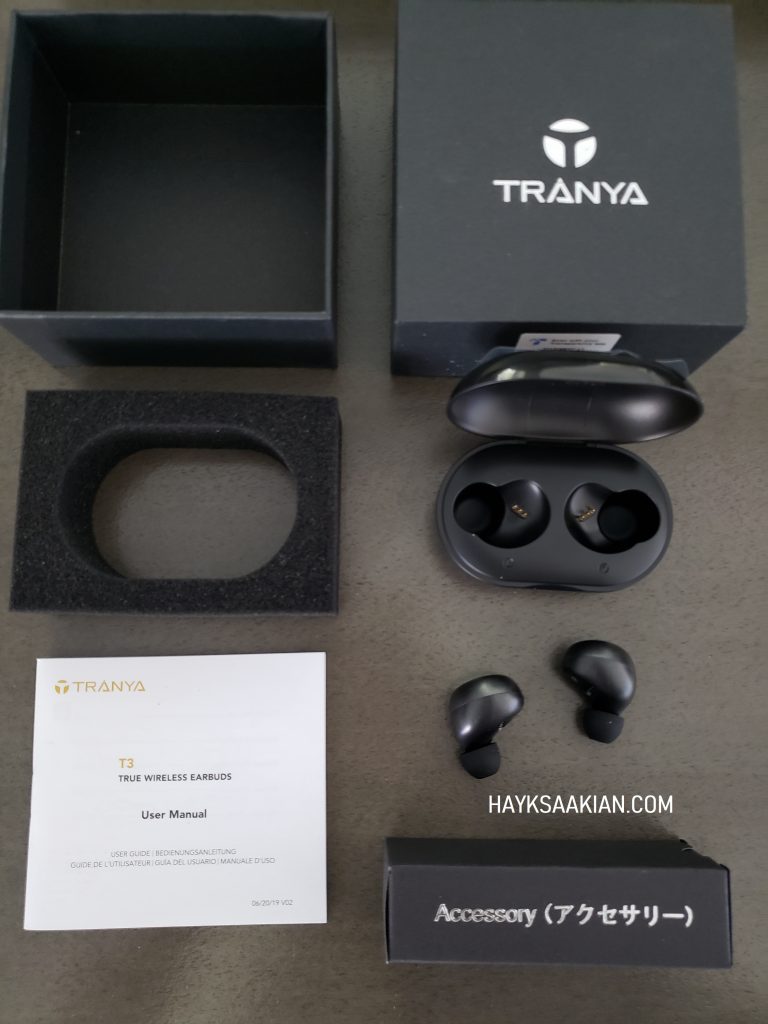 Recently, TRANYA sent me a pair of their T3 True Wireless Earbuds for review. Right away, I liked the sleek and minimalistic design of the packaging.
The box is a matte black square with shiny silver lettering. Inside, the earbud charging case rests in a snug piece of foam packaging with the earbuds safely inside. A second and much smaller black box contains the accessories for the earbuds, including the charging cord as well as the different size ear tips.
I liked that the smooth, round charging case featured a slightly transparent lid, allowing me to see when the earbuds were back inside and whether or not they were charging. The earbuds themselves were slightly larger than I had expected them to be, but they were still attractive and simple in design.
Quick Specifications

Headphone Type
In-ear true wireless earbuds
Driver Size
6 mm
Bluetooth Range
10 m
Wireless Connectivity
Bluetooth 5.0
Playing Time
Up to 7 hours
Water Protection Rating
IPX5
Weight
0.16 ounces
Exclusive: Use the discount code "HAYK40" to Save 40%!
How Do These Wireless Earbuds Perform?
Sound Quality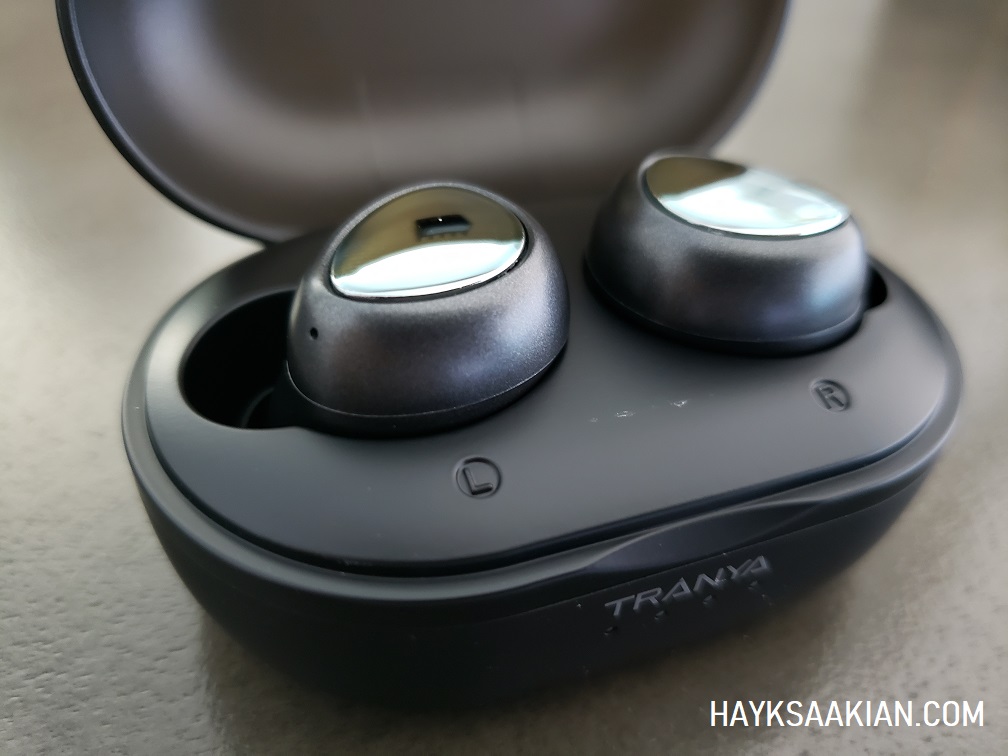 I was most impressed with the T3 Bluetooth Earbuds' bass quality. Even at the highest volume setting, deep and booming bass came through the speakers completely free of distortion. This makes them a great option not only for bass-heavy music, but also for playing action-packed online games or streaming movies and shows.
The speakers in these earbuds feature Realtek codec technology, which creates an immersive sound experience at all volume levels and frequencies. I found that my audio was extremely clear and rich. Both the highs and lows sounded great, so I was happy to use these earbuds for any and all types of audio.
The earbuds themselves are snug enough to allow for passive noise cancellation, so I was able to hear my music clearly even over the background noise in busier environments. There doesn't seem to be a lot of sound leakage, either. You should have no problem disturbing others around you even when listening to your audio at high volumes.
Microphone
I really appreciate that each of these earbuds features its own built-in microphone, so I can use either one or both to answer calls or game online.
The microphone is strong enough to allow for easy communication without dropping out or sounding muffled. Still, it works far better in a quieter environment than it does when trying to cancel out background noise over your own voice.
Construction and Durability
These TRANYA earbuds are clearly built to last. Not only are they made with strong materials, they have also been designed to be water and sweat proof. This made them a great option for me when I was working out, running, or doing any sort of physical activity outside.
The earbuds themselves are quite large, but I found that the materials used in their construction are lightweight enough to not cause any discomfort or make them fall out with movement. The size seems to actually be a benefit, as they fill up the ear canal enough to block out background noise during use. If you have smaller ears, then check out these earbuds for small ears instead.
The charging case is also durable, and I feel good knowing that my earbuds are safe in their case if I want to throw them in a bag and bring them on the go with me.
I really like that each earbud features one simple yet durable click button. With it, I could adjust the volume or skip tracks from either earbud.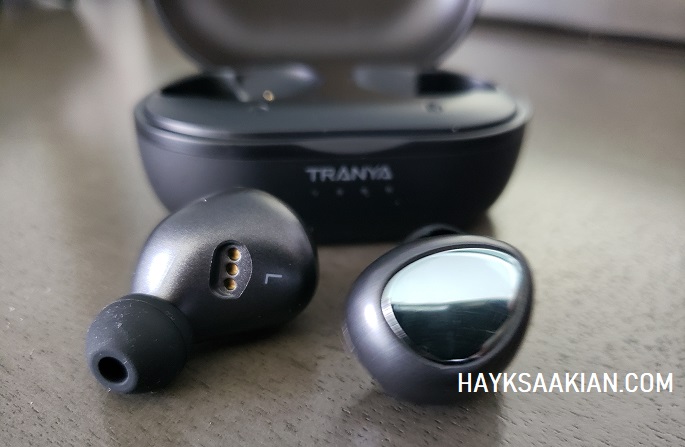 Comfort and Long-Term Wear
I was initially worried that these earbuds would be uncomfortable because they are bulkier in size than what I've been used to. Thankfully, though, I was pleasantly surprised by just how comfortable they were, even when worn for hours on end.
The silicone ear tips are soft and long, filling up the ear canal snugly so that you never feel like you need to readjust them or push them back in while you move around.
They are lightweight and never heated up like some of the other earbuds I've tried. I was able to wear these for long periods of time thanks to the extreme comfort and impressively long battery life.
Bluetooth Connection
One of the greatest things about these Bluetooth Earbuds is that they go into pairing mode the instant you remove them from the magnetic charging ports in their case. This made it super simple to connect them to my phone or other Bluetooth devices.
These earbuds feature Bluetooth 5.0 technology, meaning that they have an incredibly strong connection and an impressive range of up to 33 feet. I didn't find any issues with connection even when up and moving around without my connected device.
Final Thoughts on the TRANYA T3 Bluetooth Wireless Earbuds
Overall, I absolutely love the TRANYA T3 Bluetooth Earbuds. They are a great option for anyone who wants a powerful bass, easy Bluetooth connectivity, and a lightweight and waterproof design that can be worn during physical activity. While I wish the microphone had better noise cancellation, I was able to use it fine in a typical setting with normal amounts of background noise.