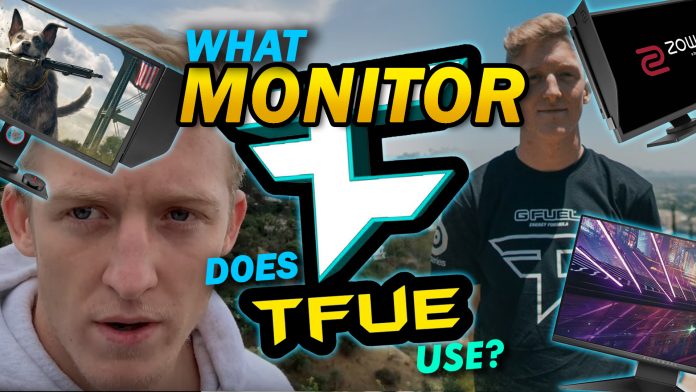 As of July 15, 2020, Tfue has over 8.7 million followers on Twitch. Being a member of a professional eSports company and invited to participate in Fortnite invitationals and charity streams, people look up to his gaming gear and peripherals.
Forgot to stream yesterday too busy mastering aim gods 🔑💪 I'm back doe pic.twitter.com/8qZJXHpxjU

— Tfue (@TTfue) February 12, 2020
In this article, we'll take an in-depth look at the monitor that Tfue uses, and even included a definitive buying guide for people who aren't sure if they should get the same monitor or not.
Who is Tfue?
Tuner Ellis Tenney, or more popularly known as "Tfue", is an American streamer and eSports player who has won many tournaments.
Tfue transitioned to playing Fortnite as Battle Royale exploded in popularity. He later joined FaZe Clan (a professional eSports organization) and competed in professional tournaments and charity events.
The most recent one he took part in was the SuperGames Charity Tournament, where two streamers were teamed up with two professional athletes to compete against 19 other squads as a four-person squad.
What Games Do Tfue Play?
Apart from Fortnite, Tfue also played other games such as H1Z1, PlayerUnknown's Battlegrounds (PUBG), Apex Legends, and the more recently, Valorant.
Starting Stream…. https://t.co/gF6wiuJwMz pic.twitter.com/3MSWPSvubQ

— Tfue (@TTfue) October 21, 2019
Based on the games he's been playing, you'll notice he primarily plays FPS (First-Person Shooter) games and battle royale games.
But apart from entertaining over 8.7 million people, Tfue has had some ups and downs throughout his career. You can learn more about what happened to Tfue to the end of this article in our What Happened to Tfue section.
Tfue's Current Monitor is the BenQ ZOWIE XL2546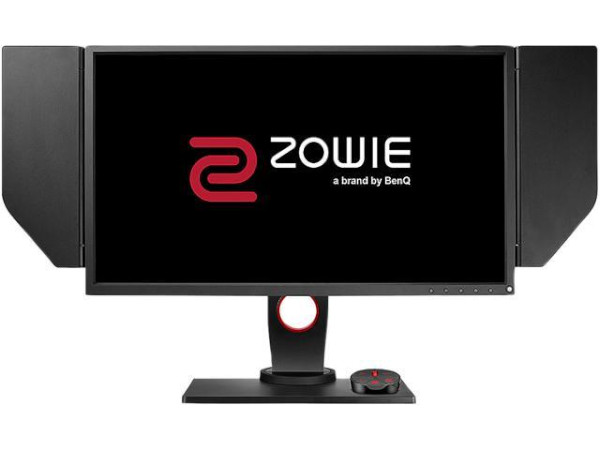 Tech Specs:
Size: 24.5 inches | Refresh Rate: 240Hz | Response Time: 1ms | Panel Type: TN | Max Resolution: 1920×1080 pixels
Tfue uses the BenQ ZOWIE XL2546. This monitor is similar to Shroud's monitor that also has 240 Hz of refresh rate, 1 ms response time, and "paddles" that will put you at an advantage when playing competitively.
This monitor has a refresh rate of 240 hertz, which produces a smooth gameplay experience. If you're leaning towards becoming a competitive FPS player or planning to play fast-paced battle royale games, this is your best bet.
But if you're on a budget, I recommend you check our budget 144Hz roundup. The difference between 144 Hz and 240 Hz may seem too big on paper, but in reality, the difference is very subtle. Casual players will rarely see the difference, but professionals can tell and need this small benefit to stay competitive.
But it's not the 240 Hz that stands out on this monitor– it's the two paddles on the sides called "shields". It may look unusual, but for a good reason.
The design of the ZOWIE XL2546 focuses on maximizing your concentration by blocking light sources or glares that may interfere with the screen. However, if you don't need these for whatever reason, you can just take them off.
Do note that you need a reliable graphics card that can output that much frame for you to achieve a solid 240 frames on FPS (first-person shooter) and other fast-paced games.
If your card can handle that, you'll see a massive improvement in your gaming experience, especially since this monitor has a lighting-fast 1 ms response rate. On top of that, this also is G-Sync compatible. If you have an Nvidia card, you can turn the G-Sync feature and experience no interruptions from screen tearing.
Unfortunately, AMD graphics card users may not be able to take advantage of this feature. But chances are you won't have to worry about this at all if you're also using a card that performs similarly to Nvidia's RTX graphics cards.
Compared to what Shroud is using (ZOWIE XL2540), this features a DyAc (Dynamic Accuracy) technology, which means you get accurate representation or fixed-rate lighting to avoid unwanted afterimages.
In terms of adjustments, you can do plenty of it on this monitor. You can tilt, swivel, pivot, and adjust the height to maximize your performance from having the most competitive view angle from the screen.
All in all, this monitor is a solid choice for people who want to maximize their performance like Tfue and other professional eSports players and streamers.
Other Monitor He Used: Alienware AW2518H Monitor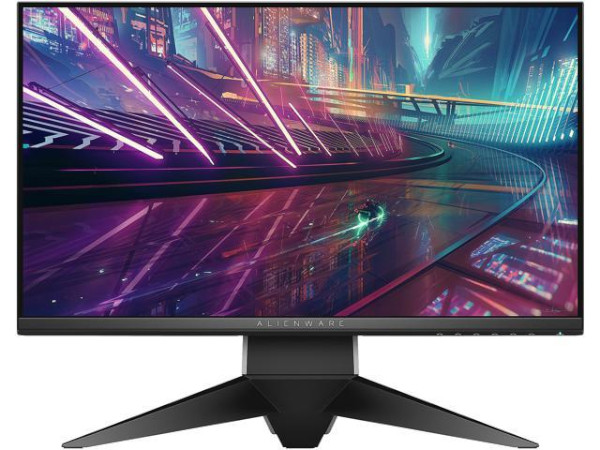 Tech Specs:
Size: 24.5" inches | Refresh Rate: 240Hz | Response Time: 1ms | Panel Type: TN | Max Resolution: 1920×1080 pixels
Products from Alienware are among the premium-grade quality. And this is true with the Alienware AW2518H.
The size of this monitor features the same size as Tfue is currently using, 1920 x 1080 pixels. It also features the same 1ms response time, a highly recommended technical specification for people who play FPS (first-person shooter) and fast-paced games.
Moreover, you get the same 240 Hz refresh rate, which should guarantee a smooth gameplay experience to put you at a considerable advantage. But all these high refresh rates and fast response time in exchange for "okay" color reproduction. After all, this uses a TN panel.
The G-Sync feature is also another thing that makes this perfect for FPS players that own an Nvidia graphics card. With this feature on, screen tearing will be a thing of the past. But note that AMD graphics card users who fancy this monitor will most likely have a high-end graphics card, so they should almost have no problems with screen tearing.
If there's one that puts this behind the BenQ ZOWIE XL2546, it's the lack of a Dynamic Accuracy (DyAc) feature. Nevertheless, this still is a solid choice for gamers.
Helpful Tips You Must Know Before Buying A Gaming Monitor
Before you buy a monitor, you should know what technical specifics make a good gaming monitor. Ideally, you want to check the following specifications to ensure you're choosing the right gaming monitor:
Aspect Ratio
Panel Resolution
Panel Technology
Panel Size
Refresh Rate
Response Time
What Aspect Ratio is Best for Gaming?
Games are programmed and coded to work precisely according to a monitor's width and height, or aspect ratio. Even though gaming monitors come in different sizes, they are all programmed to display either one of the three popular aspect ratios:
4:3 – An outdated aspect ratio usually found in older monitors, like the square CRT's.
16:9 – An aspect ratio found in modern widescreen monitors.
21:9 – This is another popular aspect ratio found in ultrawide monitors.
Ideally, you want to disregard the 4:3 aspect ratio as games aren't programmed to work on this monitor anymore. For gaming, the 16:9 aspect ratio is the sweet spot, while the 21:9 aspect ratio is more inclined towards users who do professional content creation on the sides.
Which Panel Resolution Give Offers the Best Experience?
UHD, 4K, UHD, QHD– which resolution is best?
A monitor consists of tiny pixels. The more number of pixels or the higher resolution a monitor has, the sharper the images look, and the better visuals appear when gaming. But note that this is also taxing for your graphics card.
Today, there are three screen resolutions you can choose from:
Full HD (1080p)
Quad HD (1440p or 2K)
Ultra HD (2160p or 4K)
Full HD or 1080p is the most popular panel resolution mainly because this gives users– even competitive gamers, enough number of pixels to see enemies even from hundreds of in-game feet away.
The monitor size associated with 16:9 monitors is large enough for most users to keep their vision and focus in check. While it's true that 1440p (or 2K) monitors give a significantly better view, it also is more taxing for your graphics card.
So, unless you have a graphics card that's powerful enough to push out a decent amount of frames on a 1440p monitor resolution, I'd suggest you stick with a Full HD or 1080p monitor so you won't jeopardize your performance in the game.
2160p or 4K resolution is not recommended for competitive gaming unless your sole purpose is to enjoy the game's scenery. This shows the best color quality and production among the three resolutions. But unlike the 1440p resolution, this would require a premium-grade graphics card to achieve a decent 60FPS.
Which Panel Technology Should You Get?
Another important thing you should look at is the monitor's panel technology. And there are three popular panel types that offer a variety of pros and cons:
Most gamers prefer TN (Twisted Nematic) panels due to its high refresh rate and fast response time of 1ms. However, this has the worst viewing angles among the three. Furthermore, it doesn't produce a surreal color reproduction as In-Plane Switching panels or IPS panels.
If you're looking for something that will help you stay competitive in FPS games, you should opt for a TN panel gaming monitor.
IPS (In-Plane Switching) panels offer picturesque image quality in exchange for a fast refresh rate and quick response time. In most cases, IPS monitors have 5ms to 3ms response time. The reason why IPS panels offer a slower response time than TN panels is that it requires a serious amount of power to reproduce high-quality imagery.
VA (Vertical Alignment) panels are like the jack of all trades. They produce better image quality than the TN panels and have a faster response rate than IPS. But among the three, they are the most affordable.
What Panel Size Benefits You Most?
Like televisions, gaming monitors also come in different sizes. So, which panel size is the best for your gaming needs?
Full HD or 1080p resolution monitors come in different sizes. But 24″ is currently the sweet spot this 2020, although there are other people who would prefer a 27″ gaming monitor– but that's a personal choice, and that's fine.
Competitive eSports players and professional streamers choose 24″ over a 27″ monitor because it's easier for the eyes to travel across the screen on a smaller screen.
Do You Need a Higher Refresh Rate or Not?
A monitor's refresh rate, measured in Hertz (Hz), lets you know how often the monitor refreshes the images displayed.
Generally, you'll want a monitor with a higher refresh rate if you're into FPS games since this gives you the advantage of seeing the latest updates on screen. This also explains why Shroud uses the best 240Hz monitor to stay competitive.
Noodles to say, you should always aim for a monitor with a higher refresh rate.
Does Response Time Matter?
We've mentioned response time for quite a few times now, but does it really matter?
The rate at which the monitor changes colors is measured in milliseconds (ms). Casual players won't be able to tell the difference between a 5ms monitor and a 1ms monitor, but a trained eye will be able to tell the difference.
Ultimately, you'll want to get at least 5ms if you're a casual player. But if you're a competitive FPS player, you should not settle with anything but 1ms.
What Happened to Tfue?
In May 2018, Tfue was banned from Twitch for 30 days after saying an alleged racial slur but was later lifted after it was confirmed that it wasn't used racially.
A year later, on July 2, 2018, Tfue's Epic Games account was permanently banned for buying and selling Epic Games accounts. And just a week later, he was banned again on Twitch for 14 days. Unfortunately, the details weren't revealed for some unknown reason.
But the issue didn't end there, as Tfue also filed a lawsuit against FaZe Clan on May 20, 2019, "pressuring" him to live in one of its homes in Los Angeles and pressured him to underage drinking and illegal gambling.
Furthermore, Tfue also claimed that he only got 20% revenue from any branded videos published on social media and streaming platforms such as Twitch and YouTube. But according to Faze Clan, they didn't take any money from his tournament winnings and even offered Tfue an improved contract– all in favor of Tfue, but he rejected it.
Just three months later, on August 1, 2019, FaZe Clan filed a federal lawsuit in New York against Tfue for violating his contract and forming a rival eSports organization. They also claimed that his contract's sensitive information was also leaked to media publications, which is a clear violation.
Final Words
Both the BenQ Zowie XL2546 and the Alienware AW2518H are solid monitors– and you'll likely end up having almost similar performance on paper.
But if you really want fixed-rate lighting to avoid unwanted afterimages, get the XL2546 to benefit from the DyAc feature. Otherwise, the Alienware AW2518H still is a solid choice.
If you're looking for a cheaper alternative, just refer to our in-depth buying guide, and you should be able to pick the most appropriate one for your game style.