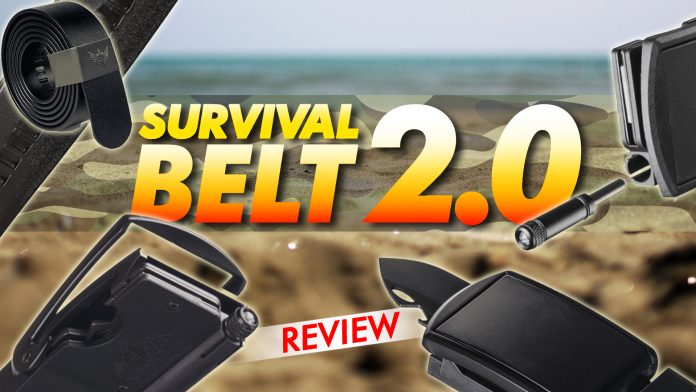 Want to gear yourself up for adventure? In terms of survival in the wild, we don't think about belts too often. People see them as an accessory, nothing more. But, we've come to grips with the fact that another product will change this common notion — Brig Taylor's Survival Belt 2.0.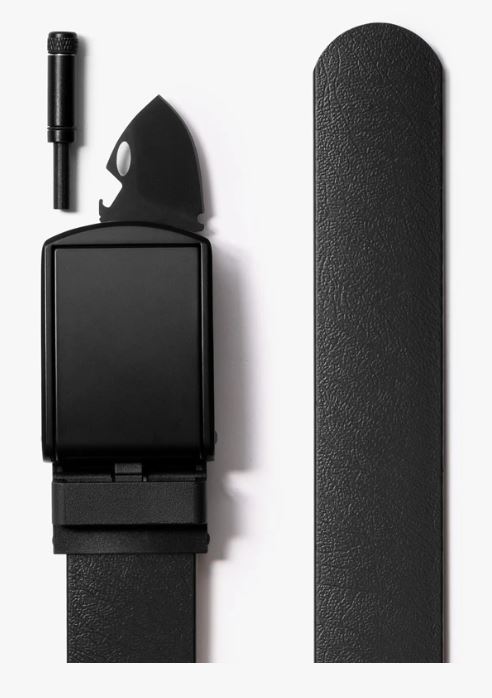 The Survival Belt 2.0 is not your common accessory, it's built for campers, hikers, and everybody who loves to go on an adventure. It has a handful of tools built in one sturdy belt including a knife. So, what's so great about the Survival Belt 2.0? Let's get to know this practical survival accessory.
Survival Belt 2.0 Features
AUS-8 Stainless Steel Knife
The stainless steel knife is built into the buckle and can be accessed only when lifted thus protecting you from unexpected cuts. It is very useful if you want to cut ropes or open food cans. The other side of the knife's cutting edge is a practical bottle opener great for beer during camping trips with the family.
LED Flashlight
Although smaller than the average, the LED flashlight can be useful as you don't have to carry a bigger one for lighting purposes. It is powered by four LR621 batteries which can be bought easily at most stores.
Fire Starter
Another function of the Survival Belt 2.0 is its fire starter. Handy during adventure trips, this fire starter will work even if it's wet. This is due to its ferrocerium which can produce hot sparks to help start fires.
Easy Lock And Release
You can simply attach the strap to the buckle's door to help secure it in place. Releasing is as easy as 1, 2, 3 as you just have to lift the dual lever and the buckle will be separated from the strap.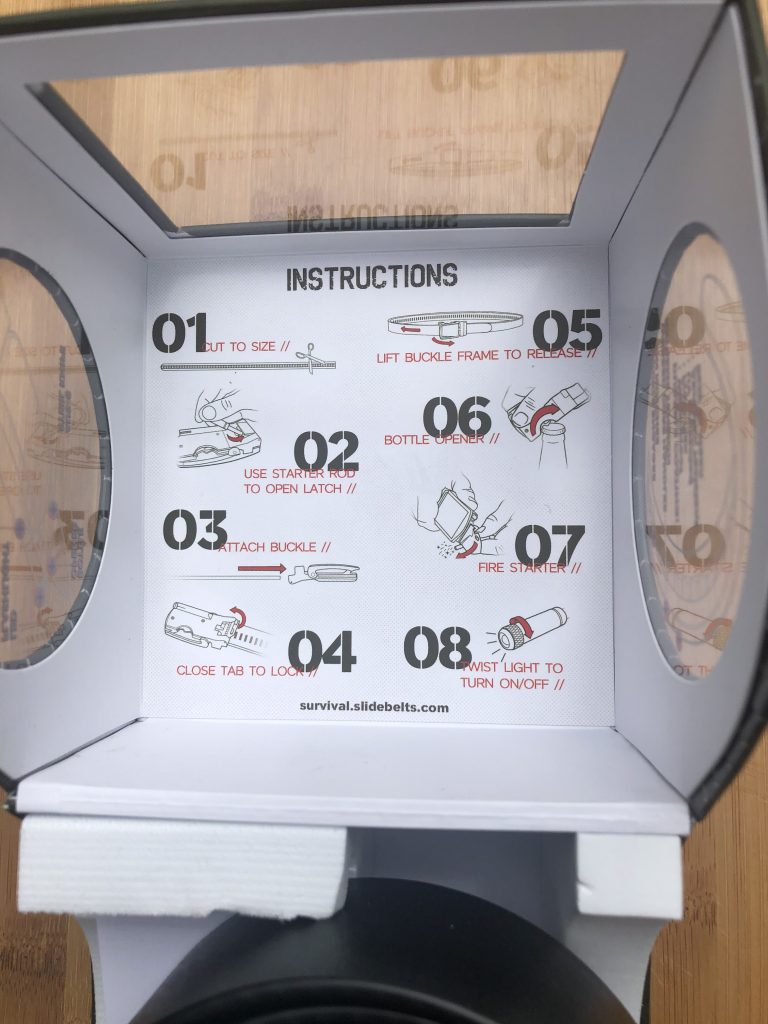 Durable Strap
The strap has a durable coating that is very easy to clean compared to other belts. Plus, it is waterproof making it impermeable to liquids both staining and non-staining. Its frost flex capability allows it to withstand extreme temperatures and can still flex freely even when freezed in intense cold. With regards to heat, it can withstand up to 214 degree Fahrenheit without softening.
If you've purchased belts before, you will notice that it cracks after you have used it for long periods of time. The Survival Belt 2.0 has UV protection so it doesn't crack even after being exposed to the sun. The best thing about this belt is it can withstand trauma without resulting in breaking or cracking.
The strap provides almost 1500 PSI of tensile strength. This means it can withstand a force of about 1500 pounds. That's way too strong for a belt. Custom fitting is possible with the strap as you can shorten it to fit your size. Plus, continuous notches at the underside of the belt allows for adjustments at any girth.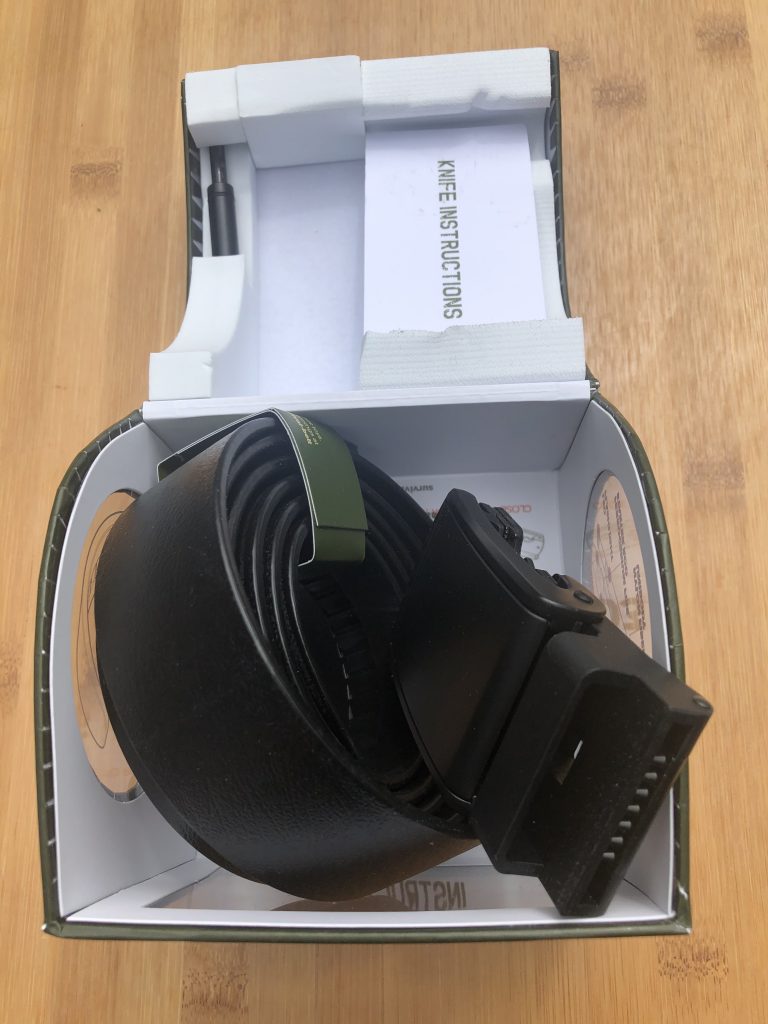 It Comes In…
The Survival Belt 2.0 comes in four different colors, black, classic brown, desert tan, and olive drab. You can opt for an engraved buckle or a flag-shaped buckle for an additional price. The strap is 1.5-inches wide while the buckle measures 1.96 x 3.75 inches.
Our Thoughts On Survival Belt 2.0
The Survival Belt 2.0 can come in handy if you have to go on an adventure outdoors. You don't need to bring some of the things you usually need such as a fire starter and a flashlight. These are all built into the belt and makes it a great gift for your loved ones.
The four-inch blade is very sharp allowing you to cut through different materials without any issues. Plus, the beer opener at the back is handy when you want to drink a cold beer, for instance.
The flashlight can be held without having to take off the belt. Plus, its other end can be used as a fire starter even when it's raining. Because the belt is durable under extreme temperatures, you don't have to worry about going on an adventure in different seasons.
Slidebelts has made sure that the Survival Belt 2.0 fits everybody up to a size of 48 inches. You can even cut it up to bring it down to a size that suits you perfectly. The website comes with instructions on how to properly cut the strap to fit your size.
The downside to using the belt is it's extremely difficult to secure the strap onto the buckle. This may be a good thing for others as it's also hard to release the strap from the buckle. This means, the Survival Belt 2.0 will securely fit into your waist. Other than that, everything is perfect.