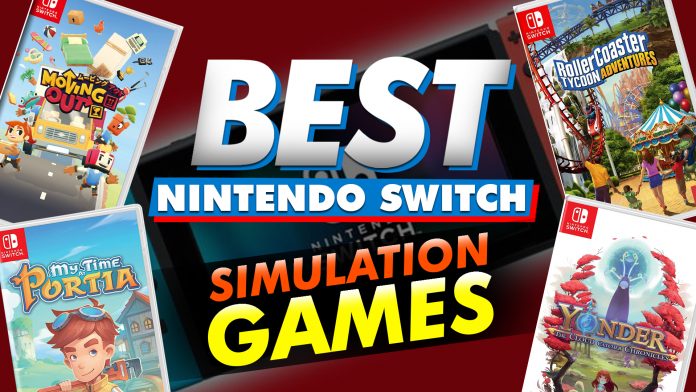 A simulation game will let you experience activities that you probably couldn't try in real life. Farming, for example, requires a large capital, immense manpower, advanced equipment, and a detailed logistics plan. If you want to play a simulation game, all you need is a platform or a console like Nintendo Switch – then you're good to go.
Check out the best Nintendo Switch simulation games:
Two Point Hospital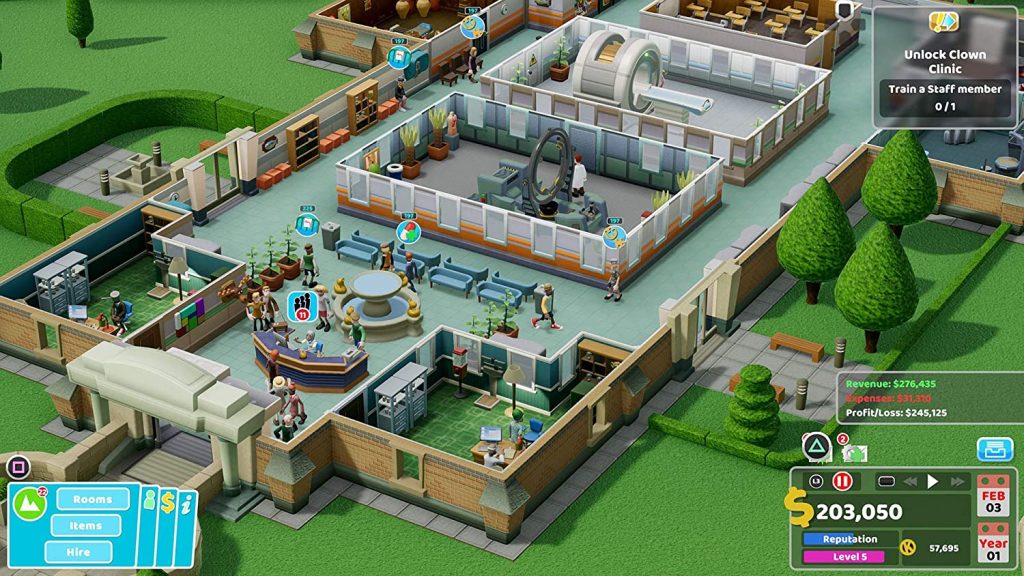 Have you ever thought of running your own hospital? It can be difficult to do in real life, but this is now possible virtually through the wacky wonders of Two Point Hospital. An important homage to 90's Theme Hospital, Two Point Hospital combined the aspects of humor, hospital management, and the quest for high-scale efficiency. The game looks friendly but it will test your management skills and proactive strategic response.
In a business, the cycle starts with the customer. The same thing can be said with Two Point Hospital albeit it's all about the patient. Upon entering the hospital, they'll be greeted by the receptionist that you placed in the game's design overview. After that, the patient will wait to see the GP. The patient will then be referred to the diagnosis rooms that you've placed. So, basically, you need to strike a balance between the flow of patients and the availability of the rooms.
Two Point Hospital's visual style is comical but aesthetically pleasing. The colors blend nicely, complementing most of the items, rooms, and even the patients and staff. You might encounter some frame rate issues in large areas, but this is not game-breaking.
What's So Special?
Virtually, you will have pure fun with Two Point Hospital – even if you hate data and general management. The idea of dealing with hospital problems and unlocking special items for your hospital is a great fuel for motivation. More importantly, the relaxing graphics work side by side with the game's humorous approach. Try this game in your Switch whenever you want to catch a break from hitting monsters or fishing!
Moving Out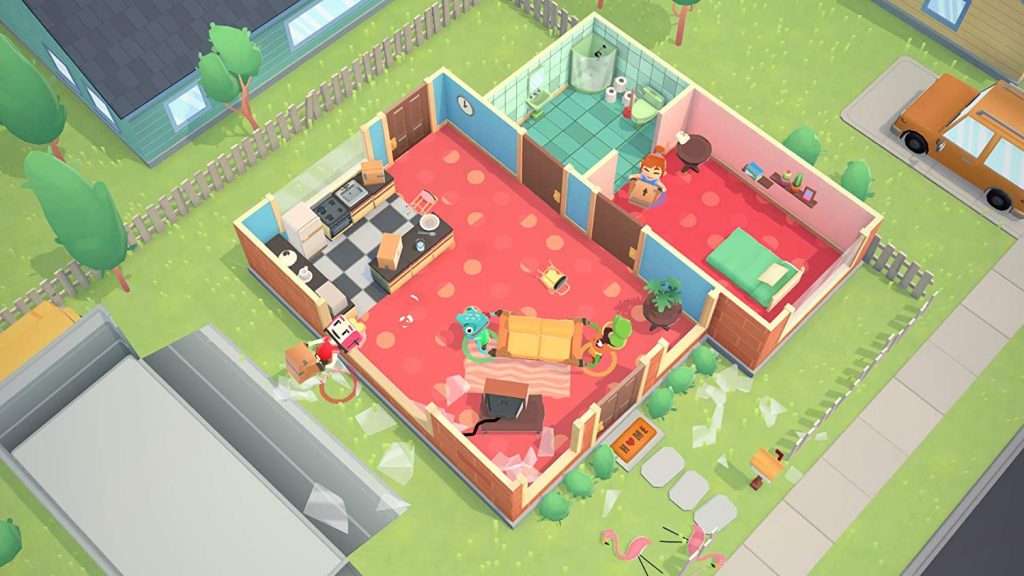 Moving Out has no ground-breaking story or a big baddie that you must conquer. Instead, you're designated as a Furniture Arrangement and Removal Technician or F.A.R.T. Your goal is to take a job order and haul furniture to your truck within a limited time frame. Sounds easy, right? Well, yes and no!
The main challenge of Moving Out is physics. Not all items have the same weight. A pot of plant, for example, can be moved easily. However, a couch will slow down your character, so you may need the help of a friend. This makes Moving Out highly suited for co-op multiplayer sessions. You'd have a hard time playing this game alone.
Every character is highly customizable, so you'd have something to look forward to. The environment is colorful, which can be a real eye candy. Moving Out's accessibility options are even better than what other casual games can offer. You can set UI scaling, adjust subtitles, and turn on a useful 'assist mode.' Perfect for hand-held gaming!
What's So Special?
The feeling of successfully moving stuff to the truck is rewarding on its own. While Moving Out's premise reminds you of real life, the game's wacky characters, rich colors, flexible game mechanics, and enticing sountrack will keep you hooked for a long time.
Rollercoaster Tycoon Adventures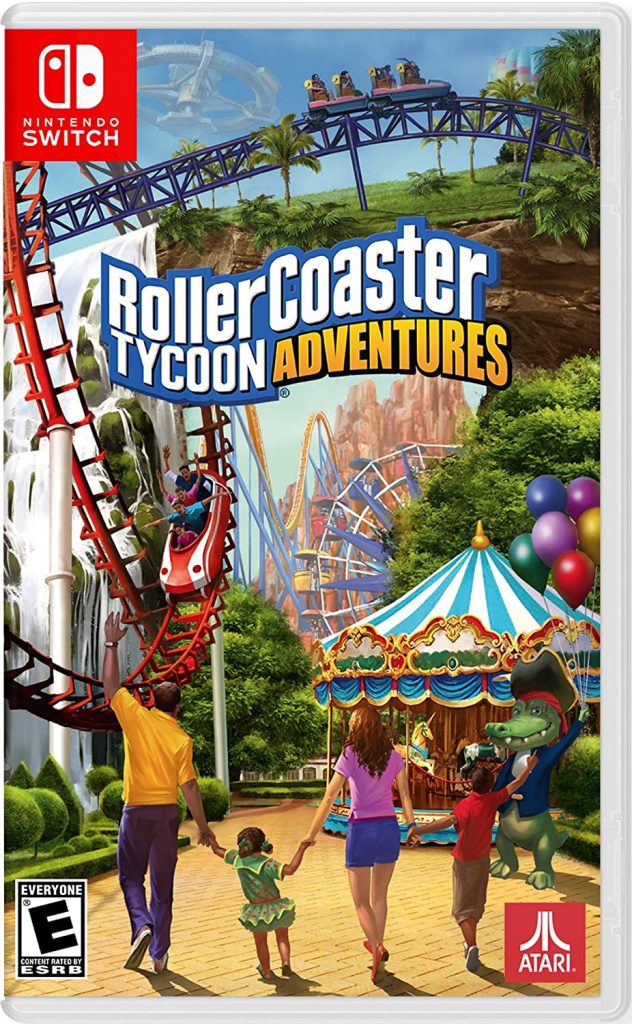 Visiting a theme park is always exciting and fun. Every ride brings an element of thrill, and you get to explore some interesting sights as well. What if you gain the opportunity to build your own theme park? Just hit up your Switch and check out Rollercoaster Tycoon Adventures.
An effective hit of the 90's, Rollercoaster Tycoon (RCT) created a sphere of hopeful and imaginative players. Various designs were shared over the years, and the game series continued to become popular. With Rollercoaster Tycoon Adventures on Switch, the demographic became larger. The transition from PC to Switch is nearly seamless, allowing flexible touchscreen integration and better UI. Whether you're a fan of Rollercoaster Tycoon or new to the game, you'd be satisfied with this level of flexibility.
Thankfully, the microtransactions of previous Rollercoaster Tycoon mobile games were removed. Now, you don't have to pay to unlock specific rides and theme park items. Instead, you have to work hard earning money and research points. You have to balance the needs of the visitors and the specifics of your theme park.
Automation is also a prominent concept in Rollercoaster Tycoon Adventures. You can automate everything in the game, such as managing rides and having the tasks of your staff queued. This almost removes the hands-on experience of RCT, but it can help you save time and focus on expanding your theme park.
What's So Special?
Rollercoaster Tycoon Adventures still retained the spirit of the series. However, if you're playing for nostalgia, you might find the experience lacking. To fully enjoy Rollercoaster Tycoon Adventures, you need a different perspective. Consider it a spiritual successor or even a spinoff, even though it's challenging. Still, Rollercoaster Tycoon Adventures can be a good side-game that you can play if you have extra time!
Yonder: The Cloud Catcher Chronicles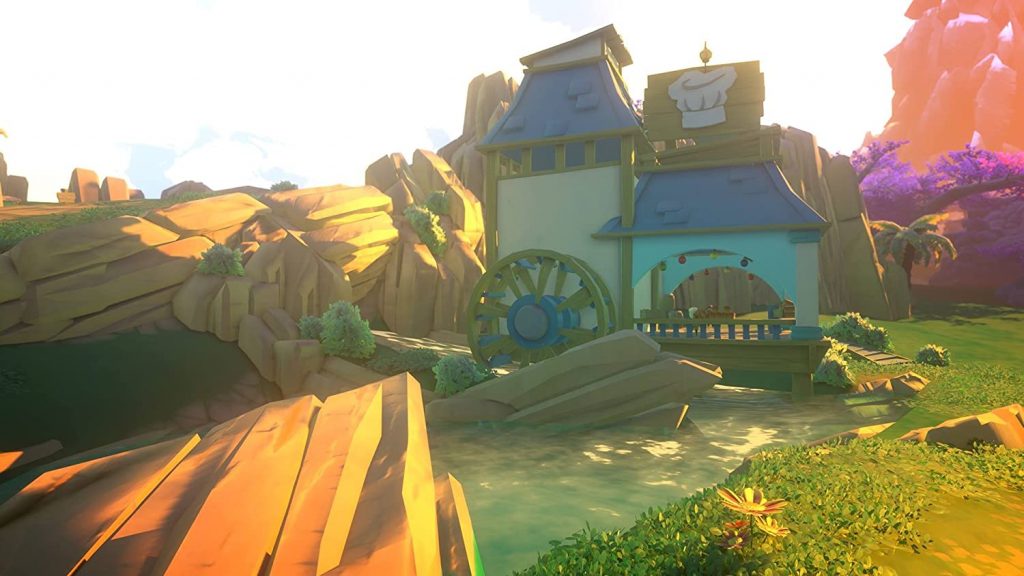 More often than not, a game with too much to offer will not deliver effectively. No developer is perfect, and games will always lack one aspect in favor of another. One game that blends multiple aspects yet maintains a certain charm is Yonder: The Cloud Catcher Chronicles.
Yonder is a relaxed and peaceful game. You don't have to worry about mobs of enemies or a big baddie after your trail. That feature is a double-edged sword because combat is an initiator – a fuse that gets the plot going. The main challenge is to remove all sources of 'Murk' and restore the land to its pristine state. Murks can hinder the way you explore the land, so you can treat them as the game's static enemies.
Exploration is the real ace of Yonder. Every place gives you a chance to discover new items, forage stuff, and find secrets. The visuals are remarkable and catchy for the eye. At the first few hours, you will enjoy gathering stuff and making Murks dissipate. And then, it will hit you – the wall of drag. Without a sense of combat and real risk, the reward is minimal.
What's So Special?
Despite its draggy nature and lack of combat, Yonder: The Cloud Catcher Chronicles appeals to a large demographic. This is a game that you can pick at an easy morning, play for a few minutes, then get back to your real life tasks. If you have a busy schedule or a desire to relax in a video game, Yonder is a great match. Get it as an easy, pick-me-up game for your Switch!
My Time At Portia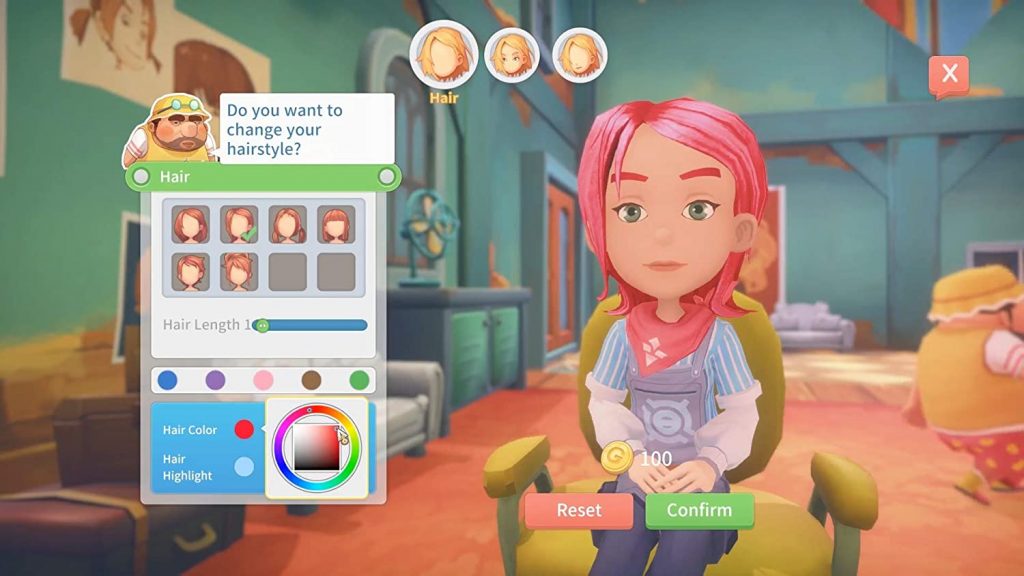 Crafting games are fun because they spur your creativity and curiosity at the same time. They also tend to be long because you have to grind for the ingredients or materials needed. As one of the most prominent crafting games of this time, My Time At Portia tried to deliver many interesting aspects to the Switch demographic. Somehow, it is successful – but at what cost?
My Time At Portia starts out with a basic plot. You're the son or daughter of a famous builder, and you need to return to Portia to restore your parent's old workshop. Aside from that, everything you build contributes to Portia's glorious restoration. It sounds easy, right? There's a catch: other tinkers are competing with you, so hard work is needed if you intend to shoot for fame. The beginning mission is also difficult, segmented into different parts. You need to listen attentively or jot down real notes to memorize the ingredients or parts needed.
It's fitting to say that My Time At Portia is not a 'pick-me-up' game. You will spend hundreds of hours crafting for items, fishing, grinding, foraging, and completing town events. Also, the game's loading time can take a few minutes, and you may think that it's broken. Well, it's not! The game developers are consistently launching patches to ensure the game's stability.
My Time At Portia's transition to Switch is nearly flawless – visually and audibly. Aside from the loading time and the game's innate difficulty, you have nothing to worry about.
What's So Special?
Pressure is the major driving factor of My Time At Portia. The crafting mechanic of the game is challenging, so you need to plan ahead carefully. But with great challenge, you can expect for a great reward! As long as you're meticulous, My Time At Portia will guarantee long hours of Switch playtime.
Farming Simulator 20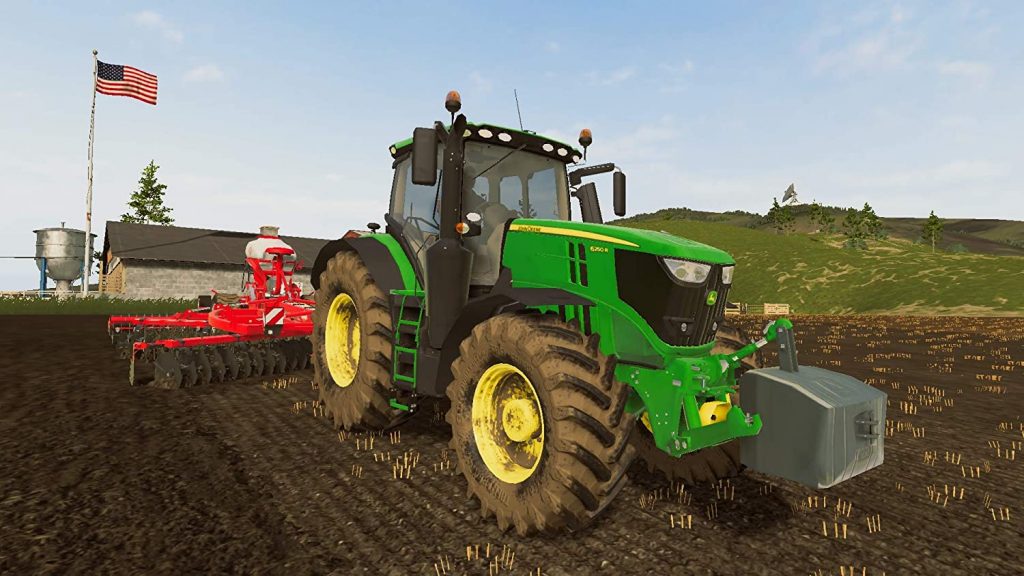 A game series that spanned multiple versions deserves anyone's attention. Farming Simulator, for example, has a rich development history that goes back to the heyday of 2008. Now, at Farming Simulator 20, the series has taken a more advanced turn. Switch users can now feel the absolute thrill of realistic farming with the help of modern equipment.
Farming Simulator 20 still retained the spirit of the previous games in the series. You still need to crush the numbers, sow seeds, buy equipment, upgrade stuff, and hire manpower. Then rinse and repeat the whole process – just like real-life farming. At the early phase of the game, you might feel overwhelmed. There are many things to do, and you might be compelled to analyze one graph after another. After all, data is important in modern farming.
Visually, this game version is satisfying. The environmental details, as well as the equipment design, are great for farming immersion. That makes the game highly addictive with a sense of consistent progression.
What's So Special?
Farming Simulator 20 is all about the numbers going up. Instant gratification is not the core of the game, and you need to work hard to grow your modern farming empire. Perhaps this is the reason why younger gamers tend to forego Farming Simulator and choose whimsical farming games instead. If you love the concept of hard work, then you should add Farming Simulator 20 to your growing Switch library.
Harvest Moon: Light of Hope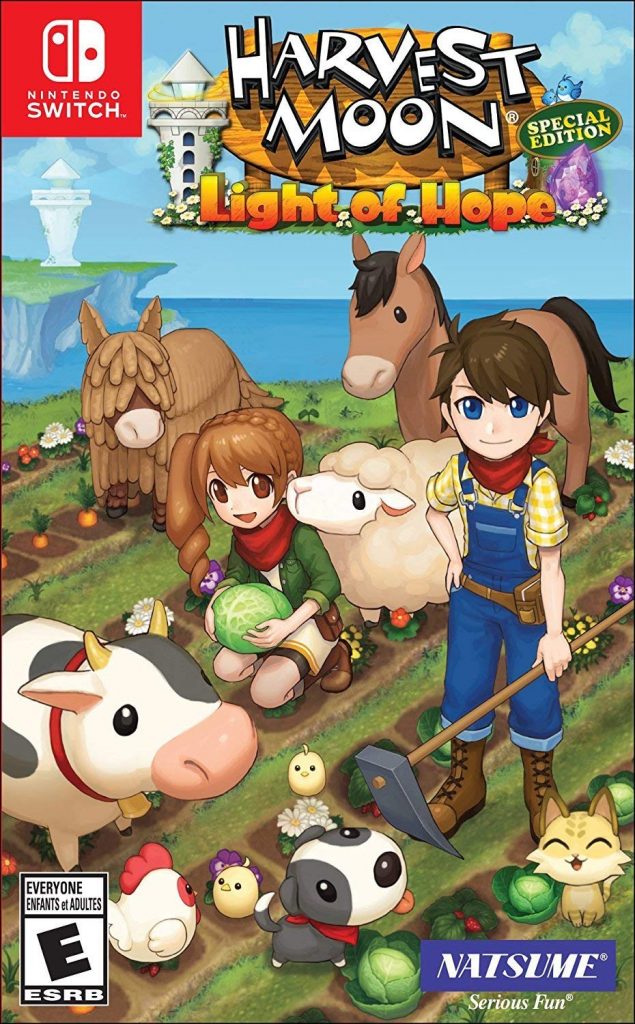 When it comes to farming simulation, the most popular series is none other than Harvest Moon. The series gave way to variable farming mechanics, as well as dating and open-ended farm management decisions. Now on Switch, Harvest Moon: Light of Hope is set out to capture the hearts of many gamers – particularly the younger demographic.
Even though Harvest Moon: Light of Hope retained the casual simulation format of the series, the co-op function made the game more interesting. Playing with a buddy is always fun, especially if tasks get too monotonous. At least, you have someone to talk to while grinding everything out.
For all its cute appeal, Light of Hope is not a graphical powerhouse. Sprites look recycled over different locations but they won't break your immersion – unless you're graphics-sensitive. Audio is okay but can get repetitive and nonsensical over time. You can simply listen to your favorite tunes instead of dealing with Light of Hope's repetitive audio.
What's So Special?
Light of Hope is an acceptable Harvest Moon title that shouldn't be missing in your Switch library. The game performance is not as spectacular as other previous Harvest Moon titles, but it has a delicate, addictive charm. Pick up this game if you want to spend an afternoon just relaxing away.
Farm Together
It's easy to consider Farm Together as one of the best 'decoration simulators' ever made. Almost every item you unlock in this game is a decorative piece that gives off a chunk of XP or tickets for additional decorations. The process sounds mundane, but it is not. The curve is addictive because you'd be interested what items can be unlocked next.
Farm Together's style is cutesy and whimsical, similar to mobile games of today. Some of the trees look realistic, while others feel like pulled out from a distant dream. Since Farm Together's content is inspired by real-world events, you should expect for seasonal items like pumpkins and spooky stuff for Halloween.
The multiplayer feature of Farm Together is expertly done. Your friends can visit your virtual farm work on your crops or tasks left behind. And of course, you can always return the favor whenever you want!
What's So Special?
Farm Together is all about hitting the next thing on your checklist. It's an enjoyable game fuelled by you and your friends' creativity. There are lots of crops to manage, as well as items to unlock. Things may get repetitive after a few hours but you'd find yourself playing this game over and over.
Graveyard Keeper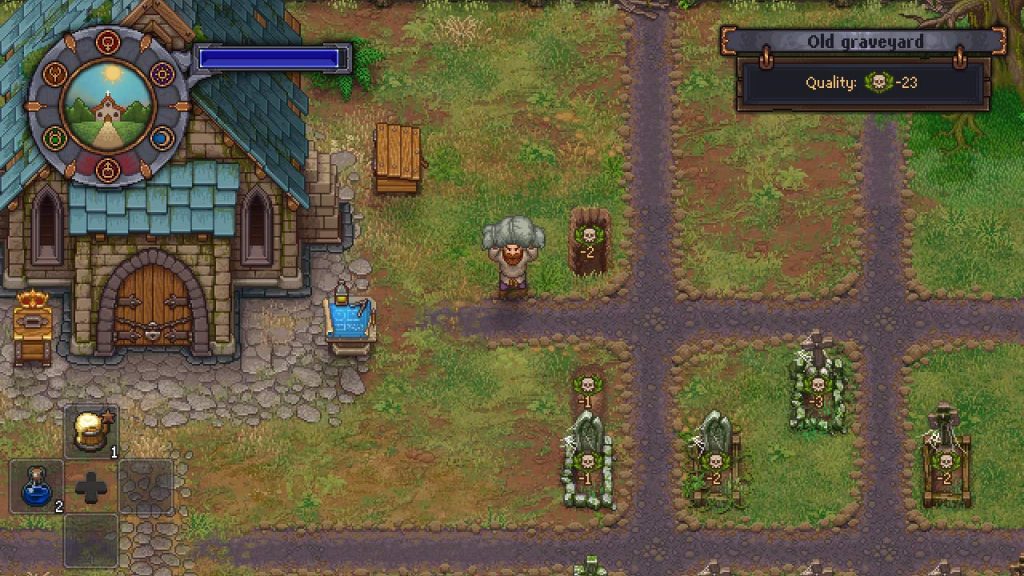 You've heard it many times before – a new simulation game that intends to break the mold. Well, you can pick from life simulation, farming simulation, business simulation, and even surgery simulation games. But what about a graveyard management simulation game? This is where Graveyard Keeper enters the rightful frame!
Graveyard Keeper is considered the semi-dark cousin of Stardew Valley. Here, instead of harvesting crops, you must on harvesting skin, fats, guts, bones, and brains. Not only that – you need to bury the dead every day and make your graveyard appear as respectable as possible. Graveyard Keeper is not a game that you can play for fifteen minutes. Every task is stretched out long with multiple approaches and side activities. It's easy to lose track of miniscule details, such as the NPC you need to talk to or the quest that you're aiming for.
Some players think that the harshness of Graveyard Keeper is game-breaking on its own. Others consider that a variable challenge. If you like checklists and anything related to the gloomy subject of death, Graveyard Keeper is worth a try.
What's So Special?
Graveyard Keeper is a grinder's dream game. You will face tons of daily tasks until you see real progress or get overwhelmed. Think of Graveyard Keeper as a small challenge that can spice up your Switch gaming sessions.
Stardew Valley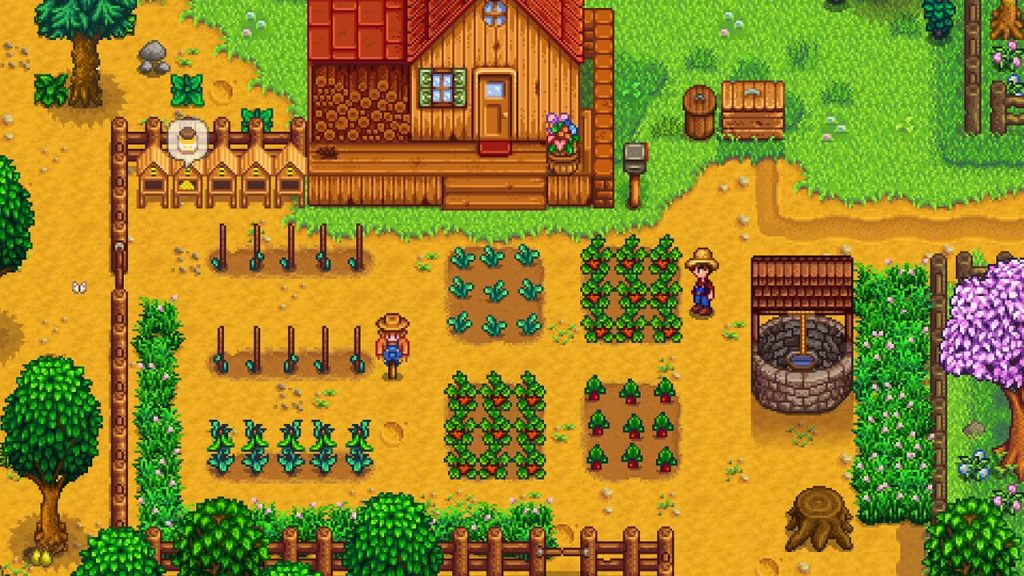 Stardew Valley changed the face of the farming simulation genre simply by existing. It's easy to compare Stardew Valley to Harvest Moon, but the difference will become obvious as you try to sink many hours and unlock tons of secrets. Eventually, as many players have noticed, Stardew Valley's replayability value is higher.
For a pixel-styled game, Stardew Valley looks lovingly beautiful. The artwork is pleasing to the eye, and the environment details look great on Switch. Likewise, the audio will help you immerse and feel the excitement of being in Pelican Town.
There's very little pressure in playing Stardew Valley. Your gameplay won't end after the three-year period given by the plot. Rather, the game (or your in-game gramps) will just analyze your score based on your money, assets, and achievements. Since the game is fuelled by progression, you will probably do your best to get a high score.
Even before you start the game, you can marginally control your circumstances by choosing the type of farm. It all depends on the activities that you favor a lot. If you want to play right away though, just pick the farm with a standard style.
What's So Special?
Rivalling Harvest Moon, Stardew Valley is a big farming simulator package which combines different features in a nice flow. Be prepared to lose hundreds, if not thousands, of hours with this gem!
Animal Crossing: New Horizons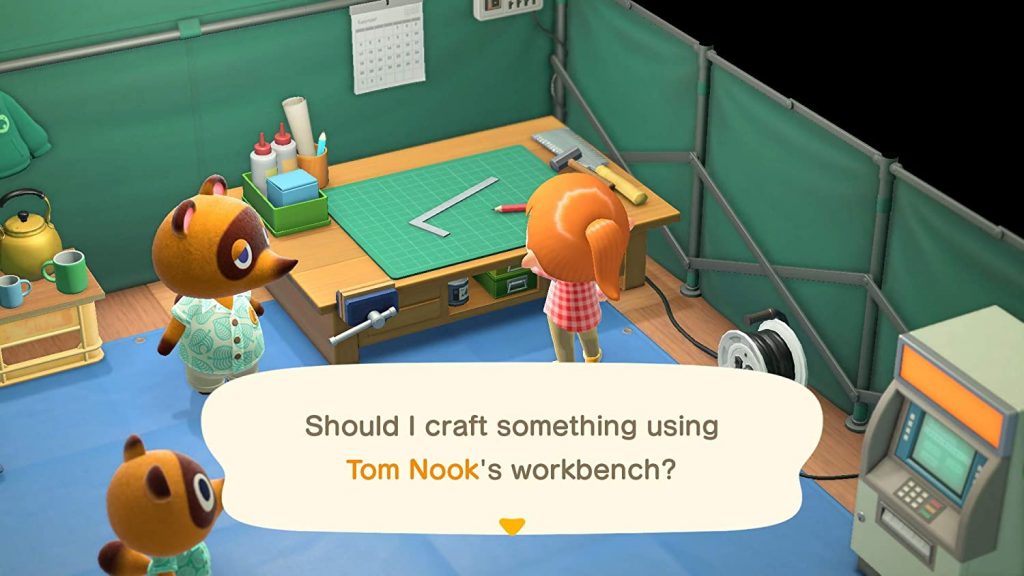 It's rare for a video game to create a relaxing vibe akin to starting your life anew. Some games tend to focus on relaxing crafting mechanics, while others are filled with daily goals to aim for. One game that effectively captures both spheres of interest is Animal Crossing: New Horizons.
In Animal Crossing New Horizons, you will have the opportunity to own an island – all thanks to the helpful and generous Nook Inc. Tom Nook, the owner of Nook Inc., will guide you through the early phases of building your island community. Afterwards, he will foot you a staggering bill which you can repay through the accumulation of 'Nook Miles.' As you complete several tasks and achievements all over the island, you will gain Miles that can be exchanged for items and unlockables.
At an easy first glance, you may think that New Horizons is a simple decoration-focused simulator. Well, that's basically half-right! You can design the island based on the flexible options given by the game. Goal-setting is another primary factor of New Horizons. You will always be motivated to get that next milestone. Or perhaps you'd look forward to the steady growth of your new island.
Multiplayer is supported by New Horizons but only one save file is allowed per Switch console. This means that other players at your residence can only play with the things and options that you've unlocked. This limited mechanic put off hundreds of players but the majority is okay with it. Limited players can still experience the relaxing and adorable flow of New Horizons.
What's So Special?
Animal Crossing: New Horizons is a phenomenal game – a zenith point of the series. The customization options are diverse, and almost everything about the game will make your heart swell with joy. It's truly a real gem that any Nintendo Switch player must have!
If you would like to stream your Animal Crossing gameplay on Twitch, check out these capture cards for the Nintendo Switch.
Final Score
These Nintendo Switch simulation games are convenient mirrors of everyday life. While some mechanics go beyond the mundane realism of life, the aspect of hard work and patience remains the same. Try the Switch simulation games that we offer in this list – you won't be disappointed at all!
Top 12 Switch Simulation Games
(2017-2020)
Recap: 11 Nintendo Switch simulation games you can play right now.
Two Point Hospital – Run your own hospital!
Moving Out for Nintendo Switch – Moving stuff has never been this fun!
Rollercoaster Tycoon: Adventures Standard Edition – Pure fun, one rollercoaster at a time!
Yonder The Cloud Catcher Chronicles – Farming & exploration, without combat!
My Time at Portia – Buildables and glory await!
Farming Simulator 20 (NSW) – Modern farming at its best…
Harvest Moon: Light of Hope Special Edition – Still, it's Harvest Moon…
Farm Together – Your #1 farm deco simulator!
Graveyard Keeper – Graveyard management to the highest level…
Stardew Valley – An indie farming simulator everyone loves!
Animal Crossing: New Horizons – Build your island town, and relax…