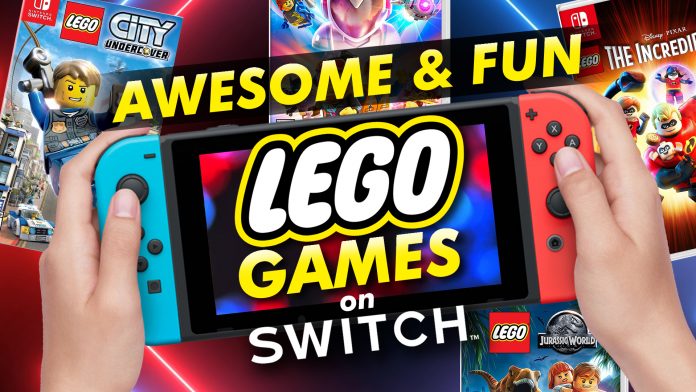 As a kid, you probably spent a lot of time playing with LEGO sets. Or you dreamed of having a set of your own but never had a chance. Now, Nintendo Switch is here to let you relive or experience the block-building nostalgia by introducing some popular LEGO-themed Switch games.
The best LEGO Switch games that we've picked.
1. LEGO City Undercover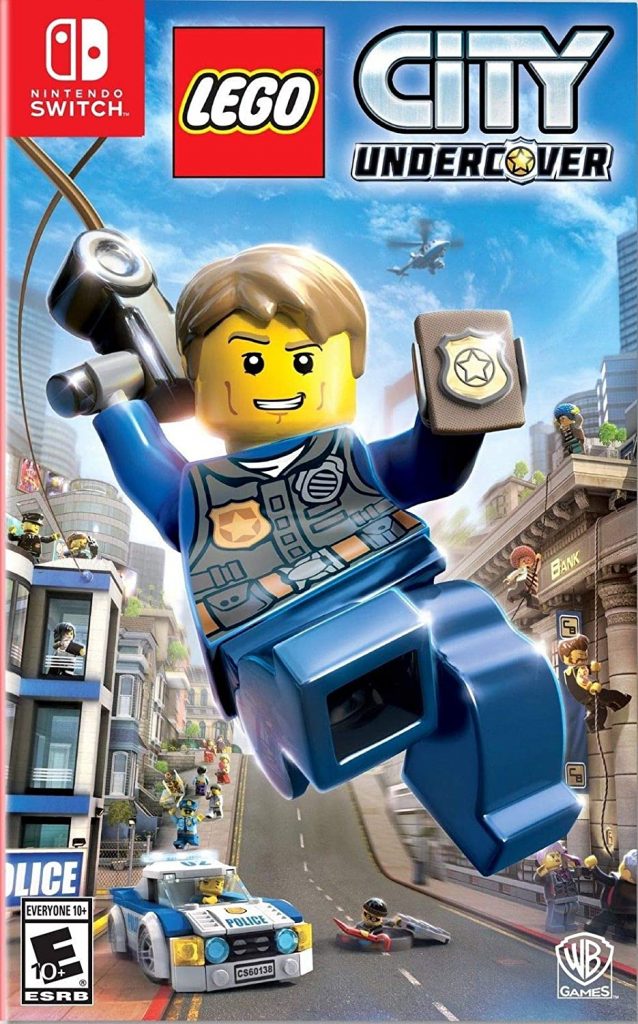 What will you get if you combine the concepts of LEGO and Miami Vice? Of course, you will get LEGO City Undercover! Creativity is an important part of LEGO City Undercover because you need to use various materials to catch your foes. You also get to unlock many vehicles and customization options throughout the game.
In this Lego Switch game, you play as Chase McCain – a heroic police officer who returned to Lego City to answer the request of Mayor Gleeson. Your goal is to apprehend master criminal Rex Fury and stop his reign of terror. The gameplay of LEGO City Undercover is easily comparable to Grand Theft Auto. This time, however, you are on the right side of the law. Humor is an excellent factor of the game, effectively combining tropes and other pop culture elements. In the opening sequence, you will even see some figures mimicking Jack and Rose's famous Titanic pose.
Just like most LEGO Switch games, the graphics are eye-catchy. Blocks drop off from vehicles whenever you bump onto them, and you get to collect studs from many sources. The audio is quirky enough, making everything lively while staying true to the whimsical LEGO standard. However, loading times can be long, so you need to be patient.
The Verdict
LEGO City Undercover is a high-octane game built for LEGO fans. If you want to catch criminals and build stuff at the same time, LEGO City Undercover will keep you entertained for a long time.
2. LEGO The Incredibles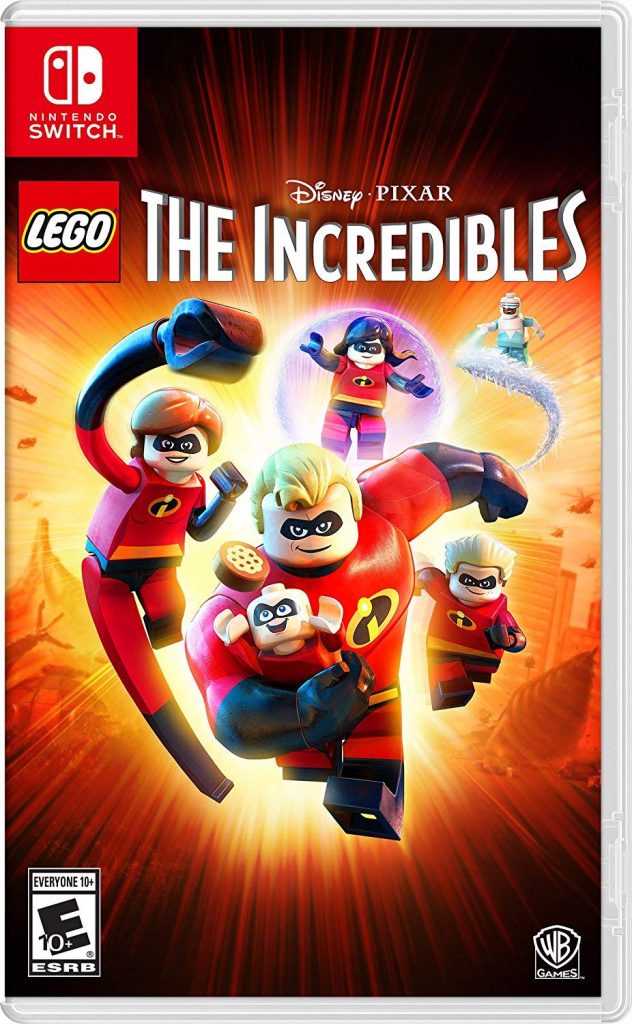 The Incredibles is a wonderful movie franchise that gets more popular over the years. It shows the importance of family amidst great challenges. If you've watched The Incredibles, you can bring the experience to a more exciting level by playing LEGO The Incredibles on Switch.
Promising an open-ended gaming experience, LEGO The Incredibles takes you to the urban landscape of Metroville and other key locations. You won't be forced to accomplish the main quest right away, so you can grind with side missions. The game's Crime Wave feature is a nice addition, compelling you to utilize the skills and powers of the Incredible family. The persistent game mechanics include the feature to collect studs and bricks, character customization, and the ability to build new things.
One downside of LEGO The Incredibles is a choppy frame rate. This is because of the number of digital assets meant to be broken down and interacted upon. It's still playable though, but you will notice a significant improvement while playing docked. The loading times are also long, so you need to factor that in your playing session. Graphics are beautiful, and the draw distance will make you realize how advanced LEGO games have become. The audio is a nice touch – from the thrilling music to the cacophony of explosions, you won't get bored!
The Verdict
LEGO The Incredibles is a remarkable family-oriented game. You will have more fun playing this with your kids or close friends. A warning: you should consider watching the films first because of the spoilers included in the game. But if you're not worried about spoilers, just get LEGO The Incredibles and start playing!
3. LEGO Jurassic World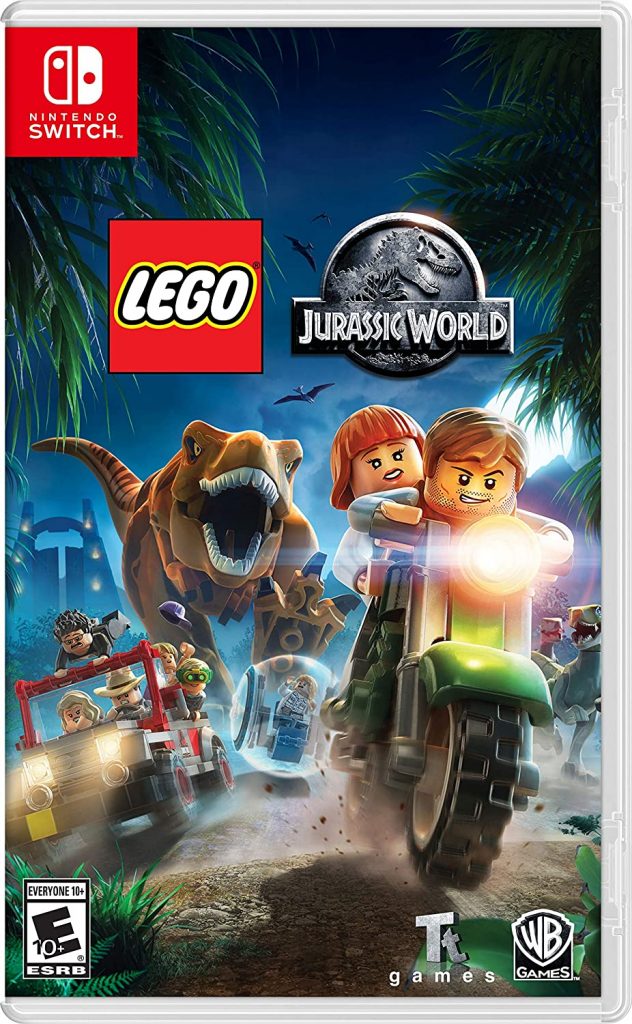 Jurassic World is a successful franchise which started from Michael Crichton's awesome imagination. The idea of dinosaurs returning to Earth has always been a fascinating yet terrifying concept. And not to mention, very costly. With LEGO Jurassic World, you will now experience the might of the dinosaurs – all the while being safe at the walls of your home.
LEGO Jurassic World is a nearly faithful recreation of the Jurassic franchise. But since LEGO is meant for children, some scenes were changed to adopt a humorous stance. You won't encounter grisly body parts here. Devoured LEGO minifigures are regurgitated in a funny way, thus eliminating aspects of violence. As expected with a LEGO game, you can collect studs and blocks. You get to build new stuff and capture dinosaurs as part of the story.
Another strong point of this Switch game is it's cinematic storytelling. All cutscenes show the development of the story mixed with casual LEGO humor. The cutscenes are also fun to watch because of the immense level of detail presented. The game's graphics and audio functions are superb, highlighting the versatility of Switch.
The Verdict
If you value a great story and the capability to build stuff, LEGO Jurassic World is a great option. This game can also be your initial gateway towards other marvellous LEGO games!
4. LEGO Worlds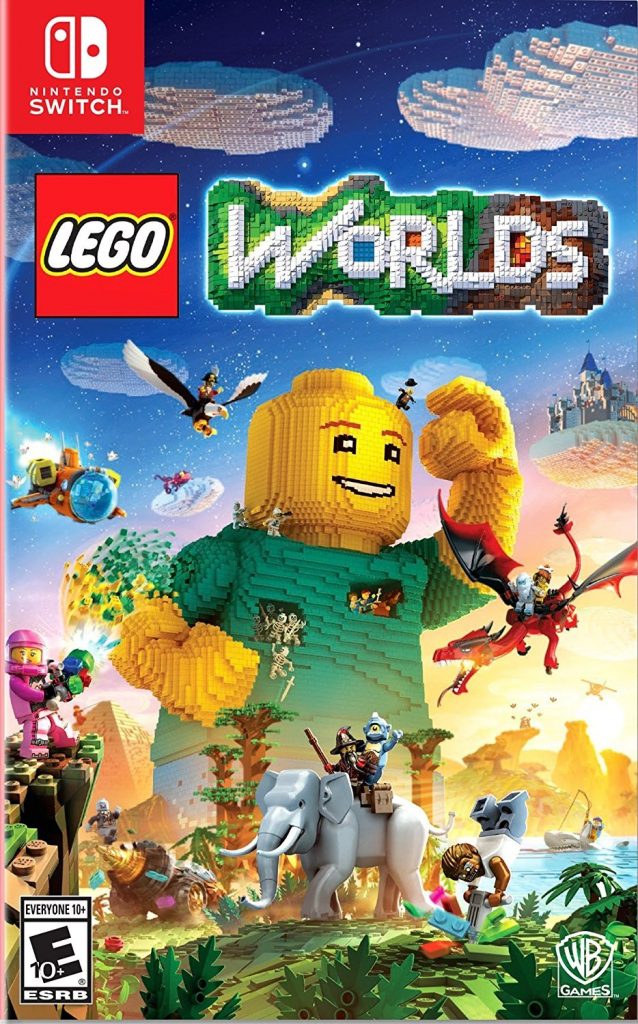 LEGO is all about boundless creativity. Every block has the potential to be part of something wonderful, and you're only limited by your imagination. While other LEGO titles allow you to be creative, they are often restricted by their themes and styles. With LEGO Worlds, you create the style using your tools, blocks, and other important materials!
In LEGO Worlds, you play the role of an astronaut eager to explore the boundlessness of space. At the first part of the game, your ship will crash into a pirate-themed world where you get to learn about the core mechanics. Basically, you have to work your way towards being a Master Builder. To do this, you must collect many Golden Bricks by finishing quests from NPCs.
Even though LEGO Worlds is open-ended, progression is still evident. As you climb towards the Master Builder rank, every level will unlock a game-specific feature. Collecting 15 Golden Bricks, for example, unlocks the game camera which allows you to take pictures.
LEGO Worlds' graphics and audio capabilities are exceptional – perfect for the operational power of Nintendo Switch. Occasionally, you might encounter some camera axis problems but they won't affect your game too much. LEGO Worlds is built for Switch because it feels clunkier in PC.
The Verdict
If you want to relive your childhood and create worlds that have very little limitations, LEGO Worlds is the near-perfect Switch game for you. It may remind you of Minecraft and No Man's Sky, but the similarities end right away. Within five minutes of gaming, you will feel the LEGO vibe and a real innocent dash of childhood nostalgia.
5. LEGO Marvel Superheroes 2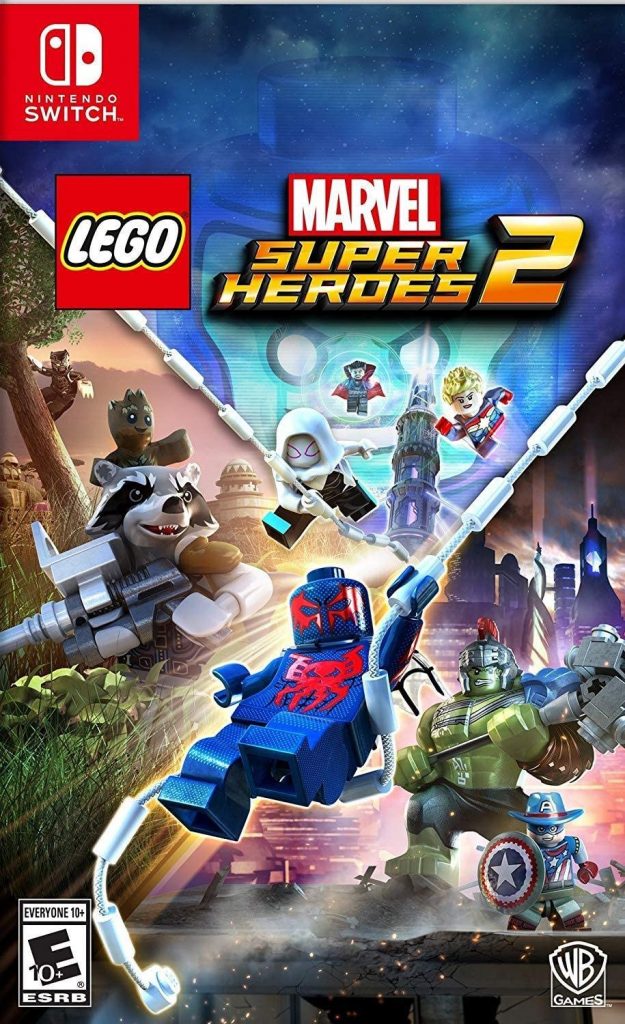 The combination of Marvel and LEGO is a testament of how the creativity of developers can go far. With LEGO Marvel Superheroes 2, you will get the chance to see your Marvel superhero favorites in a casual LEGO setting. Toast your enemies using Ironman's energy beams or swing atop buildings as Spiderman. Playing as superheroes has never been this fun.
The story of LEGO Marvel Superheroes 2 focuses on the plot of evil mastermind Kang the Conqueror and the struggle of the heroes to stop him. Every level of the game pushes you deep towards the plot linearly. You have to reach certain objectives and defeat bad guys in each level. The LEGO touch is still here, as you can build blocks and break objects apart. If you're a LEGO fan, you probably know how addictive it is to crush objects into colorful bricks.
It's also exciting to utilize the abilities of Marvel superheroes to your advantage. Whether you prioritize offense or subterfuge, the superheroes will help you achieve your goals. Multiplayer is also a hit, though you might encounter some clunky moments related to camera issues. If you're patient enough to go past these issues, you'll have an awesome moment with LEGO Marvel Superheroes 2.
The Verdict
LEGO Marvel Superheroes 2 maintained the creative essence of LEGO and brought a new digital playground for Marvel fans. Get it for your Switch today and knock off a couple of Kang's bad minions!
6. LEGO DC Supervillains
Are you tired of playing the hero who saves the day from many bad guys? In that case, you should try playing a villain and start with LEGO DC Supervillains. Featuring the best villains from the DC universe, you will definitely be up for an awesome ride.
You start the game by customizing your appearance. After a fun customization process, Lex Luthor himself will help you, as well as his trusted assistant, Mercy Graves. Once you got a fine grip of the mechanics, you can start smashing things up and eliminating your foes. As you keep on playing, you will accumulate studs which will then be used to unlock more abilities and other important items.
Character-switching is a vital element of LEGO DC Supervillains. In every mission, you can take control of other characters to reach your objectives. Each character has specific skills that you can always utilize. Aside from their skills, the characters have unique and humorous personalities – a staple among LEGO games.
LEGO DC Supervillains presents a great elixir of graphics, audio, and fluid controls. As you begin playing, it's hard to break immersion. Every puzzle that you solve or object that you break is satisfying enough to keep you glued for hours. Whether you play docked or undocked, you won't be disappointed. The game's co-op feature is also great for casual drop-in and drop-out sessions.
The Verdict
Colorful, action-packed, and addictive – these are the best words to describe LEGO DC Supervillains. Don't miss the game's co-op function to make your supervillain playtime more memorable!
7. LEGO Ninjago Movie Videogame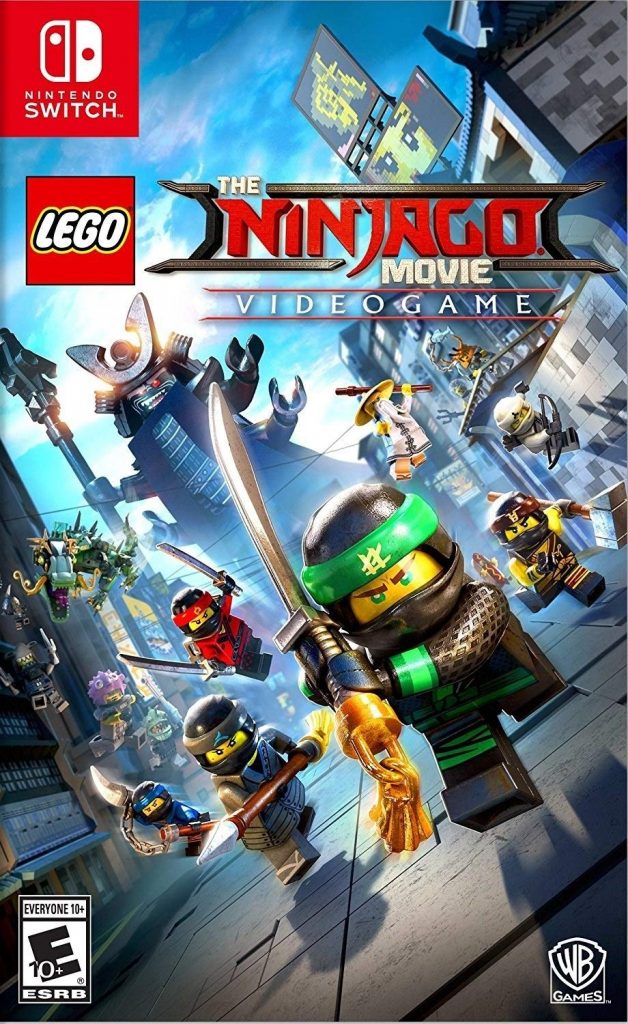 The LEGO Ninjago game pays a direct homage to the movie and the Ninjago series. It has little differences from other modern LEGO Switch games but it also creates a unique, memorable touch. Before playing this game, it's advisable to watch the Ninjago movie first to avoid spoilers.
The levels in LEGO Ninjago Movie game are linear, but you can try numerous options to unlock secrets and studs. As usual, studs can be used to gain new items, bricks, and even cool skills. You can replay levels if you want to unlock more things, though this might feel 'grindy' to a certain extent. The repetitiveness is a small factor because of the game's visuals, audio capabilities, and quintessential humor. You couldn't help but admire the writing skills of the folks at Telltale – the development company behind most LEGO licensed games.
In terms of combat, you shouldn't expect for world-breaking powers. You will just smash things and enemies over and over again. There's a certain charm to this, perhaps emphasizing the collective staying value of LEGO figures. If you're bored, you should try the game's CO-OP system. Just remember that your screen will be cut vertically, thus affecting your gameplay. To resolve this, you can try Switch's TV mode. This, however, defeats the purpose of playing flexibly.
The Verdict
LEGO Ninjago Videogame is an acceptable game that deserves a spot in your Switch LEGO games collection. Even if the game's replayability factor is a bit low, it's still worth a ninja shot!
8. The LEGO Movie 2 Videogame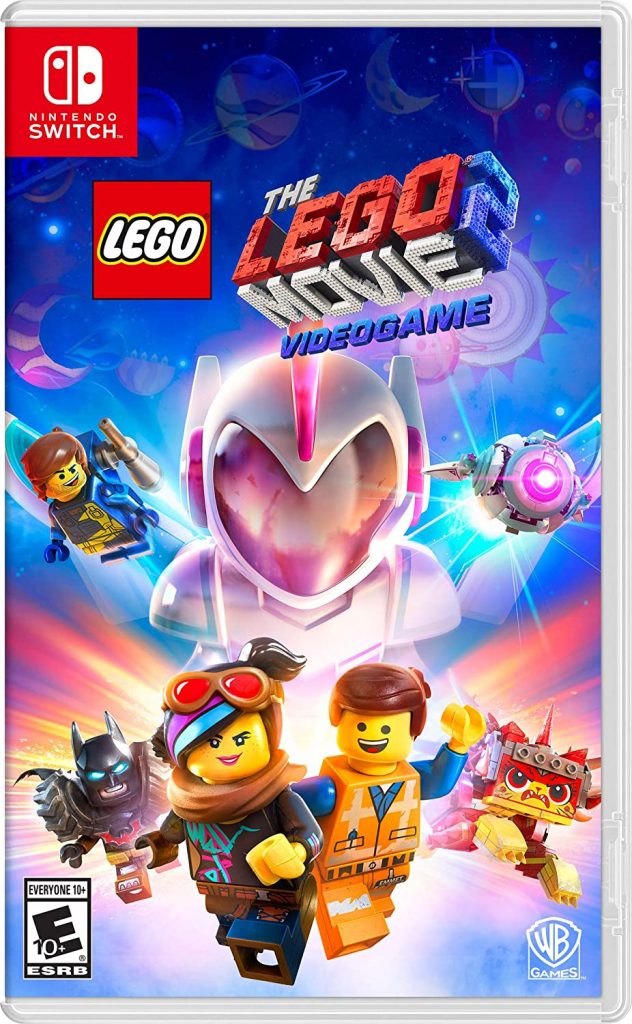 Everything is awesome! If, by any chance, you're not aware of that catchphrase, then you should reserve a few hours of your time to watch The LEGO Movie. After that, you can proceed with part 2. Now that you're aware of the game's story, the game is the next point.
The LEGO Movie 2 Switch game is faithful to the movie plot, and its mechanics can be compared to LEGO Worlds and LEGO DC Supervillains. You can explore the numerous game worlds by collecting Master Bricks. The complexity scale is minimal – you don't have to worry about attribute points or unnecessary skill trees. As you keep on playing, you will get the chance to collect relics. These rare relics feature awesome rewards like blueprints and unique blocks.
Performance-wise, it is exceptional but not perfect. You will encounter framerate issues, especially if you're trying to build a superstructure. Also, you need to deal with long loading times as the game prepares an obscene amount of digital assets.
The Verdict
The LEGO Movie 2 Videogame has immense replay-ability value at the cost of minor performance issues. Once you've tried building your first colorful structures, you will barely notice. Try the building game now and see yourself become a Master Builder!
Final Notes
LEGO games are fun because of the nearly limitless possibilities that you can discover. The franchise is not just meant for kids but also for adults who wanted to blow off steam. So, work your way through our list of LEGO games and make your Switch sessions as awesome as possible!
Recap: The best LEGO games on Nintendo Switch.