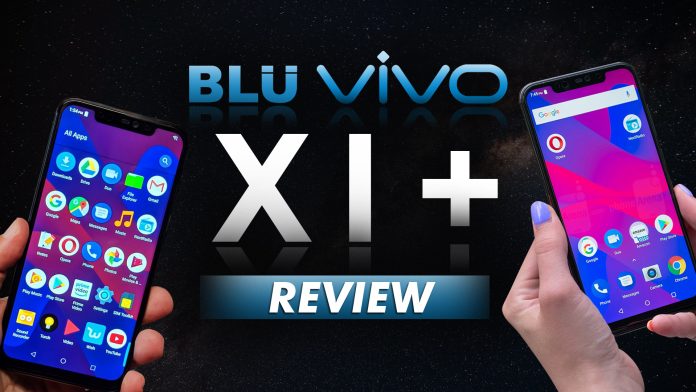 The affordable unlocked smartphone manufacturer, BLU, is expected to announce a new flagship device during the Mobile World Congress in February 2020. While most users are anticipating the BLU Vivo XII and the BLU Vivo XII+, you might want to have a look at the current flagship and how fared against the competition.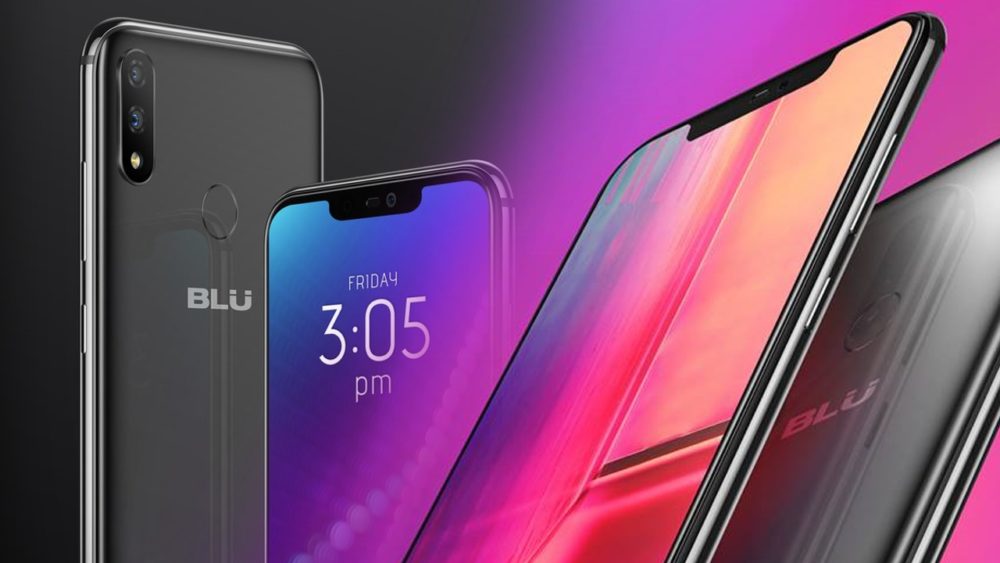 The BLU Vivo XI+ was introduced back in August 2018. Although slightly outdated, it has flagship-standard features such as an all-screen minimal bezel design with dual-cameras, face unlock, and wireless charging. You would usually find these features in devices that cost nearly thousands of dollars, but you can get them with the Vivo XI+ for a fraction of the price.
RELATED: The Best BLU Phones to Buy in 2020
However, BLU has been notorious for failing to deliver promised software updates. As smartphone users, we want consistent and timely security updates and patches. This issue has seemingly been resolved with the recent albeit delayed release of the update to Android 9.0 Pie for the Vivo XI+.
Happy Friday BLU fans!

Don't forget VIVO XI+ Android 9 Pie rolled out this week 🎉

*not compatible with Verizon users*#BLU #BoldLikeUs #BLUProducts #BLUSmartphones #BeBold #Unlocked #MadeInMiami #VIVOXI+ #Android9Pie pic.twitter.com/015uoDi5Wf

— BLU Products (@BLU_Products) November 8, 2019
In essence, the Vivo XI+ is an affordable and promising unlocked phone that offers excellent bang for the buck on paper. It has some impressive hardware under the hood that assures you of a pleasing user experience. If you want an extensive review of this device, continue reading, and you might end up buying it your latest daily driver.
Specifications

Processor

Mediatek MT6771 Helio P60

RAM

6 GB

Storage

128 GB

Screen Size

6.2"

Display Resolution

HD+ (1080 × 2246 pixels)

Pixel Density

402 ppi

Screen Ratio

19:9

Rear Cameras

16 MP and 5 MP depth sensor

Front Camera

16 MP

Operating System

Android 8.1 Oreo, Android 9.0 Pie

Key Features

Qi Wireless Charging

Iris Scanner

Fingerprint Sensor

Network Technology

GSM/HSPA/LTE

USB Port

USB 2.0 Type-C

Battery

Li-Po 3050 mAh

Thickness

7.8 mm

Weight

199 g
Design
The BLU Vivo XI+ comes with a bunch of valuable accessories. These include two thermoplastic polyurethanes cases, one of which has artwork that matches the box. Aside from the charging brick and cable, you also get wired earphones with an adapter, an ejector tool, and a couple of stickers. Since the device doesn't have a headphone jack, you have to use the included adapter if you want to take advantage of the earphones. Otherwise, you can get a pair of Bluetooth earbuds if you prefer going wireless.
Smartphones at this price range are usually constructed poorly. The Vivo XI+ is an exception to this sweeping statement. The frame has a glass-meets-metal design with tasteful curved edges. There is a decent amount of heft to the device, which we've come to expect with more expensive phones. It looks and feels like a flagship handset for a fraction of the price.
The hardware and features they were able to fit into the slim frame of the Vivo XI+ is remarkable. These include a rear-mounted fingerprint sensor, dual-cameras, Qi charging support, and infrared-powered face unlock. You will rarely find any of these features at this price range, which makes this device even more impressive.
With regards to physical buttons and connectivity, the Vivo XI+ has the power switch and volume rockers on the right of the display. Across to the left side, you will find the microSD card and dual-SIM trays. The bottom holds the USB 2.0 Type-C port along with the speaker grilles. A headphone jack would have been a welcome addition. However, the manufacturer might have intentionally left it out to keep the costs low.
Display
The BLU Vivo XI+ features a 6.2" all-screen display with an HD+ (1080 × 2246 pixels) resolution. It is using Gorilla Glass 3 screen protector to minimize damage when you accidentally drop the phone.
With a 19:9 aspect ratio, the Vivo XI+ has a noticeably longer screen than most smartphones. It should also be pointed out that the substantial notch on top of the display can be distracting. Nevertheless, you can easily toggle it on and off by swiping down from the top left of the screen. This gesture control lets you go from an aspect ratio of 19:9 to 18:9 with a single swipe. The decision to keep the notch on display largely depends on your opinion and preference. It serves no added benefit aside from the extended view.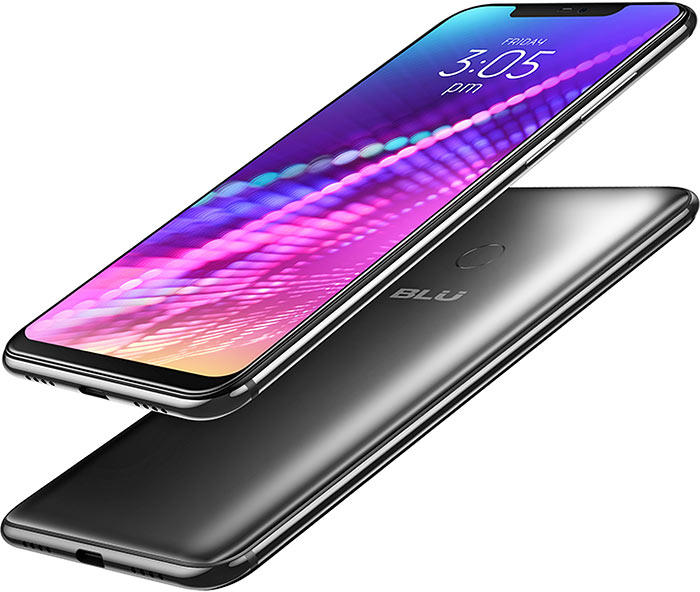 Unfortunately, the display quality of the Vivo XI+ is compromised to keep the price down. It has an extremely cold color temperature and tends to favor an oversaturated color tone. Moreover, color reproduction is inaccurate, and the viewing angles are mediocre. On the other hand, the device has a peak brightness of 525 nits, which makes it serviceable outdoors.
Software
The BLU Vivo XI+ runs on Android 8.1 Oreo out of the box. It has a skin that resembles a near-stock version of Android that with very few pre-installed applications. Moreover, the included applications are not as invasive carrier-branded software, and many of them can be deleted permanently.
Some of the applications you can expect to come with the Vivo XI+ include Opera, NextRadio, Wish, Amazon Prime Video, and Amazon Shopping. The first two will have icons on the home screen and can be disabled but not deleted directly. Meanwhile, you can get rid of the other three permanently.
There are also a few smaller pre-installed applications like BLU Help, Compass, Data Clone, Torch, SIM Toolkit, Sound Recorder, Video Player, Music Player, Notes, and File Explorer. You can't remove them permanently but can disable them easily through the settings. Additionally, you might find some of these applications useful.
The Vivo XI+ also features a bunch of gestures and settings that help you create a more personalized user experience. You can tweak things like the display notch, navigation settings, camera options, and face unlock to make the device more suited for you.
In the past, BLU had a bad reputation for the lack of support in the form of software updates. Shortly after the release of the Vivo XI+, the company promised to release an Android 9.0 Pie update around the first quarter of last year. Unfortunately, they failed to deliver this promise yet again. The update was exceedingly delayed and was only released officially in November 2019. Nevertheless, it was well-received by users and was seen as an improvement from the utter lack of software support with previous devices.
Performance
The BLU Vivo XI+ is powered by a MediaTek Helio P60 (Octa-Core 2.0 GHz) processor and 6 GB of RAM. A Qualcomm Snapdragon chipset would have a more reliable option, but the manufacturer understandably had to cut costs. Nevertheless, the horsepower is more than enough to handle daily phone operations like replying to emails, browsing the internet, and posting on social media. You can't expect it to be as responsive as flagship smartphones, but it's not bad enough to be an issue.
If you plan on using the Vivo XI+ for mobile gaming, you're bound to get disappointed. The device is too underpowered to handle most graphic-intensive games. You'll only experience choppy frame rates, which makes it hard to recommend for video games.
On a more positive note, the Vivo XI+ comes with a staggering 128 GB of internal storage. This capacity in itself is hard to get your heads wrapped around, yet you still have the option to expand the storage. You can double the storage with a 128 GB microSD card. It gives you tons of space for your applications, images, videos, games, and other files.
The integration of support for wireless charging also gives you a unique experience that you will get used to quickly. You will never want to go back to charging with cables once you get accustomed to wireless charging. Additionally, the Real 3D Face ID feature lets you unlock the device using your face. According to the manufacturer, you can't open the phone by tricking it with pictures, masks, or even wax sculptures. Moreover, the infrared sensor helps in the detection of your face in all lighting conditions. This feature is also easy to set up and makes for trouble-free unlocking experience.
Camera
The primary camera set up on the BLU Vivo XI+ breaks down to a 16 MP and 5 MP combo. The second sensor is responsible for depth perception and subject focus for portrait shots. Meanwhile, the front-facing camera is a pixel-crunching 16 MP shooter.
Unfortunately, the performance of the camera is predictably disappointing with some upsides. It is capable of focusing on a subject quickly because of the Phase Detection Autofocus feature with Laser Focus. However, photos come out with an utter lack of fine detail. Under low light situations, the camera quality becomes even worse. Images come out soft and hazy with a lot of noise.
Moreover, color accuracy is terrible as they appear washed out and dull. Pictures taken in well-lit environments may be enough for social media posts, but that's about it. On the bright side, there is a wide variety of shooting modes that diversifies the package.
Video quality on the Vivo XI+ doesn't get any better. The rear camera maxes out at Full HD resolution without the option for Quad HD. Videos also suffer from choppy frame rates and lack of detail, especially in dark environments. Furthermore, there is too much noise in the footage under low-light situations.
Battery Life
The BLU Vivo XI+ packs an impressive Li-Po 3050 mAh battery. While it's battery capacity isn't spectacular in any sense, it is capable of delivering excellent longevity. You can expect this phone to last an entire day and still have a bit of juice left before you go to bed. It also has a remarkable recharge time of 122 minutes, which might not be the fastest, but is rather quick for its price point.
Additionally, the Vivo XI+ is the first-ever BLU phone support for Qi wireless charging. You will have a hard time searching for a device with this state-of-the-art feature at the same price range. This feature is especially convenient, and you will get hooked once you get used to it. You will never want to use a cable to charge your phones again.
For a budget smartphone, the Vivo XI+ has an excellent battery. If you want a decent that you won't have to charge twice or thrice a day, this device is a smart choice.
Call Quality
Placing phone calls with the BLU Vivo XI+ is somewhat of a mediocre experience. The volume output is sufficient even in loud environments, but voices exhibit some distortion when using an earpiece.
On the other hand, the receiving end of a call can sometimes struggle to hear what the caller is saying, which leads us to assume that the built-in microphone may struggle to pick up the voice. Overall, the call quality on this device is decent, but it isn't a standout either. It is more than sufficient for daily use, especially if you don't spend most of your days in a noisy or crowded place.
Final Words
The BLU Vivo XI+ is a promising smartphone that has proven the renewed dedication of the manufacturer to commit to software updates. Even though the much-anticipated Android 9.0 Pie upgrade was agonizingly delayed, it showed that their software team is capable of delivering updates and security patches.
The Vivo XI+ itself is an excellent package with an impressive price to performance ratio. It embodies all the characteristics we've come to expect from BLU smartphones: a near-flagship device that is held back by a couple of aspects like camera performance and display quality. These key areas are probably the reasons why most people decide to steer clear of the brand.
Additionally, BLU is a relatively unknown brand and has had a bad reputation in the past few years. The upcoming release of their latest smartphones, possibly the Vivo XII and Vivo XII+, may turn some heads and finally establish the company as a legitimate flagship contender. If you're on T-Mobile, AT&T, Verizon, or one of their respective prepaid networks and want to experience what they have to offer, the Vivo XI+ is easy to recommend.
Undeniably, there are far more powerful and elegantly designed smartphones on the market. However, they cost twice as much as the Vivo XI+. More importantly, you may end up not making full use of their hardware and software features. If all you need is a reliable daily driver with some flagship features and up-to-date software, the Vivo XI+ makes the most sense. You will have a hard time finding a phone that even comes close to its performance at the same price point.
If you're new to the Android experience, the Vivo XI+ is also an excellent place to start. You can move to a higher or even lower price point depending on what you need out of your device. Either way, your money will be well spent.