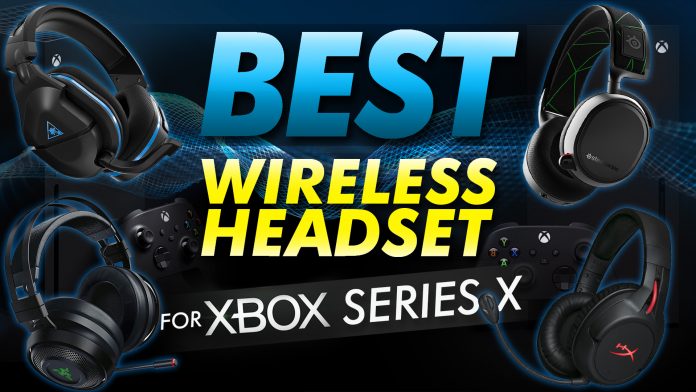 With the Xbox Series X release fast approaching, gamers are starting to update their setups by adding more comfortable chairs, 4K monitors, and even microphones and audio mixers for streaming. One thing that every gamer needs, however, is a reliable pair of gaming headphones.
But not just any pair – you'll need wireless headphones you're to game comfortably from your couch. That's why we've rounded up some of the best wireless headsets for the Xbox Series X. Check them out and see which one works best for you!
The Best Wireless Headset for Xbox Series X at a Glance
Steelseries Arctis 9X | Best Overall Wireless Headset for the Xbox Series X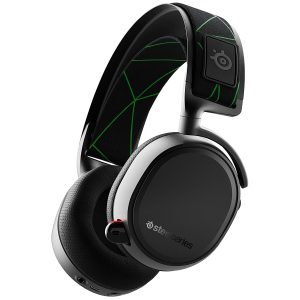 The Arctis 9X is a premium pair of wireless headphones from Steelseries. It delivers a balanced sound signature from its 40 mm neodymium drivers and packs a retractable noise-canceling mic that works great for strategizing with your teammates over voice chat (or talking trash to your opponents.).
The design is premium and durable. There's a bit of weight to the Arctis 9X owing to its aluminum frame. The band is thick and sturdy, with sufficient padding to neutralize the clamping force. The ear cups are comfortable enough but are annoyingly shallow.
As for its performance, the Arctis 9X doesn't disappoint. Vocals and sound effects are beautifully clear, while explosions are booming and sonorous. Its music performance is excellent, with mids and highs working together to really bring out the star of this show: the lows.
Overall, the Arctis 9X is one of our favorite wireless headsets and is a great choice to bring into the next console generation.
Steelseries Arctis 1 | Mid-Range Wireless Headset for the Xbox Series X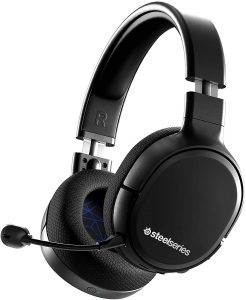 The Arctis 1 is another excellent entry from the Steelseries line of wireless headphones. It's an excellent headset that comes with great sound, a ton of connectivity options, and strikingly good looks.
The Arctis 1 is one of the first wireless gaming headsets to use a USB-C RF receiver to address the notorious latency issues of Bluetooth connections. It has a 2.4GHz RF dongle that you connect to an open USB-A port on the Xbox Series X to minimize latency and hear the action in real-time.
The Arctis 1 delivers great battery life that can push up to seven hours of continuous use. Plan to game all day? No problem – one full charge should keep you going until you're tired.
Gaming and music performance on the Arctis 1 are stellar, living up to its Steelseries moniker. Mids and highs are decent with a punchy bass that makes every gunshot reverberate through the head.
Razer Nari Ultimate | Most Comfortable Gaming Headset for the Xbox Series X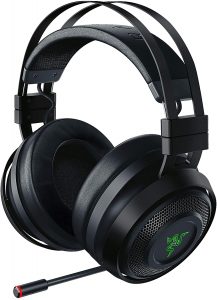 We've covered the Razer Nari Ultimate before, and we've determined it to be one of the most comfortable wireless gaming headset for the Xbox Series X. Its sleek looks (sleek for Razer, anyway), excellent build quality, and decent performance makes it a solid option for most gamers.
Although the Nari Ultimate sports a sleek and polished design, it is relatively bulky. This bulk does come with comfort thanks to the large ear cups with adequate and breathable padding. Razer clearly designed this headset with extended gaming sessions in mind.
There's a bunch of buttons and scroll wheels on either side of the Nari Ultimate that control various things such as pause, volume, mic volume, and channel mixing. They're easy to use, but not particularly ergonomic. Still, extensive controls are always nice to have in a pair of headphones.
Finally, nothing else comes close to the Nari Ultimate's top function: haptic feedback, which was previously present only in controllers. Not only will you feel the rumble in your hands when you're playing games, but you'll feel it on your head for next-level immersion. Pair it with a 4K TV to enjoy everything as close to life as possible!
HyperX Cloud Flight | Lightweight Wireless Gaming Headset for the Xbox Series X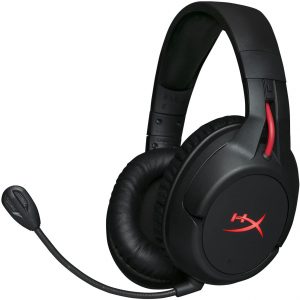 The HyperX Cloud Flight is one of the most renowned wireless gaming headphones on the market. Despite its bulky design, it provides a well-balanced sound profile that doesn't overpower one spectrum over the next. Plus, the detachable mic lets you use this headset outdoors without looking like a complete tool.
The Cloud Flight features the same design as the rest of its HyperX brothers, with a low-profile headband design and huge, comfortable ear cups. They're not as well-padded as the Cloud Alpha, but they're a lot bigger, which is great for people with large heads.
Not a lot of controls and connectivity options here, only a power button, a 3.5 mm headphone jack for wired use, a volume wheel, a Micro-USB port for charging, and a 3.5 mm microphone jack.
The Cloud Flight has a very balanced yet bright audio profile with punchy bass, decent mids, and soaring highs. EDM and hip-hop work particularly well with these headphones, and it crosses over to video games, where dialogue is mixed with ambient sounds.
Turtle Beach Stealth 600 | Most Comfortable Wireless Headset for the Xbox Series X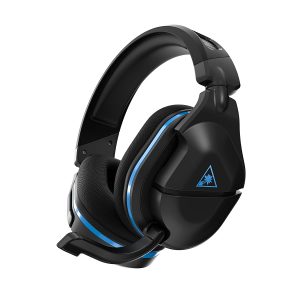 Well-balanced sound, low latency, great battery performance, and overall comfort define the Turtle Beach Stealth 600, one of the best wireless headphones for gaming. These bulky but lightweight headphones won't be your daily commute companion, but when you're playing with your Xbox Series X, these will suit you just fine.
Comfort is the defining feature of all Turtle Beach headphones. Built from the ground up for gamers, they dropped the Stealth 600 with a lightweight plastic chassis and an adequately-padded headband. The ear cups are wide enough and made of breathable material to keep your ears cool during gaming marathons.
One nitpick we have: the Stealth 600's controls. It has your usual volume and mic scroll wheels, along with a mute and power button on the right can. The buttons don't feel very responsive, and the scroll wheels feel way too smooth for accurate control. The mode button allows you to cycle through multiple EQ presets, but there's not much difference when a preset is enabled or disabled. You'd do better customizing the sound profile yourself through the software's equalizer.
However, these are headphones, and what matters most is how they sound: which is amazing. Gaming is amazing on these cans because of their bias towards the low end sounds without muffling vocals and instrumentals. The Stealth 600 is a great choice for gamers who want comfortable headphones to go with their cozy gaming chairs.
Best Wireless Headset for Xbox Series X | Frequently Asked Questions
Will Xbox Series X Support Wireless Headsets?
Unlike the Xbox One, Microsoft chose to let the Xbox Series X support wireless audio and voice chat over a USB RF connection. That means the headphones on this list, which all use USB RF receivers, are suitable for your brand-new console. People who use Bluetooth headphones or earbuds will have to connect to the Series X controller, which will cause significant latency issues.
Does Xbox Series X have Bluetooth?
The Xbox Series X itself will not support Bluetooth and instead employ USB RF receivers to minimize latency. So, if you have Bluetooth headphones, consider upgrading to one of the headphones on this list.
What Wireless Headset Should I Get for the Xbox Series X?
The best Xbox Series X wireless headset we can recommend is the Steelseries Arctis 9X. Its features are way too good for what you pay for, which is always a good thing. It also delivers outstanding sound performance to enhance your gaming experience. Better quality sound, paired with better quality visuals, means total immersion.
Wrap Up
That's it for our list of the best wireless headsets for the Xbox Series X. Again, our top pick is the Steelseries Arctis 9X. For something with a bit more pizzazz, the Razer Nari Ultimate is great with its haptic feedback. For unmatched comfort, the Turtle Beach Stealth 600 is ideal. Whatever you choose, rest assured that all of these headphones will give you the best sound quality for the Series X.