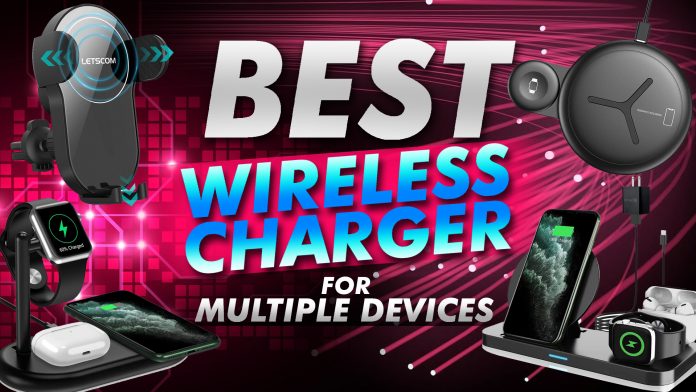 Technology continues to evolve rapidly, with charging technologies among those that have evolved over the past few years. Wireless charging is gradually becoming the new norm in today's era of electronics. Smartphones such as the OnePlus 8 series and iPhone SE 2020 can be charged without messy cables. A wireless charging station is also a convenient solution if you need to charge multiple devices at once.
Even though wireless stations charge slower than USB cables, there's no denying that they're the more convenient alternative. Below are several chargers that we've reviewed to help you choose the one that best suits your needs.
The best wireless chargers for multiple devices at a glance:
1. Yootech Wireless Charging Dock
Best Multi-Device Charger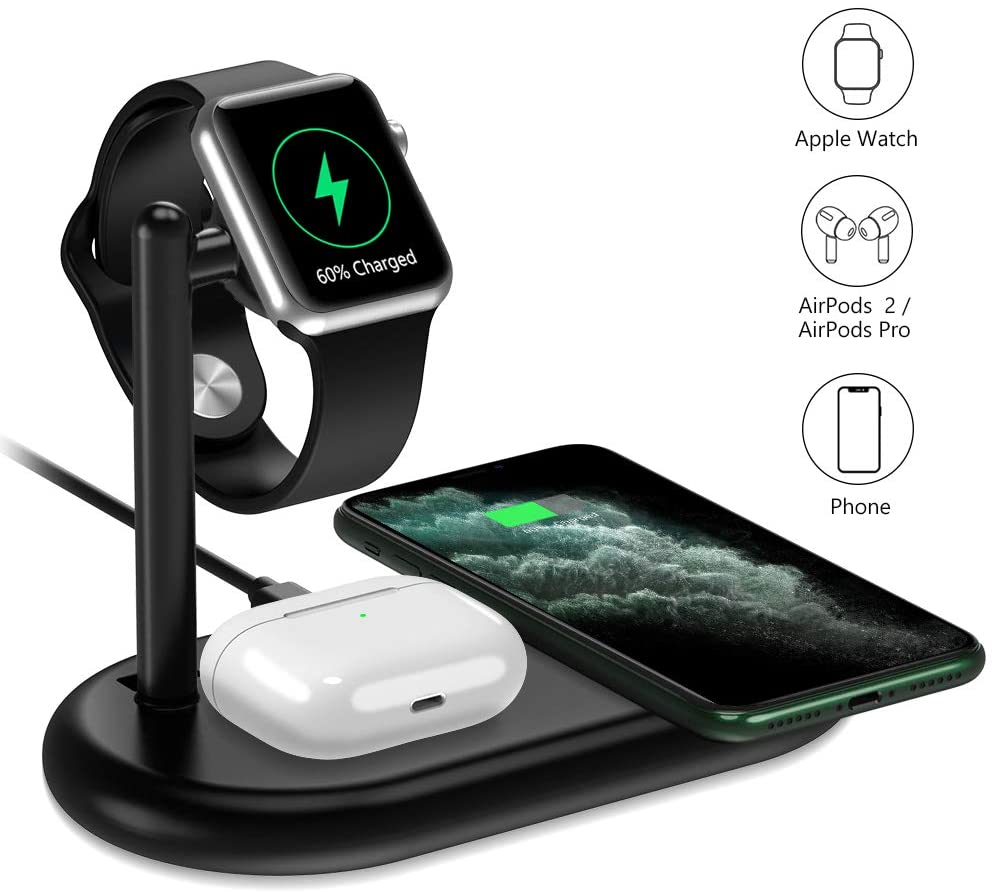 Yootech's wireless charging dock intends to eliminate the clutter of charging cables on your desk. This station consists of three components: a smartwatch stand, an earbuds pad, and a smartphone base. Moreover, it comes with three separate charging modes: 7.5 watts for Apple devices, 10-watt fast charging for the Samsung Galaxy S20, and 5 watts for all other Qi-enabled devices.
Underneath the station is a compartment that hides the port where you can connect a USB cable to a power outlet. The compartment helps tidy up tabletop and desk spaces to minimize clutter and help you organize your workspace efficiently.
2. Coobetter 3-in-1 Wireless Charging Station
Best Decorative Supplement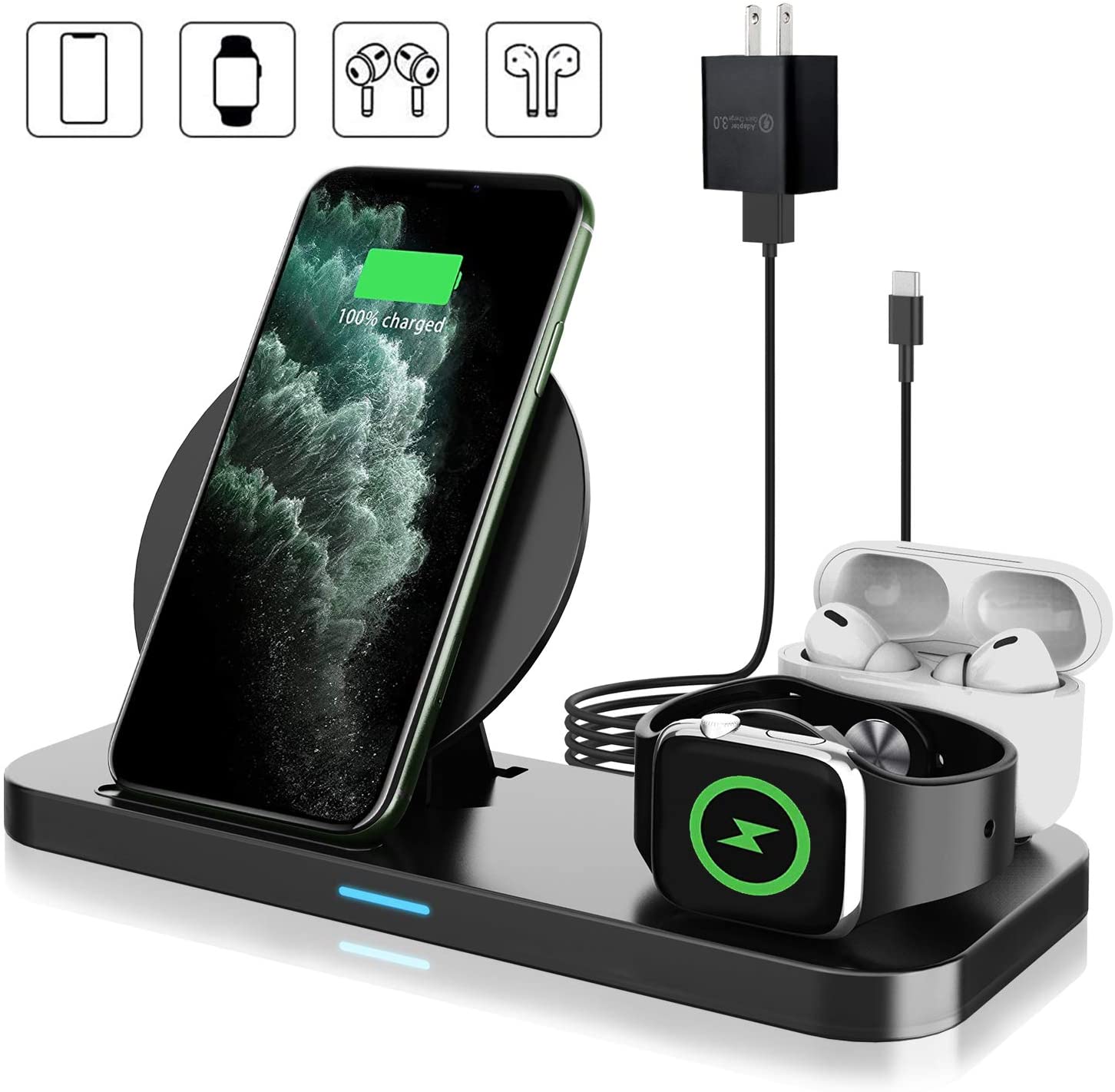 Coobetter's 3-in-1 charging station sports an unassuming appearance that blends seamlessly in any workspace or bedroom. The left of the station contains a circular pad that you can use to display your phone at a 45-degree angle and keep it upright, or you can lay it flat.
The dock can charge up to three devices and has convenient positions where you can power up all three. It has anti-scratch surfaces, so you won't have to worry about your Apple devices getting damaged when placing them on the dock. The iPhone, in particular, tends to charge up quickly with this charger.
All in all, the Coobetter charging station is the perfect accessory that blends seamlessly in any house or office setting.
3. Nalwort 2-in-1 Wireless Charger
Best Design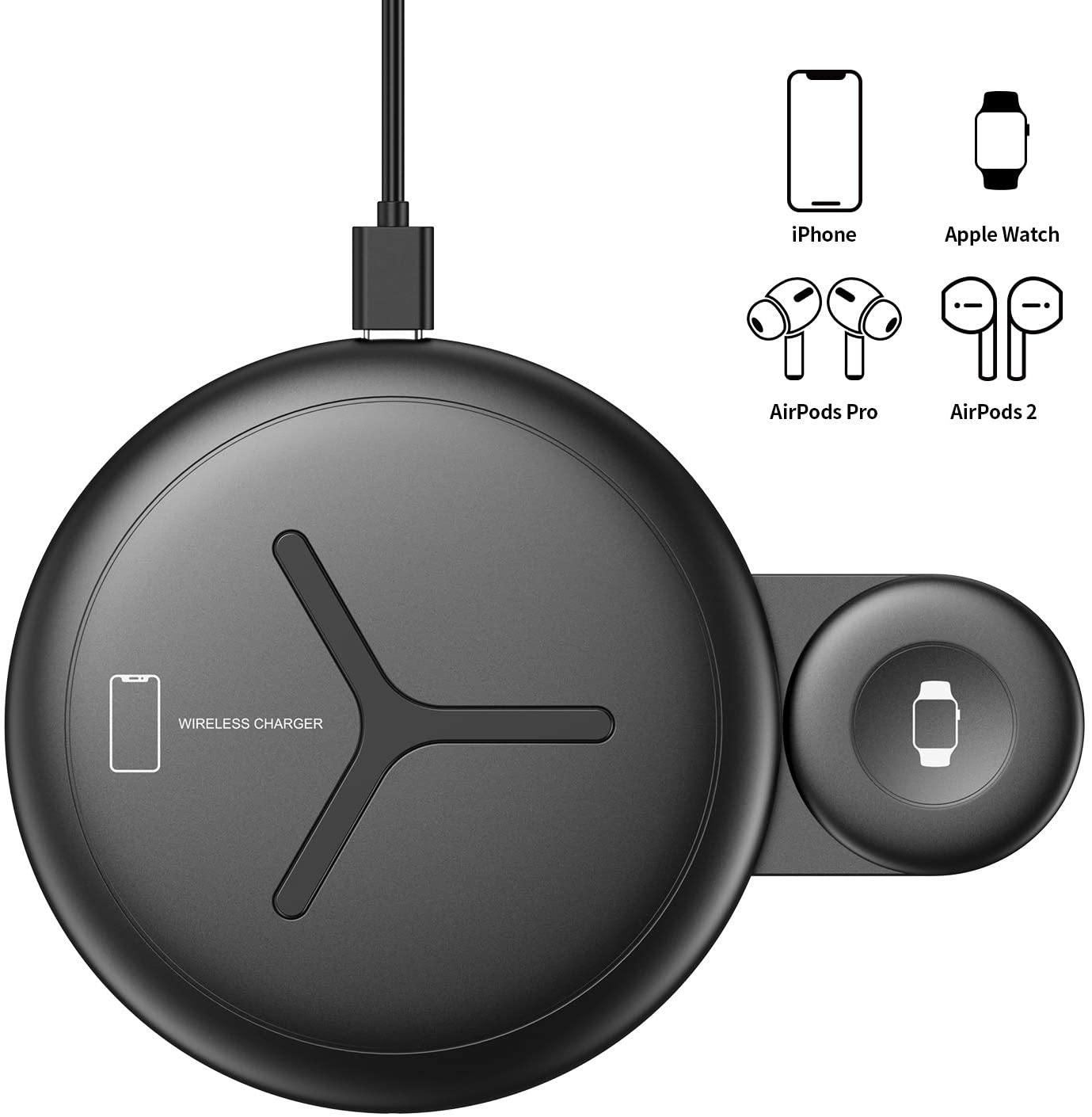 Many folks enjoy using Apple iPhones, so it's a no-brainer that Nalwort came up with a charger that supports both iPhone and iWatch devices. Taking the form of a circular disc, the charger has a retractable section where you charge the Apple watch separately.
The charger's anti-slip silicone base helps keep the charger and the devices stay in place.
While the Nalwort charger primarily supports Apple devices, it can also charge Samsung devices if you have Quick Charging 2.0/3.0 adapters. The charger can penetrate through phone cases up to 5 mm, so if your case is thicker than that, you'll have to look elsewhere. On top of that, charging for both smartphones and smartwatches is relatively quick, as it can fully charge both devices in roughly three to five hours.
A notable downside about the charger is that you will need to get a separate plug to power it up. Overall, the Nalwort charger is not a bad option if you don't have many Apple devices in your household.
4. SimpJoy 3-in-1 Wireless Charger/Charging Stand
Best Gift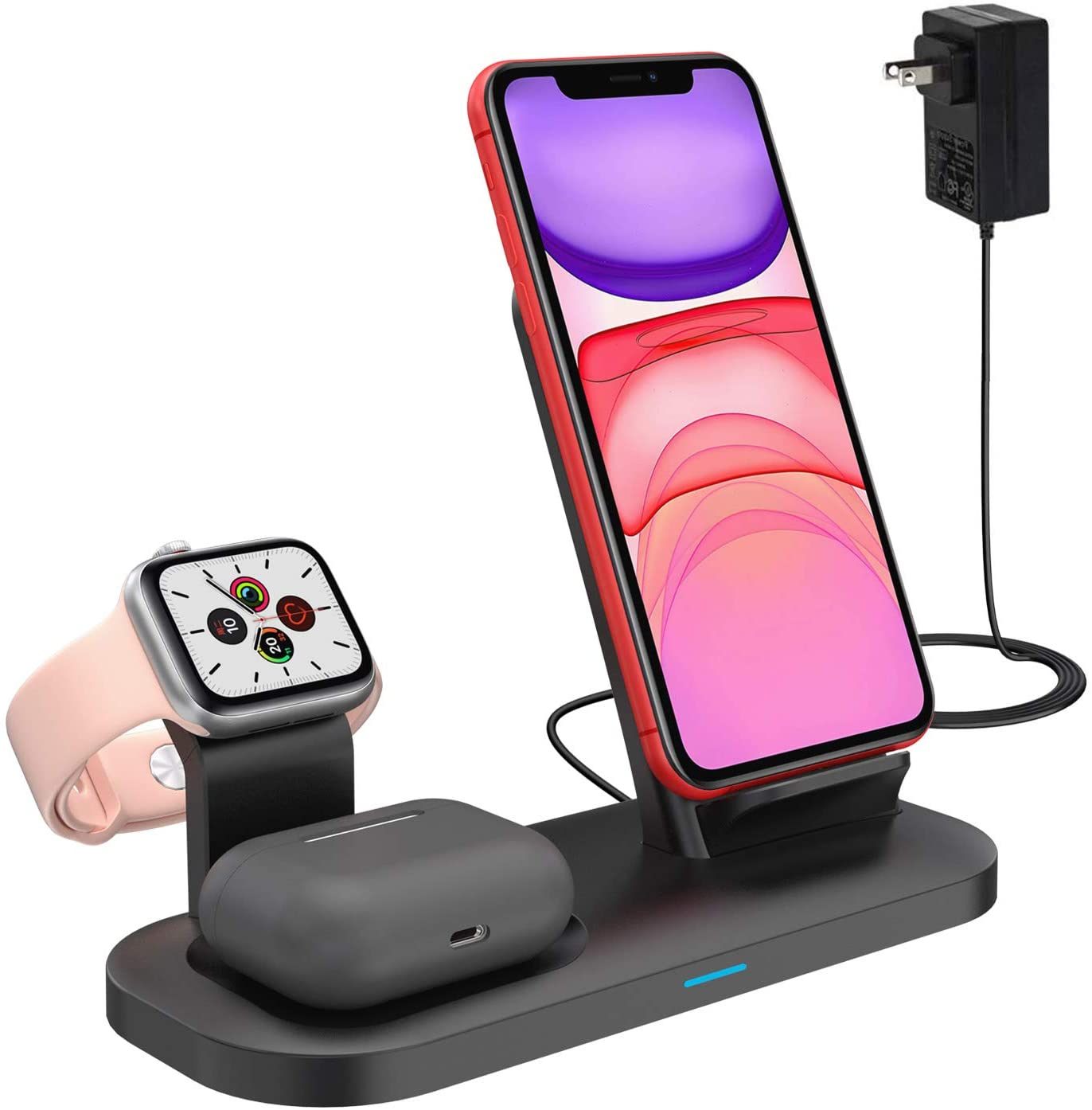 This charging stand from SimpJoy is spectacular-looking compared to other similar stands and gets the job done. It can hold three different devices at a time, which means you do not need to have three separate cables popping out of your outlet to charge your devices simultaneously.
Something to keep in mind about this charger: it does not charge wired Apple Airpods and supports only the wireless variants. Other than shat, the SimpJoy charger is compatible with a multitude of devices, namely the iPhone 11s and above, Samsung Galaxy S10 variants, and the Galaxy Note. The charging stand for smartphones is situated on the right side of the stand, while the Airpods and Apple watch have a platform and a stand placed on the left side for easy identification.
This charger is small enough and stylish enough to present as a gift for your friends or relatives looking to untangle the mass of cables from their outlet into a singular platform.
5. LETSCOM Wireless Car Charger
Best Charger to Use While Driving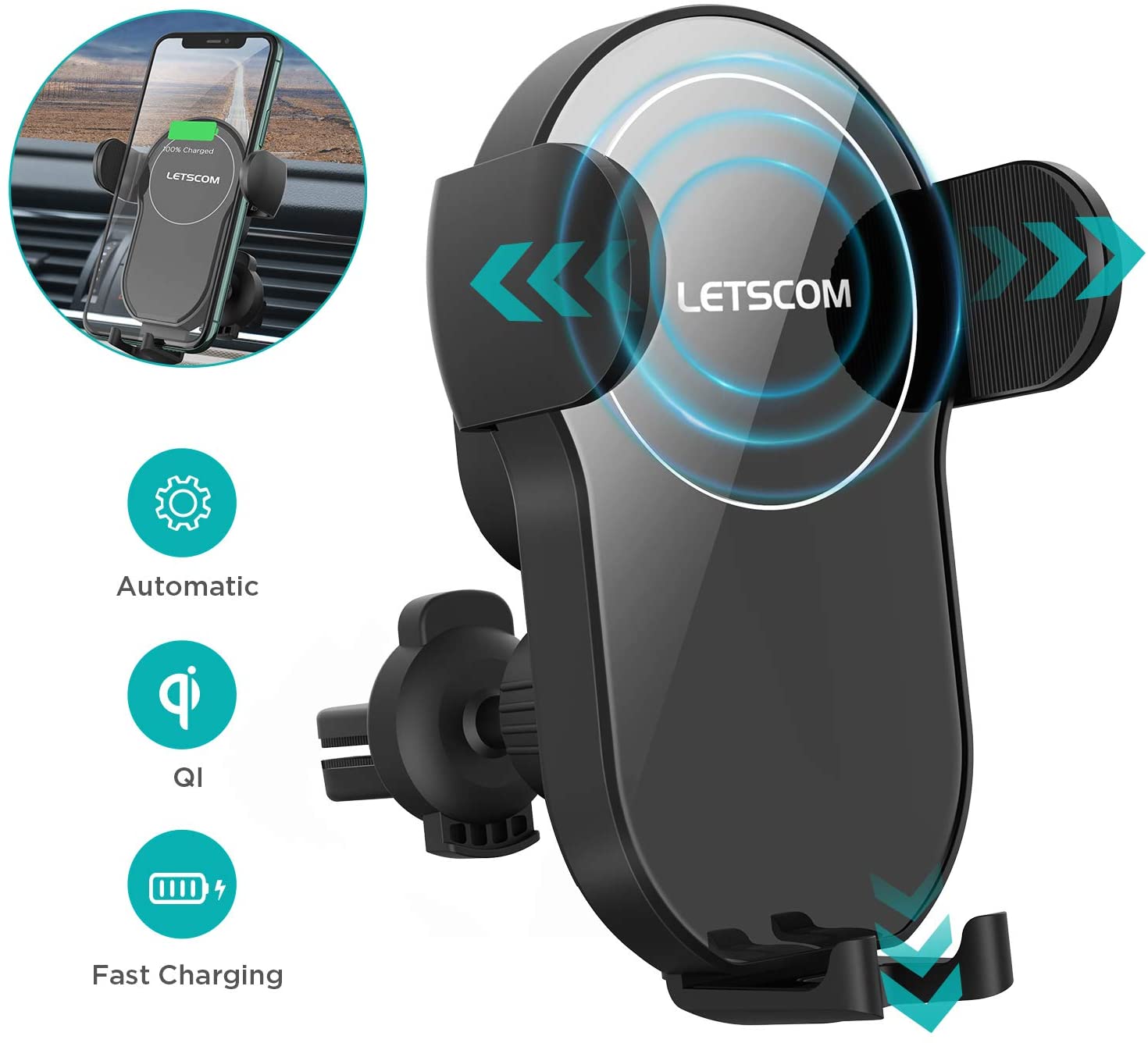 The tangle of USB cable wiring often spills in what can already be a messy car, which is where LETSCOM wireless charger comes into play. It eliminates that tangle, combining both phone holding and wireless charging capabilities into a single platform. There is a clip at the base that allows you to easily connect it to any air vent, negating the need for suction cups and cables to charge your phone while you drive. In addition to easy installation, you can rotate the charger freely so that you can position it based on your preferences.
No matter what size your smartphone is, this charger will position your phone automatically in place to ensure that it is charging efficiently. Temperature control is also a plus for this charger, as it is UL-certified, guaranteeing that it won't overheat when in use.
The charger supports the latest models of both Samsung and Apple smartphones. Unfortunately, it does not charge Apple watches, so if you're looking for a smartwatch charger, you'll have to look elsewhere. Other than that, this is highly recommended if you need a Qi charger for your car.
6. Powlaken 2020 4-in-1 Wireless Charging Dock
Best Multi-Charging Versatility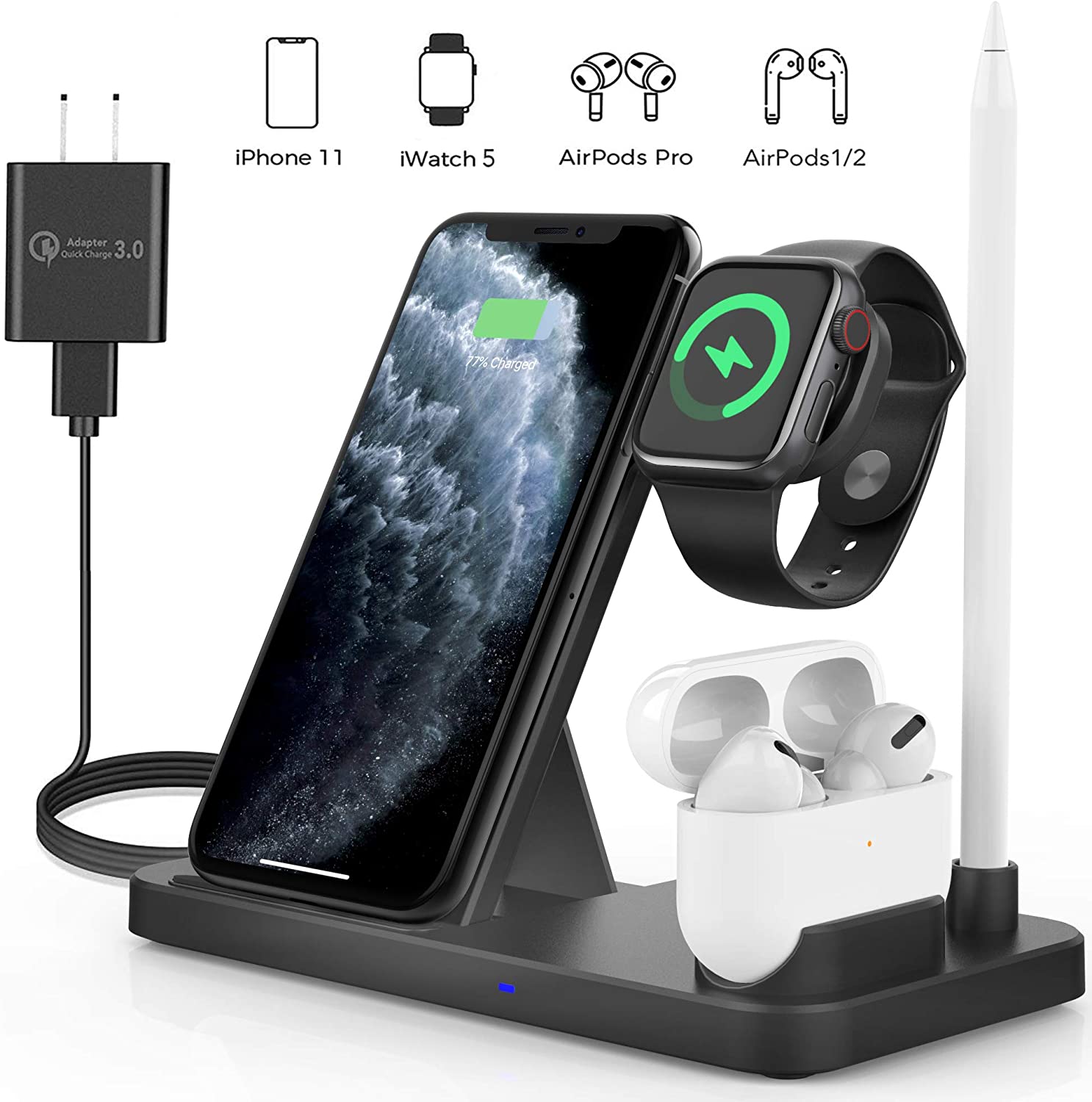 Like the other charging stations, Powlaken's charging dock is focused on eliminating the need for cables when charging your electronics. It sticks with the plug-and-go design philosophy while adding the ability to maintain a steady charge while simultaneously viewing YouTube videos or listening to music on your iPhone.
The horizontal and vertical charging mode is a nice touch as it gives you more options as to how you want to position your device while it charges. The station comes with two charging coils embedded in the base, allowing you to charge most of your devices within three hours. The charger is fairly solid and doesn't feel flimsy at all, making it a sturdy dock to place on your desk or nightstand.
When it comes to speedy charging, the Apple watch can be recharged at 2 watts alongside the Apple pencil. The stand for smartwatches protrudes on the right side, where the smartphone would be positioned so that you can monitor the charging of both devices simultaneously. The AirPods and AirPods Pro are charged at 2 and 5 watts, respectively, while the iPhone 8 series and above charge at 7.5 watts.
We found that the charging process gives off very little heat emissions due to vent cutouts at the bottom, keeping the charging station from being a fire hazard. If you have an abundance of devices that you need to charge in one spot, this is the station to go for.
7. GLOUE Wireless Charger
Best Value Charger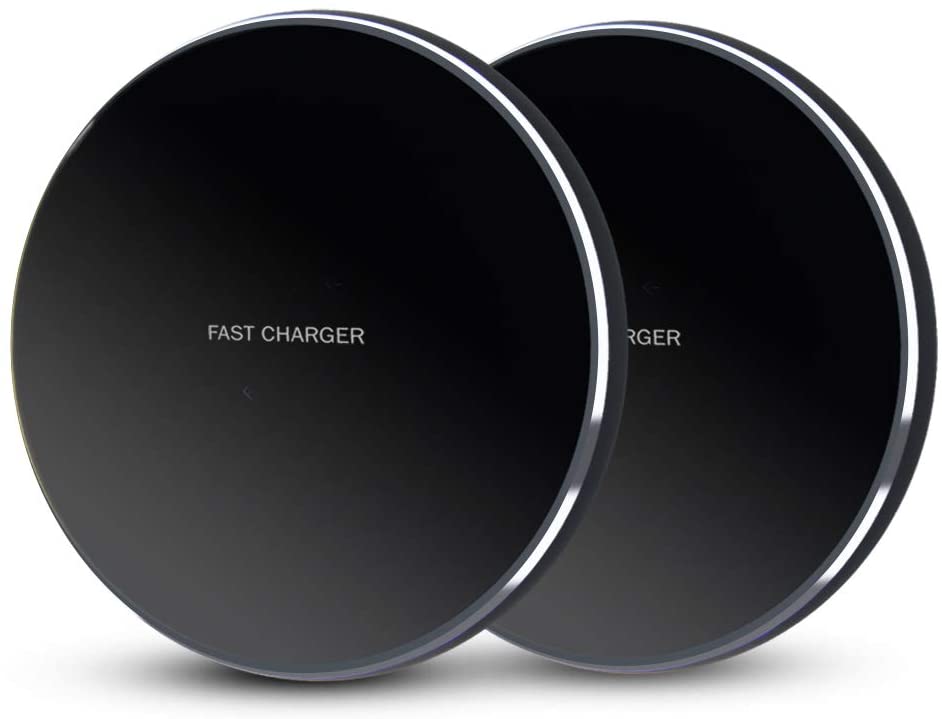 Coming in the form of flat circular discs, the GLOUE chargers come in pairs for twice the charging availability. You can divvy these between yourself and your friend or significant other to charge up your smartphones for the next day. The devices charge by simply placing them on top of the pad's surface, and a soft LED ring light will emit around the disc. The non-intrusive light will blink slowly, indicating that the device is charging. Once it stops charging, the light will change to a solid red.
Design-wise, these chargers are some of the most basic-looking ones available on the market. There are no plugs included, so you will have to get those separately to get the most out of these chargers.
From the Beginning: Wireless Charging Explained
Wireless charging transfers power from an outlet without the need for cables. While the term wireless is floated around often, it is not 100% wireless.
Manufacturers such as Logitech, Mophie, Belkin, and Anker have adopted wireless charging technology and integrated it into their product lines. On top of that, it is gradually becoming commonplace in furniture outlets like Ikea.
Apple owns a proprietary charging mat called AirPower that never came into production for commercial use. However, third-party vendors came up with solutions. Belkin developed a mat based on the AirPower and allows you to charge multiple devices at once.
Wireless charging is slowly creeping its way into cars as well. BMW, Toyota, Mercedes-Benz, Volvo, and Audi are among the different manufacturers that have integrated wireless chargers into vehicles.
How do you find a suitable wireless charger for yourself? There is important information you must keep in mind before you purchase one:
If you're using any of the Samsung Galaxy S20 series or Note 10 series phones, consider getting a charger that supports Fast Wireless Charging 2.0.

If you have any of the latest iPhones, a 7.5-watt charger should be sufficient.

Samsung Qi-enabled smartphones typically require chargers with a 9-watt output.

If you have a smartphone not mentioned above, get yourself a 10-watt charger.
Time to Toss Those Cables Away: The Pros & Cons of Wireless Charging
Wireless charging has been around for some time and expanded further into the commercial electronics scene in 2019. When it comes to charging your smartphone, you have two options: charge your device via a USB cable or charge with a wireless charging pad. Wireless charging operates on resonant inductive coupling, which enables wireless charging from the charger to the device itself.
Qi (pronounced "chi") is derived from the name of the Chinese life force and serves as the namesake of current wireless charging technology. Regardless of the brand of your device (Samsung, iPhone, or even Blackberry), a wireless charger can be used for all of them, similar to Bluetooth or WiFi-enabled electronics. The Qi standard allows devices that fall within the standard to interact without a physical connection.
The Wireless Power Consortium introduced the Qi standard back in 2008, not too long after the organization's formation in New Jersey. It wasn't until 2019 that the Qi standard became incorporated into more than 150 devices, including tablets, smartphones, and other electronics.
So here's a recap of the advantages and disadvantages of wireless charging:
Pros
Good to have if you tend to lose cables; a charger would solve this issue along with having to replace broken cables

Less strain on your device's USB port

A safer way of charging your smartphone

Even if you don't have a USB cable on hand, many places around the world have wireless charging pads, providing a convenient solution to charge your electronics

Has minimal impact on battery life since over cycling power on smartphones is fairly common

New phone models charge faster at 7.5 watts, 9 watts, or 15 watts

Good for security since you are not using a wired connection to plug into your phone
Cons
Your device will need to be positioned in a near-precise manner to get it charging properly

Wireless charging pads are generally more expensive than USB cables

Phone ports are fairly robust and hardly wear out

Inconvenient for people on the go; a USB charger for your car would be a better solution if you travel a lot

Wireless charging tends to be slower than charging with a cable

Not all devices have wireless charging capability

Potential degradation; there are too many factors involved when it comes to this aspect (e.g., make and model of the phone, the operating system, and charging habits) to draw any definitive conclusion

Your phone is still vulnerable via WiFi unless you have proper security measures installed on your phone

Wireless chargers make it difficult to use your phone while it is charging
The Art of Qi: How Wireless Charging Works
Qi charging requires two components: a base and the device being charged. Delving slightly into science-speak, there is a changing magnetic field consisting of AC (alternating current power) circulating within the charging base. This is applied via the law of induction. A base station usually contains a coil with moving current. You might be thinking: "How do electrons pass from the base into the smartphone's USB port?"
In truth, they don't have to. Electrons are stored within the smartphone and are inert when energy isn't active. The distribution of electrons within the phone battery will make a difference when it comes to booting up the phone with electricity. In simple terms, the coils serve as pumps to churn electrons so that they can be reused within the device. They are rerouted via the induction process to convert AC into DC for the smartphone. The result is the transference of current from the pad/base into the phone.
The process is engaged only when a Qi-enabled device is placed on the charging station. However, if you interfere with the process, the charging of the device would be disrupted, and you would have to reposition to ensure that it stays charging until the battery is full. The alignment between the charger and the phone would have to be close enough so that the pad can sense the device properly.
How can you tell if your device supports wireless charging? You can test it out by placing it on a pad or charging station to see if it charges or not. If you have your device powered off, the battery icon will light up, indicating that it is charging. Since wireless charging is slowly becoming the norm, you can expect the technology to expand further beyond smartphones and into familiar instruments such as cameras and laptops. The technology that exists today no longer falls in the realm of science fiction but serves as a representation of how much farther to the future we'll go.
Recap: The 7 The Best Wireless Chargers for Multiple Devices
GLOUE Wireless Charger – Best Value Charger