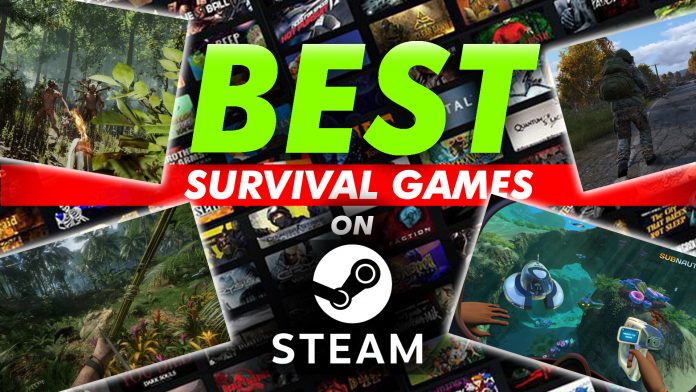 There's something appealing about the primal concept of survival. Perhaps it's all about the chance of seeing a new day or the essence of a new beginning. Whatever the reason is, survival games have created large fan bases and communities around the world.
If you want to play the best survival games on Steam, this list will serve as your topnotch guide.
Don't Starve Together
Don't Starve is one of the most popular survival games in the indie gaming market. It had nearly critical acclaim because of a unique Tim Burton style, deadly mechanics, and absolute replayability. Don't Starve Together pushes the gear a notch by introducing a fun-filled Multiplayer function.
Don't Starve Together is a standalone expansion of the core Don't Starve game. You and your friends will get to build stuff, engage in farming, fortify a home base, forage, and hunt (or evade) deadly and eccentric monsters. If you wish to survive for a long time in Don't Starve together, then you need to plan ahead with your friends. Cover all weak spots of your home base, and keep your sanity intact.
The Verdict
You will have countless hours of fun playing Don't Starve Together. If you enjoyed the earlier expansions, then Don't Starve Together is a real charmer – in a deadly, frustrating way!
Green Hell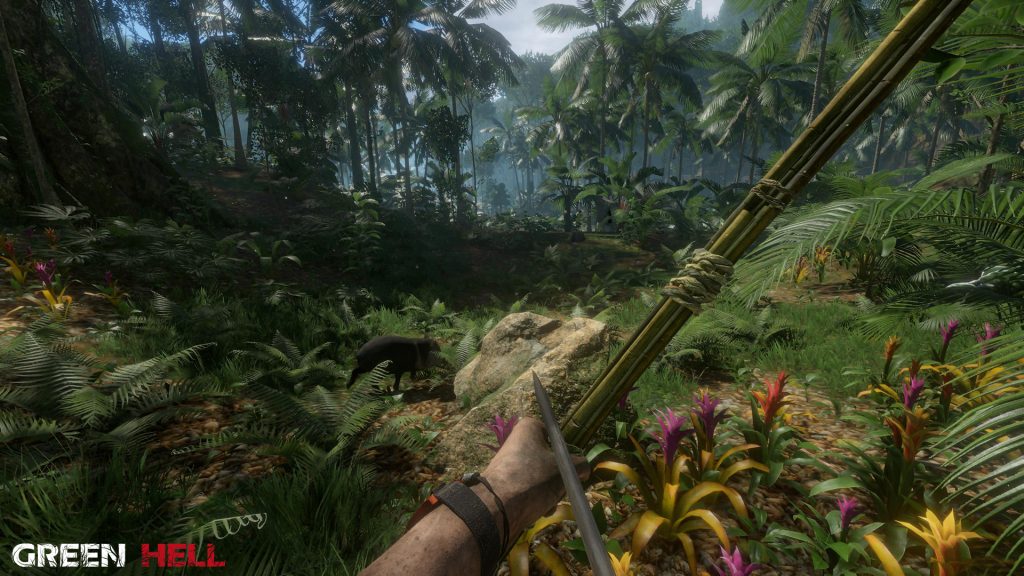 Hailed as one of the most phenomenal survival games on Steam, Green Hell (not Green Inferno!) will bring you to the harsh tropical expanse of the Amazon Rainforest. You're left alone and miserable in the jungle with only basic tools at your disposal. Basically, you need to gather resources and craft materials that can aid your survival. Environmental hurdles will take a toll in your body and mind. Wild animals are everywhere, and you will even encounter some terrifying enemies.
CO-OP is a great part of the game but not a total game-changer. You and your friend will experience the difficulties of the game all the same. Shelters can help but they must be protected at all costs. Otherwise, you'll be exposed to the constant assaults of ferocious tribesmen ready to defend their territories.
The Verdict
You can never go wrong with Green Hell because it represents the pinnacle of survival. Other survival games are focused on core mechanical aspects, while Green Hell emphasizes the psychological factor. Perhaps that's what makes Green Hell appealing for everyone, despite the harsh difficulty.
Subnautica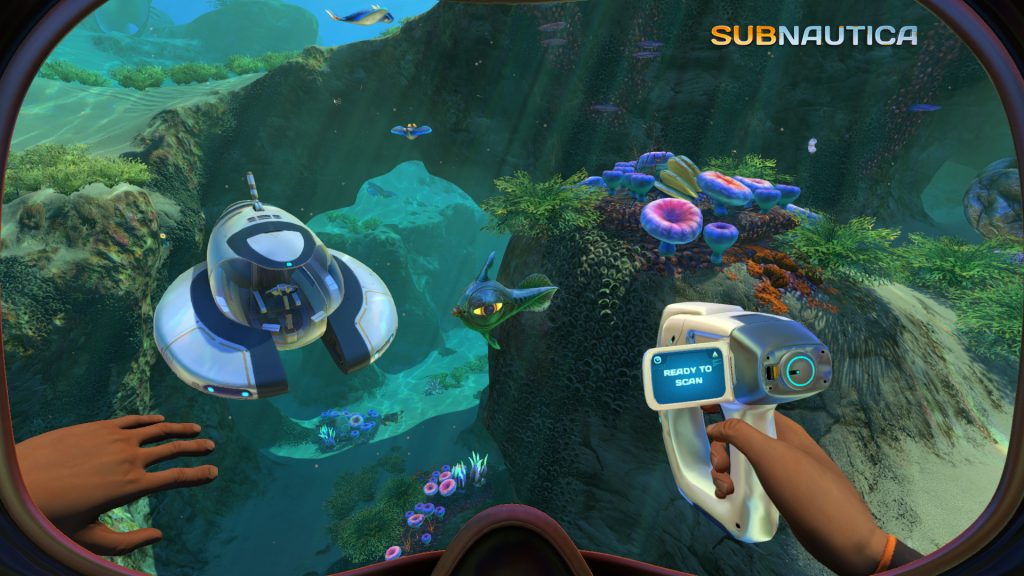 Picture this: a large open-world game where you get to explore the whole ocean using your limited oxygen and advanced tech tools. Your spaceship, the Aurora, has crash-landed in remote ocean planet known as 4546B. The planet is harsh, and you need to gather resources underwater to craft necessary tools. This is the premise of Subnautica.
It's easy to think that Subnautica is a highly relaxing game – noob mistake! Subnautica has a polished 3D engine which makes the ocean as realistic as it can be. Even though the game is pretty to look at, the conditions will put you to the edge. You have limited oxygen, so every dive must be calculated properly. Dive too deep and you won't have enough time to swim up to the surface and restore your oxygen. The underwater creatures look safe and nearly funny, but some of them will try to attack you. And as much as you can, don't explore at night!
We won't cover spoilers here but you need to put your explorer's hat on while playing Subnautica. Patience is a must, and you must always remember that one discovered thing leads to another. There are also four game modes to choose from such as Survival (life stats and supplies dwindle), Freedom (thirst & hunger disabled), Hardcore (permadeath), and Creative Mode (total freedom & almost no penalties). Now, you get to manage how you want to experience the game!
The Verdict
Subnautica is as relaxing as it is deadly. It's not taxing to modern computers, and you can adjust graphics settings just in case. At times, however, the game can be tedious and repetitive. But this can be resolved by trying out the different game modes and looking for different approaches!
Raft
If Subnautica leaves you trapped in an ocean planet with remarkable technology, Raft will push you to craft nearly everything from scratch. And additionally, your base is your raft! Raft is easy to the eyes and the environmental detail is richly cartoonish. But don't let this eye-candy setting lull you into unpreparedness. The ocean is a harsh mistress and you might realize later that you've run out resources to keep your base intact. Some creatures will even try to attack your raft, so you need to defend it as much as you can.
You can play Raft alone but it's designed to be played with your friends. The early start is manageable because you can gather resources at your own pace. And you don't have to share it with anyone! But as your raft grows, management and logistics can be time-consuming. With your friends, you don't have to worry too much about crafting necessary things. As the game drags on, you will feel a bit of 'grind aspect.' This is perfectly normal. To keep things interesting, you must set personal stretch goals and try to immerse in roleplay.
The Verdict
Raft's concept is not entirely new but it's like a fresh addition that can give you a fantastic time. The best way to play Raft is Multiplayer because your friends can help you with tasks while making things more interesting. Just be patient – you will need lots of grinding to build a highly adaptive and stable raft!
The Forest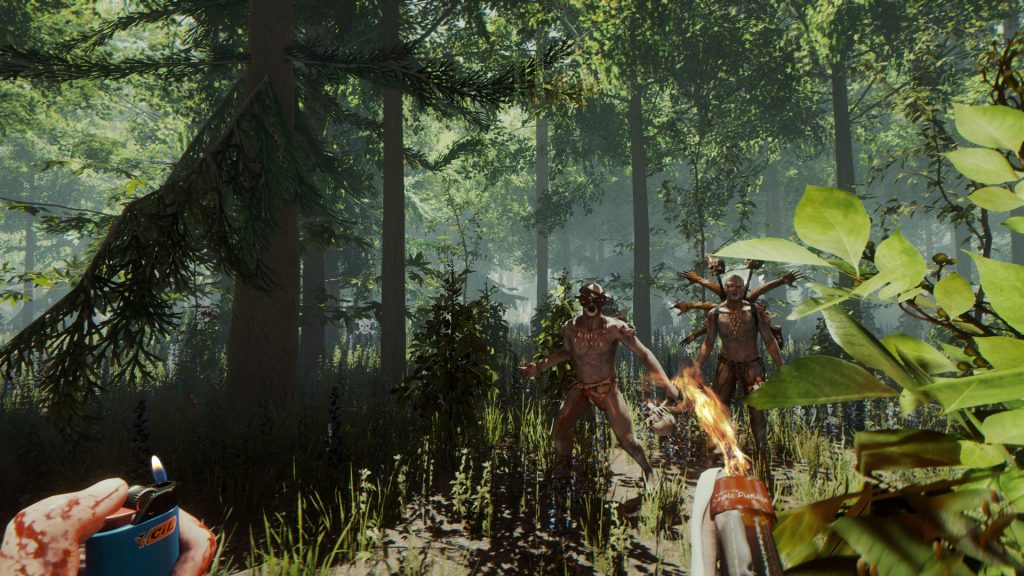 One common trope in survival games is the deliberate way of the protagonist getting trapped in a harsh environment. In The Forest, you will take control of a protagonist named Eric LeBlanc. Your goal is to find your son, Timmy, who was suddenly abducted by a man covered in rain paint – right after the plane crash which entrapped you in the harsh forest.
The Forest will compel you to think on your feet. You need to strategize by building shelter, collecting resources, and hunting animals. It would've been easy if not for the intervention and presence of many cannibalistic mutants. They are the local inhabitants of the forest, and they will make your stay extremely difficult. To ease the hardships in the forest (or to raise more fun), you can play with your friends. You all need to work together to overcome the challenges of The Forest.
The Verdict
The Forest runs great on new gaming systems, and you can even adjust settings properly. It's an immersive gaming experience that's definitely worth your attention. The survival aspect is harsh enough, and the cannibal mutants will push you to the edge. Get your friends to play this game over bottles of beer!
DayZ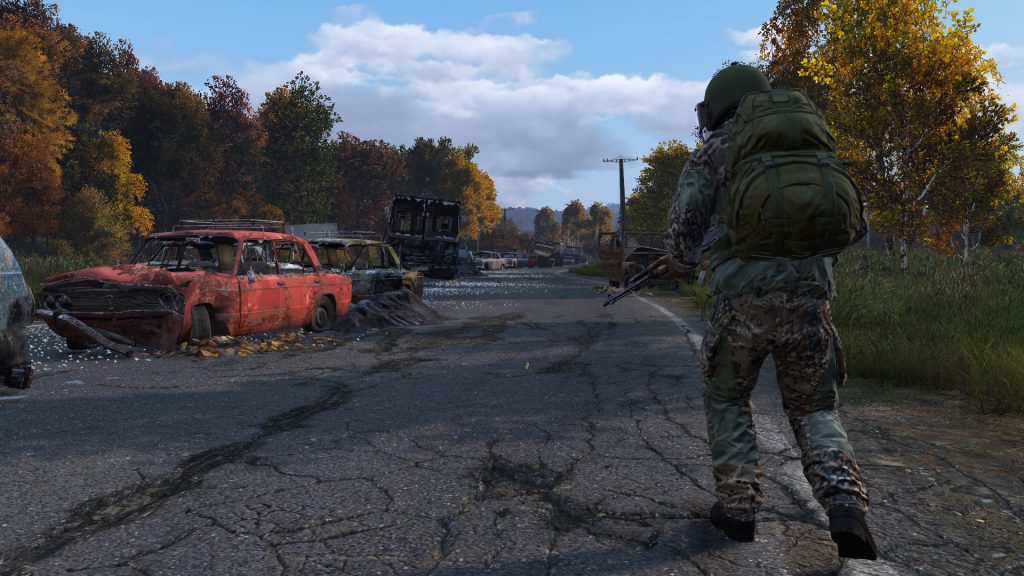 Set in the post-soviet, virus-infected country of Chernarus, DayZ pits players to fight against environmental hazards and themselves. The primary goal is clear: absolute survival. Since the game is an open-world sandbox, anything can happen. Social interactions are as important as a cache of food or weaponry. It's an unforgiving game – you can die in a harsh storm or get sniped by a perfectly hidden survivor. There's no hand-holding in DayZ. Once you die in the game, you will have to start over – even if it means losing dozens of hours of progress.
In DayZ, it's better to create a dynamic narrative with your friends. Otherwise, you might get bored looting and killing all the time. If you set your own goals other than the obvious survival, you will realize how special DayZ can be. DayZ also has an active modding community that can scale up the fun and challenge.
The Verdict
DayZ is a survival game as it is a 'narrative platform.' Your decisions matter a lot, and you will always be on the edge. If you're looking for a really challenging survival game experience, DayZ is right up your alley.
Rust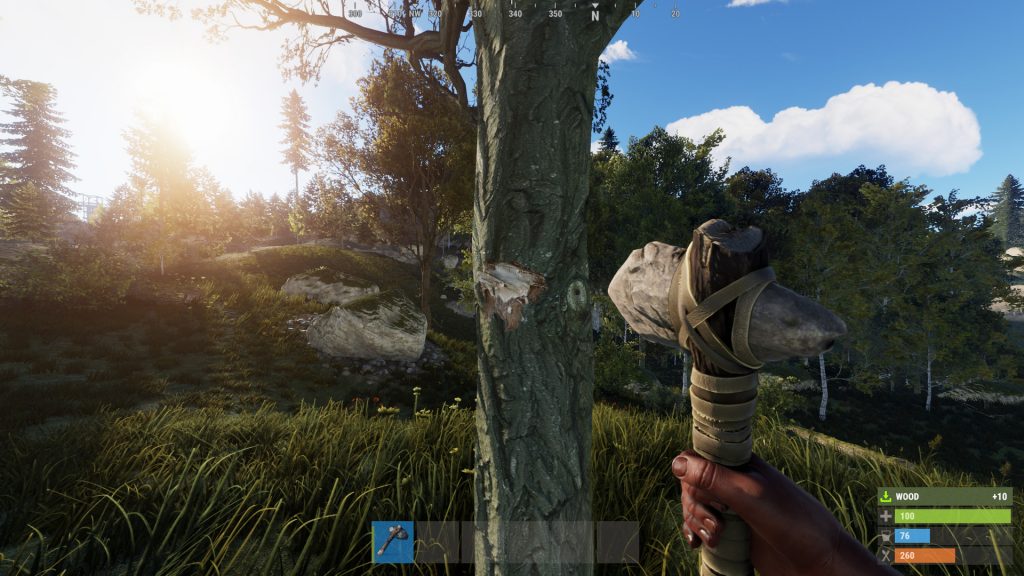 What will you get if you combine basic survival gaming elements and the famous Battle Royale concept? Well, the answer is easy: Rust. A highly popular survival/battle royale game, Rust pits you and dozens of other players in a harsh island where resources are scarce and death is common. At the very start, you're only given a rock and a torch – so you need to craft your way to survival. There are numerous threats waiting, such as wild animals, radiation hazards, and – the most dangerous of all – other players.
It's possible to play Rust alone but you won't make it far. Eventually, you have to team up with other players to raise your chance of survival. Tribal mentality is strong in this game, and the lone player is prey. Once you're part of a clan, you will get the chance to participate in raids. You and your friends can gain lots of resources and weapons out of these raids, if you're successful. And if not, well, death is just around the corner. You get to respawn anyway but you will lose your precious items except the rock and the torch.
The Verdict
Rust is not for the soft-hearted. You will get frustrated because other players are probably better than you. Through practice, you will get better as well. Also, you need a high-end gaming PC to play Rust. Expect for long loading times! Other than the loading time factor, Rust is a high-tier game that will keep you preoccupied for a long time.
Rimworld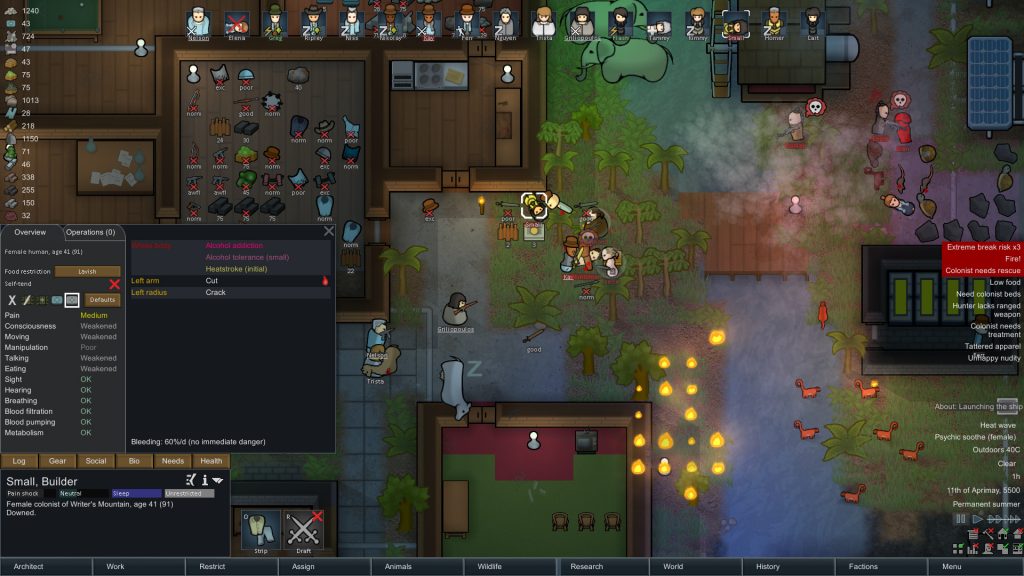 Aside from being a survival game, Rimworld is also about colony management and planning. You can consider it as a modernized version of Dwarf Fortress where anything can go wrong in a snap. In Rimworld, you control a group of colonists who must do everything to survive and build a ship that will allow them to get back to their homeworld (or glitterworld, in the game).
Since Rimworld is colony management, you have to manage everything. You need to assign tasks to your colonists and set priorities. Beyond that, you need to fend off raids and send off caravans to other locations. Another aspect of Rimworld is story generation. Every colony has a narrative influenced by your play style and a chosen Narrator. The Narrator is related to the game's overall difficulty. The Narrators that you can choose from are Cassandra Classic, Phoebe Chillax, and Randy Random.
While there's no supported multiplayer, you can pick hundreds of mods to spice up the gameplay. Just be wary – some mods are not compatible with each other and with the core game.
The Verdict
Rimworld is a long-term game which will require your constant attention. You won't attain success overnight. At times, the game can be a bit dragging but this leaves you enough time to plan your strategies ahead.
Dead by Daylight
Dead by Daylight is emphasizes the dynamics between predator and prey. In this multiplayer game, four players take on the role of Survivors while one player is destined as the Killer. The goal of the Survivors is to escape the Killer by working together or committing selfish acts to survive. The game is unique because of the variable POV. Survivors play in a third-person style, while the Killer uses the traditional first-person style.
Every game session is procedurally generated, so no playthrough is the same. If you're the Killer, you can pick from different Killer characters – each with their own strengths and weaknesses. The Killers are also from different slices of pop culture such as Stranger Things and A Nightmare on Elm Street. If you're one of the Survivors, you have numerous perks which will help you survive the game.
The Verdict
This is, perhaps, your chance to play out your favorite iconic movie villains! Dead by Daylight is meant for thrill-seekers and hardcore horror fans. But be warned: there are some frustrating situations where Survivors exploit game maps, bugs, and the limited awareness of the Killer. On the other hand, a Killer can also be overpowered enough. If these things don't stress you at all, then you should give Dead by Daylight a spin.
Hunt: Showdown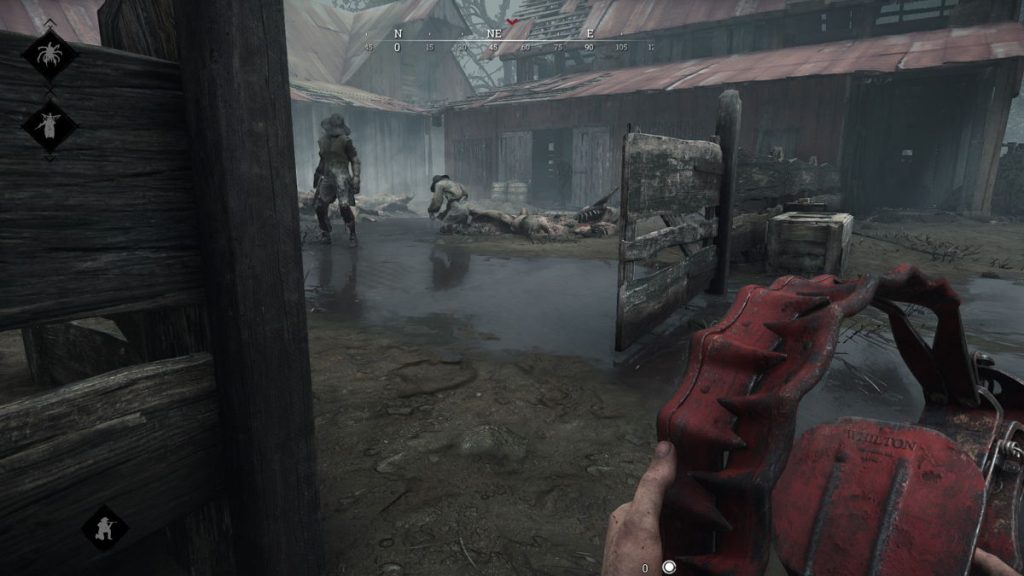 PVP, PVE, and survival are three major concepts that can make a multiplayer FPS game worthwhile. This is the premise of the widely acclaimed game called Hunt: Showdown. Set in 1895's Louisiana, your role is a bounty hunter tasked to hunt and banish monsters that have plagued the lands. You even have the option to form a duo or trio team. All seems well, but the Louisiana swamps are filled with traps and environmental threats. The bounty targets are also downright terrifying. Other bounty hunters will also attempt to hunt you down, since the bounty will get transferred to you after killing your first mark. You know what they say – the higher the risk, the higher the rewards.
Dying is normal in this game. But you don't have to worry, Hunt: Showdown has an excellent progression system through the Bloodline feature. You will get to fully utilize the money, experience, and kits acquired by your previous character. It's not a lost cause.
The Verdict
Hunt: Showdown is an excellent game for thrill-seekers. Every playthrough is different, and you won't get frustrated too much because of the Bloodline system. It's worth a try, even though it's somehow expensive. Just try to get it during exclusive Steam sale promos!
Kenshi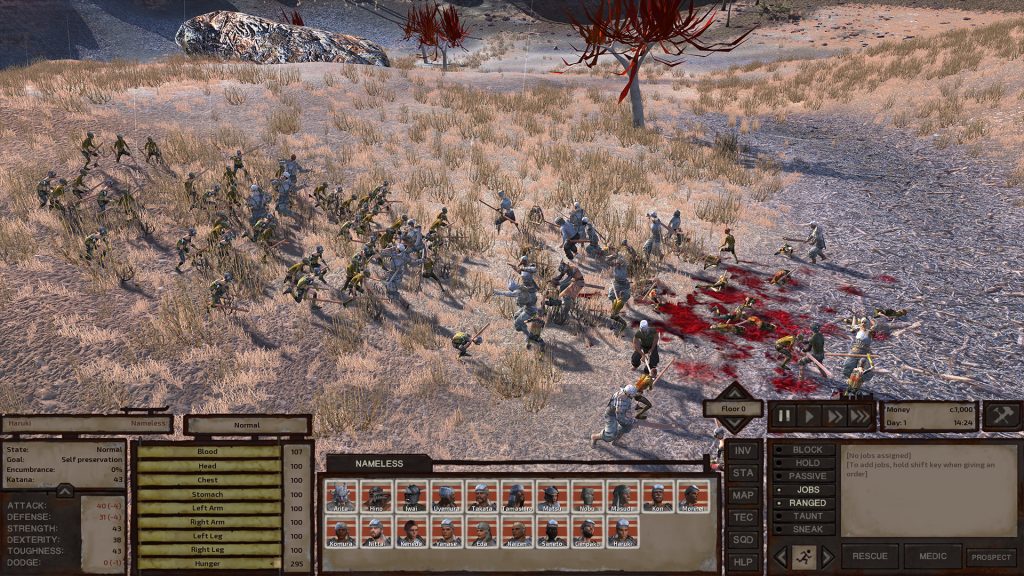 Kenshi is an award-winning game which combines survival and RTS at a remarkable degree. But this game has another 'not-so-obvious' feature: it allows you to catch a glimpse of hell. Kenshi is unforgiving – it doesn't hold your hand, no story progression at all, and doesn't treat you special. You don't have extra hit points or hidden powers. You're not the Dragonborn or the Chosen One. Everyone you meet in the game has the potential to slice you in two.
The real gem of Kenshi is the squad-based mechanism. You have the opportunity to build your own squad through the characters that you've met. These characters will grow as you kill, steal, rob, pillage, conquer, and enslave all over the world of Kenshi. Just keep in mind that these characters will have a great chance of dying or being imprisoned.
The Verdict
If you love strategy and survival games, Kenshi will hit a soft spot for you. There will be frustrating times as warlords crush everything you've worked hard for. Yet, that's the point of Kenshi – an interesting point that will keep you glued for a long time.
Project Zomboid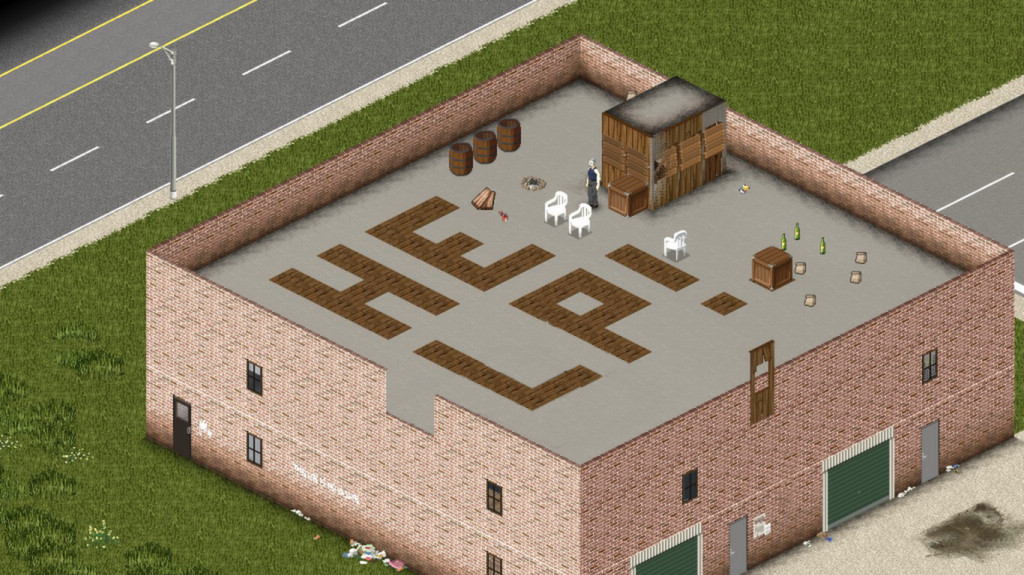 Do you want to feel what it's like to be in The Walking Dead? In that case, you should try playing Project Zomboid. This isometric zombie survival game will put you in a fictional place called Knox County. You're surrounded by the Infected, and you must scavenge and craft the necessary resources to survive. Building your starting base is not easy because resources tend to be scattered everywhere.
While the zombies have varying speeds (most of them are slow), you can still be caught off-guard because of the game's camera system. Even though Project Zomboid is isometric, the zombies will disappear in view if your character is not facing them. Just imagine if you can see the zombies – the game will just be a Diablo hackfest. This feature may be simple, but it can break your game. You need to be observant as much as possible. In FPS survival games, audio tics will give you hints regarding enemies from behind. Project Zomboid has those tics but it's easy to miss them if you're grinding for an item or rushing to get a stack of food. To make things a bit easier, you can play with your friends through CO-OP.
The Verdict
If you're a big zombie nut, then Project Zomboid will keep you hooked for many hours. It can get a bit grindy, but that's just a part of any game. Project Zomboid is a must-have in your gaming library!
Mist Survival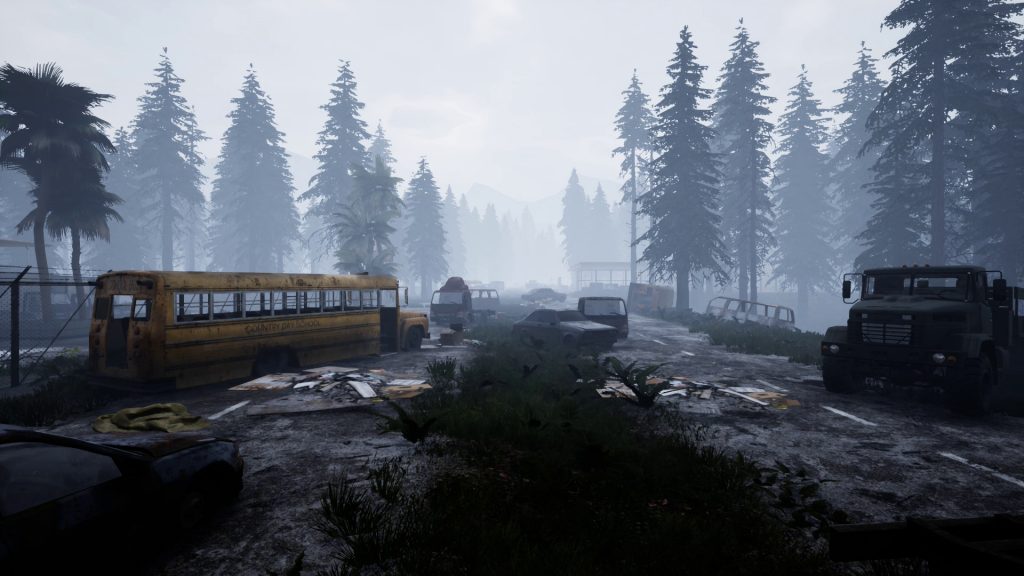 By now, you're probably aware of the common formula of post-apocalyptic survival games: craft, survive, and avoid the infected folks. Mist Survival is not entirely different from other survival games and it didn't try to reinvent the wheel. However, the game took the concept of immersion to a deeper level and focused on Single Player Mode.
In Mist Survival, your personal survival is just one important aspect – a part of a whole. The other aspects are base management, crafting, people management, stealth & takedowns, driving, trapping, exploration, and electronics. It can be overwhelming at your first run, and you will probably die a couple of times. Therefore, every step must be calculated and you need to plan ahead of time. The 'mist' is part of the challenge because it brings the infected around, ready to lay waste on whatever you've built.
The Verdict
Mist Survival is still constantly getting updated, so expect for more changes. If you're not a fan of laggy and stressful multiplayer survival games, Mist Survival is for you. But don't get it wrong – this game will still make you stressed, anxious, fearful, and calculating. Now, that's an experience that you shouldn't miss.
Conclusion: The 14 Best Survival Games on Steam
The survival games discussed above are enough to test your limits and consume hundreds of hours of your life. Make sure that you prioritize the best games that will scratch your 'crafting and surviving itch.' You don't have to play them all, but you're definitely free to do so. Just be wary – survival games tend to be addictive!
1. Don't Starve Together
2. Green Hell
3. Subnautica
4. Raft
5. The Forest
6. DayZ
7. Rust
8. Rimworld
9. Dead by Daylight
10. Hunt: Showdown
11. Kenshi
12. Project Zomboid
13. Mist Survival