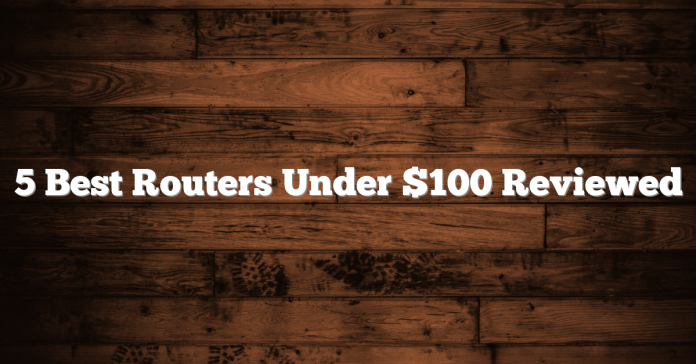 An average US household has over 10 Internet connected devices – smartphones, laptops, tablets, smart TVs, e-Book readers, and a lot more. In fact, in a recently released survey by Insight Express, one in three young professionals and students consider the Internet as a fundamental resource alongside air, water, and food. I mean, yes, we won't exactly die without it; however, life won't be the same without it either. The Internet just makes life a whole lot easier, and it can be frustrating to have needs or questions and be stuck in a place that does not offer such connectivity.
A router has easily become a crucial household item. The Internet is here to stay, so you might as well get a router that allows all of your gadgets to go online at any time. Gone are the days when you had to fight tooth and nail for that one seat in front of the computer so you can check your email, or those days when you had to disconnect from the net because someone had to place a phone call. 
Because of this demand for Internet connectivity, and with people in the household fighting for bandwidth, it is important to select the best routers. Wireless routers allow you to connect multiple devices to the Internet without the need for cables. 
But do you really have to shell out $200 or $300 for a quality wireless router that works seamlessly? The answer is no. We found some of the best routers under $100. 
Manufacturers may want you to think that you need to have an expensive router. However, the average digital consumer does not really need the super advanced features, functionalities, and all the frills that very expensive routers have to offer. What most people actually require is a router that can give them a stable Internet connection, and one that is able to support their Internet surfing, video streaming, and social media habits. 
Best Routers Under $100: The Criteria
When you search for wireless routers online, hundreds of results will come up which could be confusing. Most of the time, people settle for heavily advertised routers that cost an arm and a leg. 
For this reason, we searched for the best routers under $100 to help you decide. Price is not our only criterion though. We also looked at the following features:
Speed

: The router should be able to support the way you use the Internet. If you are into online gaming and high-definition video streaming, you should go for the latest WiFi standard which is currently 802.11ac routers. Some manufacturers tend to blow up the figures and claim speeds of more than a thousand gigabits, but those are merely marketing ploys. AC routers under $100 can already meet the speed requirement of a typical household. 
Range

: A good router should be able to provide the same signal strength for an entire 2,000 sq. ft. house. Of course, there are other factors aside from the size of the house that can affect a router's range. Concrete walls, for instance, can create interference and can affect the range of the router. WiFi extenders can also be used if you want to increase the range of your router. 
Dual-band or tri-band settings

: You also have to look for the dual-band feature which means that the router supports both the 2.4GHz band and the 5GHz band. Without this feature, only the 2.4GHz band will be available and we all know that this gets easily affected from a lot of interferences. The 5GHz band, on the other hand, is generally less crowded, and is not affected by other electronic devices. There are also routers that support one 2.4GHz band, and two 5GHz bands, which are perfect for households that do heavy online multiplayer gaming and 4k video streaming.
Supported Connections

: When choosing a router, it's important to take into account the number of devices that require wireless connection on a daily basis. You also need to consider the number of devices that need a wired connection, and get a router that have the right number of Ethernet LAN ports. 
Security

: Cybercrimes are increasing, so it's important to invest in a router that has a secure and reliable firewall. A router with WPA.WPA2 wireless encryption is also best to keep hackers away.
High Performing Wireless Routers for Under $100
| Preview | Product | Price |
| --- | --- | --- |
| | TP-Link Archer A9 AC1900 | |
| | NETGEAR Nighthawk Smart WiFi Router | |
| | ASUS RT Dual-Band WiFi Router | |
| | Linksys Dual-Band WiFi Router for Home | |
| | TP-Link AC1750 Smart WiFi Router | |
TP-Link Archer A9 AC1900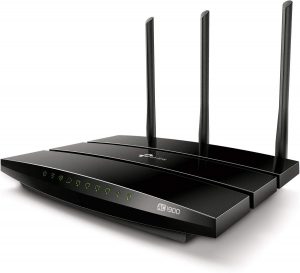 Price: $87.99

Supports simultaneous 2.4GHz and 5.0GHz connections for up to 1900Mbps of total available bandwidth

Comes with three external and one internal dual-band antennas for maximum omnidirectional wireless coverage
The TP-Link Archer A9 AC1900 is one of the fastest and smartest routers available at this price point. It is capable of providing blazing-fast data transfer speeds of up to 1900Mbps (1300Mbps over the 5.0GHz frequency and 600Mbps over the 2.4GHz frequency) to give your home extensive wireless coverage. This router also works with Alexa so you can bring all your smart devices together in one network and control them via voice command. 
The Archer A9 AC1900 has a feature called Smart Connect that automatically optimizes the connection of your device based on the fastest available wireless band. It uses beamforming technology to concentrate wireless signal towards your devices and allow focused data transmission. That means you can play games and stream high-resolution videos without encountering common connection stability issues. Moreover, you can rely on the three dual-band antennas on this router to significantly expand its range without the need for repeaters or extenders.  
If you want administrative control over your network, the Archer A9 AC1900 has a feature that lets you set up white or black lists to restrict the level of web access for your children or to supervise the network activity of your employees in the workplace. You will also be benefiting from the latest WPA3 security enhancement if you keep your firmware updated. Everything can be configured through the intuitive web interface or tether mobile application. 
In terms of design, the Archer A9 AC1900 has a sophisticated appeal with gentle curves that exudes elegance. It is also very well built with durable materials that help give this router a longer shelf life. Unfortunately, it doesn't have a wall-mount structure, meaning it might be unsuitable for some office environments with limited space. Some users have also complained about the extra-bright status lights, but this shouldn't be a concern if you place the router in a non-conspicuous location.
NETGEAR R6700 Nighthawk AC1750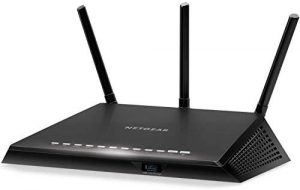 Price: $88.97

Speed: Up to 1750Mbps high-speed Internet

Coverage/Range: Large homes

Number of devices: 12 devices or more

1GHz dual core processor

Smart parental controls

USB 3.0 port
For gamers and other heavy Internet users, the Netgear R6700 Nighthawk is the perfect choice, as it can accommodate speeds of up to 1750Mbps. It also prioritizes the bandwidth for gaming and video or music streaming, making it an ideal choice. You won't have to worry about multiple devices streaming or playing online games all at the same time as this router can handle that much traffic. It's also very easy to setup, plus the 1GHz dual core processor enables you to enjoy the best network connection, either over WiFi or the router's four LAN ports. 
The Netgear R6700 Nighthawk also comes with three external antennas and high-power amplifiers that increase the range of WiFi coverage. You can still enjoy good WiFi Internet connection even when you're outside of your house. 
The router also uses the fast USB 3.0 technology, so you can easily and quickly share files and media with other devices on the network. You will also be able to manage the router remotely through the downloadable Nighthawk app. 
Network access can also be restricted for some family members using the Parental Control feature. The Netgear R6700 Nighthawk is recommended for home and family use and can handle more than 12 connected devices. 
This router may cost more than $100 most days, but this usually goes on sale on some days, so make a mad dash to the store when they do. 
Asus AC1750 Dual Band Mesh Router

Price: $96.98

Speed: Up to 1750Mbps high-speed Internet

Coverage/Range: Up to 5400 square feet

1GHz CPU power with dual-band connectivity 

AirProtection lifetime security by TrendMicro

ASUSWRT web-based interface for easy setup

WEP, WPA, WPA2 encryption
The Asus AC1750 mesh router is a powerful device that allows high speed Internet connection of up to 1750Mbps over 2.4GHz and 5GHz bands. What makes it even more powerful is that it can mesh with other Asus routers in your home or office for a wider coverage of up to 5400 square feet.
It has two integrated USB 2.0 and USB 3.0 ports which make file transfers, network and printer sharing super fast. The router also has four LAN ports, optimized for online gaming and ultra high definition video streaming. 
We shouldn't be paying for features we don't need, but if you are running a business, the added security provided by this device is well worth paying those extra few more dollars for.
This Asus mesh router further features a built-in firewall that has SPI intrusion detection and DoS protection. Aside from this security measure, the router also supports different types of encryption (64-bit and 128-bit WEP, WPA2-PSK, WPA-PSK, WPA-Enterprise, WPA2-Enterprise). You also get to have access control as the router allows you to manage parental control, network service filter, URL filtering, and port filtering.
The router also supports different VPN clients such as PPTP, L2TP, and OpenVPN, and it also uses traffic analyzer, and adaptive and smart QoS technologies.
Linksys EA6350 Dual Band Wireless Router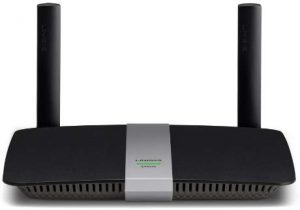 Price: $66.99

Speed: Up to 1.2Gbps high-speed Internet

Coverage/Range: Up to 1,000 square feet

Simultaneous dual-band connectivity 

Gigabit Ethernet ports

Simple setup through Linksys app
The Linksys EA6350 looks elegant, slim, and modern, but beyond mere aesthetics, what impressed us the most is its features that are a match for any household with regular Internet usage. For less than a hundred dollars, families get to enjoy speed of up to 1.2Gbps over its dual-band connection (300Mbps for the 2.4GHz band, and 867Mbps for the 5GHz network).
Slow speeds and intermittent connection due to interferences can be a headache. While positioning your routers in an optimal spot can make a difference, sometimes this just isn't enough if your router does not have the technology to reduce interference.
The good thing about the Linksys router is it also uses beamforming technology that optimizes speed and performance while reducing interference from concrete barriers and other electronic devices. 
Parents can further setup controls such as scheduling and managing the time their children spend online since the router supports Smart WiFi technology.
The Linksys EA3650 features four gigabit ethernet ports, and a USB 3.0 port. It can tell the difference between online games, video streaming, and regular web browsing and allocates bandwidth accordingly. If you're looking for a fast router for your home that is not too expensive, Linksys EA3650 is a good choice. 
TP-Link AC1750 Smart WiFi Router

Price: $$79.99

Coverage/Range: 2,500 square feet

Dual band router with a maximum of 1750Mbps speed

Number of devices: Up to 50

Four gigabit LAN ports

Three long-range external antennas

Two USB ports

Two-year warranty and free technical support
This router is hands down better than most routers twice its price, hence it is on top of our list. You will have a buffer-free streaming experience for 4K UHD videos with its 1750 Mbps speed, 450mbps for 2.4GHz and 1300mbps for 5GHz. This dual-band feature ensures a stable and reliable wireless connection, while the AC1750's four LAN ports make it perfect for online gamers and video streamers that need the optimum speed over wired connection.
TP-Link AC1750 is also very easy to setup and comes with three external antennas that will give you a long-range coverage over 2,500 sq. ft. You can even manage your home network remotely through the TP-Link tether app, making it all the more convenient especially since the router can handle up to 50 connected devices. The AC1750 is compatible with any WiFi device, may it be 802.11AC or older standards.
There are also two integrated USB ports that act as media servers, so connected devices can easily share files, printers, and other media. However, since the router still uses USB 2.0 technology, file transfers are quite slow. The TP-Link AC1750 comes with technical support that's free for two years.
Overall, The AC1750 is a budget-friendly router that delivers impressive speed over its dual-band connectivity with four LAN ports and USB 2.0 ports.
Five Best Routers Under $100 Wrapped Up
You don't have to spend hundreds of your hard-earned money to be able to enjoy fast, reliable, and smart routers. These five routers we found and reviewed for you are actually at par with the expensive ones you find in stores. 
Before selecting a router, you have to assess what you need so you won't waste your money. How many devices will connect to the wireless network on a daily basis? Do I need more LAN ports than the usual? Are there concrete barriers in my home that can create interference and decrease the range of the router? Answering these questions will help you decide which router under $100 is the best one for you.