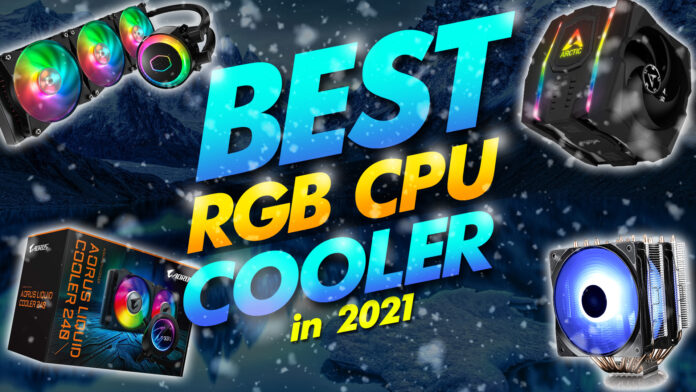 Nobody wants to make an investment now and regret it later. So, regardless of whether you want to show it off to the internet or just want something that cools your computer system efficiently, you want to get the best RGB CPU cooler for you.
But with so many options to choose from, picking the perfect one can be a daunting task. Since picking the perfect CPU cooler can make a massive difference in performance, temperature, and noise, ensuring you're guided accordingly has to be your priority.
In this article, we will be talking about 2021's best RGB CPU coolers and cover all the details you need to know so you can decide which is the right one for you.
Do You Really Need RGB CPU Coolers?
When it comes to the need for RGB features, not necessarily, no. But due to its popularity, more and more products now have RGB components with little to no additional cost to consumers.
Manufacturers of coolers and even gaming peripherals support RGB customization so much that they integrate the option for users to customize their lighting setup through their proprietary software.
In the case of CPU coolers, it's best to pick the right one that can keep your processor cool under load, especially when you're into overclocking, as failing to keep your computer cool could lead to irreversible threats.
Our roundup contains various types of CPU coolers that should cater to popular types of consumers of all kinds. Without further ado, let's cover them one by one below.
7 Best RGB CPU Coolers
1. Arctic Freezer 50 CPU Cooler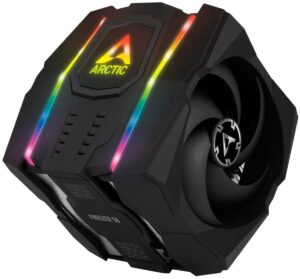 Dimensions: 148 mm x 149.5 mm x 166 mm | Base Height: 31.8 mm | Weight: 2.55 lbs (1.16 kg) | Fans: 1x 120 mm x 25 mm, 1x 140 mm x 25 mm | Socket Support: AM4 | Warranty: 6 years
If you own a AM4 socket Ryzen processor, the Arctic Freezer 50 CPU Cooler is among the best options you can consider. It has an exquisite design with stellar RGB accents that will significantly improve the cooler's looks inside your system.
The Arctic Freezer 50 is an air cooler with a pair of brushed-steel mounting brackets with a small packet of Arctix's MX-4 thermal compound. Looking at the Freezer 50 design, there are a total of six nickel-plated heat pipes that spread throughout the stacked cooling fin to dissipate heat effectively.
Unlike other air CPU coolers, the Freezer 50 has three fans; two 120 mm fans on each end and a 140 mm fan in between. The 120mm fans can be controlled via the aRGB lighting module.
The cooling performance of the Freezer 50 TR is excellent as the heat pipe solution is directly in contact with the processor. Arctic Freezer is also thoughtful enough to include a trusted MX-4 thermal paste along with your purchase so you won't have to worry about buying a separate paste.
It has to be noted that installing the Freezer 50 can be challenging. Fortunately, the QR code includes all the instructions you need to get everything done right.
In terms of performance, the Freezer 50 is easily recognized as one of the best coolers for AMD Ryzen processors. If you're looking to maximize your frames in your game, you can count on the Freezer 50 to run without being too noisy.
Ryzen processors are known to have sheer multi-core power, but the Freezer 50 is specifically designed to keep the processor cool.
Do note that you will have to connect the cooler through an external controller if you want to synchronize the lighting with your setup's rest.
Unfortunately, the behemoth dimensions of the Arctic Freezer 50 CPU cooler can potentially impede with the rest of your hardware. But if its sheer size doesn't hit your RAM modules or your graphics card, the Arctic Freezer 50 TR is a great cooler to consider.
2. Corsair H115i RGB Platinum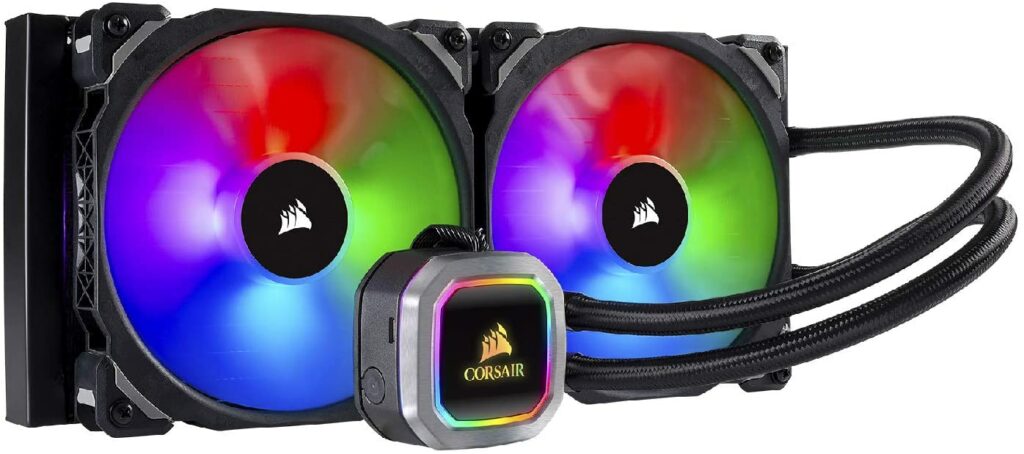 Dimensions: 322 mm x 137 mm x 27 mm | Height: (Pump) 1.46 inches (37.08 mm) | Fans: 2x 140 mm x 25 mm | Socket Support: Intel 1200, 1150, 1151, 1155, 1156, 1366, 2011, 2066, AMD AM4, AM3, AM2, sTRX4, sTR4 | Warranty: Five years
There are plenty of cooling hardware manufacturers in the market now, and Corsair was among the pioneering hardware manufacturers to bring out AIO or all-in-one liquid coolers to market. After so many years of being in the industry, let's look at why we think the Corsair H115i RGB Platinum deserves to be the best RGB CPU cooler in 2021.
The H115i uses RGB magnetic levitation fans. Both 140 mm fans can blast a decent amount of airflow without being loud.
Installing the AIO may look intimidating, but it's modular and requires no tool at all. Everything you need is included in the box, plus mounting the bracket is quick and painless. Note that this supports a variety of Intel and AMD sockets, so if it supports your processor, then this is a worthy option to consider.
Each fan can run from zero RPM, 400, and up to 2,000 RPM– perfect for advanced users. To track everything, you can download Corsair's proprietary Corsair iCUE software to control your cooler's RGB lighting and monitor your CPU and coolant temperatures. You can also adjust the fan and pump speeds easily from their intuitive user interface.
If you're looking for a CPU cooler you can use to aid your overclocking needs, this will surely get the job done with flying colors (pun intended). Speaking of colors, there are a total of sixteen individually controlled RGB LEDs that light up the pump head to go perfectly well with the rest of your build.
The cold plate of the H115i is thermally optimized to output a high-performance cooling solution without being too loud. If you live with someone, this shouldn't wake them up at night, even when your PC runs at full load.
3. Gigabyte Aorus RGB AIO Liquid Cooler 240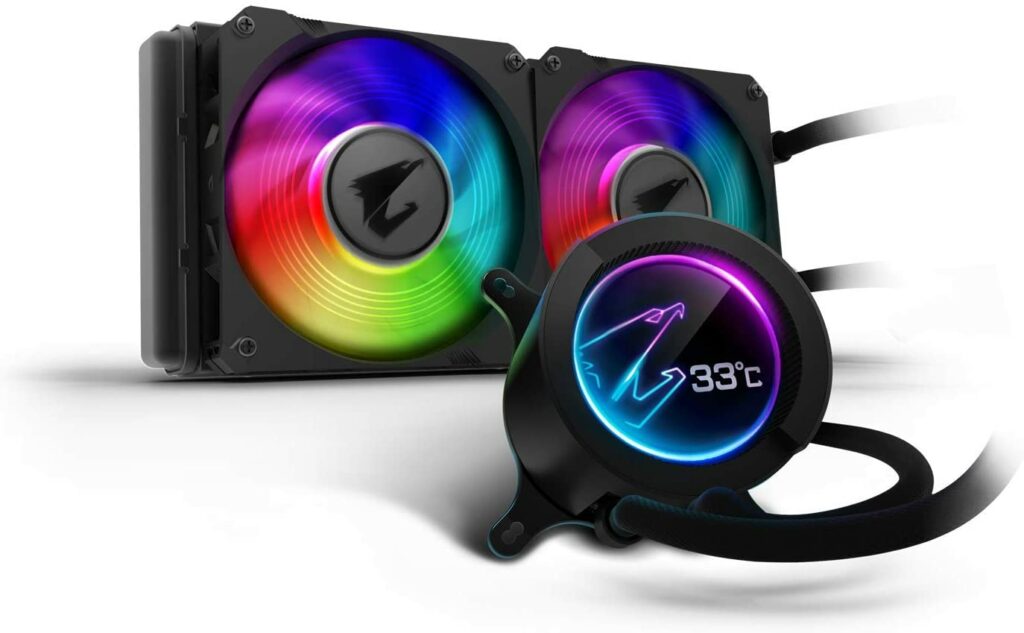 Dimensions: 272 mm x 121 mm x 27 mm | Height: (Pump) 76.2mm | Fans: 2 x 120mm aRGB Fan | Socket Support: Intel 2066, 2011-3,1366,115x, AMD TR4, AM4 | Warranty: 3 years
The Gigabyte Aorus RGB AIO Liquid Cooler 240 offers other great features besides the LCD on the CPU pump block. After all, that's not even its best feature. Since we have the on-screen LCD mentioned, then let's talk about that first.
The pump block allows you to see other things you wouldn't easily find at a glance. Apart from the temperature, you can also choose between displaying the CPU status, fan status, processor details, and even customizing your display. This allows you to easily track everything that's going on inside without having to open third-party temperature tracker apps.
Underneath the pump block is copper that will fit in a handful of Intel and AMD processors, including Threadripper processors from AMD. You can easily route the tube depending on where you want to place the cooler since it has a total tube length of up to 380 mm.
Unlike most AIO that come with up to three fans, the Aorus RGB AIO Liquid Cooler 240 can only accommodate up to two 120 mm aRGB fans. Both fans also use ball-bearing type fans, so they aren't expected to perform as fast as magnetic levitation fans. Even so, it can still perform well enough to keep Threadripper processors at cooler temperatures.
You can use either Aorus Engine Support or the RGB Fusion 2.0 software to customize the fan's RGB lighting.
Out of the box, it does have an eye-catching front print, and it doesn't feature any particular feature that makes it better than most of its competitors. But seeing as how the LED pump block is situated at the front-most part of the cover, I'd say Aorus would want everyone to notice it.
Once you open the box, you'll find everything you need to install the CPU cooler. You'll find inside a mounting bracket for AMD AM4 sockets, mounting screws for the fans, stand-off screws, a pair of the Aorus 120 mm aRGB fans, and the manual.
The cooler radiator has a 272 mm x 121 mm x 27 mm dimension, meaning it's small enough to fit in most setups without affecting your RAM clearance space. When installing the pump block, you must be mindful of its position because you don't want to install the pump upside down.
The cooler already comes with a layer of pre-applied thermal paste like most AIO liquid coolers in the market for your convenience. Unfortunately, Aorus didn't indicate what type of paste is on the cooler, so you can always use a third-party one if you have one. Nevertheless, it still is good until you can change the thermals.
You'll also notice that the Aorus RGB AIO Liquid Cooler comes with more cables than your average air cooler. If you're unsure, just refer to the included manual for installation. But simply put, these cables are essential for successful installation as it is what powers the fan and the aRGB LED.
Honestly, it can be challenging to get everything installed since there will be a handful of cables that need to be hidden.
4. Cooler Master MasterLiquid ML360R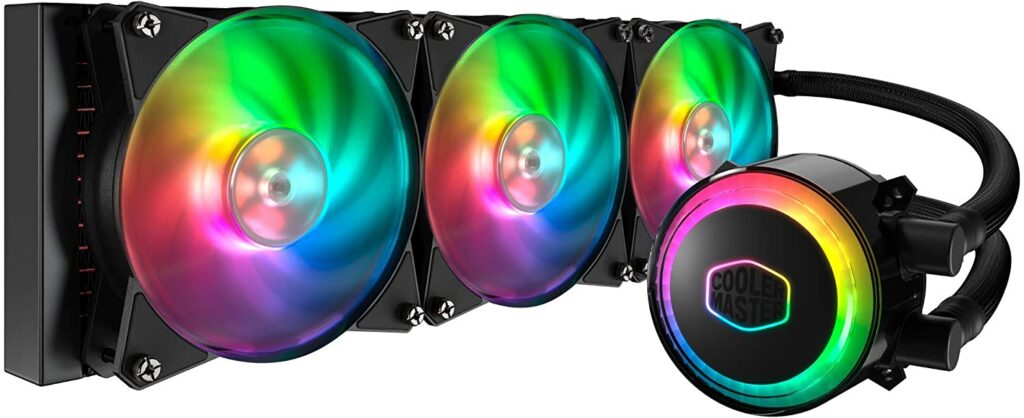 Dimensions: 394 x 119 x 27.2 mm | Height: (Pump) 52.9mm (2.1 inches) | Fans: 3x 120 x 120 x 25 mm | Socket Support: LGA2066, LGA2011-v3, LGA2011, LGA1200, LGA1151, LGA1150, LGA1156, LGA1366, LGA775, AM4, AM3+, AM3, AM2+, AM2, FM2+, FM2, FM1 | Warranty: 2 years
Cooler Master is among the companies that many rely upon when it comes to cooling. Their products have been outstanding that it usually takes a couple of months or years before their new products can dethrone their top performing coolers.
The same is true for the Cooler Master MasterLiquid ML360R. If you are into overclocking, then this will surely be among the best options you can consider. Not only does this perform great, but it also offers other features you will truly love.
Starting off with the size, the AIO cooler has a total of three 120 mm x120 mm x 25 mm fans accompanied by a stellar selection of RGB lighting and modes. The cooler also supports a handful of consumer Intel and AMD processors, but unfortunately, it doesn't support AMD's Threadripper processors.
The ML360R RGB comes with a handful of accessories along with the mounting hardware. You will also find threaded offsets, bolts, and the standard backplates.You'll also find a syringe that contains Cooler Master's thermal compound. Moreover, you'll also find the RGB lighting control module and a USB connectivity cabling so you can control the lighting on-the-fly through the UI suite.
It has to be noted as well that the ML360R comes with a handful of cables. All of these are needed to integrate the CPU cooler fully. Fortunately, the wires are long enough to ensure routing will be a breeze.
Apart from the three fans, the Cooler Master pump also comes with clean RGB lighting. The RGB lights will come from the rounded cover dome's edges and can be customized to meet your specific preference.
Since it's easy to install the cooler upside down, it pays to make sure you're installing the cooler the right way. Don't worry; installation doesn't require any tools since everything you need is already provided in the package.
The performance of the fan is decent enough to ensure you get cooler processor temperatures. However, they can be loud when the fans are run at max. But you can easily rely on the cooler's performance nonetheless.
So, if you're a gamer, a system builder, or a power user who aims to overclock your CPU, then the Cooler Master MasterLiquid ML360R is the ideal choice– as long as money isn't an object.
5. DEEPCOOL Neptwin RGB CPU Cooler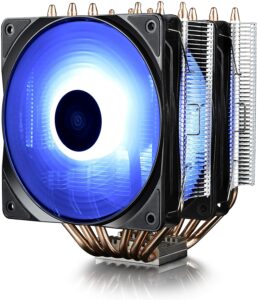 Dimensions: 120 mm × 108 mm × 158 mm | Base Height: 158 mm | Weight: 1068 g | Fans: 120 mm × 120 mm × 25 mm | Socket Support: LGA20XX, LGA1200, 1151, 1150, 1155, LGA775, LGA1366, AM4, AM3+, AM3, AM2+, AM2, FM2+, FM2, FM1 | Warranty: N/A
The packaging of the DEEPCOOL Neptwin RGB CPU Cooler is clean. It's very simple but still has that premium feel.
Inside the box is a big box that holds the main cooler with one of the fans. You will also find inside a smaller package that houses the two other fans. You will also find inside the box all the instruction manual, accessories, and mounting hardware.
If you have owned other CPU coolers before, you will notice how the Neptwin CPU cooler features a fairly large size. The tower cooler is 159 mm tall x 136 mm long x 126 mm wide. Even if your computer is under load, the 40 pins per tower can quickly dissipate the heat.
Because it has a twin tower style cooler, it has two separate parallel stacks of aluminum cooling fins connected to 6 copper heat pipes to cool the processor effectively. All the copper coolers are bent in a U shape that is directly connected to a copper base.
The base is a two-piece solid copper design coated with nickel. Having a surface covered with nickel makes the base shiny and smooth– perfect for ensuring that the base touches all the paste that separates the cooler from the processor.
You will find two more fans included in the box; one is for PWM control while the other one is for the standard 3-pin. These are designed to be plugged into the included full PWM 4 fan splitter with 3M double-sided sticky tape.
Like other CPU coolers, the Neptwin CPU cooler comes with its proprietary Z9 thermal compound. You will find along with the cooler all the clips you need to hook the three fans on to the main fan.
Note that the fan isn't installed with a specific bracket since the CPU cooler supports different socket types. So, if you're looking for something flexible that can be installed on other processors, this should serve you well for quite some time.
Installing the CPU cooler can be challenging as large coolers are notorious for posing a challenge when it comes to installing them. Even though DEEPCOOL has made great advancements in this department, it can still be a challenge. If this is your first time installing a large CPU cooler, then this might pose some headache in the long run.
The RGB lighting isn't as fancy as AIO coolers, but the cooling performance surely is decent enough. If you're looking for an RGB CPU cooler that lets you customize the colors to match your system or your desired theme, this might not be the cooler for you.
However, if you are alright with any color, then this should serve you well. Since the cooling performance is decent enough to handle a processor that is under load, investing in one of these should be spent well.
6. Cooler Master MasterAir MA410M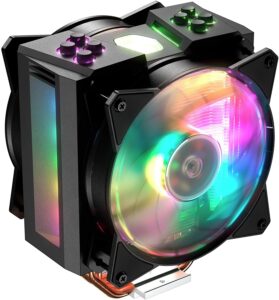 Dimensions: 111.8 mm x 130.9 mm x 165.1 mm | Base Height: 37.8 mm | Weight: 2.5 lbs (1.1 kg) | Fans: 2x 120 mm x 25 mm RGB | Socket Support: LGA2066, LGA2011-v3, LGA2011, LGA1200, LGA1151, LGA1155, LGA1150, LGA1156, LGA1366, AM4, AM3+, AM3, AM2+, FM2+, FM2, FM1 | Warranty: 5 years
If an AIO is too much for your cooling needs, then you will surely love the Cooler Master MasterAir MA410M.
The CPU cooler is compatible with both Intel and AMD processors as it supports a wide variety of sockets from both companies. Unfortunately, the MasterAir MA410M doesn't support Threadripper processors.
You'll find included in the packaging a 4-pin support RGB controller, thermal compound, a 4-pin PWM splitter, along the mounting hardware. You won't have to worry about the backplate since Cooler Master uses the universal backplate and scissor mountain arms to ensure compatibility.
Unlike the DEEPCOOL Neptwin RGB CPU Cooler that features a 6-heat pipe design, the MA410M features a quad-heat pipe design that relies on a 6mm diameter copper piping. The cooler dissipates heat effectively since the base is directly in contact with the base.
The fins along with the rest of the design, works perfectly in sync, allowing it to guide the air in an organized manner throughout the cooler.
The cooler is incorporated with a thermal sensor located within the aluminum mounting base above the heatpipes so you can track the temperatures through the RGB lighting control. The thermal sensor rests within a milled alcove and even has the optional ability to notify the user about the temperature of the CPU by changing the RGB color hue.
You will see at the top of the cooler the Cooler Master logo-shaped hexagonal cutouts within the cooling fins with a top down view through the cooler. You will also see at the far end through the hexagonal cutouts the notched opening for the thermal sensor.
Also, the mirror will pulse different colors and patterns that will surely make the entire system unit great. However, it doesn't have any direct impact on the overall cooling performance of the unit.
What makes the MA410M great is that the lighting is addressable RGB LEDs embedded in the side casing of the cooler shell that produces a colorful glow and light show through the fin stack and outward from the fan blades.
In terms of performance, you will never get disappointed at all. Since it also has a low noise level, you can barely hear anything from the cooler even when it is under load.
Overall, the Cooler Master MasterAir MA410M is an excellent performing mid-size cooler with an aggressive design and addressable RGB lighting.
7. Cooler Master Hyper 212 RGB Black Edition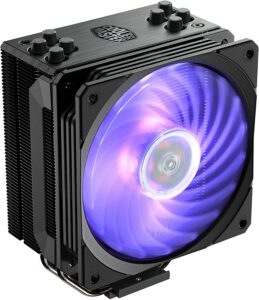 Dimensions: 120 mm x 79.6 mm x 158.8 mm | Base Height: 37.8 mm | Weight: 1.54 lbs (0.70 kg) | Fans: 1x 120 mm x 25 mm | Socket Support: FM2(+), FM1, AM2(+), AM3(+), AM4 | Warranty: 2 years
The overall lineage of the Cooler Master Hyper 212 Heatpipe can be traced back well over ten years. But considering its excellent performance, the Cooler Master decided to manufacture two Black Editions of the Hyper 212; one fitted with an SF120R RGB 120mm fan or an FP120 Silencio.
Like its lineage, the stealth's performance and the RGB versions of the Hyper 212 are focused on entry-level to mid-range gaming builds. Simply speaking, the Hyper 212 isn't designed for advanced overclocking.
You can tell how the Hyper 212 RGB Black Edition follows the traditional design of the Hyper 212 models as it also features a direct-contact, quad-heatpipe design. The heatsink's overall design features a "dark chrome" plating that doesn't give off a reflective gleam. In short, the design is rather conservative than showing off.
At the cooler's top is where you will see the Cooler Master logo that conceals the aggressively-finned mounting block. Installing the cooler is very easy as it simply snaps into place when the Hyper 212 is secured.
Apart from the standard 4-pin PWM fan header, the RGB version of the Hyper 212 can also use the included MOLEX-powered lighting controller. On the other hand, it can also be integrated with the RGB controls of a compatible motherboard.
If you are looking for a slightly more affordable option apart from the Cooler Master MasterAir MA410M, the Cooler Master Hyper 212 RGB Black Edition is the perfect alternative. It may not cool as well as its dual-fan sibling, but it still looks rather appealing.
Overall, the Hyper 212 RGB Black Edition is a great option to consider as long as you're not going to use it for advanced overclocking projects and setups. Due to their affordable price, the Cooler Master Hyper 212 RGB Black Edition is easily considered a great budget option.
Important Things to Consider when Before Buying RGB CPU Coolers
Apart from the RGB lights, buying a CPU cooler doesn't end with choosing the right size cooler for your case or having the most vibrant RGB colors. And even though it's already 2021, things you should consider are the same. Here are a few of them:
Mind Your Budget
This is pretty obvious, but you don't want to buy something that's not powerful enough to satisfy your cooling needs. If you're unsure how powerful your fan should be after reading everything here, then it's still best to overkill it since you're not at risk of cooling too much.
Moreover, if you buy an extra powerful CPU cooler, you might not need to upgrade it when you upgrade your CPU next. Yay for future-proofing!
Consider the Amount of Heat Your Computer Generates
Before you can determine how large of a CPU cooler you'll need (and how much money you should budget for), you first need to know how much heat your CPU generates.
Thankfully this is a lot easier than you'd think since you just need to know the TDP.
If you're one of those who keep all of your computer parts boxes, then the CPU box should tell you everything you need to know.
If you don't have the CPU box anymore, simply go online and type in the model number of your CPU and head straight to the specifications tab and look for the TDP.
If you don't know the model number of your CPU, you can use a 3rd party software like CPU-Z (which we highly recommend, too). Once installed, open the CPU-Z software, and the CPU tab should tell you everything you need.
The Family, Model, and Stepping codes will help you identify which processor version you have– especially helpful if the processor has more than one version.
Do You Need a Small, Medium, or Large CPU Cooler?
Now that you know your CPU model, it's time to determine the CPU cooler size that best fits your needs.
If you have a low TDP CPU (around 40W to 70W), then a large cooler will not be necessary. You can go for a cheaper, smaller to medium CPU cooler size. But anything over 70W will benefit from bigger, larger CPU coolers for efficient airflow.
Mind the CPU Socket
Whether you use a liquid cooler or air cooler, it must fit with the CPU socket.
Even though most CPU cooler manufacturers produce coolers to fit most CPU sockets by offering various brackets, some coolers still only work with specific CPU sockets.
To determine the type of CPU socket that fits your CPU cooler, check your CPU or your motherboard spec sheet.
Should You Use Air or Liquid?
Technically you could just randomly choose air or liquid. In fact, you likely wouldn't destroy your computer doing that! But isn't "Not destroying your several hundred dollar computers" a relatively low benchmark for making decisions? (Yes.)
Anyhow, there are some real pros and cons to taking into mind when making your decision. The lowest hanging fruit is that generally speaking, water cooling solutions are more expensive. However, AIO options mitigate this to a degree.
Clearance: Make Sure All Your Components Fit
One of the most common problems people face when buying a mid- to high-end air CPU cooler is clearance.
And because CPU coolers can be massive, they leave little to no space left for your RAM and other hardware. Ensure you check the clearance indicated on the CPU cooler's spec sheet.
You should also check your motherboard's layout to ensure parts won't be bumping into one another.
If you have plenty of clearance, the air cooler will be fine. On the flip side, if you don't have enough clearance, you'll need to go with a liquid cooler since they take up less space.
Consider the Position of the Fan and the Direction of the Air
Typically, a case will have four different locations for radiators to be mounted. However, some radiators can only be installed in either the top/bottom locations or the left/right locations. Most AMD coolers usually belong to the latter since they have a rectangular form factor.
Knowing which direction the cooler blows air will help you organize the air circulation inside the case.
If the direction of the CPU cooler's exhaust is jeopardized by an obstructed exhaust port, or perhaps an odd direction toward an exhaust port, then you will most certainly be better off with a liquid cooler.
How Much Do Aesthetics Matter?
Liquid coolers look nicer than air coolers. However, just because a liquid cooler looks cooler doesn't mean that it is cooler. In fact, there are a handful of air coolers that cool better than liquid coolers.
Just keep in mind that liquid coolers are usually the go-to option when overclocking as they cool better than air at higher temperatures. And most of the time, liquid coolers and AIO coolers typically look way better than the average air CPU cooler since RGB lighting covers more from the radiator to the pump.
Recap: Our list of the best RGB CPU coolers you can get this 2021! To give you a summary of our recommendations:
Which among our list you think is the best? Tell us in the comment section!