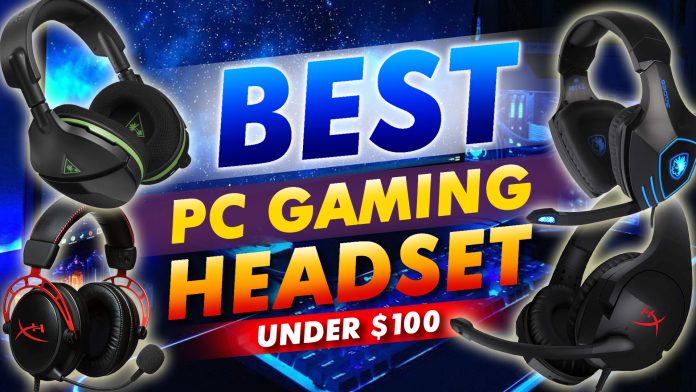 There's a certain standard that people look for when it comes to gaming headsets, and nine times out of ten, you'll find that these standards tend to be a bit over your budget. For the price of say, maybe one monitor, a good quality pair of gaming headphones or earbuds might cost you an arm and a leg – limbs that might be better spent buying an epic monitor, or a great gaming chair.
Today, we're here to tell you that high audio quality does not need to be high priced. For the PC gamer who loves a good deal, there's always an option to get amazing gaming headphones that won't break the bank. Enjoy this list of the best PC gaming headsets under $100 and see for yourself that sometimes, you don't really need to compromise.
The Best PC Gaming Headsets Under 100 at a Glance
HyperX Cloud Alpha | Best PC Gaming Headset Under $100 for All-Around Performance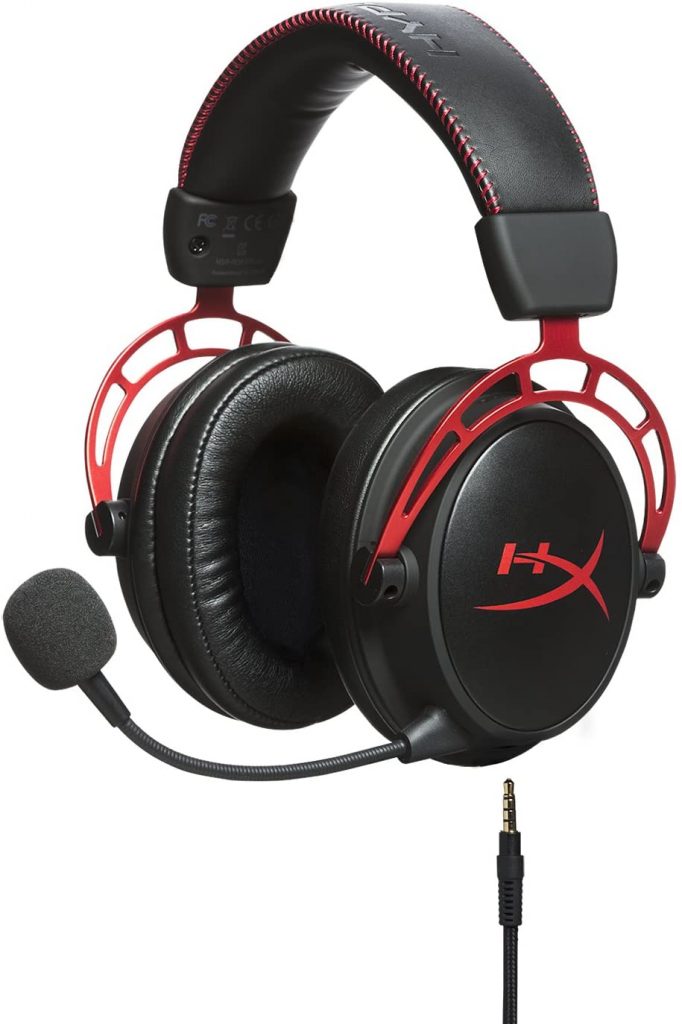 The HyperX Cloud Alpha is a clear frontrunner in today's list. It's a great all-around performer that really deserves its top spot here. Just barely coasting our threshold of under 100, the Cloud Alpha is quite possibly the most premium headset on this list.
Its powerful dual-chamber drivers help to create a massive bass boost without sacrificing the clarity of the mids and highs. Footsteps are very distinct when gaming, dialogue is nice and prominent, and the soundtrack is not drowned out in the cacophony of gunshots and such.
It's got a lightweight aluminum build for its band, which is itself expandable to fit various head shapes. You've got ear cups that are made out of memory foam to ensure that there is a snug fit over your ears. This makes it easier to wear these cans for long periods of time without pain in the ears.
There are two things we wish would change: the mic quality, and the lack of surround sound. At this price point, surround sound should be a given, as it really does help when it comes to game immersion. At the same time, a good mic should be included by default as many gamers need to be heard clearly over their VoIPs of choice.
HyperX Cloud Stinger | Best PC Gaming Headset Under $100 for Bass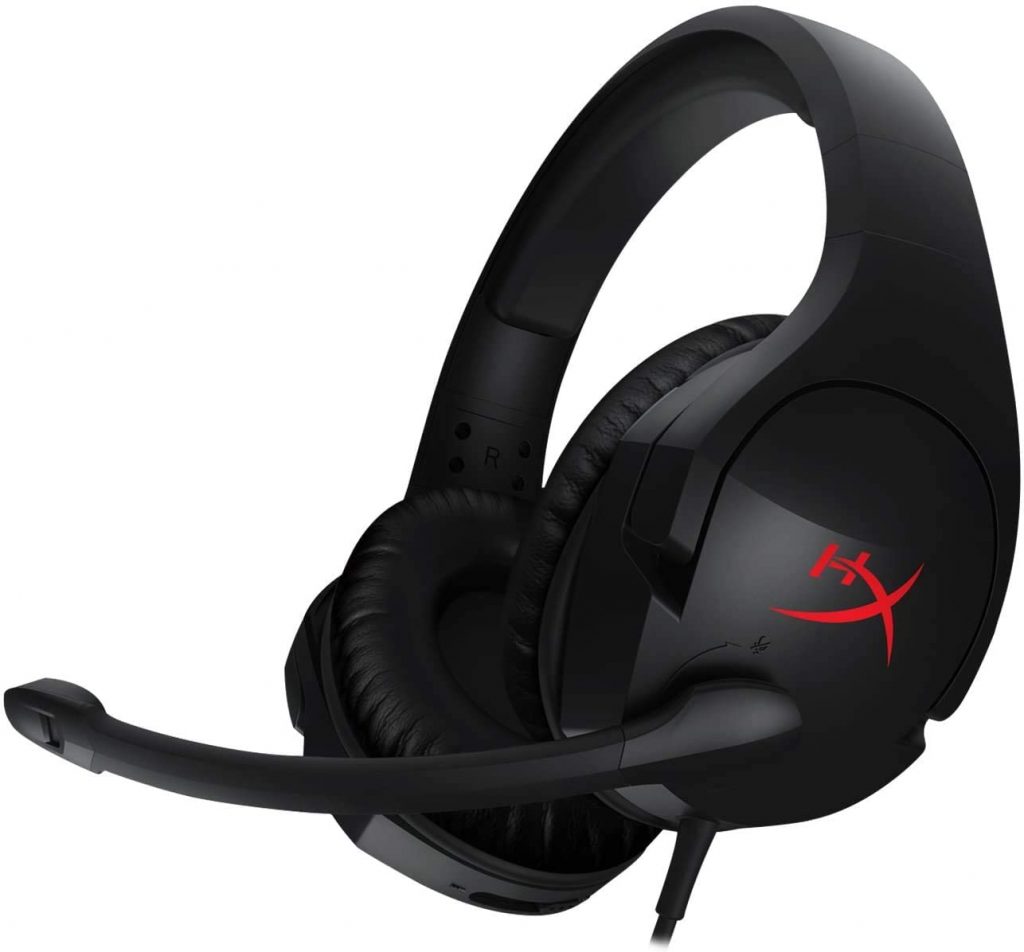 We're back with another HyperX headset, and this time it's the Cloud Stinger: a cheaper, dressed-down sibling to the Cloud Alpha. It's a pair of cans designed for gaming, which means there's gonna be a lot of trade-offs when it comes to quality. Still, for what it's worth, it's a decent enough gaming headset with a lot to offer – and a lot that it can't.
Design-wise, the Cloud Stinger isn't a looker by any stretch of the word. It's a full plastic build in matte black, making it a low-key minimalist pair of headphones. The only thing that stands out are the red Xs on the cans to give it a nice little touch of color.
It does do a lot of justice to audio, but only just. Its directional drivers simulate surround sound pretty well, so directional audio is actually pretty good. The highs and mids can be inconsistent at times thanks to the bias towards the lows, but other than that, it's a decent performer in the sound category.
The microphone on the Cloud Stinger is a surprising little number, able to block out background noise quite effectively even without a windscreen. It delivered audio over VoIP with great clarity. It also swivels, which is a nice touch. If you want to use a streaming microphone, you can just fold the mic up to keep it out of your vision.
Overall, the Cloud Stinger is a great performer and definitely deserves it spot in this list. If you're looking for a mid-level pair of cans that won't disappoint when gaming, this is the choice for you.
Corsair HS70 Wireless | Best PC Gaming Headset Under $100 for Wireless Functionality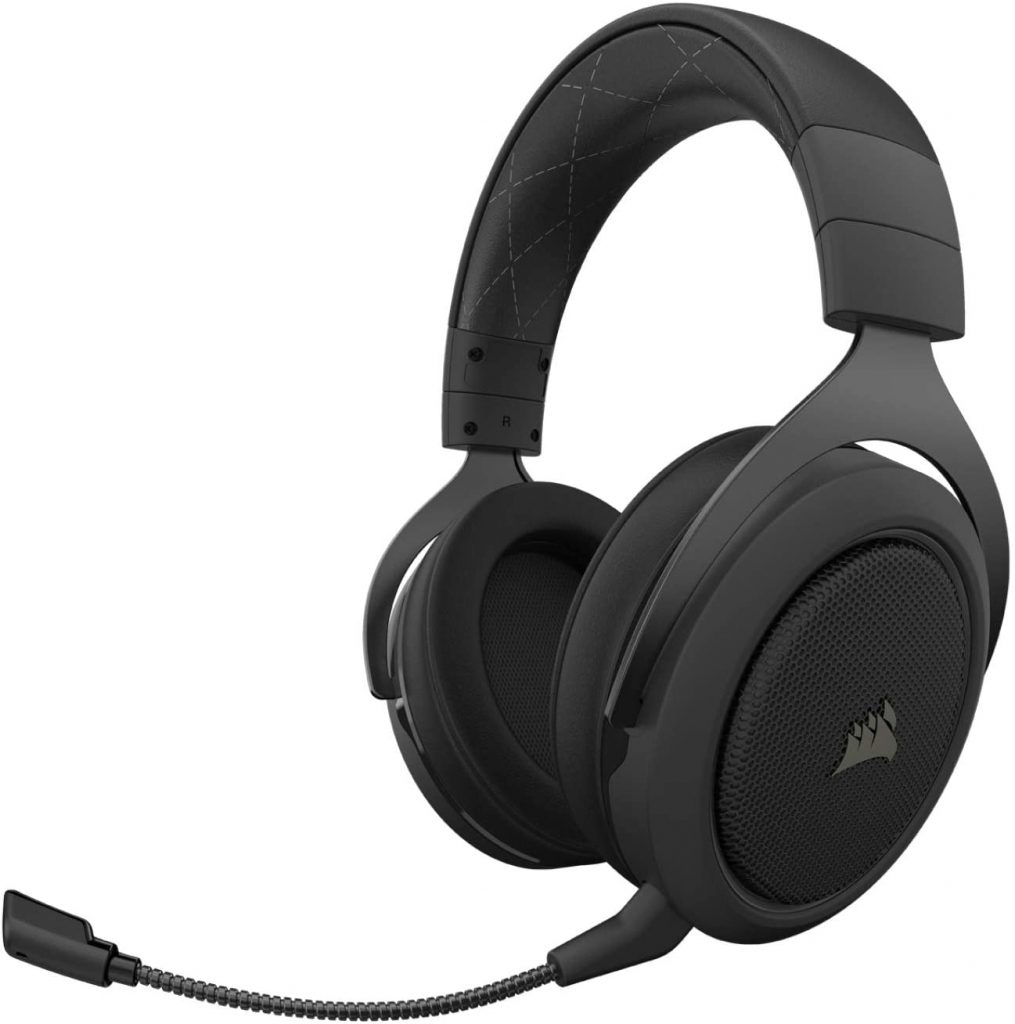 The Corsair HS70 Wireless is a great option for gamers who like to keep their wires hidden, or gone altogether. This budget range gaming headset for PC is a high performance pair of cans that you'll definitely love.
Quite possibly the coolest feature of this gaming headset for PC is its 7.1 surround sound capability. Its 50 mm neodymium drivers are able to simulate directional audio much better than stereo configuration headsets. This means that you won't have trouble pinpointing the exact direction where your enemies are coming from, which is great for games such as Fortnite and Valorant.
Being wireless, this gaming headset for your PC runs off an internal battery. If you plan to use this throughout an entire day, make sure you have your volume to a minimum because the battery will run out sooner than you can say, "winner winner chicken dinner." It's a weird tradeoff for the budget pricing.
Its microphone is pretty basic as far as microphones go. Nothing exceptional here except for the fact that it's detachable. It allows you to use a third party microphone, such as a ModMic, instead of the stock one. Otherwise, you can use an external mic instead if you want better voice fidelity.
The HS70 Wireless is a great choice for gamers that like their setups clean and minimalist. If you're the type that likes it neat with no frills, the HS70 Wireless is for you. However, do keep in mind that you might need to charge it every now and then. We recommend that you at least use speakers or a soundbar for your audio if you're not gaming.
SADES SA819 | Best Chi-Fi PC Gaming Headset Under $100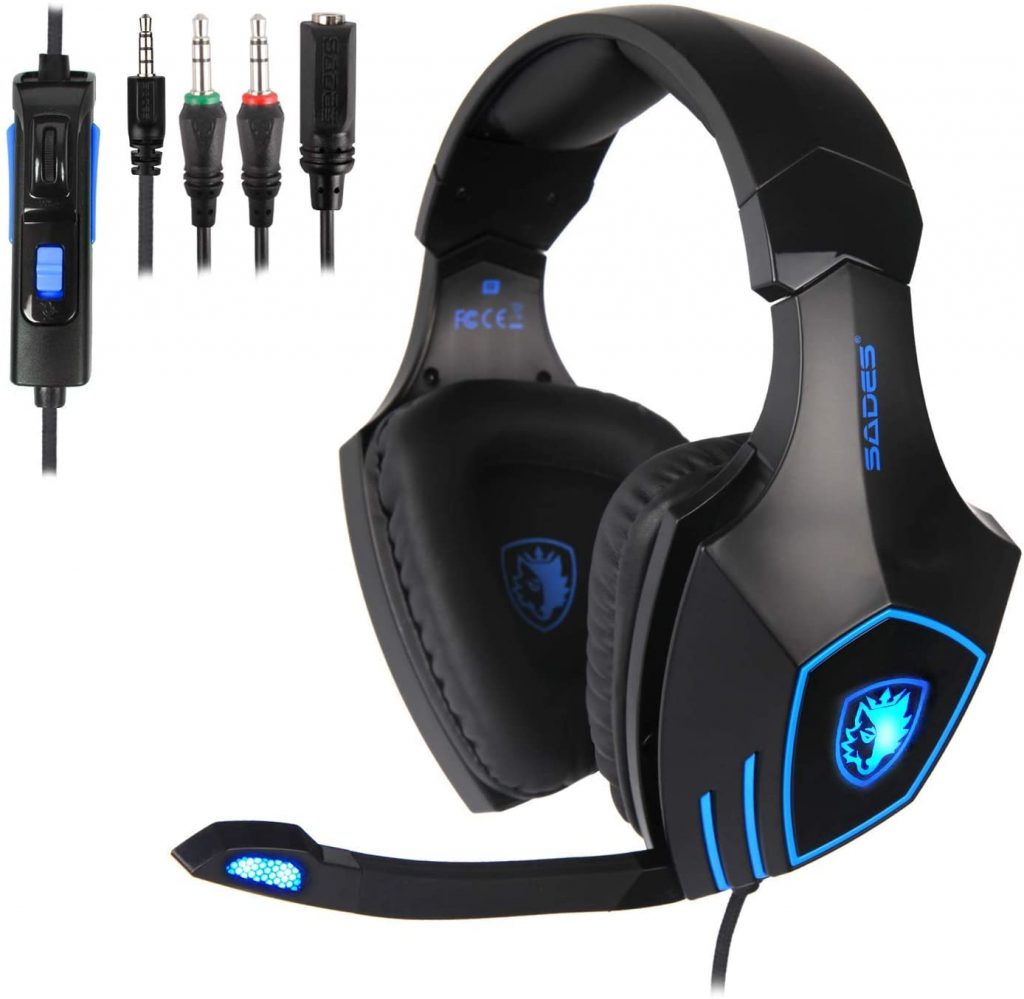 This might be the cheapest yet most unexpected entry to this list. The SADES SA819 is a Chi-Fi brand gaming headset that performs astonishingly well. At its price point, you'd be forgiven for doubting its true capabilities off the bat. However, just like we were, you would be surprised at the kind of punch this unassuming pair of cans can deliver.
Let's take a look at the design: it's definitely a gamer-marketed pair of headphones. The angular edges, static lighting all around, the wolves inside and outside of the ear cups all scream edgy gamer. Definitely not something you want to wear while you stream on your streaming PC if you're trying to impress girls. It tries really hard to look cool, which we think is a downer. All the design does is make it look fat and clunky.
However, like with most things, it is what is on the inside that truly counts. Huge 50 mm drivers inside the SA819 create an authentic 7.1 surround sound experience that really captures an immersive soundstage for your games. The lows are great and pronounced, the mids are clear and prominent, and highs soar like eagles. This is something no one could've expected from a pair of cans this affordable, but it's there.
Despite everything we said about its design, the SA819 is still a pretty comfy pair of headphones. Thanks to its plastic build, everything is kept lightweight. The huge ear cups envelop your ears snugly, but they definitely can run hot especially if you're playing in a poorly ventilated room. However the huge ear cups also allow for some neat passive noise isolation, blocking out background noise and immersing you fully in the audio.
Overall, this is a great little pair of cans that inexplicably perform better than some "premium" gaming headsets. If you're looking for a cheap and reliable pair of headphones for gaming, the SADES SA819 is a great choice for you.
Turtle Beach Stealth 600 | Best PC Gaming Headset Under 100 for Xbox One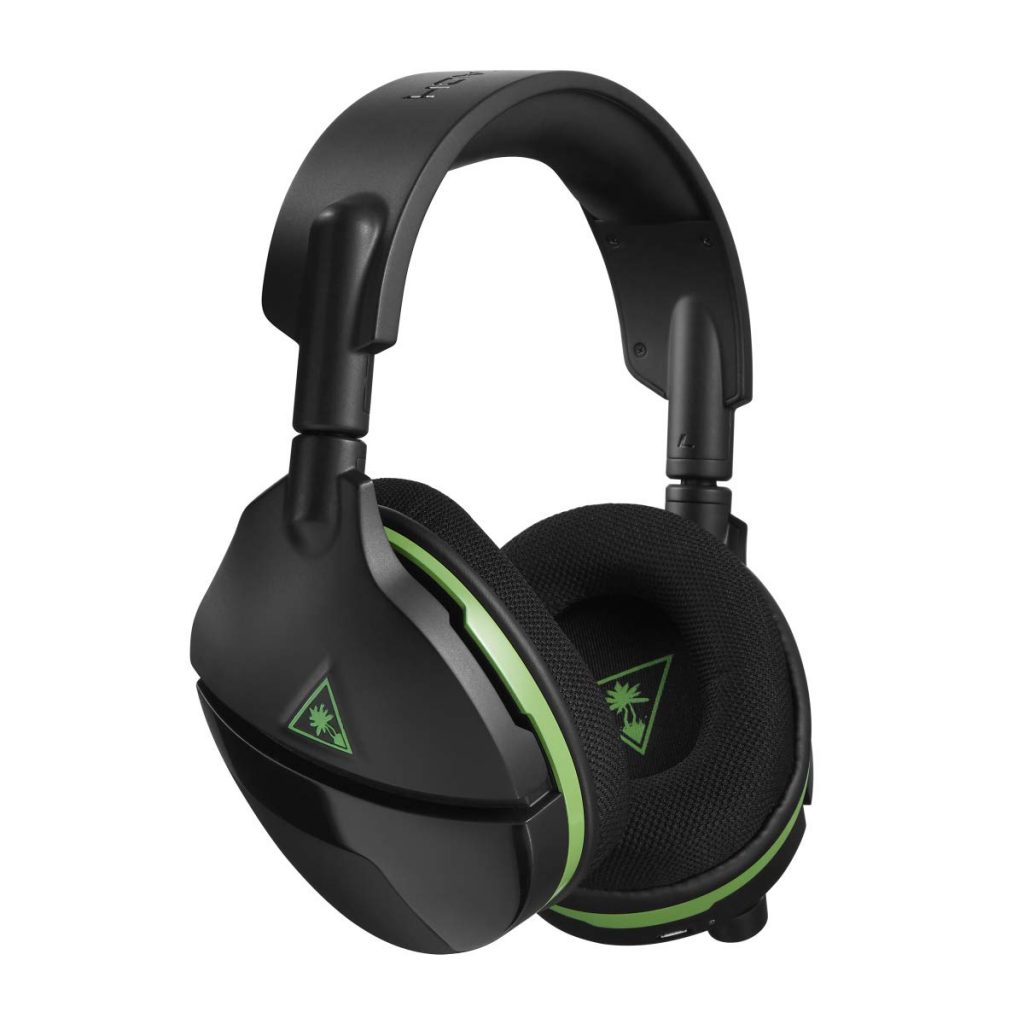 The Turtle Beach Stealth 600 is the best one here if you own both a PC and an Xbox. One of its major features is its out of the box compatibility with the Xbox One, which it does through a wireless connection. If you want less wires and more freedom, this is probably the gaming headset for both your Xbox One and your PC.
The plastic build of the Stealth 600 doesn't necessarily cheapen the overall look of this headset's design. The lightweight, matted plastic is molded to be as basic as it can be. Two aluminum steel rods help extend the band. The ear cups are nice and huge, encased in a breathable mesh fabric that keeps ears cool.
It features two 50mm neodymium drivers on each ear cup. It doesn't deliver 7.1 surround sound (virtual or otherwise) but it definitely isn't a slouch. The headset is capable of delivering booming lows, graceful mids and clear, soaring highs.
The fact that it's wireless is a huge selling point too. Plug the wireless dongle into any free USB port and the headphones should work fine straight away. The battery life for the Stealth 600 isn't bad either, boasting 15 hours of continuous playback time. Of course, that's a bit of a stretch in practice, but expect to use this for the entire day without needing to charge.
There's not a lot to hate about this except for the fact that there's no 3.5 mm jack to be seen. This means that there's absolutely no way to turn the Stealth 600 into a wired experience. While that may not be a problem for some, it does mean that if you lose your wireless dongle, you can't plug in a wire to keep using your headset. The most you can do is buy another wireless dongle.
Overall, we consider the Stealth 600 a great choice for both PC gamers and Xbox One fanatics. While this headset is geared mostly towards the Xbox One market, it does work pretty well for PCs as well because of course, Windows. If you own both a gaming PC and Xbox One, you don't have to buy separate headsets for both platforms any more.
Are gaming headsets worth it?
Gaming headsets are created to be a one-stop solution for people who need headsets for gaming. This means for most gaming headsets, you get a listening device and a microphone at the same time. For most gamers, not having to worry about getting two different audio devices can be a godsend.
There are people who do prefer having a separate mic and still buy gaming headphones, sometimes because of their design, other features, and general overall feel. Gaming headphones are designed to appeal to a mostly gamer market, hence the peculiar design cues all gaming headphones seem to follow.
Do I need a gaming headset?
Unless you have a specific reason on why you're not using headphones or even earbuds for your gaming or otherwise – such as sensitive ears – then there's no reason not to get a gaming headset.
It's better than speakers for gaming. Headsets let the sound be delivered straight to your ears. This means that you will be more immersed when playing your games or doing your work, as all your ears hear are the output coming from the headphones. This works very well for gaming as directional audio is very important, especially when it comes to more competitive games. That's why Fortnite players invest in good quality gaming headsets – to hear their competition better.
The sound quality can be good. A lot of people say that audiophile headphones are better for gaming because the quality was focused on the audio engineering more than the design. That's true for a lot of gaming headsets, but some pieces – such as the HyperX Cloud Alpha – can provide an audiophile level listening experience while still being a gaming headset.
Better communication when gaming. There are certain things audiophile-focused headphones can't do that gaming headsets can easily do. One of those is having a microphone, which lets communication become easier within your team. When you're playing a team-based game, it's important that you all hear each other as soon as possible. Without an external microphone, you can't do that with an audiophile pair of headphones. Therefore, gaming headphones with built in mics are usually a great no-brainer choice for gamers.
Seals you off for immersion. Like we said above – headsets allow audio to be streamed directly into your ears. For gaming, it will sound to you as the developers intended it to sound. This also helps in team communication further as hearing sounds as they should be heard allows you to communicate cues to your teammates faster, leading to better wins. This is why streamers like shroud invested in gaming headphones, as it gives them a tactical hardware advantage when playing – because he's very well immersed.
Can I use my gaming headset for work?
You can definitely use a gaming headset for work, as long as it's a closed back pair. A gaming headset for work usually means that besides looking fly af, you also get noise cancellation that blocks out all office noise. If so, a pair of closed back gaming headphones should be great for you if you'd like to isolate yourself from the world outside of your cubicle. The built in mics in gaming headsets also help when having conference calls. For most office conference calls, people don't really use high quality microphones. If you want zero distractions in the workplace, a gaming headset is a great thing to have.
Are gaming headsets good for music?
It really depends on what you want to listen to. Many gaming headsets put an emphasis on the low end of the sound spectrum because many games use a lot of bass as sound cues. If so, listening to electronic music like EDM or dubstep would be great. If you listen to genres like jazz and classical, there's a bit of a trade-off as you're likely going to hear the mids and highs a little less than the percussion section. For other genres of music, you might hear the loss as well, depending on what gaming headset you get.
Will gaming headsets work with phones?
Yes, they will – as long as they're wired with a 3.5 mm jack or a Bluetooth connection. Some wireless headphones work with a dongle, so unless you have a USB adaptor for your phone at the ready all the time, it will not work. However, if your phone still has a 3.5 mm jack or Bluetooth connectivity, you can definitely just hook the phone up to your gaming headset and you'll be good to go and enjoy some great Android games!
Wrap Up
To wrap this list up, we'd love to point out that our favorite out of the 5 is the HyperX Cloud Alpha. Audiophile level sound performance, a decent mic, and a comfortable fit all at a very affordable price range is too much of a good deal for us to pass up. If you're looking for a great all-around pair of gaming headphones for PC, the HyperX Cloud Alpha is the perfect choice.
Let us know if you see your favorites in here. If not, let us know what you want to see reviewed next in the comments!
Recap: The 5 Best Gaming Headsets Under $100