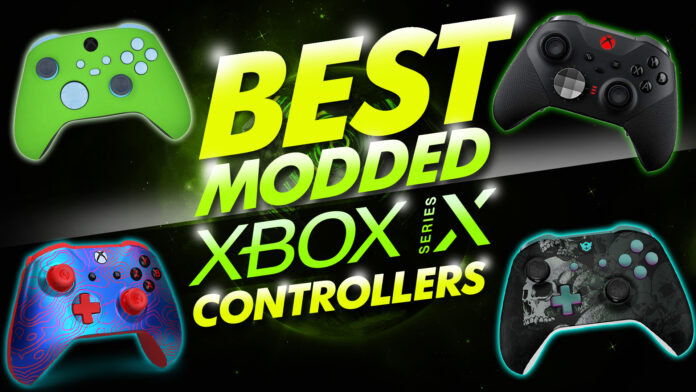 The Xbox Series X is an incredibly powerful console for your favorite first-person shooters like Call of Duty or Battlefield. However, it can be difficult to move up the ranks, especially if you're used to a keyboard and mouse control scheme. There is a way to gain a tactical advantage over your competition — using a modded controller.
Modded controllers have been around for over a decade, offering performance add-ons to significantly improve your gameplay. These controllers are popularly used for first-person shooters, but they are also compatible with sports titles and action-adventure games.
This article provides comprehensive reviews of some of the best modded Xbox Series X controllers to help you make an informed decision.
Mega Modz Custom Modded Controller
(Sponsored)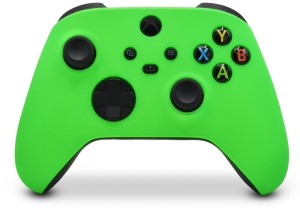 Mega Modz is one of the first companies to produce custom modded controllers for the Xbox Series X. These controllers feature an enhanced chip that gives you access to mod packages that work with popular titles like Call of Duty, Battlefield, Halo, and Destiny.
Mega Modz sent us a custom controller for this review, and we're excited to share our thoughts on the product in detail. The model we received flaunts a neon green faceplate and thumbsticks.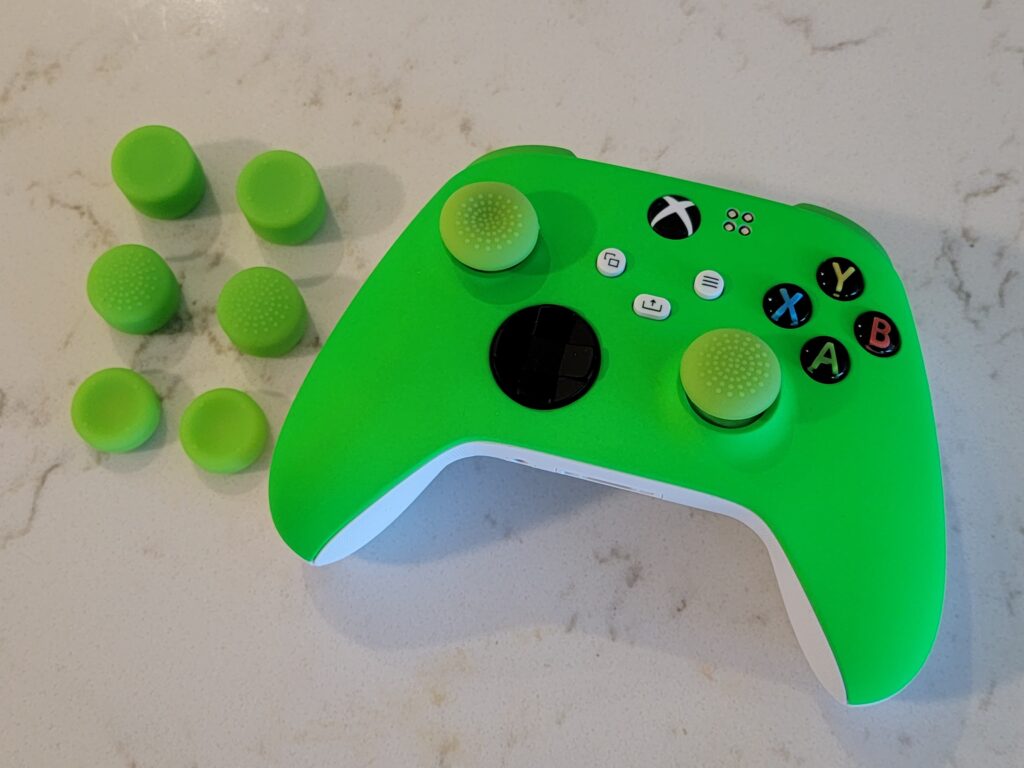 If you want to change the colors of the body, face buttons, bumpers, and triggers, you can use the controller creator on their official website to come up with a unique design. While most of the available customization options are purely aesthetic, you can add a layer of soft-touch or rubberized panels on the grips for added functionality.
Meanwhile, if you don't want to draft the aesthetics of your controller meticulously, you choose from a variety of pre-made custom designs to match your style.

Mega Modz only modifies official Xbox Series X controllers to ensure quality and longevity. The button actuators and vibration haptics remain durable while the bumpers and triggers feel just as tactile and responsive as the original.
In terms of performance add-ons, you can handpick from their wide selection of mods to create a personalized package that meets your combat demands. You can also choose a pre-configured mod package optimized for games like Call of Duty: Warzone.
Rapid Fire is undoubtedly the most sought-after mod for first-person shooters. It drastically improves the firing power of compatible weapons to give you an advantage over your opponents. Check the comprehensive table below to see what other mods you can integrate into your controller.
Mod

Function

Compatible Games

Akimbo

Shoots both dual-wield handguns simultaneously with a press of the fire button

Call of Duty

Armor Repair

Repairs your armor more efficiently

Call of Duty: Warzone

Auto Burst

Sets up burst firing for semi-automatic and single-shot weapons

Most first-person shooters

Auto Heal

Lets you use healing abilities more efficiently

Call of Duty: Black Ops 4

Auto Spot

Spots your enemies and shows them on your teammates' radar

Battlefield

Call of Duty: Warzone

Auto Sprint

Makes your soldier run without having to press the left thumbstick continuously

Most first-person shooters

Dropshot + Jumpshot

Makes your soldier drop to the ground or jump in the air and shoot simultaneously

Call of Duty

Dual Trigger

Pulls both triggers to get Rapid Fire on both dual wield handguns

Call of Duty

Fast Reload

Reloads guns faster

Call of Duty

Quick Scope

Lets you scope, shoot, and descope seamlessly

Most first-person shooters

Sniper Breath

Holds sniper's breath while aiming for better accuracy

Call of Duty

Battlefield

Zombie

Aims to the nearest zombie head or chest automatically

Call of Duty
These controllers feature impulse triggers that deliver fingertip vibration feedback for enhanced immersion. They also allow you to remap the stock buttons via Xbox Accessories to give you maximum control over the button layout. In case you get confused, the faceplates of these controllers have four light indicators to tell you what mods are enabled.
In a nutshell, Mega Modz gives you all the creative freedom necessary to design a one-of-a-kind modded controller that can drastically improve your performance in a matter of days! However, they don't give you the added versatility of back buttons or hair triggers, unlike most controllers on this list.
7 Watts Elite Series 2 Modded Controller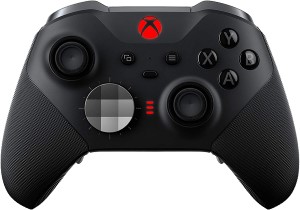 7 Watts is another brand devoted to modding controllers, particularly the Xbox Elite Series 2. These premium controllers have performance add-ons compatible across a wide variety of titles, including Call of Duty, Grand Theft Auto V, PlayerUnknown's Battlegrounds, Apex Legends, Fortnite, and Overwatch. Moreover, they require no programming because the mods work right out of the box — all you have to do is read the instructions on the packaging.
Besides the ever-popular Rapid Fire, these controllers feature plenty of other performance add-ons like Auto Aim, Dropshot, Burst, and Quick Scope. If you have sweaty palms, the package includes scuffed rubberized grips to keep you in action. It also contains a rechargeable battery pack, a charger stand, a charging cable, a carrying case, and extra paddles and thumbsticks.
Rapid Fire is a standout for these controllers. You can use it with a fully automatic weapon to increase accuracy while slightly lowering the firing rate. The mods can take some getting used to, but they offer tremendous advantages. Moreover, they are completely undetectable online since they work around game patches.
Razer Wolverine Ultimate Controller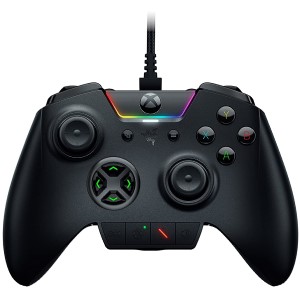 The Razer Wolverine Ultimate is a licensed controller for the Xbox One that works flawlessly for the Xbox Series X. It features interchangeable thumbsticks, allowing you to select a pair with the most suitable height and shape for your playstyle. It also comes with two remappable bumpers and four multi-function triggers for unmatched gaming versatility.
The Wolverine Ultimate may appear bulky, but it has a highly ergonomic design to keep you comfortable during gaming marathons. The face buttons are very tactile and responsive, making them ideal for fighting games like Street Fighter or Mortal Kombat. Moreover, the direction pad can be switched between a tilting or individual button layout for added flexibility.
The Wolverine Ultimate gives you access to a slew of lighting effects and profiles that can be customized via Razer Synapse for Xbox. You can even set the effects to react to gameplay for deeper immersion with compatible titles.
One of the most impressive aspects of the Wolverine Ultimate is its programmability. It has six extra buttons that you can program with virtually any input. The top edge of the controller has trigger lock switches that shorten trigger pulls for faster shooting. Thumbstick sensitivity can be adjusted on the fly to cater to different game genres.
The bottom edge of the Wolverine Ultimate houses the wired headset controls. It also holds the reprogramming button that lets you set inputs to the extra buttons on the back of the controller.
The biggest drawback of the Wolverine Ultimate is its lack of support for wireless connectivity. On the other hand, wired connections provide lower input latency than wireless connections, making this controller ideal for competitive gaming.
HexGaming Blade HEX Controller 2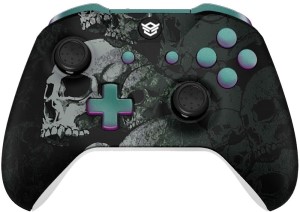 The HexGaming Blade HEX 2 is a modular controller that features interchangeable thumbsticks, trigger stops, and two remappable rear buttons. Although it is primarily a wireless controller, you can also connect it to your Xbox Series X using a cable to minimize input latency.
The Blade HEX 2 comes with three extra sets of thumbsticks that have different heights and shapes (domed or concave). You can try out each pair to see which suits your playstyle and improves your performance. It also comes with a durable carrying case with compartments for the extra thumbsticks.
The trigger stops on the back of the Blade HEX 2 lets you modify the distance of the pull. A short pull is ideal for games that require quick reactions, while a long pull is best for games that require precision and accuracy. The back of the controller has a light indicator that tells you when a button remap is executed successfully. Moreover, the back buttons have a natural placement that makes them easily accessible during gameplay.
The most significant drawback of the Blade HEX 2 is that it's based on the previous-generation controller. It lacks some of the new features on the Xbox Series X controller like USB Type-C support and Dynamic Latency Input. Nevertheless, it offers a few improvements over the stock controller, including textured side grips and a soft-touch faceplate.
SCUF Prestige Custom Performance Controller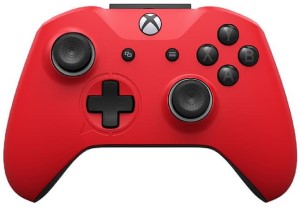 The SCUF Prestige offers back control functions that can take your gaming performance to the next level. This controller features four paddles that can be mapped to virtually any stock input to give you the upper hand over your adversaries. It also lets you use trigger stops on the fly for quick-reaction pulls.
The Prestige features an integrated textured grip to improve comfort during extended gaming sessions. It also has a removable magnetic faceplate and interchangeable thumbsticks that let you change your controller's look within seconds.
The Prestige takes trigger efficiency one step further with its hair triggers. It allows you to fine-tune the distance of the trigger pull using the included electronic key for an optimized gaming experience. However, the hair triggers only change the distance of the pull and not the response. That means you can't drive vehicles at full speed in Call of Duty: Warzone when the hair triggers are enabled.
The included electronic key can be used to configure the back paddles. The key must be magnetically attached to the back of the controller during the remapping process.
Although the Prestige stands out in terms of functionality, it falls a bit short when it comes to build quality. This controller lacks any premium material on the exterior because of its emphasis on comfort. On the other hand, this design choice makes the device very lightweight and suitable for gaming marathons. The built-in rechargeable battery also eliminates the need for heavy battery cells.
PowerA Enhanced Controller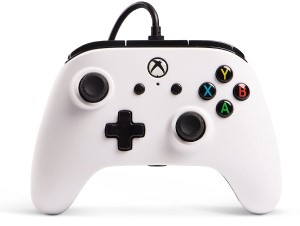 The PowerA Enhanced is a licensed Xbox One controller that is fully compatible with the Xbox Series X. It features two mappable back buttons and dual rumble motors to offer a flexible and immersive gaming experience.
This controller flaunts a matte white exterior with a soft-touch finish. It covers all the basics, including precision-tuned thumbsticks, a plus-shaped direction pad, and standard bumpers and triggers to give you a familiar feel. Moreover, it costs nearly half the price of an original wireless controller, making it an excellent budget pick.
While it may have a very attractive price tag, this controller has some notable drawbacks. The thumbsticks are notorious for drifting over time, causing problems with directional control. There is also some noticeable input lag on the left trigger, making it unsuitable for fast-paced games.
Nevertheless, this controller is an excellent option for casual gaming or as a backup device. The face buttons work relatively well, and the rear buttons are situated in a natural position for your fingers.
The overall build of the controller is also commendable. The grip panels feel comfortable enough even for extended gaming sessions.
Wired vs. Wireless: Input Latency
Input latency is the measurement of how long it takes for a signal from the controller to input to the display. It is often measured in milliseconds and is a key factor of the responsiveness and feel of a game.
In the past, the difference in input latency between wired and wireless models was minuscule but noticeable. The Xbox Series X controller utilizes a new technology called Dynamic Latency Input (DLI) to ensure that analog and digital signals from the controller are always synchronized with the game. This technology effectively reduces input lag without compromising battery life. It should also be noted that among the controllers on this list, only those from Mega Modz and 7 Watts support DLI.
Can You Get Banned For Using a Modded Controller?
No, you can't get banned for using a modded controller. There is no communication between the server and your controller, so it is completely undetectable online. The players who get banned are only those who attempt to change or hack a game output. You can think of modded controllers as devices that press buttons on your behalf.
Quick Recap: The 6 Best Modded Xbox Series X Controllers
Conclusion
While modded controllers can give you a performance boost, they can't give you the skills you never had. If your knowledge of the various maps and game dynamics is subpar, modded controllers can't help you turn into a professional gamer overnight. Their role is essentially to perform a sequence of button presses in a quick and efficient manner.
That wraps up our list of the best modded Xbox Series X controllers. Which one are you most likely to try for yourself? Do you think using modded controllers in online multiplayer is unfair? Share your thoughts with us in the comments section below!