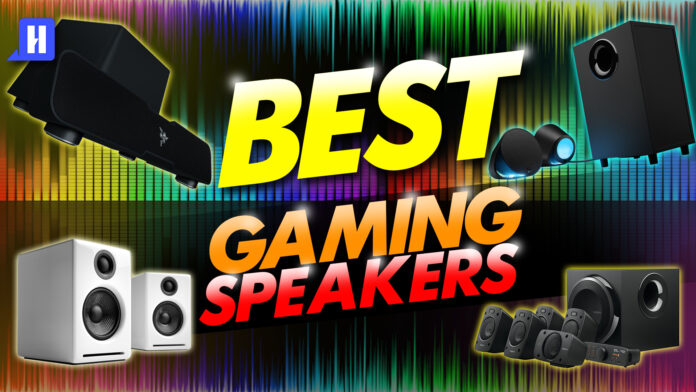 Headphones are more popular than speakers for gaming, but speakers have considerable benefits. Most notably, they free you from the discomfort of having cans over your ears during gaming marathons. Speakers are also ideal for gaming with friends and family since they can fill an entire room and let everyone in on the action. Some audio systems can even contribute to the immersion of a game through booming bass and stellar directional audio.
In this article, we round up some of the best gaming speakers on the market. Whether you're looking to put together a simple stereo setup or an authentic surround sound experience, this list has you covered.
Razer Leviathan
Best Gaming Soundbar for PC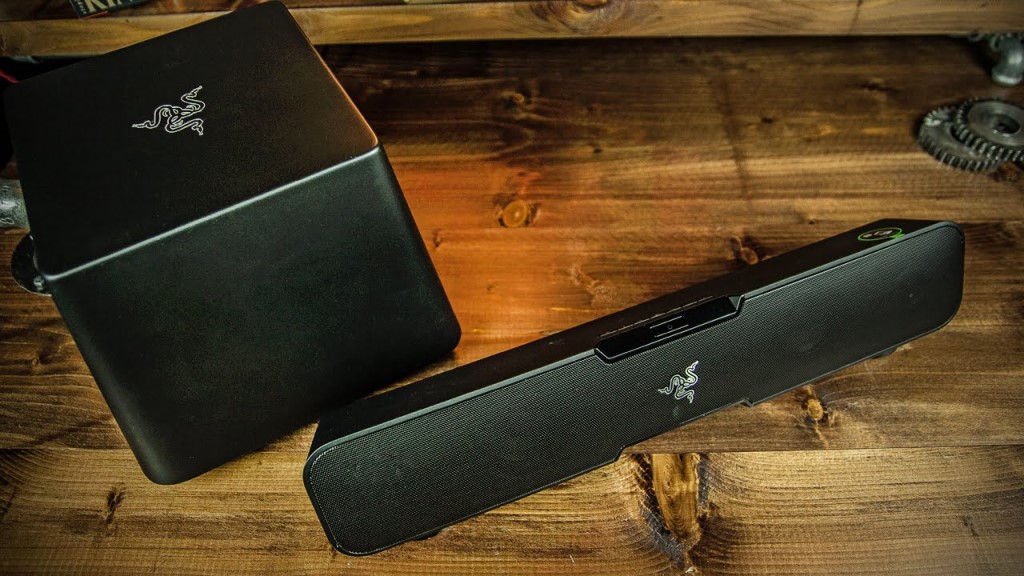 Specifications

Speaker System

5.1

Connectivity

Wireless
Ratings

Bass
8.8
Mids
8.6
Highs
8.5
Design
8.7
Build Quality
8.6
Overall
8.64
The Razer Leviathan is a compact gaming soundbar that is small enough to fill the space under your monitor or television. It features wireless connectivity and an included subwoofer to ensure you feel every explosion in action-packed games like Fortnite and Overwatch.
Arguably the most significant drawback of the Leviathan is the lack of a remote. It is much more suited to be a computer speaker than a console or living room soundbar.
When it comes to design, the Leviathan stays consistent with the brand's signature dark aesthetics. It features a black metallic grille with a subtle pinch in the middle to accommodate the control panel. This soundbar has two midrange drivers and two tweeters that combine for 30 W of continuous power. It also has a dedicated button to enable the simulated virtual surround sound feature.
Although the Leviathan has an impressive virtual surround sound capability, it has to be simulated since it lacks one more driver to deliver a true surround sound experience. If you've ever been around a true surround sound setup, you will notice that the effect is much more subdued.
The Leviathan has three equalizer presets for games, music, and movies. You can seamlessly switch between these presets with a press of a button to match your media.
The Leviathan includes two sets of feet, one flat and one angled, allowing you to choose what best suits your use case. It also has holes on the back of the soundbar if you want to have it wall-mounted.
The subwoofer shares the same matte black aesthetics as the soundbar. It has round corners and tapering toward the top that makes it look like a huge keyboard key. Unfortunately, it has to be connected to the sounder through a wire, which can be inconvenient to manage. Nevertheless, the 30 W downward-firing driver produces tight and distortion-free bass that can make your gaming experience a lot more immersive.
The Leviathan features Bluetooth and NFC to connect to mobile devices without a hitch. This soundbar also supports aptX, a technology that significantly improves the fidelity of streamed music to deliver superior performance when using applications like Spotify.
The Leviathan has no trouble producing enough volume to fill a large room. However, it sounds best when used for near-field listening as bass tends to dominate the sound signature in an open environment.
Logitech G560 LightSync
Best RGB Gaming Speakers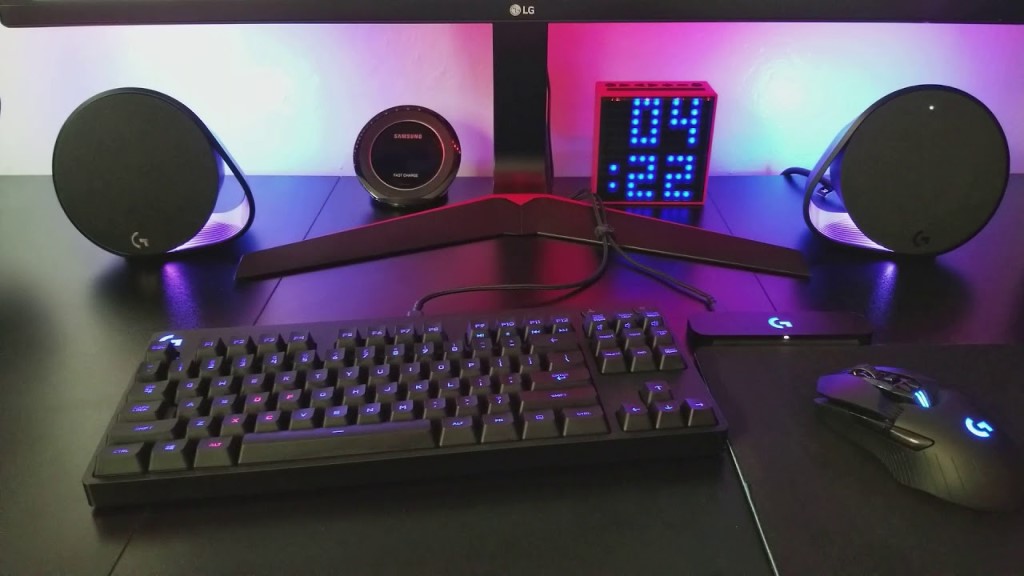 Specifications

Speaker System

2.1

Connectivity

Wireless
Ratings

Bass
8.6
Mids
8.4
Highs
8.4
Design
9.0
Build Quality
8.7
Overall
8.62
The Logitech G560 LightSync is a full-featured three-part gaming speaker system capable of stunning lighting effects. It excels in providing immersive sound for games, music, and movies while adding some personality to your gaming nook.
The G560 LightSync incorporates a sophisticated lighting system using four distinct light zones. These lights have quite aggressive default settings, but you can easily adjust them through their proprietary software. This software also serves as a hub where you can activate other features like virtual surround sound, create game-specific profiles, or switch between equalizer presets.
The G560 LightSync comes with a plain black subwoofer that has no trouble blending in gaming setups. The satellite speakers boast a distinctive yet subtle design that makes them worthy additions to any computer desk.
When it comes to sound quality, the G560 LightSync produces rich and immersive sound regardless of genre. You can use it in standard stereo mode or enable the simulated virtual surround sound for better directional audio. However, don't expect it to be on par with true surround sound setups as it only has a few drivers.
In terms of sound quality, the inclusion of a dedicated subwoofer makes bass-heavy music and action-packed games remarkably immersive. Even at low volume levels, the subwoofer can contribute to making your gameplay feel immediate and realistic.
If you have a large gaming room, the G560 LightSync is ideal since it can get considerably loud. However, you should consider using the headphone jack to avoid disturbing the people nearby if you like playing late at night.
Overall, the mesmerizing integrated lighting is what separates the G560 LightSync from the competition. It has all the features you can expect from a gaming speaker, including a broad range of connectivity options and a bass-heavy and immersive sound signature.
Logitech Z906
Best True Surround Sound Gaming Speakers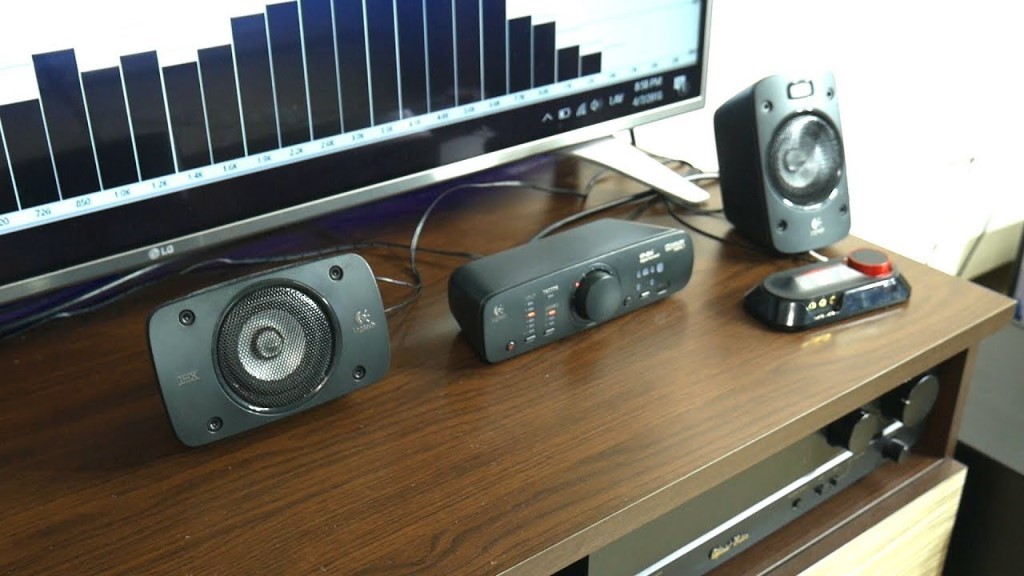 Specifications

Speaker System

5.1

Connectivity

Wired
Ratings

Bass
8.5
Mids
8.9
Highs
8.9
Design
8.3
Build Quality
8.5
Overall
8.62
The Logitech Z906 is a full surround sound speaker system that includes five satellite speakers, a dedicated subwoofer, and a receiver unit. This system is guaranteed to give you superior directional audio in games like PlayerUnkown's Battlegrounds and Call of Duty: Black Ops Cold War. The package also comes with a remote that lets you control the active input, volume, and tone settings from the comforts of your couch.
The Z906 features front and rear satellite speakers that can be wall-mounted, giving you plenty of options when it comes to placement. If you're into story-based games, the center speaker is outstanding at producing clear dialogue without being drowned out by the other speakers or the subwoofer. The rear satellites also excel at delivering unadulterated surround sound effects.
The Z906 gives you the option to adjust the bass response to your preference, which is great since the default sound signature tends to be slightly bass-heavy. Like most of the entries on this list, this speaker system can easily fill a large room.
In terms of build quality, all the satellite speakers are compact and made of durable plastic and reinforced with protective grilles. They can fit just about anywhere in your setup as long as you have some space on your shelves. They also have rubberized feet to ensure they don't slide around.
On the other hand, the included subwoofer is considerably huge. It houses a massive front grille, a subwoofer aperture, and all the input and output ports on the back. Like the satellite speakers, it is very durable and boasts unobtrusive modern aesthetics.
While most full surround sound setups are intimidating to put together, the Z906 is remarkably easy to install. The subwoofer doubles as the system hub and has clear labeling to make it easy to navigate during installation.
Overall, the Z906 performs up to par with its higher-end contemporaries for such a compact system. The highs and mids are crisp and clear while the subwoofer rumbles like an earthquake. It may fall short in some extremely low notes, but the sound signature is exceptionally well-balanced.
Creative GigaWorks T40 Series II
Best Balanced Gaming Speakers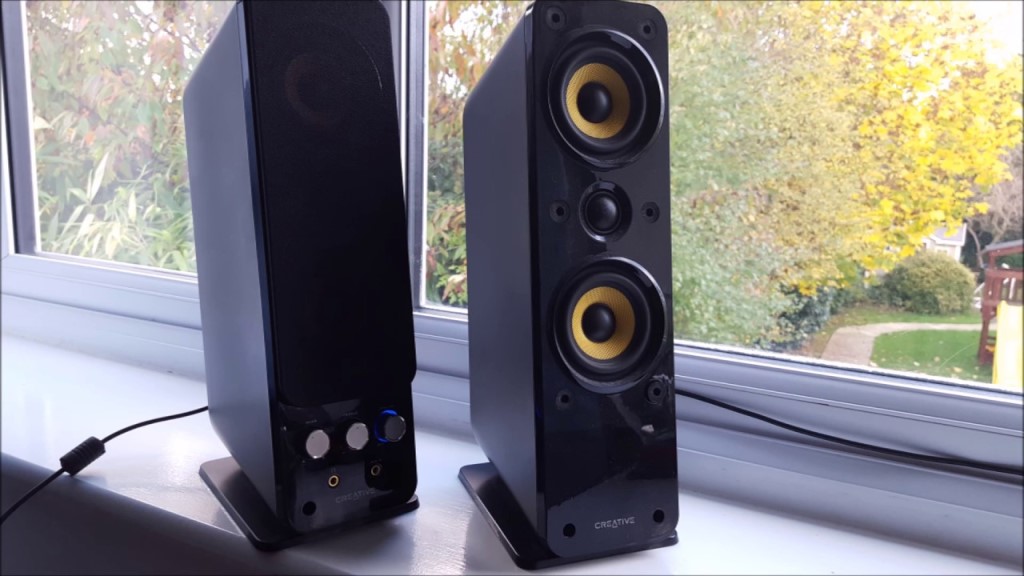 Specifications

Speaker System

2.0

Connectivity

Wired
Ratings

Bass
8.2
Mids
9.0
Highs
8.9
Design
8.3
Build Quality
8.5
Overall
8.58
The Creative GigaWorks T40 Series II has the most number of drivers in a pair of speakers on this list. These speakers have four midrange drivers and two top-end tweeters to produce superior sound quality. The drivers feature unique yellow woven glass-fiber cones that give them a distinctive look and complement gaming setups with the same theme.
Although the T40 Series II isn't geared towards gamers, it has garnered some attention from the community because of its stellar sound quality. It may not come with a dedicated subwoofer, but these speakers deliver punchy low-end sounds, giving gunshots and explosions the appropriate rumble. The bass may not be comparable to the production of a subwoofer, but it's more than enough for near-field listening. The addition of the bass port on top helps fill the room without overwhelming the other frequencies.
Meanwhile, the four midrange drivers and twin tweeters help the T40 Series II produce some of the best mids and highs among all the speakers on this list. They come together to generate a sparkle that makes the sound design from games like Horizon Zero Dawn incredibly immersive.
When it comes to design, the T40 Series II sports a glossy finish that attracts dust. All the sockets are gold-plated and mounted in place to ensure stable connections. The package includes a couple of basic stands that screw to the base of the speakers for added stability.
Another positive for the T40 Series II is that it lets you adjust the bass, treble, and system volume through the knobs on the right speaker. The power supply is relatively small and easy to hide beneath your desk, while the included cables are thick and durable.
Creative Sound BlasterX Katana
Best Gaming Soundbar for Consoles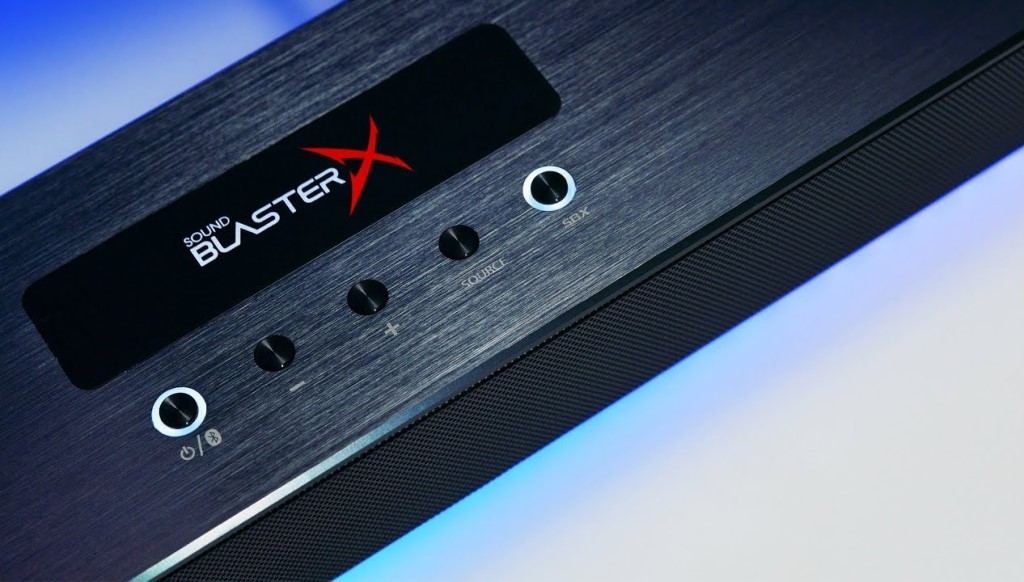 Specifications

Speaker System

5.1

Connectivity

Wireless
Ratings

Bass
8.8
Mids
8.5
Highs
8.1
Design
8.9
Build Quality
8.6
Overall
8.58
The Creative Sound BlasterX Katana is one of the first soundbars explicitly designed for gaming. It features a compact frame that is suitable for placement under your monitor or television. Despite its small stature, this soundbar can get decently loud, making it ideal for movies and music as well.
The BlasterX Katana is constructed primarily out of plastic, but it is durably built. While the soundbar can fit in small spaces, the included subwoofer is an entirely different story. It is a considerably massive device that deserves a spot under your desk.
The BlasterX Katana has a smooth brushed aluminum finish that gives it sleek aesthetics. One aspect that makes this soundbar better than the Razer Leviathan is its inclusion of a remote. That means you won't have to get up from your couch every time you have to adjust the volume. That also means you won't have to use the poorly constructed buttons on the soundbar itself.
The BlasterX Katana houses two upward-firing midbass drivers along with two forward-firing tweeters behind the black metallic grille. One of its most exciting features in terms of design is the integrated lighting system. It provides subtle and relaxing ambient lighting for your setup without being a distraction when playing. You can even switch between different color modes or turn it off entirely if you want.
Arguably the most surprising aspect about the BlasterX Katana is how loud it can get for its size. Turning up the volume to the maximum, you can easily hear everything from several rooms away.
The BlasterX Katana uses the AAC Bluetooth codec, and the subwoofer does a stellar job separating lower-end frequencies from higher-end frequencies. Although the bass is slightly overpowered, the separation between drivers remains noticeable without encroaching on softer sound elements. However, the highs are a bit lacking in clarity. It is also capable of simulated virtual surround sound, but it simply can't rival a full surround sound setup.
Audioengine A2+ Wireless
Best Bookshelf Gaming Speakers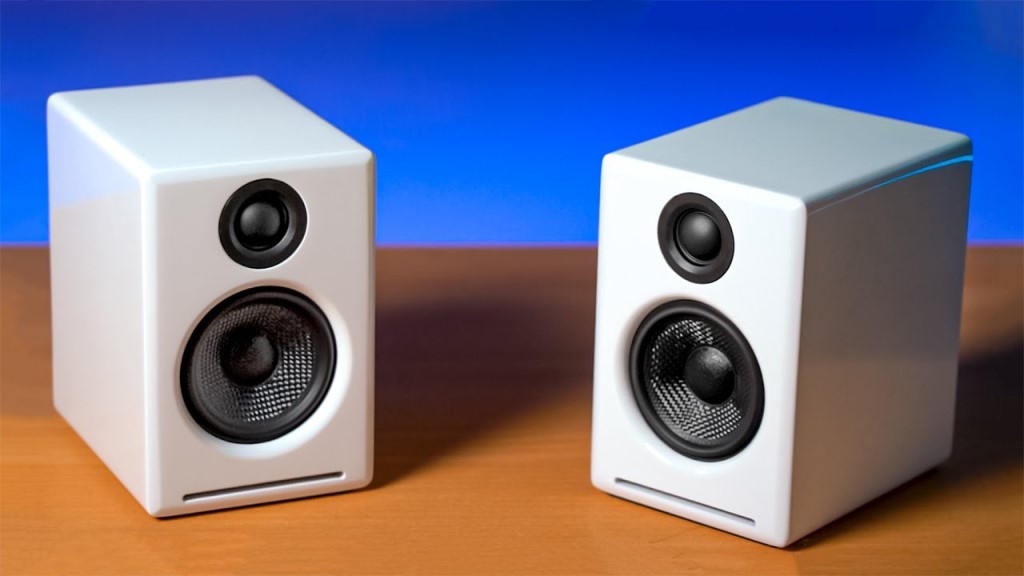 Specifications

Speaker System

2.0

Connectivity

Wireless
Ratings

Bass
8.1
Mids
9.0
Highs
8.7
Design
8.5
Build Quality
8.5
Overall
8.56
The Audioengine A2+ is a pair of versatile bookshelf speakers that work well for gaming. These speakers combine for 60 W of peak power and feature a wide frequency range of 65 Hz to 22 kHz.
Although the A2+ supports wireless connectivity, it requires a connection between the two speakers for power to go from the left satellite to the right. That means you'll still have to deal with minimal cabling.
In terms of design, the A2+ features a piano finish on the enclosures that complement the grille-free drivers and give it an elegant look. These speakers are pretty short, so you will need to elevate them on a platform to align them to your ears and get optimal sound. Fortunately, Audioengine was thoughtful enough to include wedges in the packages so you can angle the speakers up and point them towards your ears in a desktop scenario.
The A2+ has no trouble producing a full-sounding low-frequency response. Even at maximum volume, no distortion is noticeable. However, you may want to look elsewhere if you're looking for earth-shattering bass, as these speakers are more about accurate sonic delivery. The tweeters provide a clear and bright presence and contribute to the balanced overall sound signature. That being said, these speakers are great for story-driven games like Red Dead Redemption 2.
Overall, the A2+ is a compelling offering that promises a precise, clean, and transparent sound signature. It even lets you connect a subwoofer through the included variable output for enhanced bass response.
Razer Nommo Chroma
Best Cylinder Gaming Speakers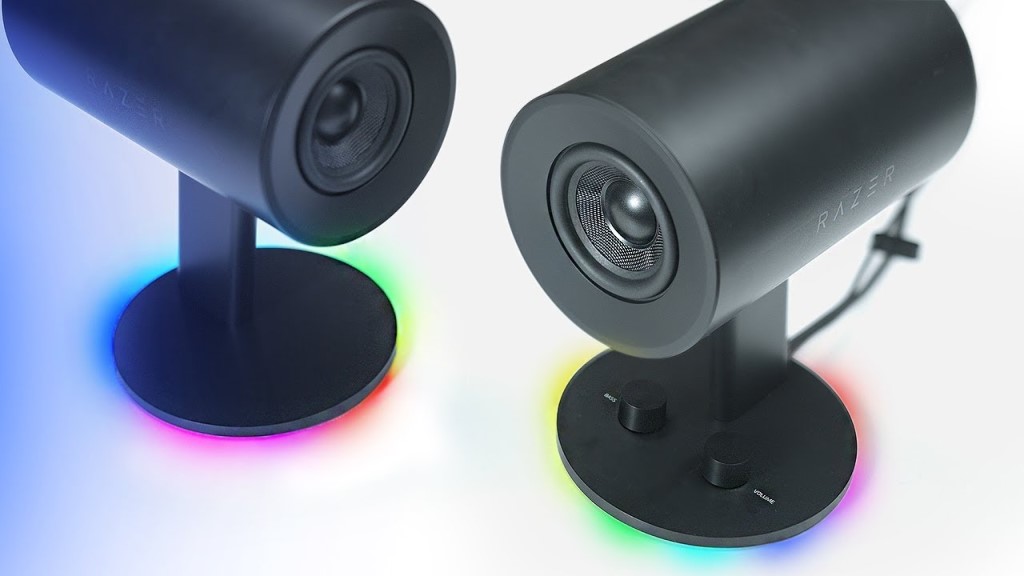 Specifications

Speaker System

2.0

Connectivity

Wired
Ratings

Bass
7.8
Mids
8.8
Highs
8.5
Design
9.0
Build Quality
8.2
Overall
8.46
The Razer Nommo Chroma is one of the most popular pairs of gaming speakers on the market because of its sleek and compact design. It features a plastic enclosure that houses three-inch full-range drivers that perform well despite lacking a dedicated subwoofer.
The satellite speakers have a minimal ring of color that illuminates the bottom of the stand. You can control the colors of the lights using the proprietary software, but they already look great out of the box. These lights also serve a functional purpose as they act as a visual aid when you turn the knobs for adjusting the volume and bass. The bottom of the base also has rubberized panels to prevent movement.
Arguably the most notable downside of the Nommo Chroma in terms of design is the build quality of the adjustment knobs. While they work fine, they feel relatively tacky and cheap.
The Nommo Chroma is incredibly easy to install. You just have to plug it into your computer and connect the two speakers. The cables are also durable and long enough to accommodate any setup.
If you enjoy late-night gaming sessions, the Nommo Chroma has a headphone jack that comes in handy if you don't want to disturb the people around you. While the drivers don't get as loud as some of the other options on this list, they can easily fill a room.
When it comes to sound quality, the Nommo Chroma excels in nearly every category. Low notes, in particular, aren't its strong suit, but the addition of the bass adjustment knob makes it highly versatile. Mids and highs sound stellar even on maximum volume, albeit it lacks a bit of detail. It is ideal for story-driven games that feature rich background music and dialogue.
Overall, the Nommo Chroma is a solid pick if you spend a lot of time sitting in front of your gaming computer. The compact size ensures it has room on top of your desk and the elegant lighting adds a bit of personal flair without being a distraction.
Logitech Z623
Best 2.1 Gaming Speakers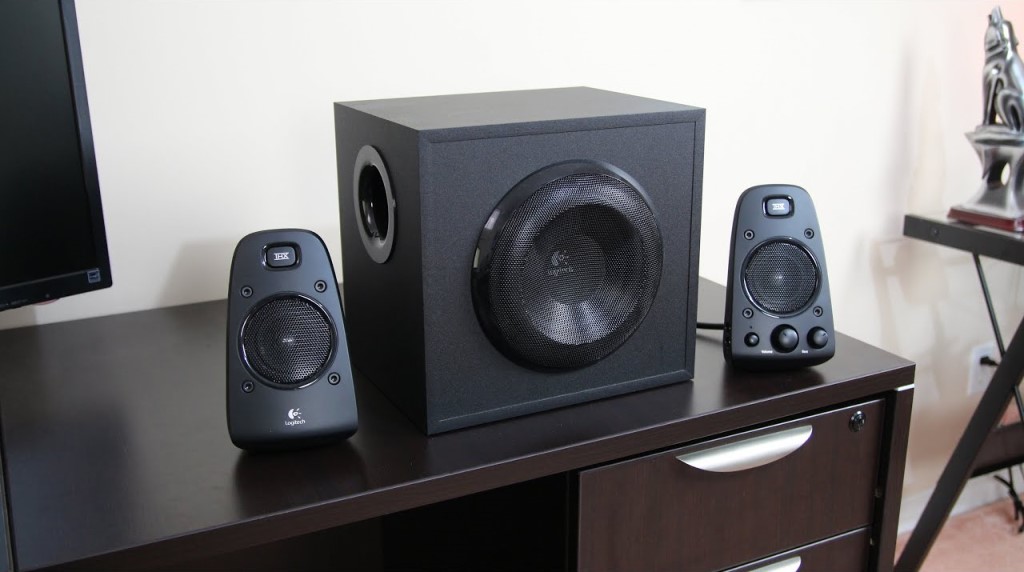 Specifications

Speaker System

2.1

Connectivity

Wired
Ratings

Bass
9.0
Mids
8.1
Highs
8.2
Design
7.5
Build Quality
8.5
Overall
8.26
The Logitech Z623 is the first entry on this list that has a dedicated subwoofer. It enables this system to produce immersive sounds of gunfire and explosions even with the most barebone sound cards.
The Z623 features perfectly tuned bass and treble out of the box, but it lets you adjust the bass response using the dedicated rotary dial on the right-hand speaker. While they look relatively dull in terms of design, the satellite speakers and subwoofer are solidly built. It is tailor-made for those who have a sleeper setup that performs way better than it looks.
The subwoofer does an excellent job with bass reproduction and complimenting the satellite speakers. All the drivers feel adequately weighted in terms of build quality and sound signature. However, it should be noted that Logitech utilizes the same proprietary connection system for the Z623 as it has on its lower-end counterparts. That means it is much more difficult to find replacement cables in case the ones included get damaged.
The Z623 operates on 200 W of input power to ensure peak loudness and clarity. The subwoofer is rated at 130 W, so you might want to go easy on the bass if you don't want to shatter windows when playing first-person shooters. If you're going to play at night without being a neighborhood nuisance, these speakers have a headphone jack if you ever need it.
It should be mentioned that the subwoofer is quite heavy, so you may want to consider placing it on a stable wooden base. Overall, the Z623 is guaranteed to elevate your aural gaming experience.
Edifier G2000
Best Compact Gaming Speakers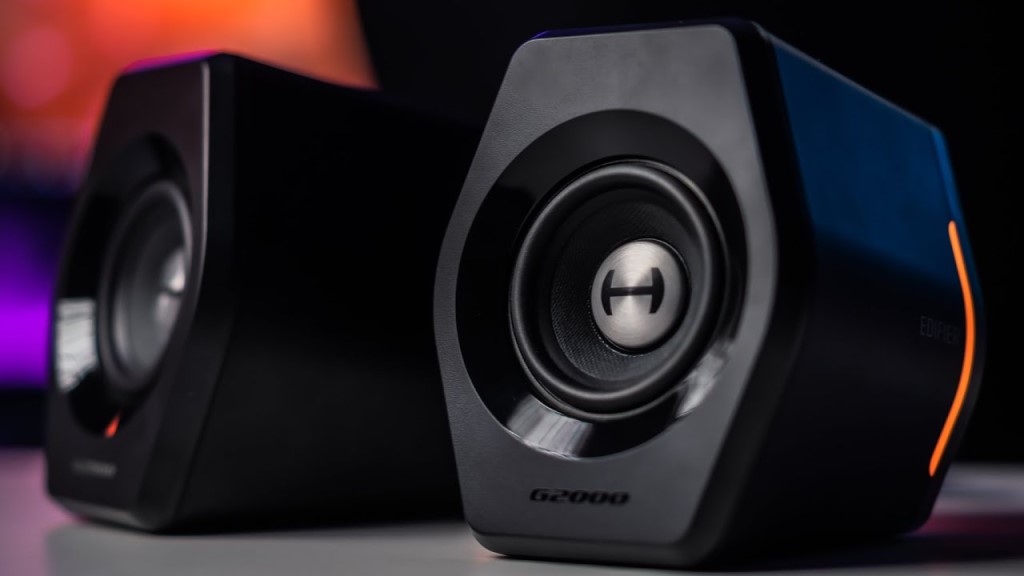 Specifications

Speaker System

2.0

Connectivity

Wireless
Ratings

Bass
7.2
Mids
8.4
Highs
8.2
Design
8.5
Build Quality
8.7
Overall
8.20
The Edifier G2000 is easily the most compact pair of gaming speakers on this list, but it makes a compelling argument with its prominent features. It offers three connectivity options that make it ideal for cross-platform use and features integrated lighting to add some personality to your gaming rig.
The G2000 packs two full-range base units that combine for 16 W of power output. They have a remarkable frequency response range of 98 Hz to 20 kHz considering their size.
Design-wise, the G2000 features a matte plastic enclosure that gives it a rugged and sturdy appeal. The speakers are slightly angled upward to align with your ears and give you the best possible sound. The lighting strips on the back of the speakers are diffused, providing soothing ambient lighting without being a distraction. While these speakers aren't intended for portable use, their size and broad range of connectivity options give them the added flexibility.
The lighting strips also serve a functional purpose as they change color every time you change the equalizer presets between gaming, music, and movie modes. You can also have the strips cycle colors or illuminate in a breathing animation for a more dynamic ambiance.
The main drawback of the G2000 is the apparent lack of bass because of their small drivers. If you want to enhance the bass response, you can connect these speakers to a subwoofer through the integrated variable output.
Despite the evident shortcomings in low frequencies, these speakers produce a surprisingly balanced sound signature. That means whether you're playing video games, listening to music, or watching movies, you will get an accurate representation of the sound design. They can also fill an entire room with relative ease.
Bose Companion 2 Series III
Best Budget Gaming Speakers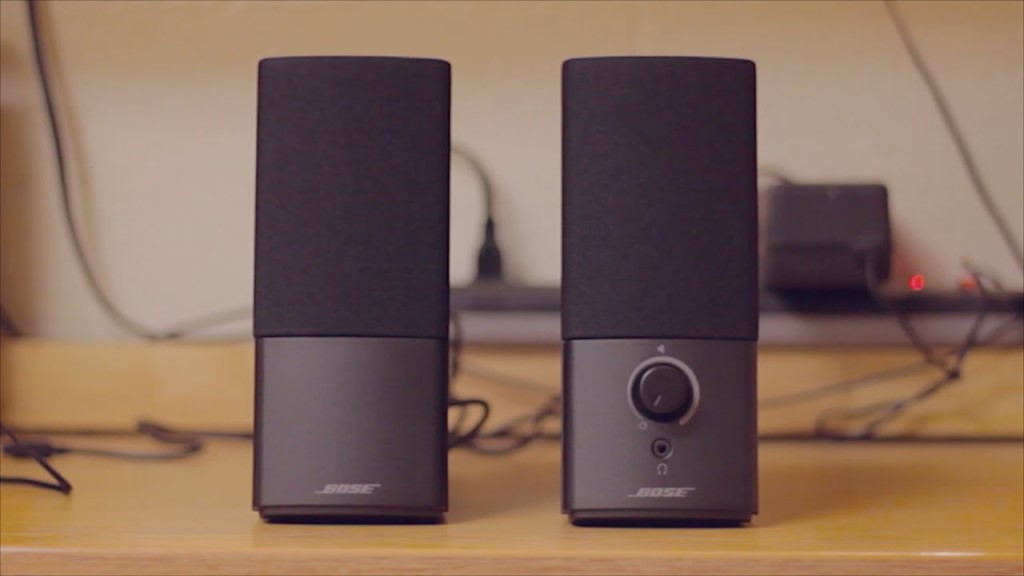 Specifications

Speaker System

2.0

Connectivity

Wired
Ratings

Bass
8.0
Mids
8.1
Highs
8.4
Design
7.6
Build Quality
8.4
Overall
8.10
The Bose Companion 2 Series III is an affordable stereo system that looks like a regular pair of desktop speakers but performs exceptionally well. It features a black exterior that should fit most computer setups and unique digital processing to deliver precise and full sound at any volume.
While these satellite speakers are compact and lightweight, they pack a lot of power for their size. They have no trouble filling an entire room of gunshots and explosions when you're playing your favorite first-person shooters.
In terms of sound quality, the Companion 2 Series III emphasizes low frequencies, making it ideal for action-packed games. It doesn't have the tightest bass response since it doesn't include a dedicated subwoofer, but they deliver enough dynamism. Unfortunately, the mids are quite weak, and dialogue can seem muddy at times. Unlike some of the other entries on this list, it doesn't have bass adjustment, which is another knock on these speakers.
The Companion 2 Series III is thoughtfully constructed for near-field listening. The speakers are angled to allow sound to travel around your head to prevent distortion. It is ideal for users with a cramped desk and want an affordable audio system that doesn't require much space.
How to Choose the Best Gaming Speakers
While standard desktop speakers can work for gaming, they lack certain audio features that make for a lackluster experience. This guide details some of the aspects you should consider about speakers to make an infrared purchase.
Design
One of the most significant aspects that separate gaming speakers from their counterparts are aesthetics. For instance, the Logitech G560 LightSync incorporates accent lighting that can complement any gaming setup. However, flashy lighting isn't suitable for everyone, which is why we also included some more sleek and simple options like the Audioengine A2+ Wireless.
Enclosure
The enclosure is a crucial aspect of speakers that contributes to their overall sound quality. A speaker enclosure should have adequate ports or vents to help prevent buzzing and distortion at high volumes. These vents are necessary for most role-playing games since they usually incorporate loud and sudden low-end sounds to emphasize intensity and immersion.
Size
Most gaming setups have limited space for audio devices. That is why gaming speakers come in various shapes and sizes. Some speakers are ideal for desk setups, while others are suited for living room areas.
If your computer desk has limited space because of your mouse, monitor, and keyboard, compact speakers like the Edifier G2000 and the Razer Nommo Chroma are excellent alternatives. On the other hand, relatively large speakers like the Creative GigaWorks T40 Series II and Razer Leviathan should look great, filling the empty spaces on your setup.
Sound Quality
Sound quality is another element that separates gaming speakers from their counterparts. These speakers have a unique audio signature designed to enhance the gaming experience.
Drivers
The size and number of the drivers are primary indicators of quality. Stereo speaker setups that incorporate multiple drivers and tweeters deliver stellar and balanced audio. If you want emphasized bass, a speaker system with a subwoofer is ideal.
Connectivity
You must consider your platform before picking out your preferred gaming speakers. For instance, if you plan on using the speakers for cross-platform gaming, speakers that support Bluetooth offer the broadest compatibility. However, wireless speakers also open the door for latency. That means you may experience a slight delay from sound to action, which can be a nuisance in fast-paced games.
Headphone Capability
If you like playing games late at night, it may be worth looking at gaming speakers that have an integrated headphone jack. This feature gives you the added flexibility of seamlessly switching between your speakers to your headset to avoid disturbing family members and neighbors.
Frequently Asked Questions
Stereo or surround sound?
A surround sound speaker system may deliver a more engaging gaming experience, but they aren't appropriate for gamers with limited space. A set of stereo speakers with or without a subwoofer is usually enough, but a soundbar with virtual surround sound is also an excellent alternative that doesn't require too much desk space.
Are gaming speakers better than gaming headphones?
The choice between gaming speakers and gaming headphones depends on the game genre and environment. Most first-person shooters and battle arena games require you to be cautious of your surroundings at all times, which is why headsets are preferred for these types of games. Headsets with boom microphones also allow you to communicate with your teammates.
On the other hand, gaming speakers are great for story-based games that get you immersed in the gameplay without focusing on directional audio. They are also ideal for playing with friends and family so that everyone can hear the action.
Do I need a subwoofer?
Subwoofers can produce powerful bass that contributes to gaming immersion. They make your gunshots and explosions in first-person shooters a lot more satisfying and realistic.
If you live in close quarters with other people, having a subwoofer may not be the best idea. In such circumstances, you're better off with dual-speaker setups to avoid disturbing your family members, roommates, or neighbors.
Are soundbars good for gaming?
Although soundbars struggle with directional audio, they can make excellent gaming speakers. Compact soundbars like the Razer Leviathan and Creative Sound BlasterX Katana are compact enough to fit tight desks while also being capable of filling entire living rooms for console gaming.
Quick Recap: The 10 Best Gaming Speakers on the Market
Conclusion
Overall, there are plenty of excellent gaming speakers on the market. You just need to figure out what suits your setup best to avoid complications. It all boils down to how much space you have, how much you're willing to spend, your connectivity requirements, and sound quality preference.
Which gaming speakers piqued your interest? Share your thoughts in the comments section below!