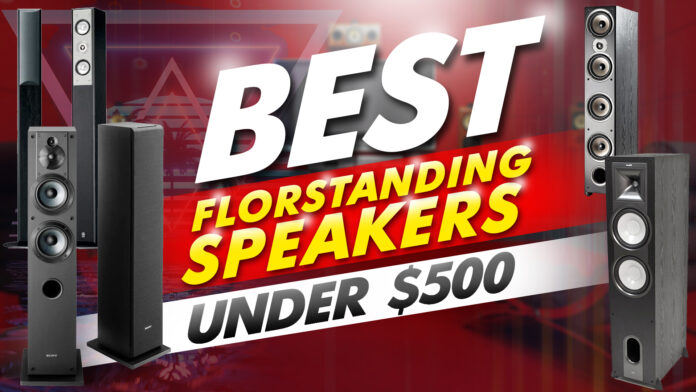 The right speaker can make a huge difference in your home theater. But with so many products and factors to consider, it can be an overwhelming task even for seasoned audiophiles.
Since floor standing speakers have larger cabinets than bookshelf speakers, they generate greater scale and bass. However, that doesn't always imply that they sound better.
To ensure you are picking the right floor standing speaker, choose according to your needs and budget. If you aren't sure where to start or what to get, we have covered the various types of floor standing speakers below, as well as a definitive buyer's guide.
Know the Types of Floor Standing Speakers Under $500
The floor standing speakers featured in this article are priced under $500. You will find many options in this price range, and you should know how to tell them apart.
Passive Speaker
Passive speakers get power from a separate amplifier through a cable. The way a passive speaker is: it starts from a sound source that connects to a pre-amplifier, to a crossover, and finally to a speaker.
Active Speaker
Active speakers or powered speakers have onboard amplifiers. Unlike passive speakers, they don't require a receiver, and connecting them to a device can be done in minutes.
Two-Way System
Two-way speaker systems separate lows and highs via two drivers: the tweeters for highs and woofers for the lows. In most cases, two-way speakers outperform three-way speakers on vocals.
Three-Way System
A three-way speaker system produces sound from three devices: woofer, mid-range, and tweeter drivers. The drivers are optimized to work in their specific range to separate the different frequency levels and deliver a more immersive listening experience than inferior systems.
Best Floorstanding Speakers Under $500
1. Onkyo SKF-4800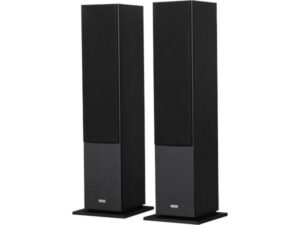 Tech Specs:
Sensitivity: 86 dB | Impedance: 6 Ω | Max power handling: 130 W | Mid/Bass driver: 16 cm cone woofer x 2 | Dimensions: 11.6 in x 12 in x 40.7 in (294.64 mm x 304.8 mm x 1033.78 mm) | Weight: 37.5 lb (17 kg)
Onkyo is a distinguished brand in the audiophile community, which is why the SKF-4800 floor standing speaker sits comfortably at the top of this list. This speaker produces some of the most concise high-frequency sounds at this price range. Even though the bass response isn't as accurate as some of the more expensive options, it still delivers punchy low-frequency tones.
Looking at the design of the SKF-4800, it has a semi-gloss finish that doesn't stand out but goes fairly well with most setups and themes. The finish also does an excellent job masking fingerprints and dust.
The speaker's height is perfect for seated listening, making it an ideal choice for entertainment rooms. Unfortunately, the rear port is poorly constructed and exposed, so you must be careful not to chip the exposed section.
In terms of sound quality, the SKF-4800 offers clear and crisp highs with decent bass frequencies, perfect for listening to vinyl. However, it delivers unexceptional mid-range tones, making vocals and dialogues sound slightly muffled.
The low-frequency range of the SKF-4800 may only be rated at 55 Hz, but you can do without a subwoofer unless you have a large entertainment room.
All things considered, the SKF-4800 is still one of the best floor standing speakers at this price range. If you want a quick upgrade, you will never go wrong with this speaker. You can even pair it with an entry-level AV receiver to enhance sound quality.
2. Polk Audio Monitor 70 Series II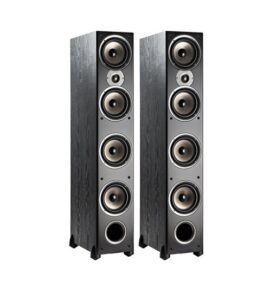 Tech Specs:
Sensitivity: 90 dB | Impedance: 8 Ω | Max power handling: 275 W | Mid/Bass driver: 4x 6.5 inch (16.51 cm) d (Round) Bi-Laminate Composite Dynamic Balance | Dimensions: 15.6 in x 7.7 in x 42 in (396 mm x 195.5 mm x 1066 mm) | Weight: 47 lbs (21 kg)
The Polk Audio Monitor 70 Series II is a slim hi fi floor standing speaker with four 65-inch woofers and a one-inch dome tweeter, and also a brand normally compared to Wharfedale for its overall performance and quality.
It is equipped with thick baffles to minimize distortion and maintain clear audio quality. It also has crossovers with Mylar bypass capacitors to deliver crisp high-frequency sound.
The 70 Series II has a flared port that reduces chuffing and distortion. The speaker blasts a spacious stereo sound with a wide dispersion to fill an entertainment room or living room. It produces precise mids, making it ideal for music and movies. It also employs Cascade Tapered Array technology to deliver decent bass.
The 70 Series II brandishes a modern look, with durable titanium faces in various colors to match the theme of your home theater or music lounge.
Overall, the 70 Series II is easily one of the best free standing speakers on the market. Every aspect of the design and sound quality is exceptional.
3. Sony SSCS3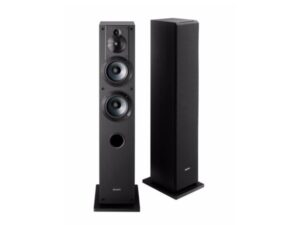 Tech Specs:
Sensitivity: 88 dB | Impedance: 6 Ω | Max power handling: 145 W | Mid/Bass driver: 1 x 0.75 in (19 mm) tweeter, 1 x 1 in (25 mm) tweeter, 2 x 5 in (130 mm) woofer | Dimensions: 9.1 in x 36.3 in x 10.2 in (230 mm x 922 mm x 260 mm) | Weight:
Sony is known for producing top-notch consumer electronics, and the SSCS3 is no exception. This floor standing speaker is renowned for its unmatched reliability and performance. It features a lively soundstage that heightens immersion, whether you're watching a movie, listening to music, or playing a video game. The audio is so balanced and detailed that you can hear the smallest of audio cues from subtle movements.
The SSCS3 is considered one of the most versatile speakers in its league. Even though it has a compact design, it can produce high-fidelity audio.
In terms of design, the SSCS3 has a sleek tower profile that complements any home entertainment setup. Although it is a relatively lightweight speaker, the build quality is remarkable. It has a smart design, with a wood veneer exterior that retains the speaker's shape even when there is a change in humidity and temperature.
The SSCS3 houses air-core inductor tweeters with thick winding material, silicon steel plate woofers, and high-quality film condensers for a wide frequency range and stellar sound quality. The most impressive aspects of the SSCS3 are the wide-dispersion mega tweeter engineered to output high-frequency and audio responses of up to 50 kHz for crisp natural sounds. The drivers are also mica-reinforced to produce clear notes and melodies.
4. Pioneer SP-FS52-LR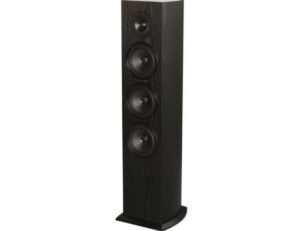 Tech Specs:
Sensitivity: 87 dB | Impedance: 6 Ω | Max power handling: 130 W | Mid/Bass driver: Woofer: 2 x 13 cm cones, Midrange: 13 cm cone | Dimensions: 8.9 in x 10.6 in x 35.2 in (226 mm x 269 mm x 894 mm) | Weight: 25.79 lbs (11.7 kg)
The Pioneer SP-FS52-LR has a more compact and lightweight profile than some of the other options on this list. It houses three 5.25-inch woofers with oversized magnets and a one-inch soft-dome tweeter for extensive frequency coverage.
The SP-FS52-LR features a complex crossover system that enables the speaker to perform brilliantly. The bass is so well-defined that you can feel it resonating at lower volumes, similar to like you are inside a car. Even at low volume levels, the bass produces very little distortion.
The SP-FS52-LR is ideal for most music genres because of its balanced sound signature. However, if you want to use it for movies, adding a subwoofer would improve your viewing experience immensely.
The SP-FS52-LR is versatile enough to perform remarkably for music, movies, or video games. Unfortunately, its overall design doesn't look as appealing as the rest of the speakers on our list. On the other hand, its build is outstanding for a product at this price range.
The SP-FS52-LR has curved panels that reduce the interference of internal standing waves. It also has two bass reflex ports that enable the speaker to reach low frequencies without distortions.
The mids shine just as well as the bass and create natural-sounding vocals in music and dialogues in movies. The same can be said with the treble, as it can hit highs with exceptional clarity.
5. Yamaha NS-F210BL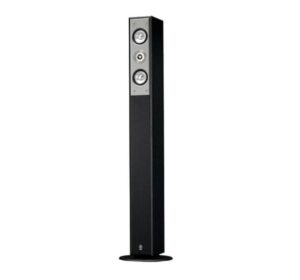 Tech Specs:
Sensitivity: 86 dB | Impedance: 6 Ω | Max power handling: 120 W | Mid/Bass driver: 1 x 0.9 in (22 mm) dome tweeter, 2 x 3.1 in (80 mm) aluminum cone woofers | Dimensions: 9.3 in x 41.3 in x 9.3 in (236 mm x 1050 mm x 236 mm) | Weight: 16.1 lb (7.3 kg)
At a glance, the Yamaha NS-F210BL is an impressive speaker. However, it compromises sound quality to achieve an elegant tower design.
The NS-F210BL is the slimmest floor standing speaker on this list. It is also very lightweight, so fitting it into your setup should be easy. Even though it has a slim profile, the chassis of the speaker is exceptionally durable.
In terms of sound quality, the bass response is somewhat muddied, and the treble produces slight distortions. The highs are also portrayed well through the tweeters.

It is perfectly adequate for casual listeners, but you can get better-sounding alternatives if you spend a little more.
The NS-F210BL has a black wood laminate exterior that feels rugged. Setting up the speaker won't be as simple as some of the other options because it requires maneuvering wires, spades, and pins.
Nevertheless, it should take you only five minutes to properly put everything in place. The NS-F210BL doesn't need an amplifier, so you can fire it up right after installation.
If you plan on placing this speaker in a modestly-sized living room, the sound quality should be crisp and clear. However, the overall sound feels flat and lacks a sense of aggression compared to the other options at this price range.
The NS-F210BL may not be the best-sounding budget floor standing speaker, but it is undoubtedly one of the most attractive.
6. Klipsch KF-28 Icon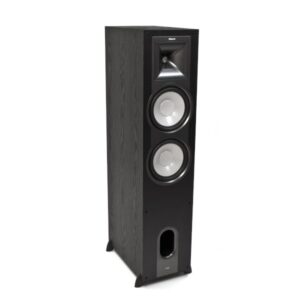 Tech Specs:
Sensitivity: 98 dB | Impedance: 8 Ω | Max power handling: 600 W | Mid/Bass driver: 1 in (2.54 cm) aluminum diaphragm compression driver | Dimensions: 43.25 in x 9.5 in x 16 in (1099 mm x 241 mm x 406 mm ) | Weight: 59 lbs (26.8 kg)
The Klipsch KF-28 Icon is an eight-inch two-way floor standing speaker that has withstood the test of time. It features two woofers along with an enhanced one-inch aluminum tweeter. The sound quality exhibits imperceptible distortion even at high volume levels thanks to the exclusive linear travel suspension technology.
What makes this budget speaker worth considering is how the frequency response hit as low as 35 Hz to as high as 23 kHz. A frequency range this comprehensive is rare, especially at this price range.
Two more notable features of the KF-28 Icon are its high sensitivity of 98 dB and a peak power of up to 600 W. Since it flaunts a modern profile, it should complement home theaters and music rooms seamlessly. At the end of the day, it is a given that this is truly a great deal.

Vital Points To Consider When Buying the Best Floorstanding Speakers Under $500
When shopping for the best budget floor standing speakers, it is crucial to know the factors that matter.

Below are some common qualities of speakers in prices ranging around $500. Check them out and decide which ones affect your preferences.
Size
Floor standing speakers come in various sizes, ranging from compact tower designs to life-size. Your choice should depend on how much space you have in your home theater or media room.
Frequency Response
When shopping for floor standing speakers, it is imperative to consider the frequency response range. There are speakers that handle multiple frequencies fairly well, while others shine on a certain frequency range.
Ideally, you want speakers that give you a broad sound range, but in this price range, excellent bass reproduction is rare. Fortunately, decent highs through the tweeter is not scarce in this category.

If you want to use floor standing speakers for specific purposes, it is crucial to know which frequencies matter. Solid bass output is imperative for video games and media content, while a more balanced sound signature is ideal for music.
Impedance
Impedance refers to the load a speaker places on an amplifier and the resistance to the flow of electric current through the speaker measured in ohms (Ω).
Floor standing speakers with an impedance of 8 Ω work fine for media usage, but 6 Ω speakers are usually better and more prevalent on the market. If you come across speakers with a 4 Ω impedance, they are considered top-of-the-line for hardcore audiophiles.
Sensitivity
The sensitivity of a speaker determines how loud it can get when applied a certain amount of power. A good way to test sensitivity is to set the volume level at a similar power level in decibels (dB). If you have a small room, speakers with a sensitivity of 88 dB and below should be fine. Otherwise, you need speakers with high sensitivity ratings.
Build Quality
Never overlook the quality of speakers in the budget price range. While it's possible to find Bluetooth connectivity floor standing speakers at this price range, it still isn't enough. Remember that energy pulsates through these devices and affects how long they last.
How Does It Look?
Floor standing speakers grab people's attention because of their size or their tall tower look, so aesthetics are important. Speakers that match your media room's theme are ideal, and there are a ton of good-looking speakers that don't compromise performance in this price range.
Is It Sold as a Single Unit or in a Pair?
Floor standing speakers in this price range are sold either as a solitary unit or as a pair. If it is sold as a single unit, you will need to purchase two for a stereo setup, so remember to check how many speakers are included in the package.
Other Important Features To Consider When Shopping for the Best Floorstanding Speakers Around $500
Design and Build Quality
Size is one factor to consider when choosing floor standing speakers, but the overall design is also significant.
Check how much space you have and ensure that the speakers will fit in the area. Most floor standing speakers can fill up an entire room, so placement is crucial.
The type of materials you have on the walls and furniture in your room can also affect the acoustics. Soft materials like carpets can dampen sound waves, while hard materials like wood can amplify volume and distort audio quality. Nevertheless, some floor standing speakers have treated aluminum materials that help reduce sound distortion and titanium tweeters that feature linear travel suspension.
Floor standing speakers can be placed almost anywhere since they usually have defensive steel grilles and a jagged exterior for protection.
How Does It Sound?
Floorstanding speakers sound distinct from one another based on the quality of their drivers. Moreover, sound quality is largely subjective as some users prefer balanced audio while others favor emphasized bass.
To get the best experience, listen to the speakers to get an idea of what the audio quality is like.
Floorstanding speakers usually have optimized mid-range drivers and ring radiator tweeters. They are fitted with counterfeit resonances to ensure a clear and energetic sound. They also deliver superior imaging and horizontal off-axis reaction compared to other types of speakers.
Check the Warranty
Floorstanding speakers usually have years of warranty coverage if purchased from authorized dealers. That means you can easily have your speakers replaced or repaired at no cost. However, it should be noted that the warranty period ranges depending on the make and model of the product.
Conclusion
That concludes our list of the best floorstanding speakers under $500. Which speakers sparked your interest? Here's a quick recap:
If you are on a tight budget, you can't go wrong with the Klipsch Icon KF-28.