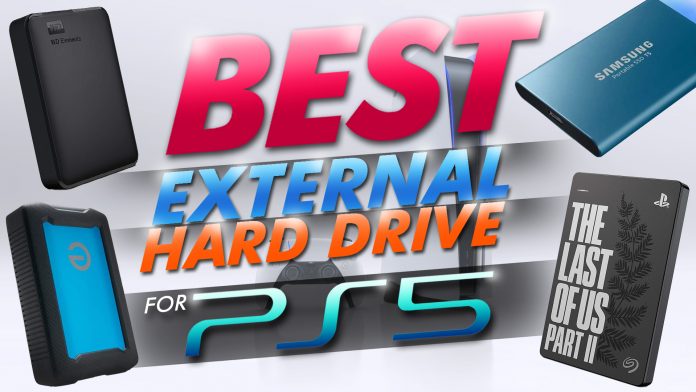 Since the PS5 is confirmed to have only 825 GB of storage space, buying an external hard drive is a simple solution to expand its capacity significantly. However, it's not as easy as buying an SSD for the PS4 since there are things you must keep in mind first.
If you're here to find the best external hard drive for the PS5, we've got your covered. We'll also present some interesting facts about PS5's built-in storage and recommend setups to get your PS5 to run all your games without problems.
Can You Use an External Hard Drive for PS5 Games?
Yes, definitely.
Sony confirmed that external hard drives would work on the PS5, but you'll only want to store PS4 games there to avoid hiccups.
You see, PS5 games are optimized for the PS5's new hardware, so running them from an external storage device could cause problems like slow loading times.
Best External Hard Drive for PS5
WD My Passport SSD 1TB
Best Overall External Hard Drive for PS5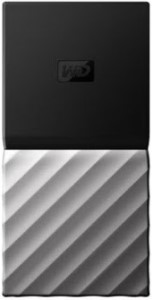 Tech Specs:
Capacity: 1 TB | Storage Type: SSD | Dimensions: 3.5 in x 1.8 in x 0.39 in | Weight: 0.09 lbs (40 g) | Interface: USB 3.1 (Gen 2)
It's undeniable how SSDs have changed the storage device industry. Even though they are more expensive than HDDs, they prove to be worthy gaming investments, thanks to their snappy loading times and lightning-fast data read and write speeds.
At the top of our list is the WD My Passport SSD. Storing your games in this device lets you experience a significant improvement compared to playing games from an HDD. The read and write speeds are significantly faster without the mechanical parts, making data processing almost instantaneously.
With 1 TB of storage space, you should have some headroom before finding the need to further expand your storage. And if you specifically want an SSD, this should give you great value for cost per GB. Otherwise, you'll want to get an HDD to accommodate the space you need.
In a nutshell, the WD My Passport SSD 1TB has been one of the best external hard drives for PS4 and should be recognized as nothing less for the PS5.
Samsung SSD T5 500GB
A Great Alternative Reliable SSD for PS5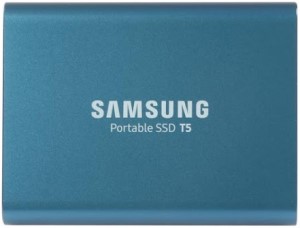 Tech Specs:
Capacity: 500 GB | Storage Type: SSD | Dimensions: 3.0 in x 2.3 in x 0.4 in | Weight: 0.11 lb (51 g) | Interface: USB 3.1 (Gen 2)
If our top pick is out of your budget range, our alternative SSD will be the second-best thing you can get. This product is from Samsung– a stalwart in the storage industry and manufacturer of some of the best storage products to date.
When it comes to performance, the Samsung SSD T5 slightly outperforms our top pick. The reason why it only placed second is the fact that its cost per GB isn't as remarkable. Moreover, its total storage capacity is only up to 500 GB.
Nevertheless, we highly recommend this device to casual players who don't need 1 TB of storage for all their games but want fast loading times. Note that this performs relatively slower than the built-in PS5 storage device, but the difference still isn't that far off.
The Samsung SSD T5 500GB supports USB 3.1 like our top pick to ensure fast read and write speeds. It's hard to recommend a storage device with only 500 GB of space, but if this is more than enough for what you need, you can never go wrong with this excellent product.
With this storage device at your disposal, you should experience lightning-fast loading times and transfer speeds.
Seagate 2TB Game Drive (The Last of Us Part II Edition)
Best Stylish External Hard Drive (That's also reliable)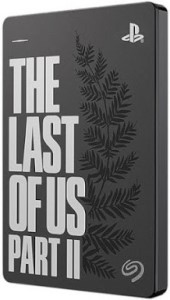 Tech Specs:
Capacity: 2 TB | Storage Type: HDD | Dimensions: 4.47 in x 2.99 in x 0.48 in | Weight: 0.33 lb (149 g) | Interface: USB 3.0
Seagate partnered with Sony to develop the Seagate The Last of Us Part II 2 TB Game Drive. That means you can guarantee that the hard drive is optimized to work perfectly with PS4.
Since Sony confirmed that old peripherals, including storage drives, will work with the PS5, you can never go wrong with this option. Do note that it is an HDD, which means it's mechanical and doesn't work as fast as SSDs.
Even though this device is mechanical, it runs quietly, which is a plus as HDDs are notorious for making a loud whirring sound due to its moving platters. The design features a laser-etched fern pattern– one that matches Ellie's tattoo in the game.
The size is relatively compact compared to most HDDs you would find on the market. What makes this product stand out from the competition is that it can store up to 2 TB worth of games.
It should also be noted that this device isn't the only design you'll find around. But among its variations, The Last of Us Part II 2 TB Game Drive stands out because of how good it looks and how great the story goes in the game.
If you're a hardcore gamer who plays a lot of games simultaneously, 2 TB of storage space should give you enough headroom until the recommended list of expanded SSDs is released.
While you can store PS5 titles in this device, we don't necessarily recommend it, as it could ruin your experience.PS5 titles are optimized to work with the console's new hardware, and if you run games through an HDD, long loading times will significantly affect your progress. Not to mention potential hiccups along the way.
So, unless you have to, we highly recommend running only PS4 games using this hard drive.
ArmorATD 4TB
Best Rugged, Resistant, and Portable Hard Drive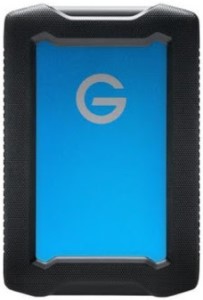 Tech Specs:
Capacity: 4 TB | Storage Type: HDD | Dimensions: 5.2 in x 3.46 in x 1.18 in | Weight: | 0.77 lb (350 g) | Interface: USB 3.1 Gen 1 / Thunderbolt™ 3 / USB-C™ ready
High storage capacity, tough, and resistant to almost anything– that's the ArmorATD. This storage device is highly recommended if you're looking for something durable.
As its name suggests, this device is covered in armor to protect it from wear and tear. It is resistant to rain, dust, and pressure of up to 1000 lbs. In case of accidental falls, the armor should absorb all of the force to ensure that the hard drive is safe and sound.
If you regularly go to a friend's house for multiplayer gaming sessions, this external hard drive ensures that all your game files will be safe for the duration of its lifespan.
If you have games that require frequent updates, this device can take all of those and still have headroom left.
Because of how tanky this thing is, it is sometimes referred to as the "G-Technology 4 TB ArmorATD All-Terrain Drive," and it does feel significantly more massive than the usual external hard drive.
All in all, this device performs just like most HDDs, significantly slower than SSD, but excels in being durable.
WD Elements Portable Hard Drive
Best Budget External Hard Drive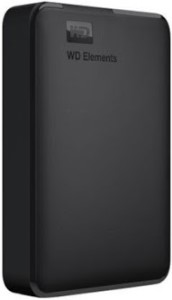 Tech Specs:
Capacity: 2 TB | Storage Type: HDD | Dimensions: 4.4 in x 3.2 in x 0.8 in | Weight: 0.52 lb (234.5 g) | Interface: USB 3.0, USB 2.0
As a tradition in our roundups, our list won't be complete without a budget option for our dedicated readers looking for affordable alternatives. If that's what you're looking for, the Western Digital's Elements Portable Hard Drive is your best bet.
The good part is it comes with 4 TB of storage space for all your games. You can also carry this hard drive around conveniently since it's exceptionally light at only 0.52 lbs. Moreover, it has a design that doesn't fall far off from mid- and even high-range external hard drives.
If 4 TB is too much, you can choose to get other storage space options, including 1 TB, 2 TB, 3 TB, and 5 TB. To be safe, we featured the 4 TB variant to future-proof your investment, especially with how games are becoming storage-hungry every time a new update kicks in.
It may not be as durable as the ArmorATD, but it does have a very slim design that makes it easy to carry around. On top of that, the entire hard drive feels more durable than most premium options on the market.
In terms of speed, we already expected this storage device to work as advertised– more specifically, as an HDD. It doesn't have the lightning-fast read and write speeds of an SSD, but it's not slow at all. If you think that the PS5 hardware can make up for that loss, you're also wrong because you will likely encounter problems if you play PS5 titles from this device.
Arguably the best thing about this HDD is its cost per GB. With only $0.02 for the 4 TB variant, you can be certain you're not breaking the bank. What more can you ask for? A budget option that offers different storage capacities, affordable, and good performance– that's the WD Elements Portable Hard Drive.
Essential Things to Consider when Buying External Hard Drive for PS5
Today's games take up huge storage and even bigger space just for an update (I'm looking at you, Call of Duty: Warzone). While it's true that the PS5 packs powerful hardware, it lacks in the storage department.
At the time of this writing, the average file size of a triple-A title game ranges between 50 GB to 120 GB. And if you only have 825 GB of built-in storage on your PS5, you'll need more space to accommodate upcoming games.
HDD vs. SSD: Know the Difference
Hard Disk Drive (HDD) is the dated storage device that utilizes mechanical platters and moving heads to access read and write data. It has been the standard for decades and will likely be replaced with the SSDs over time. Nonetheless, it's still sufficient for storing files and saved data.
Solid-State Drive (SSD) is significantly faster than its HDD counterpart. Without the mechanical parts, read and write speeds are now processed almost instantly. If you can, always aim to get an SSD.
Compatibility
Both Microsoft and Sony confirmed that most of their existing peripherals for previous consoles (Xbox One and PS4) would work on the Xbox Series X and PS5, including external hard drives.
However, external hard drives will only work without hiccups with PS4 games. If you wish to experience faster loading times, you can copy the PS4 games you have on your external hard drive over to your PS5's built-in SSD.
Do note that PS5 games are recommended to run from the PS5's built-in storage as they require the speed and power of their custom-made SSD to run seamlessly.
Most importantly, you have to make sure that the external hard drive is compatible with the operating system of your PS5. Moreover, the drive must use USB 3.0 or USB 3.1 as the PS5 doesn't support USB 2.0.
Storage Capacity
The PS5 can only hold up to 825 GB of data– that's more or less eight games in total. Needless to say, you'll surely fill this space up in no time.
If you're a casual gamer, a 1 TB external hard drive should work just fine for a few PS4 games — yes, because PS5 games have to be stored in a Sony-certified SSD for them to work correctly. However, if you're a hardcore gamer, you'll probably find a 1 TB external storage limiting.
If you wish to expand the internal storage, you can do so with a Sony-certified, off-the-shelf SSD or get a Sony-validated NVMe SSD. However, it should be noted that an NVMe SSD isn't always going to work exactly like the one in the system, as the PS5 requires a specific bandwidth specification.
There is no confirmed list of recommended drives apart from Sony's proprietary drives at the time of this writing. So, I highly suggest you wait for the list before buying an NVMe SSD.
The other way for you to expand your PS5's storage is to get a 1 TB or 2 TB external HDD, which we also have in this roundup. This way, you can save your PS4 games separately from your PS5 titles to efficiently manage your space until the official list of recommended drives come out.
Speed
Speed plays a vital part, especially in terms of loading times. While it's true that HDDs can hold more data compared to SSDs, they usually take minutes to boot up a game. If you're going to account this over time, it can seriously compromise your gaming experience.
With a faster external hard drive, you will definitely see a significant improvement in loading times. That explains why a USB 3.0-compatible drive is ideal, as this connectivity allows faster read and write speeds.
Reliability
It's hard to find an external hard drive that will last you years. That is why you must do your research before buying a product.
Our list of external hard drives is proven to offer outstanding performance in the reliability department. But if you wish to buy outside of our list, it would help if you check reviews and actual feedback from users to have a better understanding of how reliable they are.
Final Words
Being prepared is one way to avoid problems down the line, so we invested hours upon hours to compile a list of the best external hard drives for PS5. To give you a recap:
We highly recommend getting the WD My Passport SSD 1 TB if you're looking for the best external hard drive for PS5 on the market. It's an SSD with 1 TB of storage space, which should be enough for most users.

The second-best option on our list is the Samsung SSD T5 500GB, which offers half the storage capacity of our top pick, but offers slightly faster performance in both read and write speeds.

If you're looking for something with decent storage space and inspired by one of the most popular PS4 games, then the Seagate 2 TB Game Drive (The Last of Us Part II Edition) is an option you should definitely consider.

Are you looking for a dust-resistant, water-resistant, and highly durable alternative? Then the ArmorATD 4TB is the best you can get on the market. It's like a tank.

Lastly, the best budget option is none other than the WD Elements Portable Hard Drive. With a cost per GB of only $0.02 for the 4 TB variant, you'll barely make a dent in your wallet for the value it offers.
There you have it! Have you picked one among our list? Which one is it? Don't forget to drop your questions in the comments section so we can address your concerns.