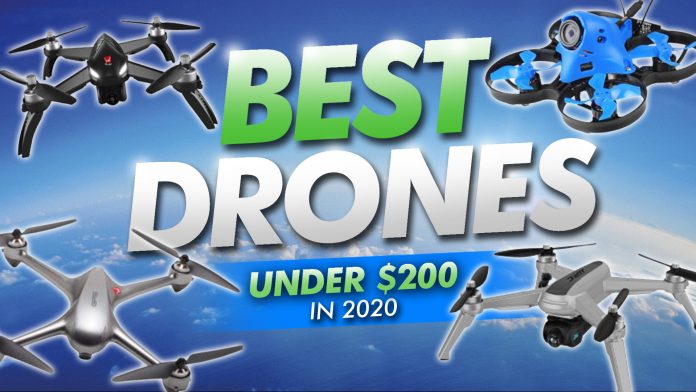 Have you always wondered what it's like to own a personal flying drone? You're probably thinking about the beauty of aerial photography or the blissful experience of flight. But then again, you might feel bothered with the related costs of drone-flying.
How to Choose the Best Drone
Drones come in all shapes and sizes. According to research done by researchgate.net, many sectors are looking at drones as a tool for efficiency. So, it is not surprising that you as well are interested in dipping your toes into these wonderful unmanned devices.
Some drones have more advanced features, while others have user-friendly elements. Drones also come in various price ranges. What you choose should depend on your level of experience, preference on features, and the money you're willing to spend. 
If you're looking for a quadcopter that is packed with features but won't break the bank, take a look at our comprehensive drone buying guide and choose among our definitive list of the best drones under $200.
Why Should You Spend More Than 100 Dollars for a Quadcopter?
You can get cheap drones with cameras for less than three figures. However, there are some features that you can't get for any less. A decent 720p shooter under 100 dollars is rare. You also can't find a quadcopter within this price range that has GPS-enabled features.
Plus, drones under 100 dollars are generally small. They can fly well in indoor conditions but may struggle outdoors. 
The best sub-100 quadcopter we could find is the Ryze Tello. It has a 5-megapixel camera that can shoot JPEG images and record 720p videos from up to ten meters vertically. Even then, it lacks critical features like GPS and brushless motors.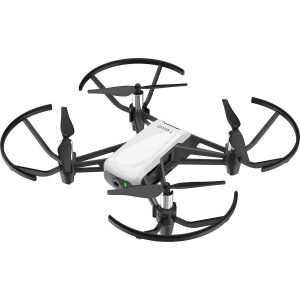 Our Top Picks for the Best Drones Under $200
The list contains what we determined are the top contenders, but it all comes down to your inclination on features. Whether you are more concerned about camera quality, flight time, flight range, or aesthetics, this list has you covered. 
Holy Stone HS110D FPV RC Drone with 1080P HD Camera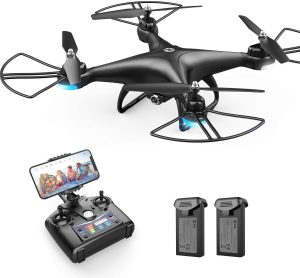 Even if a drone costs less than $200, it must have excellent features that are worth talking about. Only a few drones can offer a combination of unique features, leaving many users disappointed and frustrated. Holy Stone solves this dilemma by introducing the HS110D FPV Quadcopter.
With a strong and bulky frame, the HS110D drone is meant for continuous flight sessions over a day. As you maneuver the drone from a comfortable spot, you don't have to stress over strong winds and heavy resistance. The HS110D can support its own frame, though it can still benefit from proper flight angles. Another strong feature of this interesting quadcopter is the Altitude Hold function. By setting your hands away from the joystick, the drone will remain suspended on mid-air. It will continue flying as soon as you take control of the joystick once more. If you're going to use the HS110D for aerial photography, you will realize the importance of its altitude-locking capability.
Many beginners are often worried whenever their drones slip out of sight. But with the Holy Stone quadcopter, you can just relax and focus on easy navigation. A special 'headless piloting mode' will help you maneuver the drone properly, revealing an accurate 3D representation of the surroundings. The HS110D also has impressive aerial flips that you can try by moving the joystick in specific angles.
HS110D's FPV camera is capable of 1080P quality – a noticeable leap among common market quadcopters. With this quality, you can capture the natural beauty of the environment. You won't encounter distortions or grainy images. The Holy Stone app will also let you sort the images to prepare them for editing later. Other functions of the app include trajectory control, flight options, and sensor control adjustment.
The HS110D Quadcopter would've been perfect if not for its low flight time. The included modular batteries are durable but they only have enough juice for 20 minutes at most. You may also need to purchase a separate case since there's no bag included in the package. Nevertheless, these small hitches won't outweigh the HS110D's top features!
2. Potensic D80 RC Gyro Quadcopter with GPS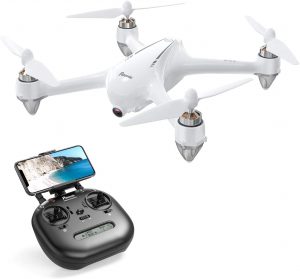 It's common to see UAVs jam-packed with a myriad of interesting features. Many buyers go after these features after getting disappointed with their old units. This is actually a good thing, but it comes with a certain cost: power consumption. If you're tired of power-hogging UAVs, then you can check out the popular Potensic D80 quadcopter.
Potensic's D80 quadcopter is a robust UAV with tons of useful features yet low power consumption. The most noticeable feature is the quadcopter's advanced brushless motors. These motors are built for long-term usage and more stable flight. Unlike other UAVs without brushless motors, the D80 can maintain its course without big interruptions. The motors are also designed to maximize energy usage, thus increasing flight time.
In terms of speed, the D80 is a real ace. It can reach up to 40km/hour without signal interruptions and problems. This makes the D80 an excellent drone for capturing intense activities like sporting events, concerts, or even continuous highway traffic. The drone's signal range can reach as high as 1000m.
You won't be disappointed with the D80's camera quality. It's equipped with an advanced 2K FPV camera supported by 5G Wi-Fi setup. Most of the time, you will get crisp and clear images that only need minor editing.
Even though the D80 drone is useful for professional and recreational purposes, some adjustments are necessary. You might encounter situations where the image quality is less than average. Video quality is also not exempted from such distortions. Adjusting the D80's trajectory is a quick solution. You should also check your area's Wi-Fi setting to ensure that it's always synchronized properly with the D80. If ever you have persistent issues with the quadcopter, don't hesitate to contact Potensic.
3. SIMREX X900 RC Quadcopter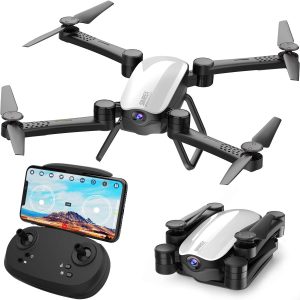 Small drones that can do big things are worth every penny. Even if there are tons of drones that you can find online, only the best ones will stay with you for a long time. The SIMREX X900 quadcopter is one of these drones. It's small, highly reliable, and can endure continuous flight sessions!
The X900 drone is designed for beginners and professionals alike. Upon buying the drone, you can link it to your smartphone right away. The drone's level of synchronicity is higher than what others can offer, guaranteeing uninterrupted flying times. You also get to choose from two main control modes: phone control or transmitter control. The phone control mode grants you full accessibility while transmitter control is automatic.
X900's altitude hold function is 100% responsive. Other drones will plummet for a few centimeters before correcting itself, but not the SIMREX. Let go of the throttle, and the drone will recognize the action immediately. This makes aerial photography less laborious and more fun!
The most useful beginner functions of X900 are one-key take-off & landing and headless security mode. Under headless security, you can maneuver the drone even if you can't physically see it. As long as your Wi-Fi connection is stable, you shouldn't worry about the drone's intended flight path. The signal range of X900 can reach as high as 120 meters.
Some noticeable downsides of SIMREX X900 are subpar battery life and low durability. You can go around these downsides by taking extra care of the drone or purchasing additional inexpensive batteries.
4. BETAFPV Brushless Whoop Drone with V2 Camera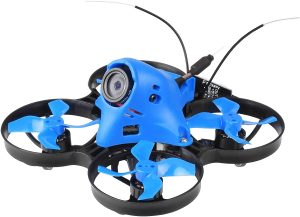 Many drones look the same, rarely gathering the full attention of buyers. The unique-looking ones, however, will definitely sway the crowd. When it comes to uniqueness, the BETAFPV brushless whoop drone is a top-tier choice.
The main thing that makes BETAFPV stand out is its Turtle V2 camera. Unlike other common drone cameras, the V2 is not fitted directly onto the drone's body. Rather, the camera sticks out while protected by a small plastic frame. This will give you nearly uncontested aerial view with 1080P quality. The camera can also reach 60FPS.
BETAFPV's motor system is enhanced with a brushless function that ensures better flight. The rotors are also properly designed to boost speed without losing power or altitude.
The BETAFPV quadcopter is beginner-friendly, but not in the assembly process. The parts are small and clunky – so you need tools for specific adjustments. You even need to modify some parts if you want to upgrade batteries.
Make sure that your BETAFPV drone doesn't crash. Otherwise, the small camera might receive heavy damage because of a low-durability frame. For damage-free traveling, you need to have a cushioned safety case.
5. QWinOut DIY Quadcopter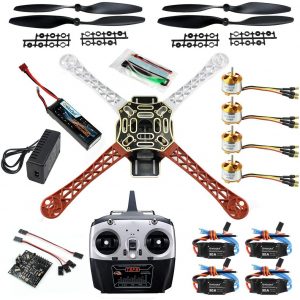 Do you love building things from the ground up? If you answered yes, then the QWinOut special DIY Quadcopter will gain a special place in your heart. This drone requires moderate assembly experience, which can be satisfying for many users.
Using an advanced custom flight control, the QWinOut quadcopter is as stable as it is powerful. Activating the flight interface is easy, and you can use your smartphone to navigate the buttons. It's not hard to synchronize the app and the QWinOut drone, especially if you have a strong Wi-Fi connection. The remote control distance of QWinOut can reach up to 500 meters, but the flight environment can affect such rate.
QWinOut's motor runs on a 1000KV setting, balancing power, speed, and general stability. The flight time is variable, since the drone is highly sensitive to joystick directions. But on average, the QWinOut quadcopter can reach a flight time of 15 minutes.
Since QWinOut is a DIY kit, you should expect for small parts. These parts are fragile – one wrong move and a part might break. Before you build the QWinOut drone, try to research about tutorials. Or at least, you can ask someone to help you out!
6. Hubsan H501S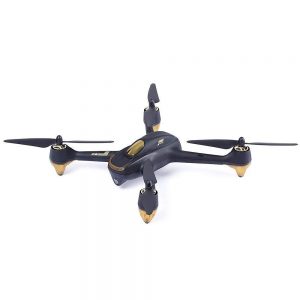 Without a doubt, the Hubsan H501S belongs in our top picks for the best drones under $200. It packs an HD camera and enables you to have a first-person view of that camera from a built-in screen on the remote!  
The real-time video is fed to the 4.3-inch screen via a 5.8GHz FPV analog signal. That means that you will get a more reliable transmission and an increased range over WiFi-connected drones! 
A significant downside to the Hubsan H501S is its lack of gimbal or video stabilization. If you shake when piloting the drone, your video will also come out shaky. 
Nonetheless, it still has valuable features like GPS, which enables the drone to lock on to satellites to help it stabilize. It also has the fail-safe return to home feature.
We recommend the Hubsan H501S if you can fly slow and steady. 
7. JJRC X5 Drone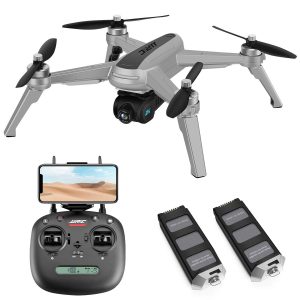 Drones are a ton of fun to fly, but they can become a very expensive hobby. If you want to avoid some fairly major mistakes, you'll want to avoid jumping into the deep end too quickly. While there are certainly many great drones out there that cost four figures – or even more – you're better off starting with something geared towards new fliers.
If you're ready to get serious, this drone from JJRC is a great entry point. Coming in at under two-hundred dollars, it's the kind of drone that has the feature list of the really expensive drones without being too expensive to fly as a beginner.
You'll notice from the set-up that this drone does a lot more than those you'd pick up from a typical shop. With professional controls and a really user-friendly design, you'll get this drone in the air in no time. With a little practice, you'll quickly figure out why so many people love flying this drone around.
While it might not have everything you'd get out of the most expensive drones, there are few out there that are quite this much fun to fly. Whether you want a good drone to learn on or you're just considering picking up a drone to fly around for fun, you really can't be this one.
8. Potensic D80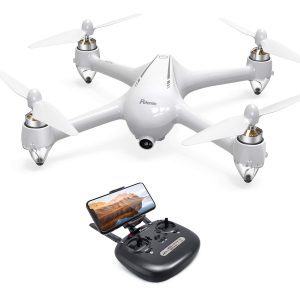 The Potensic D80 is equipped with all the latest hardware you can expect from the best drones under $200. It stands out among the few quadcopters in this price range that has brushless motors with a control distance of up to 600 full meters!
But if you are looking for a beginner drone, the Potensic D80 is may not be your best option. It requires at least an intermediate level of experience. 
The speed and agility of this drone could be a bit of a struggle to get used to, especially for a rookie. The quad motor it carries can go up to 40 km/h!  
The Potensic D80 is packed with features that make it even more enjoyable. These include Follow Me Mode, Auto Return Home, and VR Goggles Compatibility!
You can't go wrong with this option in our top picks for the best drones under $200 unless you are a beginner! 
9. MJX Bugs 5W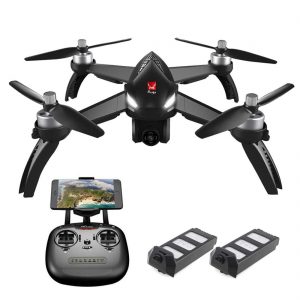 The MJX Bugs 5W stands out in this list because it comes equipped with an action camera capable of full high definition video. You can even choose to attach other action cameras such as a GoPro or an SJCam onto the drone!
With four powerful brushless motors, the drone is ideal for filming outdoors since it can overcome powerful winds. It comes packed with three 1800mAH battery, which can each give you a flight time of ten to 13 minutes for a total of up to 39 minutes. It also boasts an impressive control range of 300 to 500 meters!
The performance of the MJX Bugs 5W makes it one of the best drones under $200, and an excellent buy for its meager price!  
10. Force1 F100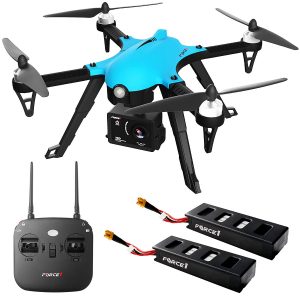 The Force1 F100 is a sleek-looking drone with powerful brushless motors. What makes it stick out in this price range is its upgradability. It can carry a GoPro, SJCam, or any other action camera of your preference. You can even add a gimbal for more stability!
You will get up to 20 minutes of flight time with the Force1 F100 with a maximum control range of 500 meters. 
Want to add FPV? You can get a camera and transmitter on Amazon for less than 30 dollars and put in place of the front LED!
If you want to use a drone to pair with a versatile action camera, the Force F100 should be an excellent buy. But if you are a beginner and want something tamer, we recommend getting the MJX Bugs 2 instead.  
11. Altair Aerial AA300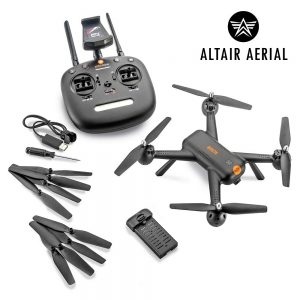 The Altair Aerial AA300 is one of the very few drones in this price range that comes with dual GPS / GLONASS module. It allows the sleek-looking quadcopter to perform useful maneuverability features like Orbit Mode and Follow Me. 
The drone is made of ABS plastic that makes it extra durable and protects it against impact. It also has brushless motors that give it strong propulsion force for excellent aerial performance.
The Altair Aerial AA300 comes with a modularized battery that can give you flight times of up to 15 minutes. The powerful dual GPS / GLONASS module allows it to come packed with the latest features like Orbit Mode, Return to Home, Remote-Adjustable Camera, Follow Me Mode, Customization Waypoint Mode, Out of Range Alarm, and Low Power Alarm.
The Altair Aerial AA300 definitely belongs in our list of the best drones under $200.
12. Altair Aerial AA818 Plus Drone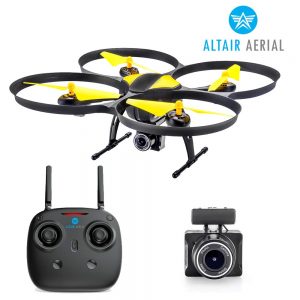 If you are looking for the best beginner drone under 200 dollars, the Altair Aerial AA808 Plus is our top pick. It is a relatively new drone with sleek looks and impressive build quality. 
The arms and propellers have plastic guards that protect them from obstacles or crashes. They also make the drone look bulkier than it is.
The Altair Aerial AA808 Plus has an outstanding 120-degree wide-angle 720P rubber damper HD camera. The images that come out of the shooter are significantly less blurry or shaky even if you aren't used to flying drones.
You will also have the ability to view the images from the camera in real-time using your smartphone or VR goggles. You can even control the drone via the FlyingSee App for Android and iOS devices.
The Altair Aerial AA808 Plus comes with two batteries that can give you a flight time of 15 minutes each for a total of up to 30 minutes in the air!
However, this quadcopter comes with its downsides. It lacks some valuable features that some drones in this price range have such as the Return Home function.
13. MJX Bugs 2SE (Special Edition)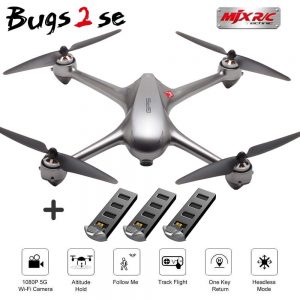 The MJX Bugs 2SE comes equipped with a 1080P HD camera that can feed live images directly to your smartphone through a 5G WiFi connection. The quality of the shooter is excellent, but it lacks image stabilization. If you can learn to fly slow and steady, this drone is relatively easy to get the hang of. 
The flight time of the MJX Bugs 2SE can reach up to 18 minutes with an impressive range of 500 meters. It comes packed with key features like Return to Home, Waypoint, and Follow Me Mode. 
If you have no experience with quadcopters and want to try your hands on aerial photography, we highly recommend the MJX Bugs 2SE. It is truly worthy of being in our list of the best drones under $200. 
14. Sky Viper V2400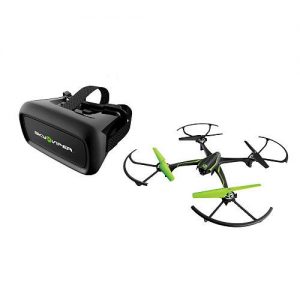 The Sky Viper V2400 is one of the few quadcopters under 200 dollars that comes with an FPV headset. You will be able to view the flight first-hand thanks to the included goggles, all for less than 150 dollars!
The Sky Viper V2400 even comes with stylish flight stick clips that you can attach to your smartphone and use to control the drone. You can also download the Sky Viper app for Android and iOS to do tricks and stunts like barrel rolls and flips with your quadcopter!
It even has features you do not expect for the price like Auto Altitude, Auto Hover, and Auto Land! You will be even more impressed with the sensitivity adjustment functionality found in the middle of the controller. As you get used to flying the drone, you can modify the sensitivity and feel the difference immediately. 
Overall, we think the Sky Viper V2400 is among the coolest and best drones under $200 because of its unique features.
15. Syma X8HG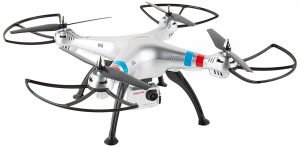 The Syma X8HG is the most inexpensive drone on this list. With the extra cash, you can get a solid action camera to go with it!
The X8 series of quadcopters has been a staple in the hobby for years. These drones are highly durable and easy to learn, which makes them suitable for beginners.
Despite being on the side of cheap drones, The X8HG is one of our picks for the best drones under $200. It comes with a decent HD camera and important features like altitude hold. You can pair it with a GoPro or other action cameras to achieve even better images!
Before Flying Your Drone…
After buying your first drone, it's normal to feel excited and test it out right away. Well, you can fly it around your home or backyard since there are no active limitations. But if you intend to fly the drone over huge areas beyond your home, state regulations will apply. 
The FAA or Federal Aviation Administration is the department assigned for imposing regulations on UAV flight. Don't worry – you can view the policies and procedures of FAA online. If you want to save time, you should get the exclusive B4UFLY app supported by FAA. With this app, you will see a visual representation of zones that allow routine drone flights.
Registering your drone takes only a few minutes of your time. Once the process is completed, you can now label your drone with the registration number. At all times, the registration number must be visible.
As a rule of thumb, you should also keep your drone flying below 400ft. This will avoid any future repercussions or airspace violations. To save time and hassles, you must take note of several restricted airspaces. The information is usually provided by FAA and UAV forums. 
Perhaps the most important thing of all is figuring out your reason for owning a drone. If the reason is purely recreation, then you probably won't venture into restricted spaces. Just follow the precautions mentioned above, and you won't have any problems. 
The Common Types of Aerial Drones
For many people, drones are just small flying machines without any classifications whatsoever. That's a normal misconception. Drones or UAVs have different classifications that can determine their usage and capabilities. As a drone owner, it's totally important to know about the basic types of UAVs.
Single-rotor Drones (Helicopter-style)
Highly similar to actual helicopters, single-rotor drones are considered as the next level of UAVs. Almost all drone enthusiasts begin with multi-rotor drones, moving to single-rotor variants as they gain experience. Basically, single-rotor drones are known for their high flying times and overall stability. They can remain afloat without losing altitude or power. You also have the option to power up these drones by batteries or gas. 
Single-rotor drones have numerous safety issues. Since the rotor is big, it can accidentally wound anyone. There have been some fatal occurrences which involved helicopter-like drones. To avoid getting wounded by a single-rotor drone, you need to have proper UAV training. You need to know how to assemble and disassemble the drone, and you have to be aware of the general airspace that you want to operate on. If you're a beginner, don't start with helicopter-like drones. 
Multi-rotor Drones (Quadcopters)
UAV enthusiasts and professionals usually start with multi-rotor drones. These drones have multiple rotors and can be classified into tricopters, quadcopters (most common), hexacopters, and octocopters. Multi-rotor drones are generally cheaper than other UAVs and won't burn a hole in your pocket. They also require little accessories and extra gadgets. You can even use your smartphone to maneuver a multi-rotor drone.
Despite its affordability, a multi-rotor drone is filled with many downsides. One major downside is the limited flying time. With their simple batteries, multi-rotor drones can run up to 30 minutes. Some brands can reach an hour of flight time, but this is a rare occasion. Durability is another issue. Since multi-rotor drones have smaller frames, they tend to wear down easily. The rotors are also vulnerable, as well as the adjacent parts. You need to dig deep if you want to find the best multi-rotor drone in the market.
Fixed-wing Drones
Just like a fighter plane from the distant future, a fixed-wing drone can bedazzle any UAV enthusiast. It features a wing-like design and doesn't rely on rotors to stay afloat. Once a fixed-wing drone takes flight, it will stay on its course until the energy runs out. The drone is usually guided by a powerful remote control. 
Unlike basic quadcopters, fixed-wing drones can fly for many hours. However, operating a fixed-wing drone requires proper training and preparation. This is the reason why you're likely to see fixed-wing drones in commercial surveillance operations and not aerial photography. A fixed-wing drone is also expensive, since it will require advanced parts and more accessories. So, make sure that you have a solid commercial plan before buying a fixed-wing UAV!
Hybrid Drones
Hybrid drones are the best models that the market can offer nowadays. There are many kinds of hybrid drones such as fixed wing VTOLs and advanced prototypes with rotors. Technology paved the way for hybrid VTOLs, attracting enthusiasts and professionals alike. 
While hybrid drones are remarkable add-ons to your collection, keep in mind that they're somehow expensive. You shouldn't pick hybrid VTOLs as part of your starter set. As you gain more experience and traction, you'll be able to shop around for the most popular hybrid drones ever made. 
Top Qualities of the Best Drone
Picking a drone is not the same as shopping around for sneakers. There are lots of factors and parameters involved, and you can never go wrong with an in-depth research. 
To save your time, here are the top qualities of the best drone:
Affordability
An affordable yet reliable drone is a solid winner. You don't need to waste money on a drone that couldn't function at least above the expected standards. To find the most affordable drones, you should scan reviews, blogs, and even well-curated recommendation lists. 
Ideal price range of small drones: $150-400
Flight Stability
A stable flight capability is as important as power consumption. This factor is routinely under the control of the pilot, but some drones are known for having weak frames. If a drone feels wonky during flight, yet all the basic stuff are covered (weather, Wi-Fi setup, your own flying skills), then it's not worth your time. Sooner or later, that drone will collapse under its weight and crash incessantly. Then you need to buy a new drone – wasteful!
Unfortunately, you can't test out a drone online. Try to look for user-made video reviews meant to determine the drone's flight stability. Videos are more reliable because they'd let you see what the buyer is experiencing.
Power Consumption
Drones typically use batteries to fly. While the quality of the batteries matters a lot, the drone's power consumption rate is another key factor. Multi-rotor drones consume small rates of power because their capacities are also minimal. Larger drones have bigger capacities and can fly for more than an hour.
An excellent way to find out about a drone's power consumption is to scan reviews. Buyers indicate how long the drone will fly or how often it needs to charge. Still, if you care about detailed information, you can read the facts presented by the manufacturer.
Complexity
A drone with complicated parts is not fun to use, unless you're already experienced with UAV flight. Since you're already looking for best drones under $200, you probably want to experience flight right away. Therefore, a drone that can fly from the get-go is your best shot.
It's possible to know about the drone's complexity by reading about its features and capabilities. Online merchants like Amazon show detailed information about their products, as well as some useful reviews. Try to juggle the information presented by these sites so that you can make the best decision as soon as possible.
Important: you don't have to buy many accessories to enter the hobby of drone-flying. Just the starter drone kit is enough. But if budget is not a problem, you can purchase as many accessories as you want!
Conclusion
It can be overwhelming to buy your first drone, let alone operate one. With the wealth of information that you've read above, you will now understand how to buy a drone. Aside from that, you might even see the big picture of UAV ownership. Perhaps someday you can level up your game and move on to large commercial drones. Now that's a nice goal for any UAV hobbyist!
Recap: List of the Best Drones Under $200