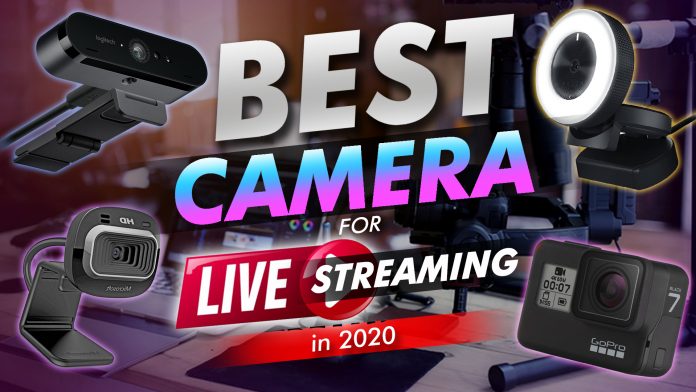 The new normal is keeping people inside, and for a lot of us, we see this as an opportunity to finally start streaming on Twitch. So here's a great list of the best cameras for streaming to start your streaming career on the right foot. Whether you're using these cameras for Twitch or you just want better video quality for your online classes or meetings, all of these will serve you well.
The Best Cameras for Streaming in 2021 at a Glance
Logitech Brio Ultra HD Pro | Best Streaming Camera Overall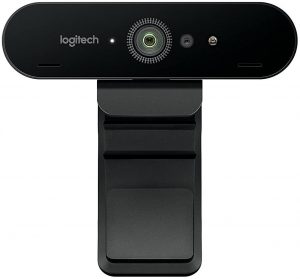 Resolution: 4K, 1080p, 720p | FPS: 30 fps @ 4k, 60 fps @ 1080p, 90 fps @ 720p | FoV: 90 degrees | Size: 63 x 36 x 19 mm | Weight: 44g
The Logitech Brio Ultra HD Pro is the gold standard of webcams. Its top-tier specs rival even the best smartphone cameras to give you the best performance you could ever demand from a webcam.
The Brio is capable of recording 4K 30 fps. You can stream at 1080p 60 fps as well, matching the frame rate of the game you're streaming. There's even a 5x digital zoom that can crop a 4K image to 1080p if you need that function.
The viewing angle is adjustable to help you keep everything within frame, with your options being 65, 78, or 90 degrees. If you're using a Windows PC, the Brio can use the Windows Hello facial recognition system.
If you prefer super-smooth video without excessive bandwidth requirements, the Brio is also capable of 720p 90 fps. This webcam brings HDR video that improves contrast and a clip to secure it onto your monitor. There are two omnidirectional mics for full audio range, but we recommend you pick up a separate streaming microphone to have the best possible quality.
Razer Kiyo | Best Streaming Camera with Integrated Ring Light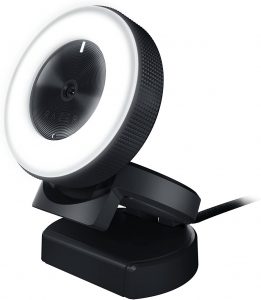 Resolution: 1080p, 720p | FPS: 30 fps at 1080p, 60 fps at 720p | FoV: 90 degrees | Size: 69 x 69 x 48 mm | Weight: 200g
Lighting is something a lot of streamers overlook, trusting that their room lights will suffice. But it often just leads to grainy footage that keeps viewers from seeing a streamer's genuine reaction. The Razer Kiyo is a one-step solution for streamers who'd rather have one webcam do all the work and not have to buy any other lighting equipment.
The Kiyo's integrated ring light is made up of 12 LEDs surrounding the camera. The brightness is adjustable, so you can pick the correct lighting for your skin tone. The lights have a luminosity of up to ten lux with a 5600K color temperature. It should help prevent an oily face from mirroring the screen to give you a more professional-looking stream.
The Kiyo can stream at 1080p 30 fps or 720p 60 fps, the latter being the most desirable resolution for a face cam. It's a bit larger and heavier than your standard webcam, but the clip is stable enough to secure it on top of your monitor.
The Kiyo, like many Razer products, is quite pricey. We also wish it featured a 3.5mm jack for our microphone to streamline the setup process. On the other hand, the integrated ring light is just way too useful to pass up on this product.
Logitech C922 Pro | Versatile Camera for Streaming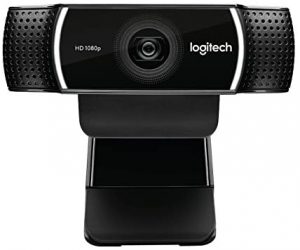 Resolution: 1080p, 720p | FPS: 30 fps at 1080p, 60 fps at 720p | FoV: 78 degrees | Size: 44 x 95 x 71 mm | Weight: 162 g
If you want a full HD camera for streaming that won't break the bank, the Logitech C922 Pro is a versatile camera that should suit many streamers – casual or professional – just fine.
1080p streaming at 30 fps is nothing to sniff at here. Streaming at this quality is more than enough for most streamers, considering that audiences often prefer to stream at either 720p or 1080p. If 30 fps is not enough for you, then you can choose to lower the resolution to 720p and stream at 60 fps.
The C922 Pro features dual microphones, which, with correct noise-cancellation software and adequate soundproofing, eliminates the need for a dedicated streaming microphone if t. Of course, it won't beat a Shure microphone, but it's a good jump-off point for streamers who are just starting out.
Another fun thing about the C922 Pro is the option to either clip it to your monitor or attach it to a tripod if you have a particular viewing angle in mind, making it ideal for first-person shooter streamers who use the mouse and keyboard angle. The C922 is a great all-rounder and an excellent choice for your first streaming camera.
Sigma fp | Camera for Streaming with Interchangeable Lenses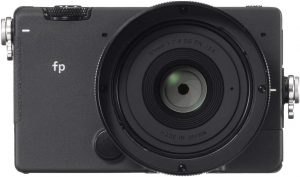 Resolution: 4K, 1080p, 720p | FPS: 30 fps at 4K , 60 fps at 1080p and 720p | FoV: depends on lens | Size: 112.6 x 69.9 x 45.3 mm | Weight: 422g
Hold on – isn't this a mirrorless camera? Yes, but it's one that works natively as a webcam when connected to a USB port. The Sigma fp is one of the best streaming cameras if you're into photography and care a lot about image quality.
The Sigma fp essentially offers a two-in-one deal. It's a camera that can work either as a webcam or a daily driver for photography.
Unlike using a webcam, you won't need a capture card to bring video from your camera to your stream. Instead, you're likely to invest more in camera equipment, such as extra lenses.
For people who stream and do video content, the Sigma fp is a great choice. This camera features a modular system that makes it versatile enough to replace your webcam, phone camera, and video camera in one fell swoop.
One of the benefits of choosing the Sigma fp as your streaming camera is its capability to add cinematic flair to your stream. The full sensors allow for a massive depth of field that can be achieved with the right lens. Want bokeh for your stream? You can pick up a f/1.2 lens for beautiful blurred effects and impeccable low-light performance.
Microsoft LifeCam HD-3000 | Best Budget Camera for Streaming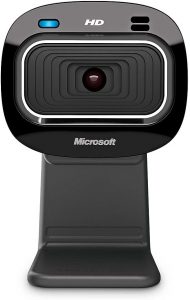 Resolution: 720p | FPS: 30 fps | FoV: 60 degrees | Size: 44x 39 x 109 mm | Weight: 90.7 g
Now you don't exactly need a webcam with 4K resolution for streaming (unless you totally want one.) If you're only starting out and need a decent camera, the 720p-capable Microsoft LifeCam HD-3000 is an excellent choice to get your stream up and running.
This outstanding product from Microsoft proves that you don't need to spend a lot for high-quality streaming. Even if it is limited to 720p 30 fps, it's more than enough to serve as a high-definition face cam. In fact, it's much more preferred as it reduces bandwidth consumption, resulting in less stutters.
A digital zoom function is available if you need it, but we advise against using it as it pixelates the image and heavily affects your stream's quality. There's a manual focus option as well, and it does a good job blurring out your background to emphasize your face.
The LifeCam HD-3000 features automatic face tracking, low-light adjustment, and a built-in mono microphone. It also has a clip that can work either as a stand or as an attachment to your monitor. This camera is versatile enough to be used for different angles, making it ideal as your secondary or tertiary camera.
GoPro Hero7 Black | Compact 4K Camera for Streaming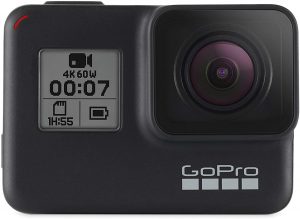 Resolution: 4K Ultra HD with HDR, 1080p, 720p | FPS: 60fps @4K, 1080p, 720p | FoV: 120 degrees, adjustable | Size: 227 x 68 x 102 mm | Weight: 446g
There's a few reasons why you'd want to get an action camera such as the GoPro Hero 7 as a streamer:
You want a high-quality video with a wide FOV;

You do IRL streams; or

You like going out on adrenaline-filled adventures every now and then.
If you fit into any of these three categories, then the Hero 7 might be the camera you've always needed.
What you're investing in with the Hero 7 is not its ruggedness and all the bells and whistles that come with an action cam; you're going for its excellent image quality. This camera can record 4K and 1080p video at a steady 60 fps, perfect for recording IRL content. There is a downside to this camera, particularly the streaming resolution being limited to 720p. On the other hand, the camera's sensors and optics more than compensate for this shortcoming. Its super-wide FOV lets you be creative with the shots you take for your stream.
The Hero 7 is also a great choice for content creators who record gameplay and video for later posting. The 1080p and 4K capability ensure great-looking, professional footage. Overall, the Hero 7 is a versatile camera for streaming that you can also bring outdoors.
Panasonic HC-V770 | Compact Camcorder for Streaming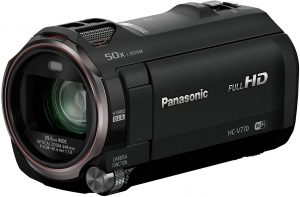 Resolution: 1080p with HDR | FPS: 120fps @ 1080p | FoV: n/a | Size: 65 x 139 x 77 mm | Weight: 354g
The Panasonic HC-V770 is one of the best cameras for streaming and producing YouTube videos. Its compact design, noob-friendly interface, and 1080p recording resolution with HDR make it one of the most affordable high-powered cameras. If you're going for great quality and ease of use, this is the ideal camcorder.
The HC-V770 is amazing for recording and streaming at a resolution of 1080p 120 fps. It has a flip display that lets you fine-tune your focus and framing. It can also attach to any tripod, allowing you to achieve accurate angles with relative ease.
Another cool feature of this camera is the ability to use a smartphone as a second camera. Connect it to your phone via USB, and the camcorder instantly detects it as a second camera, transmitting both video feeds to your PC. If you're working with two camera angles (e.g., face and mouse/keyboard), this is a worthy low-cost option.
The fact that it's a camcorder means it can do more than a dedicated webcam. Use it to record literally anything: IRL streams, vlogs, your workout routine, or even your pets roughhousing. The possibilities are truly endless!
Mevo Plus | Dedicated Webcam for Streaming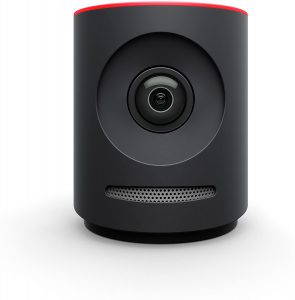 Resolution: 4K, 1080p | FPS: 30fps | FoV: 150 degrees | Size: 63 x 50 x 60 mm | Weight: 142 g
The Mevo Plus looks like a wireless Bluetooth speaker, and you'd be forgiven to think that. The cylindrical design might seem unusual, but it's explicitly built to be a live streaming camera that can broadcast huge live events at the best quality possible.
This is a monster of a camera that can record at 4K and stream at 1080p 30fps, thanks to the Mevo's Sony CMOS lens. The ultra-wide 150-degree view can capture the entire background or the whole stage if you're streaming a live event. There's a built-in stereo microphone that sounds very good and eliminates the need to spend extra for a dedicated streaming microphone.
One of the coolest features of the Mevo Plus is smartphone control. The companion app for iOS and Android lets the camera zoom in and pan around to give the illusion of broadcasting through several cameras. If your streams involve two or three people in a frame, you can play around with angles and framing to make your streams look more professional.
Frequently Asked Questions
What to look for in the best cameras for streaming?
It's dreadfully easy to drop so much money into cameras, lighting, and audio equipment to create the perfect streaming setup. But not a lot of people can justify this kind of expense and end up buying a crappy old camera and producing low-quality streams. You must learn to identify what makes the best cameras for streaming, so you don't make that kind of mistake!
Budget. For many people, a product's price is often the deciding factor. If you're on a constrained budget, the Microsoft LifeCam HD-3000 is great to start streaming with. It can capture 720p video that's more than enough for people viewing streams through desktop or mobile.
If you can spring for a bit more than that, the Logitech C922 Pro bumps up your resolution to 1080p, leading to better overall image quality.
Quality. Sometimes mirrorless cameras perform better than dedicated webcams when it comes to streaming. If you want a more professional look for your broadcast, investing in a mirrorless camera, such as the Sigma fp, can add a more cinematic feel to your video field.
Ease of use. Not all streamers have video production training. Some of us just want to plug in a device and have it work instantly. Cameras such as the Razer Kiyo or the Logitech Brio come with onboard lights, or excellent light correction features to drop the need for external lighting.
What's the best camera for Twitch in 2020?
In terms of sheer power, the Logitech Brio is the best streaming webcam available right now. The high resolution makes it ideal for streaming, and it looks even better when used for work meetings. Not even your CEO has a webcam this good.
If versatility is a concern, then the action cam GoPro Hero 7 is a great choice. Whether you need a camera for your streaming setup or to capture your outdoor adventures, the Hero 7 won't disappoint.
Budget seekers might want to go for the Logitech C922 or the Microsoft LifeCam HD-3000. These are high-quality budget options that deliver decent image quality while keeping your bank account relatively intact.
If you host a talk show on Twitch and find yourself inviting guests from time to time, something like the Mevo Plus is a great option. Someone in the background can use a smartphone to control the camera's angles while you concentrate on the content.
Do I need a green screen for streaming on Twitch?
Many streamers buy a green screen for their streams to eliminate an unattractive background or show a custom visual as a backdrop. That does not mean that you have to, of course! Cool backgrounds are nice to have, but your audience cares more about your content. If you have a messy room and don't want your viewers to see it, just clean up. A green screen is a great tool to have in your streaming arsenal, but it isn't necessary, especially if you're on a tight budget.
What's the best camera angle for Twitch?
There are generally three types of camera angles seen on Twitch. Most streamers try to capture their "good side," while some point the camera at their hands to do the… well, talking, for lack of a better term.
Front-facing. This angle has the camera pointed directly at you, showcasing a full view of your face. It works well for most people and is easy to set up – just clip the webcam onto your monitor or raise the tripod behind your screen.
Side-facing. This is for people who have a "good side." In this setup, the camera is placed on either side, capturing the streamer's profile. This is great for people who want a part of their face hidden or those who want to look mysterious.
Mouse and Keyboard. Mostly used by FPS or RTS streamers, the mouse and keyboard camera angle records hand movements to showcase a player's mechanical skills when performing high-level techniques, such as flick headshots or APMs.
For most people, the front-facing camera angle is fine, while the side-facing and mouse and keyboard angles are primarily a matter of preference and dependent on the type of game. Try recording yourself in all of these angles to see which one works for you.
Recap
2. Razer Kiyo
4. Sigma fp
8. Mevo Plus
Wrap Up
That's it for our list of the best cameras for streaming. Whether you're using this for professional streaming, online classes, or work-from-home meetings, you can be sure that these cameras will add tons of value to your video quality. These can help make your stream (and your video calls) look a lot more professional than using a dinky 480p camera.
Which camera is the best for you? Let us know in the comments section below!