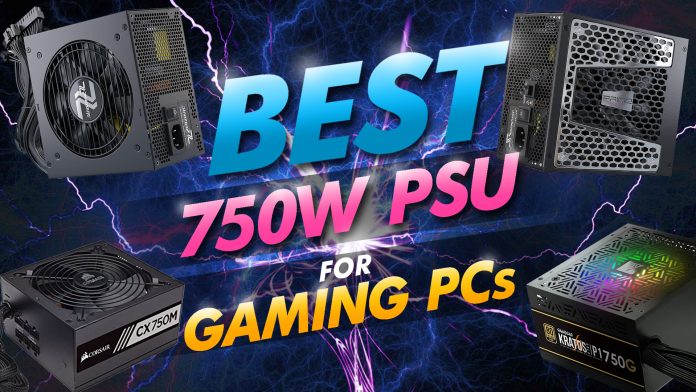 Building a PC is simple: you need only a few parts to get one up running. Many PC gamers tend to spend a lot on the best motherboards, best CPUs, and best graphics cards to run the latest games. However, what many people skimp out on is a proper PSU. Many "pro gaming rigs" are running on cheap, hastily manufactured PSUs that are prone to malfunctions and risk compromising every other component in your PC.
How do you solve that? Picking up the best 750W PSU for your gaming PC is the easiest answer. The PSUs on this list come from the best, most reputable brands and are rated to be as safe as possible against any and all malfunctions. Read on and find the best PSU for your rig!
The Best 750W PSUs at a Glance
What To Look for in the Best 750W PSU for Gaming
How do you know if you're looking at a 750W PSU that's worth your money? You must first consider what your power supply will be, well, powering. Are you building a mining rig? A high-powered workstation? An office computer, or a hardcore gaming PC?
Know Your Wattage Requirements
PCs don't require PSUs that produce more potential power (its wattage) than it needs to. Thankfully, you can calculate how much power your system will need and find the capacity point that meets that demand. There are calculators that provide rough estimates of how much power your setup will need, such as:
Cooler Master Power Calculator

Seasonic Wattage Calculator

MSI PSU Calculator

Newegg PSU Calculator
You Don't Really Need a 1000W PSU
Five years ago, all high-end graphics cards were incredibly power-hungry. Back in those days, 1000W PSUs were the norm. However, NVIDIA's recent architecture has cut power costs down so immensely that even two RTX 2080s running simultaneously won't kill a 750W PSU right away. In fact, if you bump up to 800W, you'll have a bit more room to overclock your CPU, too.
It Has To Fit Your PC Case
More than everything else, your PSU has to fit your ATX or SFX case. Check its physical dimensions before you add it to your cart. For standard ATX cases, most ATX form factor PSUs will fit right in. But higher wattage PSUs are sometimes longer than the standard 5.5 inches of most PSUs. Check if your case's PSU clearance is enough to fit your choice. Smaller and slimmer cases might require SFX power supplies.
Consider Modular Power Supplies
Tiny cases and people who are obsessive about cable management might want to get a modular power supply to hide as many cables as possible. If you have a lot of room behind your motherboard, or if the chassis doesn't have windows or glass sides, cable wrapping and some smart positioning can conceal messy wiring. However, if your system doesn't have adequate space, having a modular power supply that lets you plug in only what you need and is the best solution for space management.
The Best 750W PSUs for Gaming PCs
Seasonic Prime 750W Titanium | Overall Best 750W PSU on the Market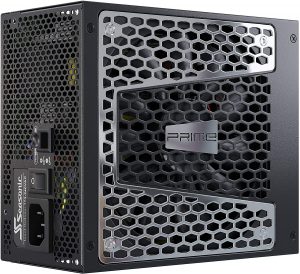 Power: 750W Form Factor: ATX Efficiency: 80 Plus Titanium Modular: Yes
Seasonic has two Titanium rated PSUs: The Prime Ultra Titanium and the Prime 750W Titanium. While both are high-performing PSUs in their own right, we're choosing the Seasonic Prime 750W Titanium because of its equivalent performance to the pricier Prime Ultra.

Great performance, high efficiency, low working temperatures, excellent load regulation, good ripple suppression, and high-quality internal components make this the best 750W PSU on the market. Being rated 80 Plus Titanium on its efficiency does show remarkable improvement over any other PSUs in this list.

It may be one of the most expensive consumer-grade PSU on the market today, but its performance is unparalleled. And you get so much more with what you pay for, thanks to an extended 12-year warranty. Expect to keep using this PSU as you upgrade your rig even further with higher-end video cards and overclocked CPUs.
Thermaltake Smart BX1 RGB 750W | Best Non-Modular 750W PSU for Budget Gamers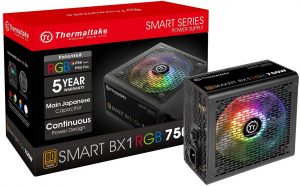 Power: 750W Form Factor: ATX Efficiency: 80 Plus Bronze Modular: No
For people who want a 750W PSU on the cheaper side but won't fry your PC after a few weeks from purchase, the Thermaltake Smart BX1 RGB 750W is ideal. It's an affordable PSU that isn't modular but provides great performance for what it's worth. What sets it apart from many of the PSUs in this list is how pretty it is – it comes with built-in RGB lighting on the fans for an extra fancy look. If that's not your thing, you can always turn it off!
This PSU has quality components with excellent efficiency capabilities. Even though it's rated as an 80 Plus Bronze PSU, its efficiency gets super close to the 80 Plus Gold standard. It has good load regulation and comes with ripple suppression, which is lackluster but works nonetheless.
One thing that might turn you off about this PSU is the lack of a semi-passive mode, but as it stands, the PSU runs very quietly. Thermaltake offers a five-year warranty, a luxury for a budget power supply such as this one. Overall, if you're looking for the best 750W PSU at this price range, Thermaltake has you covered by giving you a PSU that performs as well as it looks.
Corsair CX750M | Affordable Semi-Modular 750W PSU for Gaming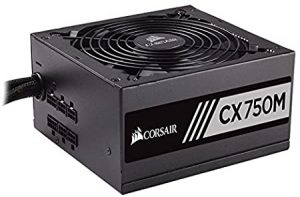 Power: 750W Form Factor: ATX Efficiency: 80 Plus Bronze Modular: Semi
Corsair's CX750M PSU is one of the most popular budget power supplies on the market, and for good reasons. Even without RGB, it sets itself apart by providing incredible performance, which is unexpected for something at this price point. Some of the factors that make this PSU stand out include excellent load regulation and super ripple control. There are not many issues in terms of load regulation, even while testing it in a hot environment.
Its efficiency is well within the 80 Plus Bronze certificate it brandishes. It does not offer a semi-passive mode, yet it remains pretty quiet even under heavy load, a testament to its efficiency. Overall, we love this PSU and find it suitable for even the most demanding overclocked rigs. It might be a tad more expensive than Thermaltake's Smart BX1, but since it's semi-modular, it offers greater value. For people who like clean builds with neat cable management, pick this one up.
Corsair RM750x | Mid-Range 750W PSU for Gaming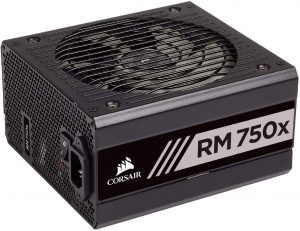 Power: 750W Form Factor: ATX Efficiency: 80 Plus Gold Modular: Yes
For people with a bit more money to blow, a mid-range PSU like the Corsair RM750x is a one-all, be-all 750W PSU for your rig. Amazing performance, superb efficiency, and top-tier load regulation with great ripple suppression define this PSU.
Low operating temperatures up to a 600W load allows this PSU to be completely silent. The semi-passive mode works up to 150W, but it won't reach the loud 20dB fan noise until it hits 600W. And even if you use it up to 750W load, the noise is still below 30dB, very impressive as far as PSUs go.
Corsair goes a bit more extra at this price range, giving you a ten-year warranty period, which will likely last beyond how long you plan to use your rig. If you're going for a high-end, power-hungry PC rig with all the RGB and overclocked CPUs in the world, this is a solid PSU that won't quit on you.
Corsair HX750i | Entry-Level Platinum 750W PSU for Gaming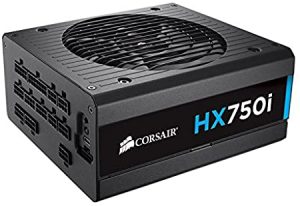 Power: 750W Form Factor: ATX Efficiency: 80 Plus Platinum Modular: Fully
If you want the highest efficiency at the lowest price, Corsair's 80 Plus Platinum rated HX750i PSU is the best choice. Extremely efficient, this PSU adheres to all the standards of Platinum efficiency, with the highest-quality internal components for performance that can't be beaten.
Load regulation and ripple suppression are impressive, as well as its semi-passive mode that automatically turns on when the PSU's load is above 300W. Below 300W, and you won't even hear anything from its fan. Under heavy load, the HX750i's sound reaches a comfortable 30dB, which is still remarkably low. It's something your streaming microphone won't pick up, even when you're playing very demanding games.
It comes with Corsair's ten-year warranty, which more than outlives most gaming rigs. This PSU is a top choice for people who want high-powered budget rigs – an option many PC builders forget exists. It's a great entry point into higher-end PSUs but is still not the best.
Corsair SF750 Platinum | 750W SFX PSU for Gaming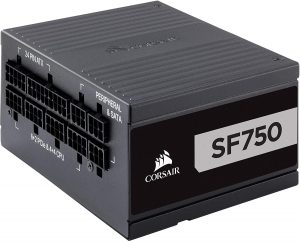 Power: 750W Form Factor: SFX Efficiency: 80 Plus Platinum Modular: Fully
For people who want to build small form factor PCs, don't worry, we haven't forgotten about you. Corsair's SF750 Platinum is an SFX PSU with an 80 Plus Platinum efficiency rating. It is fully modular and packs as much punch as its bigger ATX brothers.
While it's a bit on the premium price point, its performance is nothing to sniff at. It's built to support the highest-specced small form factor PCs. While there are other SFX PSUs like the SilverStone SX700-G that provide more than 1kW of power, it's hard to beat the SF750's performance in load regulation, transient response, and ripple suppression.
Pushing that much electricity within a small PCB required some compromises on the internals. But considering how small this PSU is, it's an engineering feat that we just can't fault. It's even supported by a seven-year warranty for your peace of mind.
Seasonic FOCUS Plus SSR-750FX | Mid-Range 750W PSU for Gaming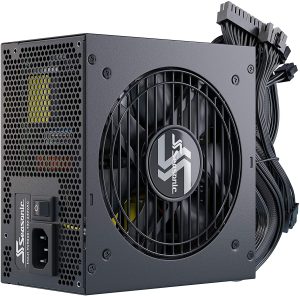 Power: 750W Form Factor: ATX Efficiency: 80 Plus Titanium Modular: Yes
For those who want an alternative to the RM750x, the Seasonic FOCUS Plus 750 is a high-quality option. It's as strong as Corsair's PSU but at a much lower price. It is a 750W PSU rated 80 Plus Gold, with a fully modular configuration. Great performance and efficiency define this PSU.
It trumps the RM750x in load regulation, and its ripple suppression is on par with many mid-range PSUs. It turns on its semi-passive mode at 200W, enabling it to run quietly at up to 600W. It's a bit noisy when it reaches max load but likely won't be any louder than all your other fans. Operating temperatures are great, with the PSU not breaking a (metaphorical) sweat even in bad ambient conditions.
Seasonic also decided to go the extended warranty route: ten years, to be exact. Overall, we think the Focus Plus is a great alternative to more high-end Gold rated PSUs. It's more than capable of handling even the most power-hungry rigs at a significantly lower price than its competitors.
Cooler Master MasterWatt 750W | Best Budget 750W PSU for Gaming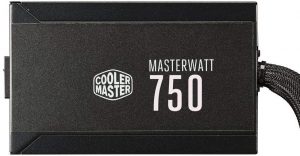 Power: 750W Form Factor: ATX Efficiency: 80 Plus Bronze Modular: Semi
Those who are building powerful rigs on a budget tend to forget major brands and choose the cheapest PSUs they can find. Some of those cheaper PSUs may serve you well, but given that it is a core component of your rig, it is something you should never, ever skimp on. Otherwise, you'll risk frying every other component of your PC.
Cooler Master saw this need and came up with the MasterWatt 750W PSU, their most affordable 750W PSU. It's our favorite PSU for budget builds. While it still might not reach true "budget" pricing compared to many Chinese OEM brands, its 80 Plus Bronze rating, semi-modular design, and five-year warranty make it a safer bet compared to cheaper alternatives.
Gamdias Astrape P1-750G | Best RGB 750W PSU for Gaming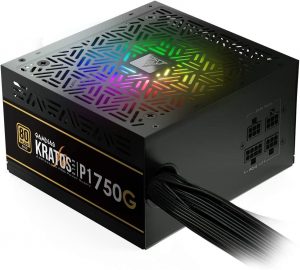 Power: 750W Form Factor: ATX Efficiency: 80 Plus Gold Modular: Yes
Ah, RGB. PCMR just can't get enough of it – so much that even PSUs have to have rainbow vomit lights as well. And one of the best RGB PSUs you can get right now that looks good and won't quit at the slightest power surge is the Gamdias Astrape P1-750G. If you're on a quest for that perfect RGB build, we highly recommend this one.
The Astrape P1-750G features high-quality Japanese capacitors, which are higher in quality compared to any other capacitors available. 80 Plus Gold certification gives this unlikely PSU a very good efficiency rating. And have we mentioned that it's modular?

But of course, we come here for the RGB. It features LEDs on the fan with 26 different lighting effects. And it does look good, but it doesn't sync with your other peripherals. So if you want perfect lighting synchronization, you'd have to adjust everything else to it or let it be a weird little quirk on your build's aesthetics.
While not the most recognizable brand in the realm of PSUs, Gamdias wants to earn your trust with its generous ten-year warranty. Amazing value, great looks, and uniqueness make this product a very attractive option for RGB enthusiasts.
Best 750W PSU for Gaming | Frequently Asked Questions
Should I Get a Cheap 750W PSU?
Picking up a branded PSU instead of a cheap one is a risk-averse choice. PSUs by themselves are pretty inexpensive, to begin with, and cheaping out on it may cause your more expensive peripherals to fail and brick. Cheap, unknown OEM PSUs put you at a higher risk because their quality standards are lower to accommodate lower prices. Cheap PSUs from established brands with low performance are also risky and have higher failure rates.
Pricier PSUs come with warranties, aftermarket support, and generally better build quality than less expensive variants. Cheap always means compromises on quality. To truly protect your rig, choose a high-quality PSU from a reputable brand – we promise you won't be disappointed.
How Much Can a 750W PSU Handle?
A lot. CPUs, GPUs, and even RGB lights have become a lot more power-efficient over the years. Instead of needing a 1 kW power supply like the old days, you can run an overclocked CPU, two GPUs, and a ton of RGB lighting through a 750W PSU. Anything beyond that is overkill. You'll only truly need anything above that if you're building a mining rig.
Is a 750W PSU Enough for Overclocking?
A 750W PSU is enough to overclock an RTX 2080 and an i7-9700K. Since components are a lot more power-efficient than they were a few years ago, it's easier for PSUs to distribute power to all these components. In general, 200W powers the CPU and motherboard, 250W for the GPU, 75W for every other component, and overclocking will need at least 100W – a total of 625W. You can push that a bit further by adding another GPU at stock clock speed, and you'll still be fine.
Is a 750W PSU Enough for an RTX 2080 Ti?
A 650W PSU is more than enough to power an RTX 2080 Ti and an i9-9900K processor without overclocking. Bringing it up to 750W allows a bit more headroom for your i9-9900K and RTX 2080 Ti to be overclocked if you so desire. But to protect both your PSU and your components, try not to overclock unless you're ready to assume the risk of frying your entire rig.
Is a 750W PSU Overkill?
A 750W PSU, even if it's powering a late-generation build, such as an i5 paired with a GTX 1080, is still not overkill. You will likely be upgrading your parts in a few years anyway, and your PSU will still be able to keep up with the changes in hardware. Therefore, if you're buying a PSU first before improving other parts (as you should), then a 750W PSU is worth it. This is extra true if you plan to build a monster gaming rig down the line.
Which 750W PSU Should I Get?
Right now, we highly recommend the Seasonic Prime 750W Titanium, an 80 Plus Titanium certified 750W PSU that performs well, doesn't cost an arm and leg (as far as PSUs go), and provide overall reliability, as well as a decently long warranty. For people who prefer a bit more RGB in their builds, the Gamdias Astrape P1-750G is your best choice. Japanese capacitors and programmable (somewhat) RGB lighting make it an attractive alternative.
Should I Get a 750W PSU or an 850W PSU?
Anything beyond 750W is too much for gaming PCs unless they will double as a mining or streaming rig. 850W is a great choice if you want future-proofing and expect more power-hungry PCs to come in the next couple of years. But for most people, especially those that don't plan to overclock their computers, 750W is more than enough.
Wrap Up
PSUs have become as efficient as the parts they power, and 750W is the gold standard when it comes to the best PSUs for gaming. It's the goldilocks zone of PSUs, pumping out enough power to run even the most demanding gaming rigs. If you're building a PC that you're going to use for the next five years, a 750W PSU should serve you well.
Recap: Top 750W PSUs in 2020