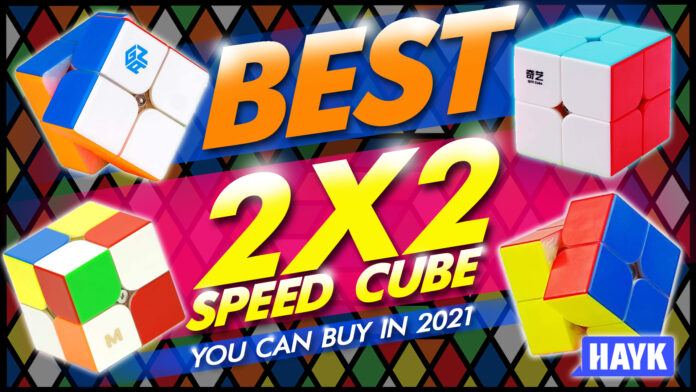 Speed cubes are specifically designed for individuals who aim to complete the Rubik's cube as quickly as they possibly can.
Over the years, more and more speed cubes of higher dimensions have become available in the market. But even though there are a lot of 2X2 speed cubes you can find in the market these days, only a few are truly considered great as not all manufacturers have your best cubing experience in mind.
When performing speedcubing, the last thing you want to happen is to get stuck or worse, popup. In this article, we will talk about the best 2X2 speed cubes you can get today and even cover the most important characteristics you should keep in mind when shopping around to get the best 2X2 speed cube for you.
Best 2X2 Speed Cubes: Get More than 2X2 Top Speed with These Top-Rated Cubes

1.
BestCube Qiyi S 2X2 Speed Cube
Great anti-pop technology for hardcore speedcubers
Cube size: 51 mm x 51 mm x 51 mm | Cube weight: 65 g | Stickered or Stickerless: Standard Stickerless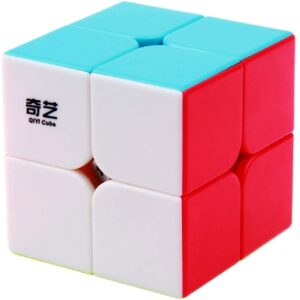 Starting off with the features of the Qiyi 2X2 Qidi S Version, you get a lot of great features from a very small budget. Because of what it offers at a relatively small price tag, we can easily recommend this to anyone looking for the best 2X2 speed cube in 2021.
The Qidi S Version has an improved anti-pop technology that ensures you perform excellent speedcubing without risking the cube from popping up in the middle of your execution. Furthermore, the Qidi S is designed to turn extremely fast without risking overshooting in doing so thanks to the smooth cornering feature it also utilizes.
Corner cutting is also great, making it difficult to pop when doing fast corner-cutting. All these executions are made possible and safe because the Qidi S is pre-tensioned and is lubed to give you the best control.
Note that the Qidi S isn't stickered and has a textured surface to make handling a lot easier.
The experience you will feel when speedcubing the Qidi S Version is smooth to give you good control overall. The layers also perfectly lock in position to give you the ultimate cubing control, resistance, and accuracy.
The colors on the Qidi S Version are bright but are still soft enough to greatly increases your visibility to attain a faster speedcubing experience. Corner cutting feels really great as the cube utilizes a circular angle with optimized internal corners to prevent twisting ensuring a superior corner cutting experience.
Unlike poor-grade speedcubes in the market, this does not show any forms of lock-ups and pop outs. The soonest you get it out of the box, the cube is ready for use.
Note that the tension is also adjustable if you find it too tight. Just adjust the cube's tension until you find the perfect tension.
The cube has a frosted surface and is textured to improve your grip. Moreover, the cube also has a special artwork that prevents any scratches from daily use.
Overall, the Qidi S Version is easily one of the best 2X2 speed cubes we can highly recommend. But if you're looking for a smaller 2X2 speed cube, then keep on reading.
2.
GAN 249 V2 2X2 Speed Cube
Best cube for small-handed speedcubers
Cube size: 49 mm x 49 mm x 49 mm | Cube weight: 52 g | Stickered or Stickerless: Stickerless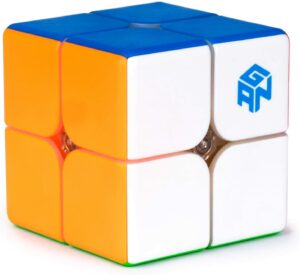 The GAN 249 V2 2X2 Speed Cube is lighter than the Qidi S BestCube Qiyi 2X2 speed cube. Apart from being smaller, it is also lighter at only 52 grams.
The surface of the cube has a honeycomb surface to give you great control when performing speed solving. The tiles also are patented fitted to give you perfect control when executing your turns.
If you have smaller hands, or you find the Qidi S to be too big for you, the GAN 249 V2 is the perfect alternative. You can also do speedcubing more efficiently on the GAN 349 V2 since you can adjust the tension to get the best corner-cutting control.
Unfortunately, the smaller size doesn't mean it is also cheaper because the GAN 249 V2 is a tad more expensive. But despite the higher price tag, the feature it holds justifies the higher price tag.
For example, the mechanism is specifically patented called GAN IPG or Iron-Plastic Ganscore, a specific mechanism that allows the cube to be easily fine-tuned. Apart from the easy-to-tune mechanism, the core is also known to be capable of handling great corner cutting ability.
The cube also has patented L-type clips that are stably inlaid to make sure faster turning is achieved and lockups are drastically reduced. With all of these features in one cube, the GAN 249 V2 is easily considered one controllable cube that surely means it's worth investing in.
Apart from the lubed mechanism that promotes both speed and control, the honeycomb surface on the cube offers an even smoother experience while being comfortable on the hand at the same time.
Yet one feature about the GAN249 V2 that is also worth a mention is the fact that it is stickerless. Paired with the honeycomb design and the lube and you have a smooth hand feel that makes your cubing experience all the more comfortable.
3. CuberSpeed QiYi
VALK 2 M 2×2
A heavier cube for big-handed speedcubers
Cube size: 51 mm x 51 mm x 51 mm | Cube weight: 78.4 g | Stickered or Stickerless: Stickerless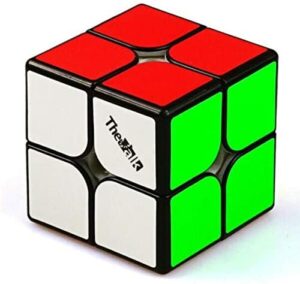 In the cubing world, Valk is a company well-known to produce some of the best puzzles that ever hit the shelves. In the case of the Valk 2 M, it easily dominates the top ranks, a reason why we specifically included this in our list of the best 2X2 speed cubes you can buy today.
It has to be noted that the Valk 2 M is the first 2X2 product in the iconic Valk line. The speed cube has a 51 mm x 51 mm x 51 mm dimension and is similar to that of the Qiyi 2X2 Qidi S Version. However, it is more dense and offers a very solid and substantial feel.
Unlike other speed cubes in the market, the magnet positions on the Valk utilizes a corver-edge magnet layout that is very identical to that of a 3×3 speed cube. The utilization of this feature gives the Valk 2M a smaller magnetic radius that gives off a very consistent feel throughout.
Apart from the magnetic layout, the Valk 2 M also uses an anti-stick design that prevents the tiles from getting any sticky feel from daily use. This ensures that you get smooth turning experience regardless of how old the speed cube is.
Furthermore, the parts of the Valk 2 M is also specifically optimized to make corner turning to work and coordinate effectively. The great corner cutting ability of the Valk 2 M together with the magnetic positions allow speedcubers to perform and execute efficiently.
Overall, the Valk 2 M is one solid pick for people looking for a very solid thanks to its innovative magneti layout that promotes stability and great control. Because of the great construction, your overall speedcubing experience will be fantastic.
4. CuberSpeed YJ MGC Elite M 2X2 Stickerless Speed Cube
Smooth turning with stability and convenience
Cube size: 51 mm x 51 mm x 51 mm | Cube weight: 71g | Stickered or Stickerless: Stickerless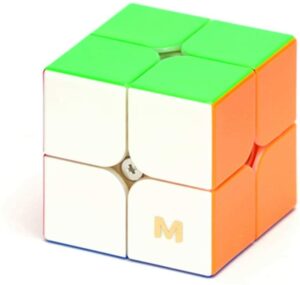 The YJ MGC Elite M proudly features that they are the first 2X2 to feature a center-edge magnet design that allows for smooth turning with stability and convenience in mind.
Investing in the YJ MGC Elite M will give you decent performance for the price. Now, some of you may even wonder and why this isn't at the top of the list but that is because which works for you is a very subjective thing.
One thing that makes the MGC Elite M unique from the rest of its competitors is how it utilizes a unique magnet positioning inside the cube. You will surely feel the difference when turning the cube.
Even though the feel and experience are things that matter when choosing the best speed cube, control and speed ratio still matters. Fortunately, both control and speed ratio on top of feel are things that this cube is able to provide you with when speed solving.
Even though the magnets stand somewhere in the middle, the design complements the mechanism and helps the layers to click well in their place when turning, giving you excellent control.
Apart from the magnetic mechanism, the MGC Elite M also feels really smooth on top of the mechanical "click" sound it makes. Finally, the corner cutting ability of the MGC Elite M is also on par with the rest of its features that guarantee the user an excellent fast cubing experience.
5.
D-FantiX Cyclone Boys 2X2 Speed Cube
Competition-grade cube that is highly affordable
Cube size: 50 mm x 50 mm x 50 mm | Cube weight: 87 g | Stickered or Stickerless: Stickerless
Just like MoYu, D-FantiX is a brand that has also been recognized and trusted in the cubing world. If you have been doing speed cubing for some time, you know you can rely on D-Fantix since they have been used in the world competitions.
The Cyclone Boys is a highly affordable option to anyone who wants to beat or improve their personal record without having to spend too much. The cube is a classic speed cube that utilizes high-quality ABS material to ensure the longevity of the cube.
Moreover, the cube features a stickerless design so you can guarantee that the colors will last and will not fade after a while of daily use.
Among the features it boasts are great rotation, center cutting experience, good control, zero pop, as well as fault-tolerant performance. Because it weighs 87 grams, people who have bigger hands will definitely find this to be just right.
The Cyclone Boys specifically use an anti-pop technology that works closely with the upgraded mechanism structure to ensure a smooth turning experience and great corner cutting without risking the possibility of the cube popping out under intense speed cubing.
Furthermore, the cube also comes pre-tensioned and is also lubed out of the box which means you can start improving your skills and experience the moment you take the speed cube out of the box. Should you need to adjust the tension, you can do so easily as well.
If you are someone who wishes to invest in a competition-grade cube to improve your personal solving record, considering the D-FantiX Cyclone Boys is one solid thing to consider. And in case you prefer stickered pieces, you can get the D-FantiX Carbon Fiber on Amazon instead. It has a textured carbon fiber sticker that significantly promotes better grip.
6.
CuberSpeed Dayan TengYun M 2X2 Speed Cube

Smooth and fast that doesn't pop out
Cube size: 50 mm x 50 mm x 50 mm | Cube weight: 59 g | Stickered or Stickerless: Stickerless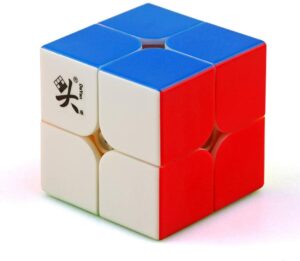 In 2013, Dayan released its first 2X2 cube, the Dayan Zhanchi. The Zhanchi picked up quite nicely and was even recognized as among the world's best 2X2 for speed cubing. Even years later, the Dayan Zhuchi is still favored by many speedcubers.
The TengYun M is Dayan's latest 2X2 that utilizes a factory magnetized with both medium and strong magnets. It also has wavy ridges on the inside of the pieces to ensure that the cube will turn smoothly. Furthermore, the TengYun M performs quietly.
Similar to the rest of the products featured in our list, the Dayan TengYun uses ABS material. It does not use any sticker and it does not use any poisonous material. In terms of reliability, you can count on the tiles to last and they will never fade unlike low-class speed cubes in the market.
Like the previously talked-about speed cubes, the Dayan TengYun M comes pre-lubed and tensioned so they are ready out of the box. If in case the tension doesn't fit your preference, you can always adjust this to match your preference.
Overall, turning feels really smooth and fast in both normal and reverse cases. You won't have to worry about pop outs as well when solving the cube, which means you can focus on faster solves than worry about it popping out in the middle of your execution.
Important Characteristics to Consider when Shopping for the Best 2X2 Speed Cube
Knowing the factors that quite contribute to the best speed cub can make or break your investment and your experience. For those who are experienced in speedcubing, you know 2X2 speed cubes are similar to 3×3 speed cubes.
However, if you are new to speedcubing, then reading this section throughout before making a selection is strongly advised.
Turning Style
Speed cubes have two types or categories of turning styles: Fast turning or smooth turning.
Fast turning speed cubes are specifically optimized to move so fast that they have little to no friction between their layers. But it is also worthy to note that the lack of friction is also what leads to losing control, which normally results in overshooting.
In the case of 2X2 speed cubes, each layer only has eight cubbies, so the risks of overshooting and messing up with the layers when turning due to the lack of friction are significantly lower when compared with speed cubes with layers of 3×3, 4×4, and over.
On the other hand, smooth turning speed cubes is designed to give you more control than speed, reducing the chances of overshooting. Compared to fast turning speed cubes, they have more contact between the layers as if they glide over another, which makes them slower.
So, which is the better turning style?
Between fast turning and smooth turning, there is no better between the two. When choosing between the two, you will want to look for a good ratio of both speed and smoothness.
But specifically, in the case of the 2X2 speed cubes, it is usually better to go with more speed than smoothness because they are fun to speed solve and are harder to mess up. Still, it boils down to which you prefer as there is no right or wrong between preferences.
At the end of the day, it is nice to remember that neither fast cubes nor smooth cubes are better as it boils down to which turn you find is most comfortable.
Corner Cutting
Apart from the turning style, a speed cube's corner-cutting is just as important. Depending on how well the corner cuts when it takes a turn will be how your experience will turn out.
You see, corner-cutting is the cube's ability to make a turn even if the layer isn't completely aligned. If the cube has poor corner-cutting abilities, the turn will either be stuck or the cube will get dismantled. Furthermore, a 2X2 speed cube with poor corner-cutting ability will also likely pop out.
If the 2X2 speed cube has a poor corner-cutting ability, then it will need a more precise angle to turn the surface area smoothly, leading to frustrating turns and a bad experience altogether. Because of this, certain manufacturers have designed 2X2 speed cubes to turn smoothly to provide consumers with stress-free speedsolving.
When speedsolving a 2X2 speed cube, it is crucial not to feel any tension when doing corner-cutting as this interrupts your algorithm execution or worse, gets your cube stuck. To experience seamless turns, a 2X2 speed cube with proper corner-cutting is a huge plus.
2X2 Speedcube Stability
The overall speed cube's stability is yet another factor one should consider when shopping around for a 2X2 speed cube. You have to look at how flexible it is and how it is built to resist potentially random pop-ups.
Random popups were frequent in old 2X2 speedcubes, but this has been a thing of the past with modern 2X2 speedcubes. However, rough speedcubers may still experience popups from time to time.
Consider the Size
The size of the speed cube also affects your experience significantly. Depending on the size will be how your experience will turn out.
Sizes of 2X2 speed cubes are technically the smallest when it comes to layer count but the dimensions and typical sizes range anywhere between 55 mm, 50 mm, and 46 mm. The 3×3 speed cubes typically range between 57 mm to 42 mm.
Picking the right size can greatly improve one's experience so you must choose depending on your hand's size.
Stickered or Stickerless 2X2 Cube
Last but not least is whether the 2X2 speed cube is stickered or stickerless. To be clear, whether you choose stickered or stickerless boils down to personal preference.
Stickerless cubes don't peel because the plastic is colored so they don't need replacement like stickered speedcubes. However, the plastic still doesn't keep it from getting any scratches, something that can't be fixed in any simple way.
Another thing that is great about stickerless cubes is you can recognize the colors a lot easier because the colored surface is a bit bigger when compared to stickered cubes. But note that the difference isn't really big that it should become the basis of your selection.
Stickered speedcubes, on the other hand, have their advantage because you can customize or replace the color or shade of the stickers if you find them to be too dim or too bright. However, they can peel off anytime, depending on how often you use the cube. Because of this, you need to replace them regularly at some point.
Conclusion
When buying the best 3×3 speed cube, it is crucial to pick the best one that matches your preferences and needs. To recap, these are the best 2X2 speed cube you can buy today:
Which among the speed cubes do you like best? Share it with us in the comments below.