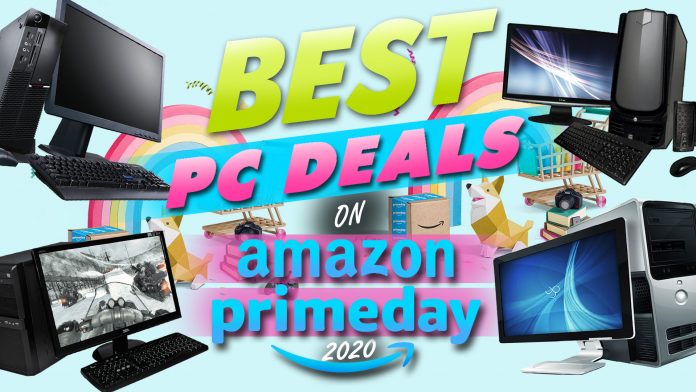 In September, Amazon officially announced that the Amazon Prime Day 2020 is set on October 13 and 14. Yes, it's going to last a full 48-hour-long as it did last year. Considering how long the delay was, we can understand why we deserve the whole 48 hours event this year.
Like how prices had dropped significantly last year, we're expecting something similar this year. Gaming peripherals and PC hardware components ranging from gaming keyboards, gaming mice, graphics cards, headsets, microphones, storage devices, hardware components, and cameras are definitely something to look out for. And we're thrilled to know which products will be getting the most attention this year.
To make sure you're getting the latest deals, we're going to enlist the best deals below and things on what you can do to be as prepared as you can be.
How to Avail the Discounts on Amazon Prime Day?
Unfortunately, Amazon Prime Day is tailored to Prime members. If you're not familiar with Amazon's Prime subscription, we'll also explain that briefly in this article.
Amazon offers its Prime users with millions of discounted products from almost every category you'll find on their website.
"What about non-Prime members?"
Fortunately, Amazon is offering a 30-day free trial of Prime subscription. If you haven't tried it yet, you can use this opportunity to avail of the discounts during this 2-day Prime Day event. Don't worry, this won't cost you anything for the free trial.
Unfortunately, those who previously joined Amazon Prime membership with an expired subscription will have to subscribe again to access the discounts. But if you're going to shop tons of items during this 2-day event, the subscription fee will be totally worth it.
To make it easier for you, here's a link to Amazon's Prime membership page:
Here are the Best Gaming Peripheral Deals on Amazon Prime Day Today
Here are the latest gaming peripheral deals on Amazon Prime Day today!
PC Set
Processor
Motherboard
Graphics Card
RAM
Storage Device
Keyboard
Mouse
Mouse Pad
Casing
How to Prepare to Get the Best Gaming Peripheral Deals on Amazon Prime Day?
Expect that there will be plenty of discounts you'll come across, and it will be better to be safe than sorry. You see, on top of misleading pictures and product descriptions, there will be plenty of items with manipulated prices to fool consumers.
To ensure you're buying the right product at the right price, use CamelCamelCamel.com to check the item's eligibility. Having a website that can check eligibility of items at your disposal should help you track and confirm if a discount is real or not.
It's also crucial that you check the number of reviews and ratings to have a sense of security that you're buying an actual item. Lastly, knowing what hardware components and gaming peripherals do and evaluating which you should prioritize in getting is also key to making a smooth purchase on the big day.
PC Case
Amazon Prime Day usually features excellent discounts on PC cases. Unless you need a more decent airflow, buying a new PC doesn't usually show a massive impact on gaming performance, but it keeps your temps low, which is always lovely to increase hardware's longevity.
Processor
Upgrading your processor can make a huge difference in your experience. If you're an aspiring streamer or professional content creator, a faster processor does make your job a lot smoother.
With the recent release of the AMD Zen 3 processors, buying them at a discount opens up opportunities to make a considerable advancement in your setup by investing in more appropriate gaming peripherals and/or hardware.
But know that you'll need to pair this with a compatible motherboard.
Motherboard
The new AMD Zen 3 processors just recently hit the markets.
If you're planning to upgrade to these new processors, you'll also want to get new motherboards that can support it. If that's something you're inclined towards, expect to find great deals on B550 motherboards and X570 motherboards on Prime Day.
RAM
Games now are becoming more and more resource-hungry. With the release of the RTX 3000 series graphics card, we're likely to need more than 8 GB of RAM to keep up with the demand.
Looking at how many things made a considerable advancement within the past five years, we can safely say 16 GB of RAM will be the next standard in the next few years. To help you out, we'll keep a close watch of this year's best RAM deals.
Graphics Card
The release of the RTX 3000 series and AMD's Big Navi spells new opportunities for gamers to experience a more realistic and more liquid gaming performance.
Since these graphics cards now support up to 8K of resolution at 60 frames per second and 4K resolution of up to 144 frames per second (via HDMI 2.1 connectivity), it would be a waste to the best deals this year.
Storage
Games are taking up substantial storage spaces nowadays because map sizes and game file sizes are also becoming more demanding.
Needless to say, games from 2020 onwards will require more storage space than ever to keep up with everything the game has to offer. If you find your storage device taking up over 50% of your total storage, then it's only a matter of time before you'll fill them up.
To give yourself some headroom, get yourself some storage device on Prime Day. We're expecting to see some vast discounts by then.
Keyboard
Regardless of whether you wish to stay competitive when playing FPS (first-person shooter games) or want to experience a surreal typing experience when playing casual game titles, the right keyboard can go a long way.
Logitech, Razer, and Corsair are among the most popular brands of keyboards over the past year. If you're looking to upgrade your keyboard, Prime Day will be the perfect time to make such a bold move.
Mouse
Gaming mice, like gaming keyboards, define how well your experience will turn out when playing games. If you've been planning to make an upgrade for quite some time now but have been holding off for Prime Day, then you will have tons of options by Prime Day.
Gaming Chair
We're also expecting huge discounts from reputable gaming chair companies on Prime Day. Since gaming chairs play a vital role in keeping your health in check, getting yourself one of the best gaming chairs on Prime Day will reward your health tenfold.