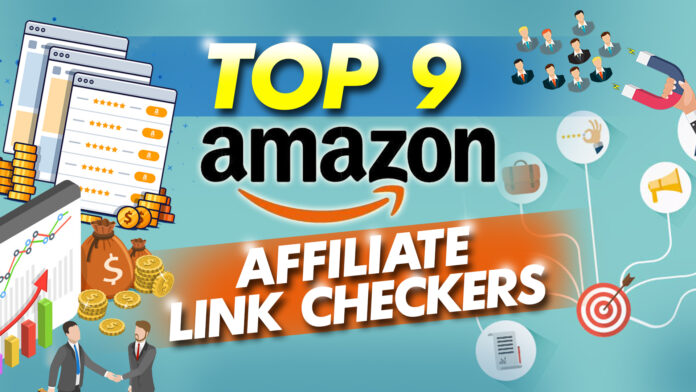 You can lose as high as up to 30% of commission sales from your Amazon affiliate program when your website affiliate links aren't working properly.
While it may seem easy to check whether your links are working correctly on one website, doing so on multiple websites can be a daunting and time-consuming task. Fortunately, there are a handful of Amazon affiliate link checkers you can use to check the status of all your Amazon affiliate links automatically.
This article covers the top Amazon affiliate link checkers of 2021 that will guarantee your conversions to go through the roof.
How Do Amazon Affiliate Link Checkers Evaluate the Status of the Links?
Tools such as Amazon Affiliate Link Checkers are programmed to crawl each Amazon affiliate link you have in your website to validate the links. A report showing the status of each link in your websites will then be shown as either available, unavailable, or 404.
Do note that 3rd-party programs like this are also designed to not register links in your Amazon Associates Dashboard by default. However, there are exemptions in some cases.
To give you a better idea of how each of these tools work and to see which is best, read on.
The Top Best Amazon Affiliate Link Checkers in 2021
1. AffiliateLinkFixer.com – Basic Plan Starts at $19.99
Disclosure: Affiliate link fixer.com is a tool built by Hayk from HaykSaakian.com we built this tool to be the best one on the market. Obviously there's some bias here. We tried to be as fair as possible to the other tools, and in some ways tools like Genius Link are better than what we offer today.
Best Amazon Link Checker for All Types of Marketers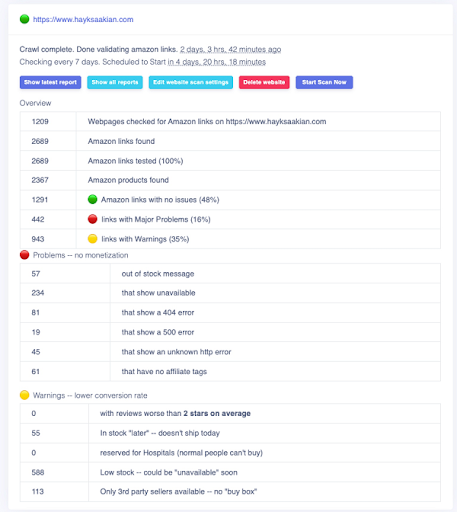 Rating:
User-interface: 4.5 / 5
Ease of use: 4.5 / 5
Performance: 4.5 / 5
Pricing: 4.5 / 5
Among the sound names in the industry is AffiliateLinkFixer.com. What's nice about the service is how simple the website and interface looks. To check the status of your pages, you can simply visit the platform and start tracking the websites. If you have a handful of pages on your website, you can set a schedule to automatically check the status of the links.
The dashboard has a straightforward user-interface that holds all of your website and conveniently lays out all of the affiliate links that have been analyzed. The color that appears next to the link tells you the status of the affiliate link.
If it's green, then the link is still active.
The yellow color indicator means that there are minor issues with the affiliate link.
The color red indicator will show up if the link is completely broken or is not functioning properly.
The straightforward user-interface and the colored-indicators eliminates the learning curve for both new and experienced affiliate marketers, making AffiliateLinkFixer a very worthy pick for any Amazon affiliate marketer.
Compared to its competitors, the AffiliateLinkFixer.com offers a FREE plan for everyone to try out.
2. AMZ Watcher – Starter Plan starts at $16.63/month (billed yearly)
Best Alternative Affiliate Link Checker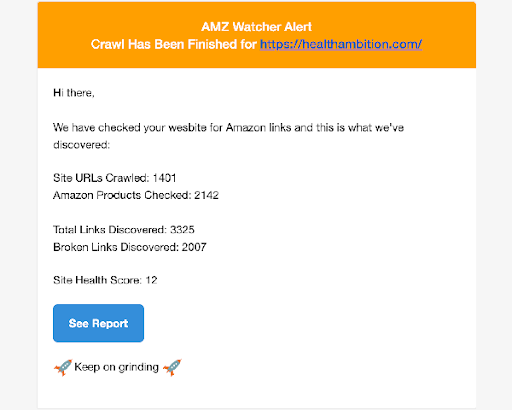 Rating:
User-interface: 4.3 / 5
Ease of use: 4.2 / 5
Performance: 4.5 / 5
Pricing: 4.2 / 5
Our first recommendation goes to the AMZ Watcher platform. This premium service offers support across all of the international Amazon web stores and has several convenient features that will make your life a lot easier as an affiliate marketer.
We will start with the convenient tracking features that will allow you to analyze all of your affiliate links through a single dashboard. Simple diagrams and charts will show you all of your affiliate links and how they are operating in real-time.
The real-time analytical data can easily be exported into a CSV file as well. This is a great feature for saving organizational file reports that keep track of all of your progress.
One of the really nifty features that is available with AMZ Watcher is the ability to find other affiliate programs aside from Amazon that could help to generate additional commission. This is a great way to improve your income potential and find new ways to generate revenue.
If you link to products that go out of stock, then this utility will automatically notify you in daily email messages to inform you about the situation. This will keep you updated with this important information and it will allow you to switch out products and generate new affiliate links quickly.
AMZ Watcher also offers four service plans available with varying prices. Even though they are priced lower than most affiliate checkers in our list, the service is billed on an annual basis. If you think the annual fee is too much for your budget, you can switch to monthly service plans but they cost a little bit more per month on average.
Higher-tiered service plans of AMZ Watcher allow you to check more pages and websites. You will also receive priority customer support if you have an active higher-tiered service plan.
3. AMZ Link Checker – $20.00 per month
Best In-Depth Amazon Link Checker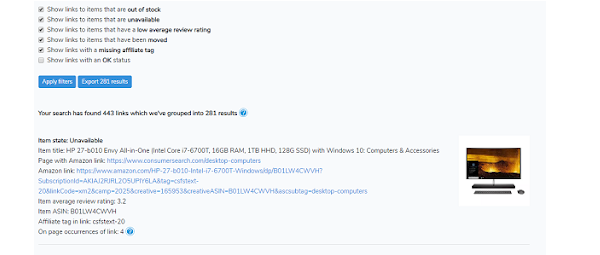 Rating:
User-interface: 4.4 / 5
Ease of use: 4.2 / 5
Performance: 4.4 / 5
Pricing: 4 / 5
AMZ Link Checker is the third and final service that we are going to take a look at within this review. This service is designed to help affiliate markets on Amazon to improve their conversion rates and ensure that affiliate tags and links are not missing or broken.
The goal for AMZ Link Checker is to provide affiliate marketers with an effective resource that eliminates broken affiliate links and enhances the potential for commission and revenue in the long run.
AMZ Link Checker outputs a simple scan report for all of the affiliate links that are found and highlights links with issues. These issues could include broken links, products that are out of stock, and links that don't have an affiliate tag.
The convenient interface allows users to filter the results that they are looking for before they complete their scan. You will be able to effectively manage all of your affiliate links with this high-quality AMZ Link Checker platform. All users can start out with a convenient free-trial to get started.
4. Affilimate Link Checker – Individual Plan Starts at $29 Per Month with FREE Trial
Best Link Checker with Unified Reporting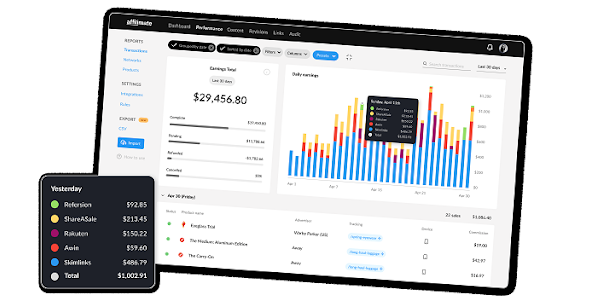 Rating:
User-interface: 4.5 / 5
Ease of use: 4.1 / 5
Performance: 4.4 / 5
Pricing: 3.9 / 5
Affilimate is an all-around link analytics tool that offers a wide range of services. The best thing about Affilimate is that the link checker tool is free – unlike other options that require you to pay at least $20 per month. You just need to register and install the plugin to your website.
The main feature of the Affilimate Amazon Link Checker is its detailed yet easy-to-read link report. Through the report, you'll see which links are broken and which products are out of stock. Additionally, you'll also get information about products that will be restocked later. This can be useful for adjusting your affiliate marketing strategies.
Since Affilimate is being run server-side, it won't slow down your website. Another reason is that Affilimate generates complete reports on a weekly basis while doing daily checks.
Keep in mind that Affilimate's Amazon Link Checker has its limitations. You can only check a standard number of links per month. Once you've become an Affilimate member, you'll get the option for unlimited link checks.
5. ThirstyAffiliates – Free With Paid Add-Ons
An Affiliate Link Check that can do more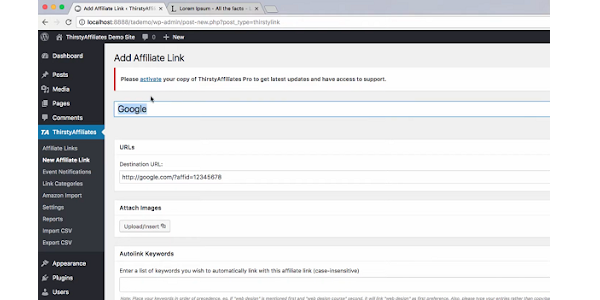 Rating:
User-interface: 4.6 / 5
Ease of use: 4 / 5
Performance: 4.5 / 5
Pricing: 3.9 / 5
ThirstyAffiliates offers more than just basic affiliate link checks. The plugin allows in-depth affiliate link management through a diverse set of features. You can even utilize these features from the get-go, without needing to pay for anything. If you need additional features, then you can always pay for the add-ons.
After installing the plugin, the next thing you have to do is to add all of your affiliate links. With the ThirstyAffiliates plugin, you can add all of the links with one click of a button.
This will help you save precious time. If you have a big library of links, ThirstyAffiliates' link picker button will display the ones you need in just a few seconds.
Another advantage of ThirstyAffiliates is the capability of using different types of affiliate links effectively. You can now use banner images by clicking the plugin's link picker button. Using the images is better than relying on long and untrimmed links. Plus, ThirstyAffiliates cloak your links automatically – you have the option to change the link's name and its destination.
Other options that you can get with ThirstyAffiliates free version are link prefix editing, smart segmentation, and nofollow attribution. The PRO version, on the other hand, allows CSV import and export, redirects, and Amazon API importing.
6. Amazin Link Checker – Free
Best Free Amazon Affiliate Link Checker Tool for Beginners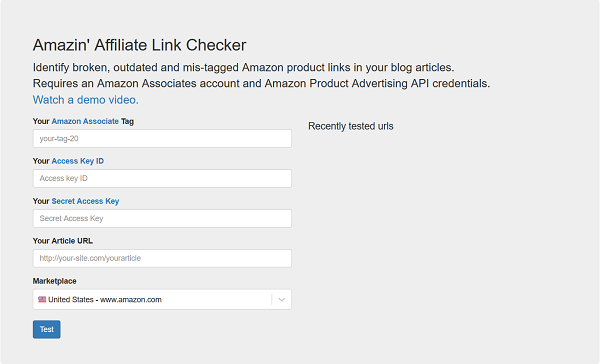 Rating:
User-interface: 4.7 / 5
Ease of use: 4.3 / 5
Performance: 3.9 / 5
Pricing: 4.6 / 5
If you just want to use a simple tool that would identify broken product links, the Amazin Link Checker is a neat choice. You can just visit the Amazin site and input the page that you want to check.
The tool will check the links from the page and determine which ones are broken. If you want to add a Secret Access Key, Amazin will also let you do so.
Since there's no installation process needed, you can save time with Amazin. Just remember that not all products have the Amazon API, and these links might show 'invalid' results. Once this happens, you have the choice to configure the links and ensure that they contain Amazon products.
Amazin is constantly being improved, so it's possible to have new features in the coming months or so. For now, you are only limited to checking the status of the links on one page. So, if you are looking for a tool that checks hundreds of your page at once, this is not the tool for you.
7. Affiliate Link Checker Chrome Extension – Free
Best Free Amazon Affiliate Link Check for Chrome Users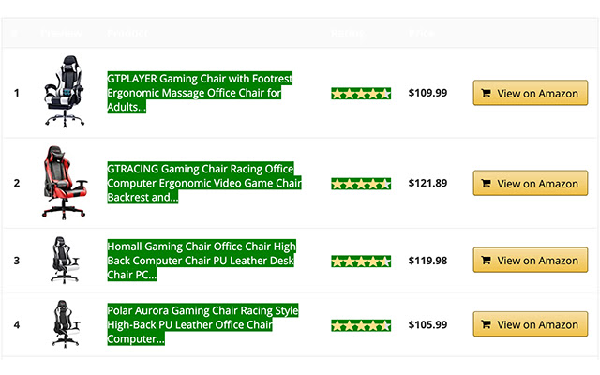 Rating:
User-interface: 4.3 / 5
Ease of use: 4.3 / 5
Performance: 4.2 / 5
Pricing: 4.3 / 5
Are you fond of using Chrome extensions? In that case, you should check out Chrome's Affiliate Link Checker extension. This tool is very easy to use and doesn't require a lengthy installation process.
To use the tool, you must add it to your Chrome browser. Once the extension is active, you must open your website. The tool will direct you to the Affiliate Link Checker icon, and you need to input your Amazon tracking ID.
Upon clicking the 'check' button, the tool will navigate through your links and generate a quick report. Green links bear your tracking ID while red links do not.
Currently, long links are supported by the Affiliate Link Checker tool. The support for shorter links is still being developed.
While the Affiliate Link Checker extension seems bare and simple, it's still helpful because of its pure function and speed. Other tools might have some issues with speed, and advanced features hide behind a paywall. At least, with the Affiliate Link Checker extension, everything is free.
8. GeniusLink – Starting at $5 Per 2,000 clicks
Offers Advanced Features Besides Checking Links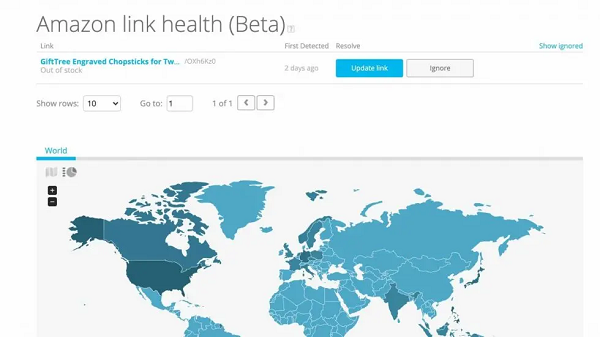 Rating:
User-interface: 4 / 5
Ease of use: 4.2 / 5
Performance: 4.3 / 5
Pricing: 3.8 / 5
More often than not, affiliate link checkers don't give 100% accurate data in their reports. If you want the best results, you probably need to unlock advanced features. The quick answer to this problem is GeniusLink.
According to Jake, founder of GoMechanicalKeyboard.com, GeniusLink can raise an affiliate site's earnings by as much as 30%. This is achievable because of the tool's accuracy and ease of access.
The major advantage of GeniusLink is its quick notification system. It tells which products are out of stock on Amazon, thus allowing you to take action right away. Swapping the links and tracking IDs is also fast and easy.
After signing up to the GeniusLink site, you can go to the dashboard and choose the respective countries covered by your Amazon Associates account. Next, you should try GeniusLink's JavaScript snippet to save time.
This snippet will automatically load all of your Amazon links in the dashboard. Just be wary of ad blockers because they tend to block the snippet and cause errors with your links.
GeniusLink also shows global traffic data that help adjust your monetization strategies. Still, you will get more information from Google Analytics or the default Amazon dashboard.
Whether you have a small or big budget, GeniusLink is always beneficial for your affiliate site. If you have many links, GeniusLink will charge more but you can always start with at least $5 per month.
Also, big thanks to Jordan from GoodBooks.io for contributing his feedback about GeniusLink for this article!
9. Lasso – FREE for 14 days, then $29 Per Month
An Amazon Affiliate Link Checker with Some Useful Perks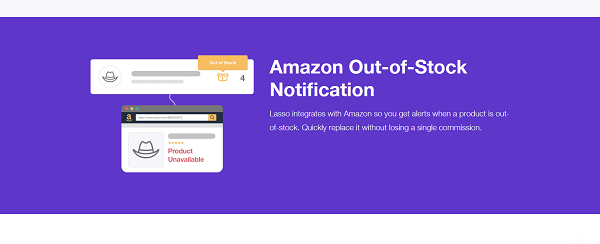 Rating:
User-interface: 4.4 / 5
Ease of use: 4.3 / 5
Performance: 4.4 / 5
Pricing: 4 / 5
Lasso is not entirely different from the tools featured in this article but it has some useful perks.
The first advantage of Lasso is its user-friendly dashboard that helps you to put all of your affiliate links in one place. Lasso runs a thorough check of your website, spotting broken links or out-of-stock products. The second advantage of Lasso is hassle-free automation. Thao Tran, founder of Voltcave says that Lasso goes around strict Amazon content policies and lets you use the tool's API.
Lasso also allows you to add grid display boxes around your links. You're probably aware that visuals can affect the visibility of your site. With these simple grid boxes, you might have a better CTR over time. It takes only a few seconds to set up one grid box.
Here's one glaring issue with Lasso, specified by Thao Tran: theme compatibility. Since Lasso is still an unfinished product, it gets periodic updates. Sometimes, these updates can break a website's theme or interfere with other plugins.
Version rollback is also nearly impossible and can cause deeper problems for your site. So if you're planning to use Lasso, make sure to test it with an old website.
More Ways to Maximize Your Amazon Earnings
FAQ About Amazon Affiliate Link Checkers
What is a Link Checker on Amazon?
Amazon's Link Checker Tool verifies tags in URLs linking to Amazon.com. The Amazon Link Checker Tool is one way for Amazon Associates to tell if websites get commissions from their affiliate links.
To monitor the referrals sent to Amazon, the affiliate website needs to have tracking ID or associate ID in featured products.
How do I find my Amazon Affiliate Link?
You can find your Amazon affiliate link in your Amazon Associates account or simply by looking for the "tag" attribute in the URL. All Amazon affiliate links contain a suffix at the end of the link like so: ?tag=AFFILIATE_ID.
Do Affiliate Link Checkers Register "clicks"?
No. Affiliate link checkers don't register "clicks" to your Amazon Associates account.
The links are verified by checking if the ASIN or product is available on Amazon separately, not through the links from your website.
Will I Get Commission from Using Affiliate Link Checker Services?
No. Commissions are paid based on clicks that lead to a sale (within 24 hours) on Amazon. Since affiliate link checkers don't "click" through the links, you will not get commissions from using such services.
Conclusion
It has been exciting to have the opportunity to take a look at nine of the highest-rated Amazon Affiliate link checking services that are currently available to the public.
These services are all similar and different in some ways but it is important to remember that they all share the same goal. Each of these services wants to make it as easy as possible for users to track their affiliate links on their pages and websites.
You will now have the opportunity to decide which service is best suited to help you. The varying levels of pricing and features that are available should have a significant impact on how you make your decision.
It is highly recommended that you take a look at the pros and cons that we have discussed to help you compare each of the options.
In conclusion: try this free tool because it's free, and then consider some of the other options if it's insufficient for your needs.
Best Amazon Affiliate Link Checkers in 2021 (Summary)
1. AffiliateLinkFixer.com – Basic Plan Starts at $19.99
2. AMZ Watcher – Starter Plan starts at $16.63/month (billed yearly)
3. AMZ Link Checker – $20.00 per month
4. Affilimate Link Checker – Individual Plan Starts at $29 Per Month with FREE Trial
5. ThirstyAffiliates – Free With Paid Add-Ons
6. Amazin Link Checker – Free
7. Affiliate Link Checker Chrome Extension – Free
8. GeniusLink – Starting at $5 Per 2,000 clicks
9. Lasso – FREE for 14 days, then $29 Per Month