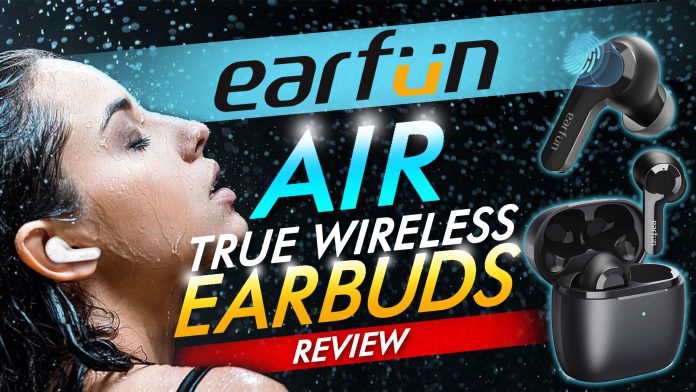 If you are a music lover who also enjoys working out, the last thing you need is wires on your gadgets. Let us face it, wires get tangled on almost everything, and your earbuds catching twigs during a run surely sucks.
Since Apple took true wireless earbuds to the mainstream, tons of companies have gone after a slice of that pie. In fact, there are now tons of available alternatives for half the price of the Airpods. But don't get easily swayed by sweet promises of quality and affordability. 
When I first got my hands on the EarFun Air True Wireless Earbuds, I was skeptical. They are so reasonably priced, yet promises a lot. But after testing the earbuds, I was pleasantly surprised. Read on to know what I found out!
Specifications

Bluetooth Version

V5.0

Bluetooth Frequency

2.402 GHz-2.48 GHz

Bluetooth Profile

A2DP, AVRCP, HFP, HSP

Maximum Working Range

15 m (without obstacle)

Battery Capacity

55 mAh (per earbud)

Battery Life

Up to 7 hours, total of 35 hours with the charging case (varies by volume level and audio content)

Charging Case

500mAh (it can fully charge the earbuds four times)

Charging Time

Earbuds

1.5 hour

Battery Case

Type-C about 2 hours,

Wireless charging about 4 hours

Input

DC5V / 1A

Dimension

53.mm x 52mm x 34mm

Weight

59.87g / 2.11oz (including charging case)
What Is on The Box?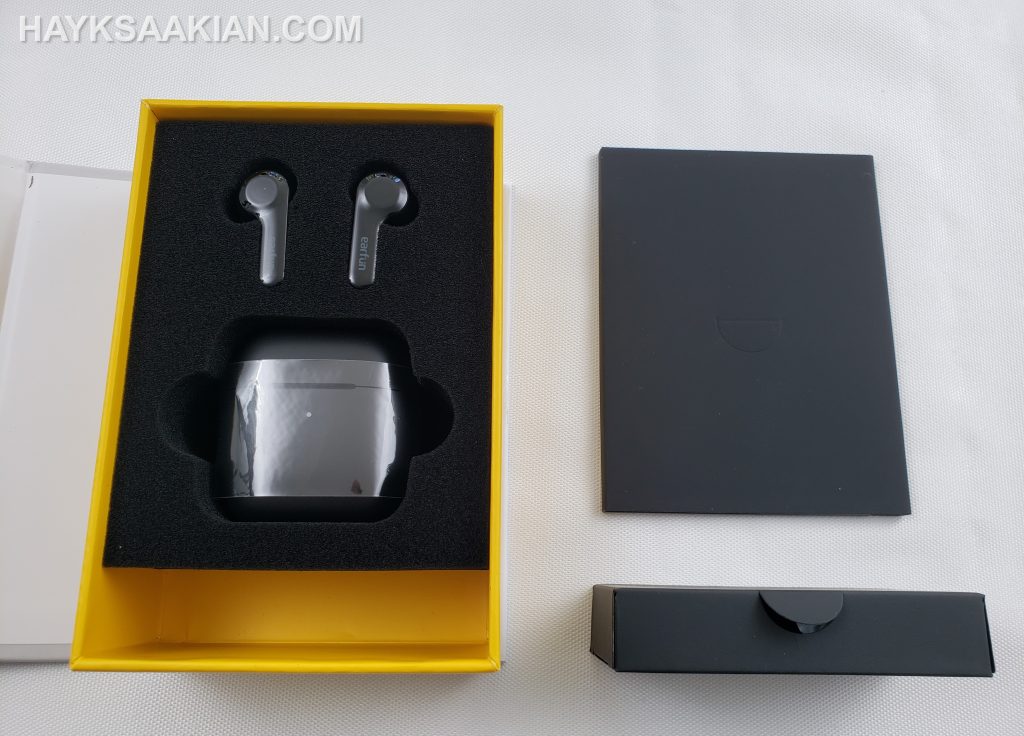 EarFun Air wireless Bluetooth earbuds

Wireless charging case

Four sizes of silicone ear tips (M size ear tips are equipped on the earbuds)

USB-C charging cable

User manual

18-month after-sales cards
Build Quality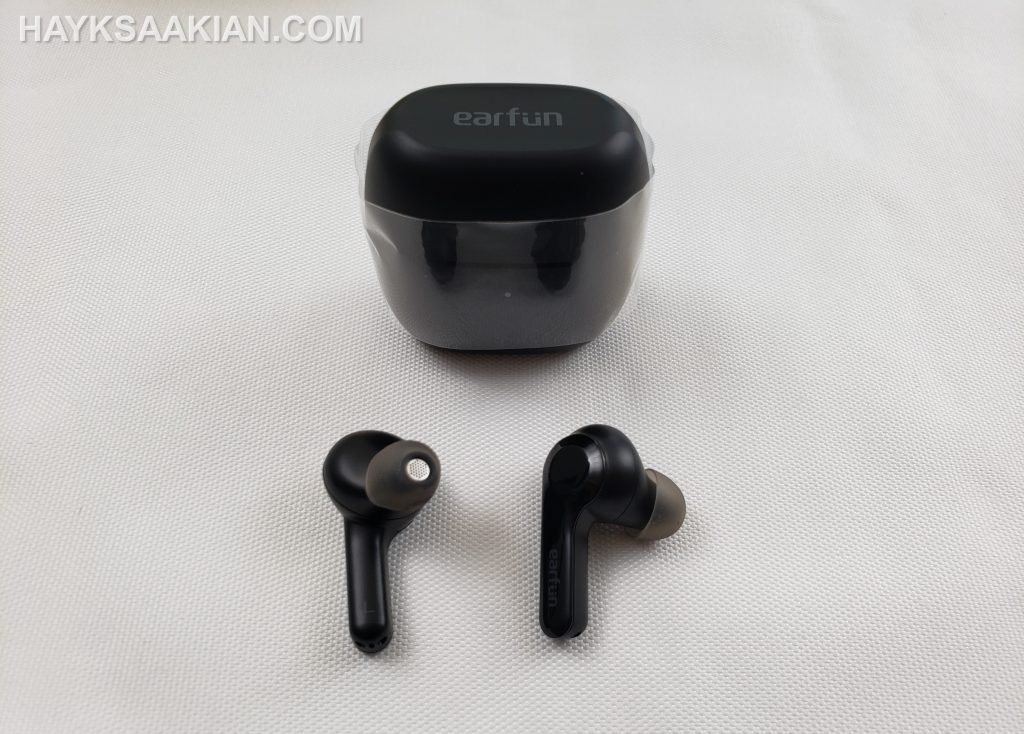 At a glance, the EarFun Air True looks like the older cousin of the Apple AirPods. But, unlike the Airpods, it sports a pure black color scheme and a bulkier frame. Though the design might not appeal to everyone, I can't deny that the build quality is superb.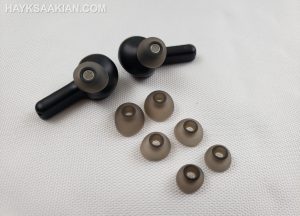 The earbuds are made with premium materials, with no screw out of place. Though on the budget spectrum, there is nothing cheap about their build quality. The fit is also great, thanks to the four included silicone ear tips with different sizes. Simply find the ones that fit you best, and you can be sure that they won't fall off your ear no matter the activity. The ear tips secure tightly in the ear canal without feeling uncomfortable. You can say that EarFun Air is designed for comfort. 
Audio Quality
The EarFun Air does a fabulous job when it comes to audio quality. If you like working out with music on, you can be sure that this pair will do your playlist justice.
Powered by 6 mm audio drivers, you can expect a vibrant sound signature. The bass is there, but do not expect powerful thumps, since the audio driver is not that big. However, it is more than enough for me to enjoy the EDM tracks on my playlist. Listening to James Blake's Limit To Your Love, I noticed the underemphasis on bass, but it is still decent enough for casual listening.
For the mid-range, it performed impressively and maintained a relatively flat response throughout Nina Simone's I Put A Spell on You. Sure it won't impress audiophiles, but it is more than enough for casual listeners.
Controls and Connectivity
Controls for the EarFun Air are intuitive and user-friendly. A long press on the left or right earbud increases and decreases the volume levels. Quite convenient, as you don't have to whip out your smartphone to control the volume. To resume playback, simply double-tap on either earbud until you hear a 'bop' sound. To change a track, just tap three times, and you are good to go.
Pairing is also super easy and takes no time at all. Powered by Bluetooth 5.0, you are guaranteed a seamless and low-latency connection every time. During my testing, I was able to pair my phone immediately and heard a voice prompt informing me of a successful pairing. I also experienced no issues while connected, even when I was ten meters away from my phone.
Battery and Charging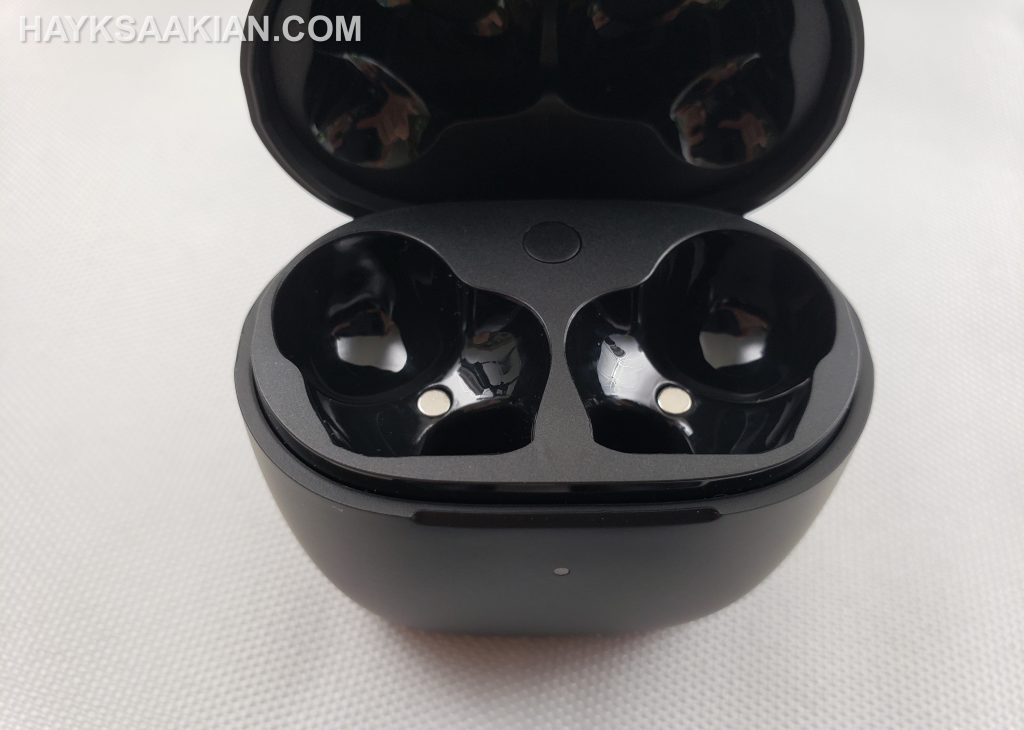 One of the main problems of wireless gadgets is battery life, but the EarFun Air won't give you a headache in this regard. A single charge will last you up to seven hours, and the charging case holds four charges, so you get to enjoy a total of up to 35 hours of playtime! That is a lot, especially if you enjoy an active lifestyle or if you commute to work.
The charging time for the earbuds is around one and a half hours, while the charging case takes longer at over four hours. However, if you are in a hurry, a quick ten-minute charge will give you roughly two hours of playtime. Not bad for a quick trip to the gym. They are also compatible with wireless charging docks, which add to their convenience.
Microphone
The EarFun Air boasts an effective noise-canceling feature, making it ideal for hands-free calling. Employing four-microphone call technology, it is capable of filtering 80% of background noises during calls. 
I put these earbuds to the test, and I was not disappointed. During a call with a friend, he told me that he could hear my voice clearly, with no static noise or me sounding nasal. I was sitting in a coffee shop during the call, and though he could hear a bit of background chatter, it was not noticeable unless he tried to listen intently. If you want, you even have the option to answer a call with a single earbud.
Added Features
Unfortunately, EarFun Air does not have a companion software, which is understandable, considering that it is a budget pick. It does have a ton of other added features.
The EarFun Air boasts an in-ear detection feature, which instantly pauses music when the buds are removed from your ear and automatically plays when they are returned to your ear. Aside from being super convenient, it is also an excellent power-saving feature.
Another great feature is its IPX7 waterproof rating. The EarFun Air can survive being submerged in one-meter deep water for up to 30 minutes, making it perfect for running in the rain and working out.
The EarFun Air also supports single earbud use. If you don't want to use both buds, you can use each earbud independently. That way, you can multitask while listening to your favorite playlist. Your other ear remains available while the other one gets pampered with music.
Wrap-Up
Overall, the EarFun Air True Wireless Earbuds is an excellent pick for those who enjoy an active lifestyle. With its comfortable and stable fit, you can be sure that it's suitable for physical activities. With its IPX7 waterproof rating, you won't have to worry about damage from light water splashes and sweating.
This pair of true wireless earbuds is not just for workout junkies. Its versatility is perfect for commuters and office workers as well. Overall, I'm quite impressed with the EarFun Air. While it does have its shortcomings, it manages to deliver its promise of affordability and quality.