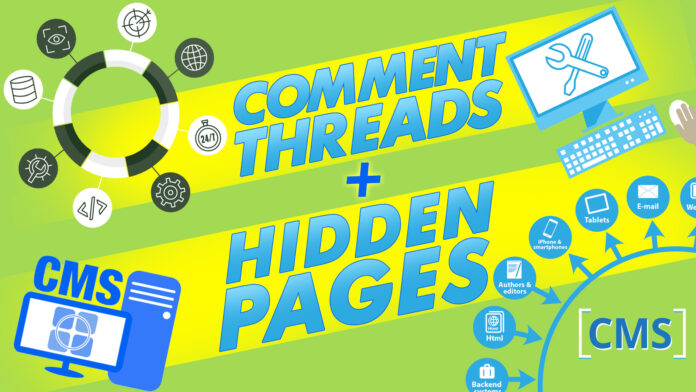 If you pull the latest version of CMS on Sails you might notice two prominent new features:
Comment Threads
Hidden Pages
Both are essential to a great content management system.
Comment Threads
Now you can "reply" to other user's comments. Your new comments are indented below their original comment. Comment threads help authors to have a clearer conversation with their readership.
While linear comments and threaded comments both have merits. Stephanie Booth makes good points against them in her article: "Against Threaded Conversations in Blogs". Linear comments are harder to "off road" with flame wars and encourage conversations focused on the original post. On the other hand, threaded comments encourage more meaningful conversations between your community. Thus, they improve engagement amongst your community.
I personally prefer threaded comments. I'm considering turning this decision, between threaded and linear comments, into a website setting. This way, website owners can decide for themselves. (Let me know in the comments, which you prefer: threaded or linear).
In the previous version, every 'page' (not article) you made showed up in the side navigation. There are some cases where this is undesirable, for example: legal pages, squeeze pages, and so on. Ultimately every page is not relevant in every context of your website.
You can hide pages simply by editing and hiding them from the navigation.
Progress
Altogether, I'm happy with the progress of this project. It's gotten quite a ways from whence I started.
---
If you have any other ideas for future features, just let me know in the comments below.