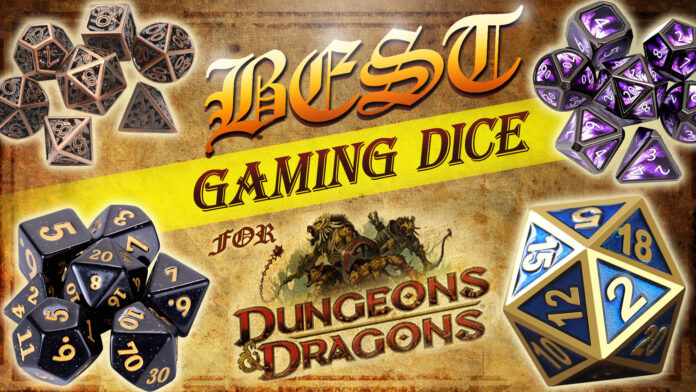 Dungeons and Dragons (or D&D) is a fantastic game for anyone who wants to be a part of an epic adventure or a classic hack-and-slash. Well, even if you're a min-maxer eager to optimize your combat style, you can still find a home with D&D.
But there's one basic yet undeniable requirement: you need to have a polyhedral dice set.
You don't need to go beyond the astral plane to find the best gaming dice. We've rounded up some wonderful suggestions for you!
1. CiaraQ Polyhedral Gaming Dice Set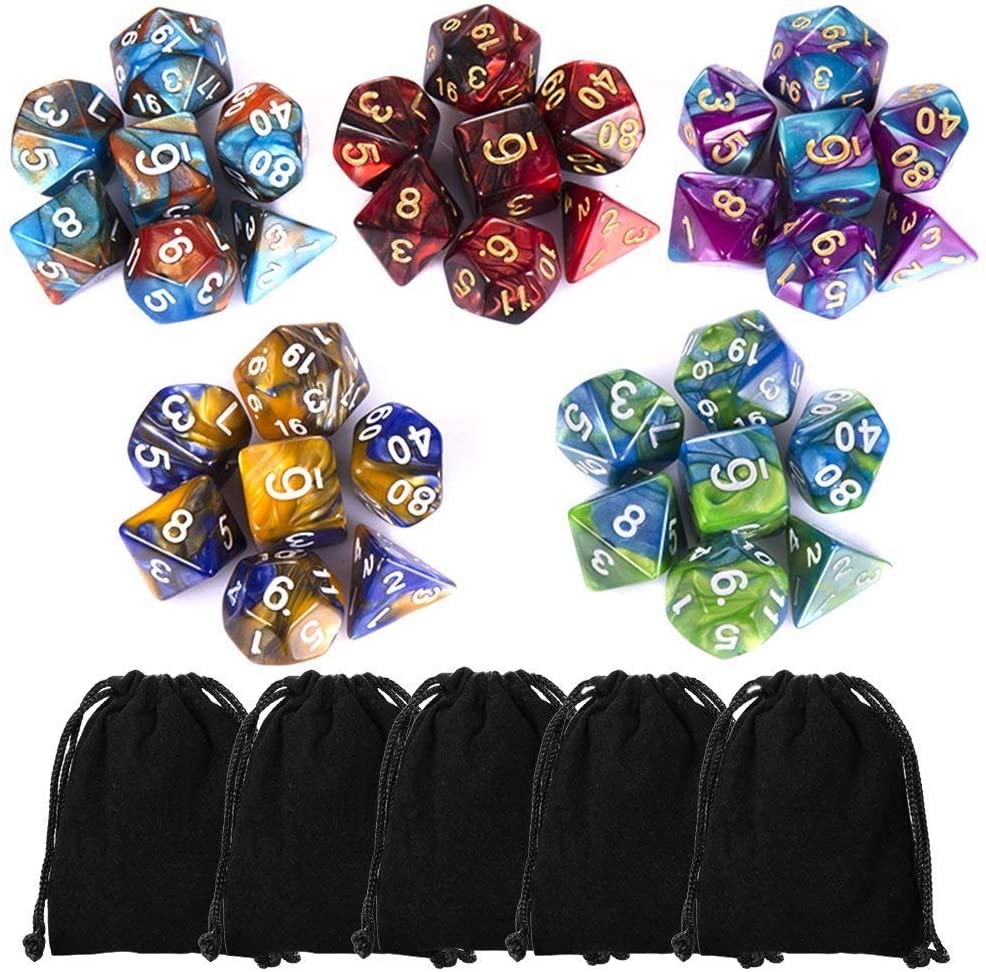 If you need a gaming dice real quick, you should take a look at CiaraQ's polyhedral dice set. This gaming dice is more durable than the ones you'd find in local stores. Additionally, you can select from various outstanding designs.
The CiaraQ dice set is not limited to just one stroke of color. At first glance, you'd see a monocolored theme. But as you look at the dice closer, you will notice a fascinating combo of light and dark undertones. The fiery red set, for example, has tinges of milky white – as if someone left the dice beneath a tub of cream. Other CiaraQ dice sets have brighter color combinations that can surely make your DM smile.
The symbols of the CiaraQ dice are clear and readable but they chip easily. This is not a big problem because you can always put the dice in a secured pouch or storage. Another issue with the CiaraQ dice is the unbalanced weight distribution. The D20 is lighter than the D6, while other dice in the set are heavier. You can get around this issue by rolling the dice fast or using a simple dice tray.
2. Tecunite 7 Die Metal Polyhedral D&D Gaming Dice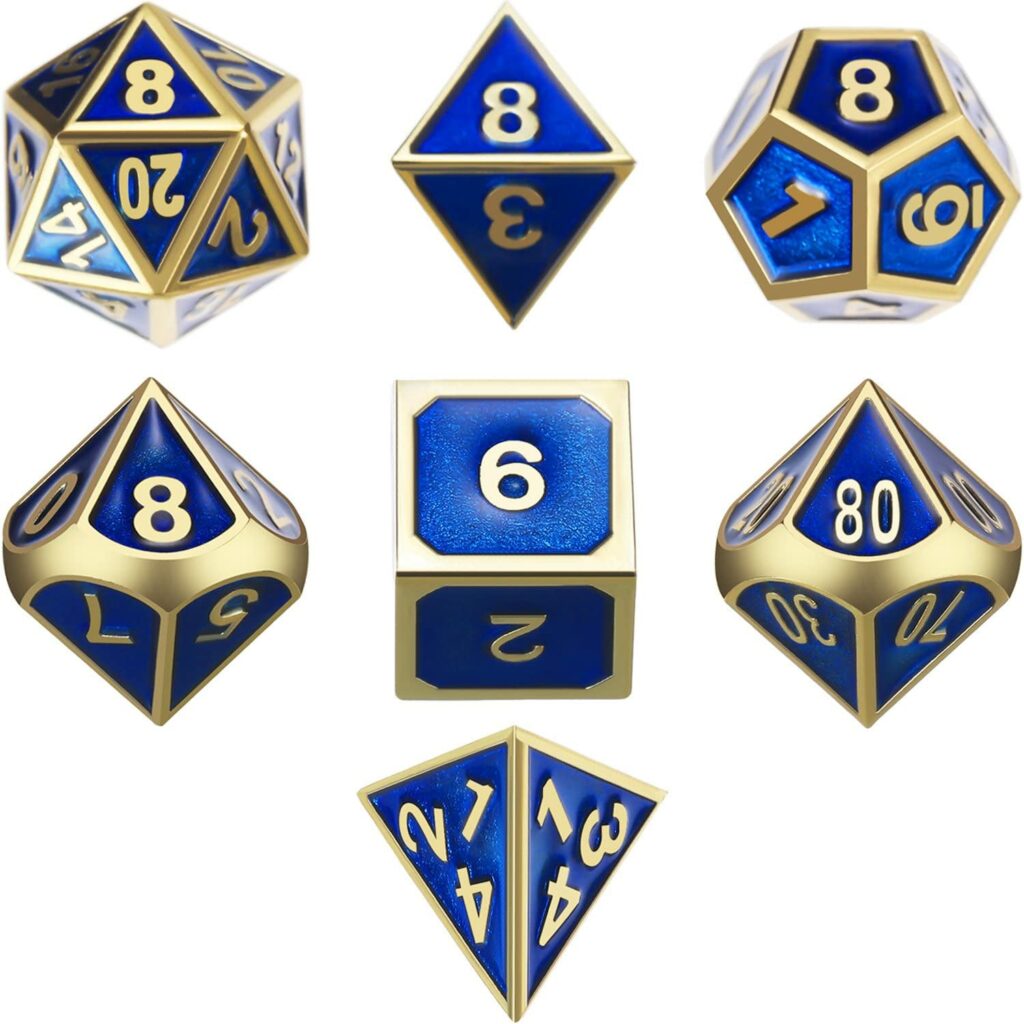 Are you looking for a unique starter dice that won't break your wallet? The Tecunite metal polyhedral gaming dice is the answer. With the Tecunite dice's style and durability, you'll have a fun time rolling for 20s!
Designed with fantastic and noticeable borders, this Tecunite metal poly dice can make your friends envious. The borders are not just simple embossed lines but rather artisanal sections that highlight the numbers and dice color. There are also numerous designs available, and the one we've picked for this review is dark blue. Some of the other available color combos are dark purple, ancient brass, black, silver & blue, and emerald green.
The Tecunite metal dice is smaller than the average plastic dice but it feels firmer due to material quality. You don't have to worry too much about the dice quality because it is waterproof and oxidation-proof. Such a high-quality artisan dice can last for many gaming sessions!
One slight problem with the Tecunite metal dice is its heaviness. In most cases, the weight will add variance to your rolls. But be prepared to encounter continuous poor rolls due to uneven weight and sharp edges! The dice can also damage wooden and glass tables, so be careful with your rolls.
3. Hong Hui Pure Copper Hollowed Dragon Dice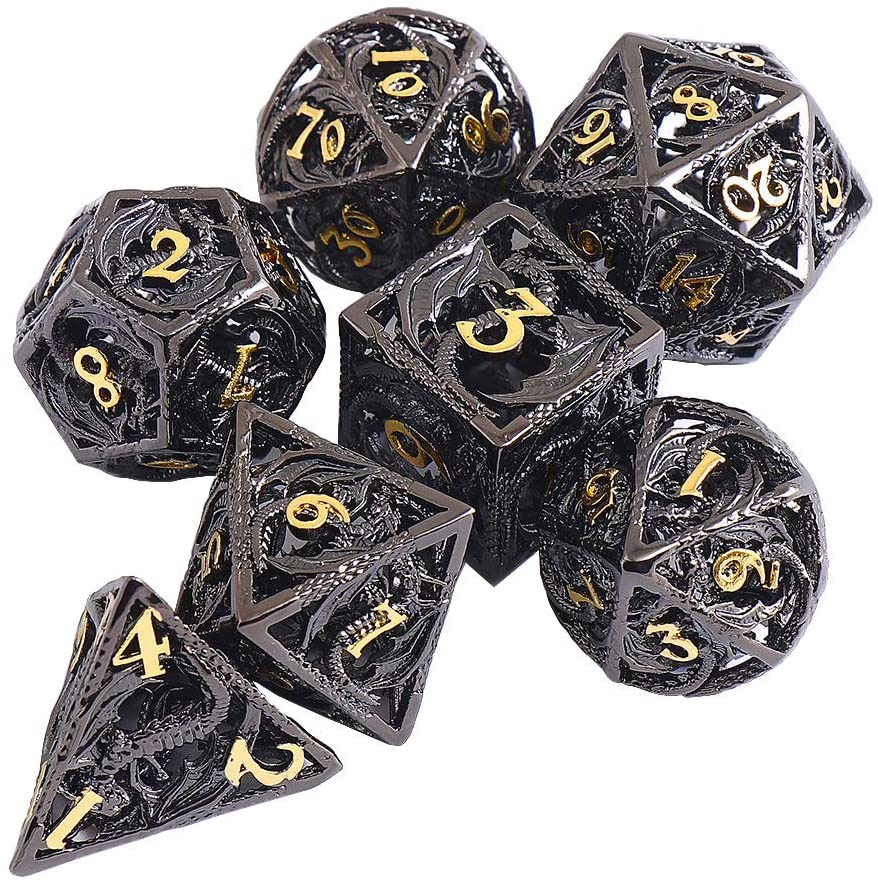 Hong Hui's pure copper dragon dice feels like it's ready to tell a world-breaking prophecy. The dice has an excellent combination of copper quality and a unique theme.
The most commendable feature of this Hong Hui pure copper dice is the intricate dragon carving style. Each side of the dice features a carved dragon with its wings stretched, as if presenting the symbols.
Since the Hong Hui dice is made of strong copper, you'll feel confident while rolling it. Even though you won't have lucky rolls all the time, the dice's weight will contribute a positive factor. Just remember to roll this dragon dice in a flat surface – not in bumpy or earthy ones.
If you want to add the Hong Hui dragon dice to your collection, prepare your wallet. This dice is pricier than the average polymer dice or even a midrange metallic set. Also, the numbers are harder to read because of the dragon carvings. You may need to squint if you're playing on a low-light room.
4. Haxtec Purple Scene Metal Dice With Rounded Corners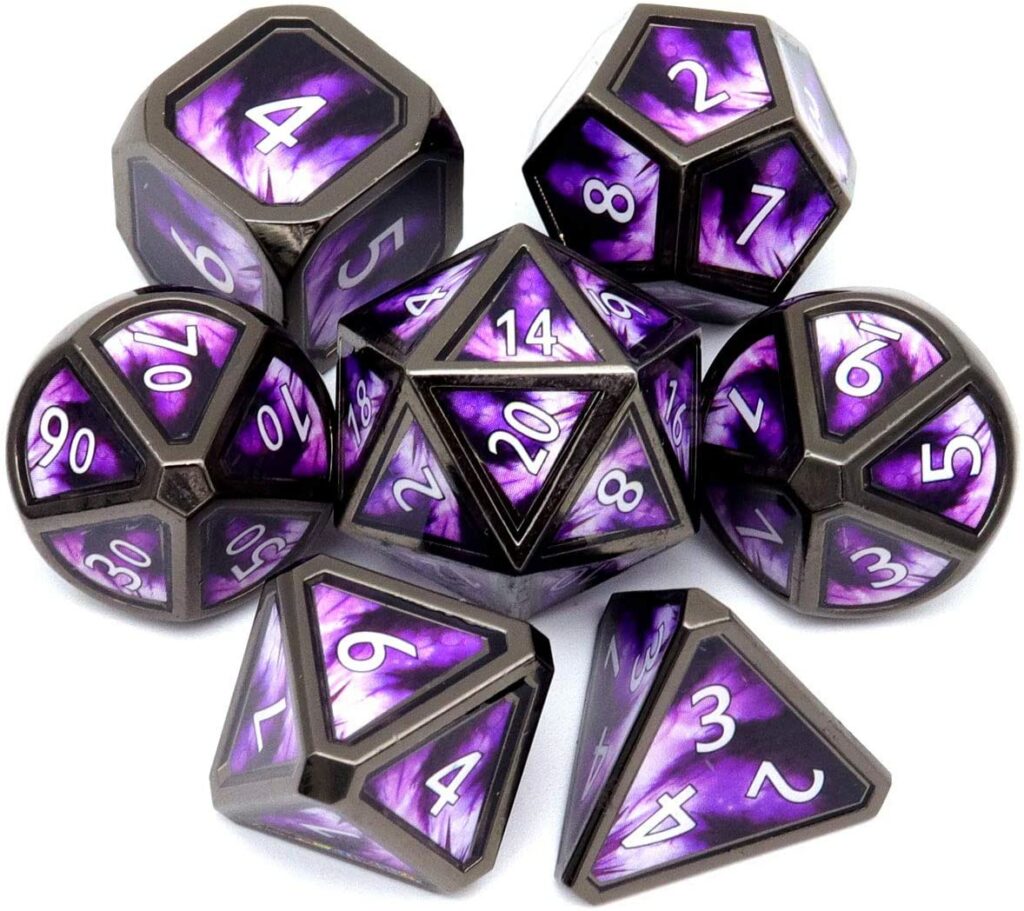 Some gaming dice sets are meant to be collected while others deserve the bustle of consistent tabletop games. The Haxtec Purple Scene dice, on the other hand, is a combination of real aesthetic value and functionality. Plus, this dice also glows at night!
The Purple Scene gaming dice has a durable, shock-proof build. The sides won't break even if the dice rolls off the table many times. If you roll too strong against the table, don't worry – the dice won't cause any dents because of its safe, rounded corners.
At first, you might feel uncomfortable with this Haxtec dice's weight. Since the dice is made of metal and the corners are reinforced, you should expect for some heavy rolls. As you get the hang of the dice, you'll soon score wonderful criticals for your team.
Aside from the beautiful Purple Scene style, you can also choose from many Haxtec favorites like Antique Copper, Black Red, and classic Black White. It's always fun to collect these unique Haxtec designs and give some to your friends.
While the Haxtec Purple Scene dice looks cool, its design is not wear-resistant. After a few months, you'll notice a slight peeling of the purple sticker design. The sticker is made of strong acrylic but it can't withstand wear and tear. There's also a minor issue with the numbers' positions. If your Haxtec dice set has numbering problems, simply call the company for a quick replacement.
5. FLASHOWL Polyhedral D&D Dice With Blood Splatter Design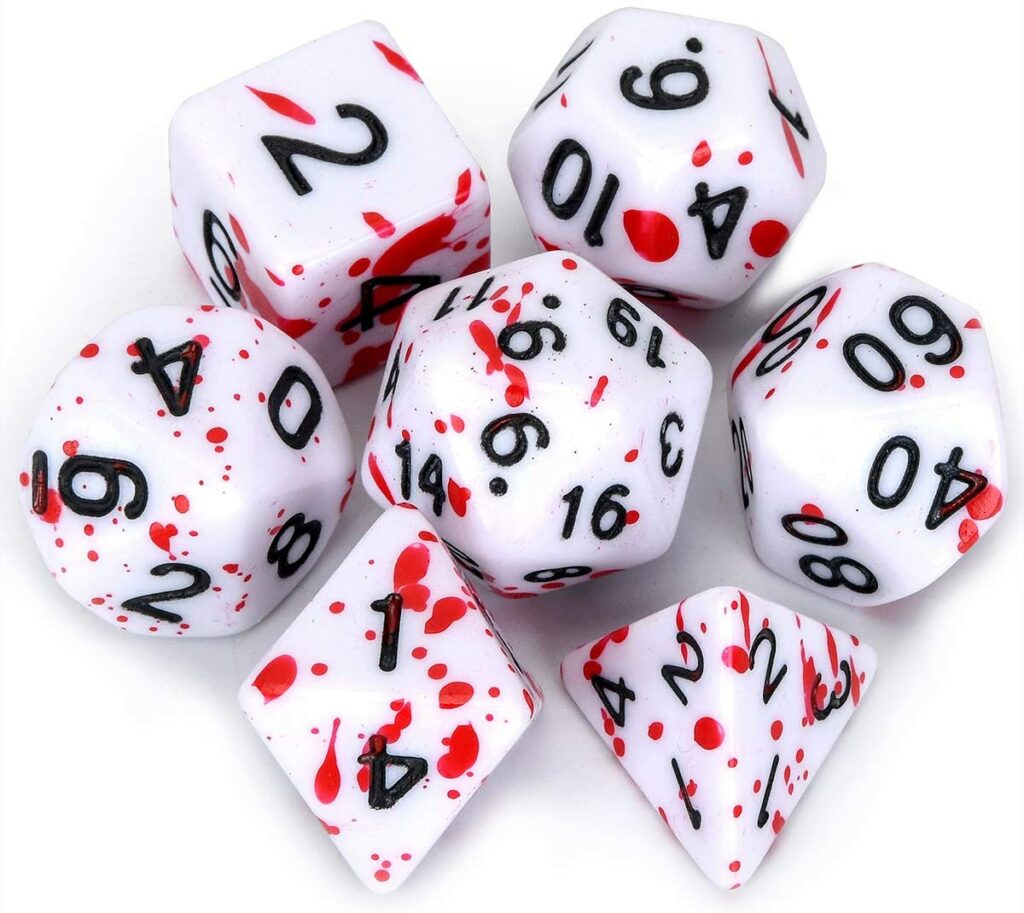 A real treat to macabre D&D players, the FLASHOWL Blood Splatter dice definitely makes a fine gift. Each die of the FLASHOWL set has 'splatters' of painted blood, making it an excellent item for your horror adventures.
The FLASHOWL dice is lightweight but you won't feel any problems with the rolls. Since the weight of the dice is balanced, you'll have a fair amount of good rolls before hitting undesirable results or even a Nat 1. The dice's corners are also not sharp, so they won't cause any damage to your precious table.
Some players think that FLASHOWL Blood Splatter dice is just a 'dice with red blotches.' Well, they're right! This unique D&D dice set is meant for niche players or avid collectors. You'll also have a hard time reading the numbers because of the uneven splatters. If the white dice design feels boring, you can always order the exquisite transparent style.
6. Wiz Dice Stardust Titan Dice With Display Case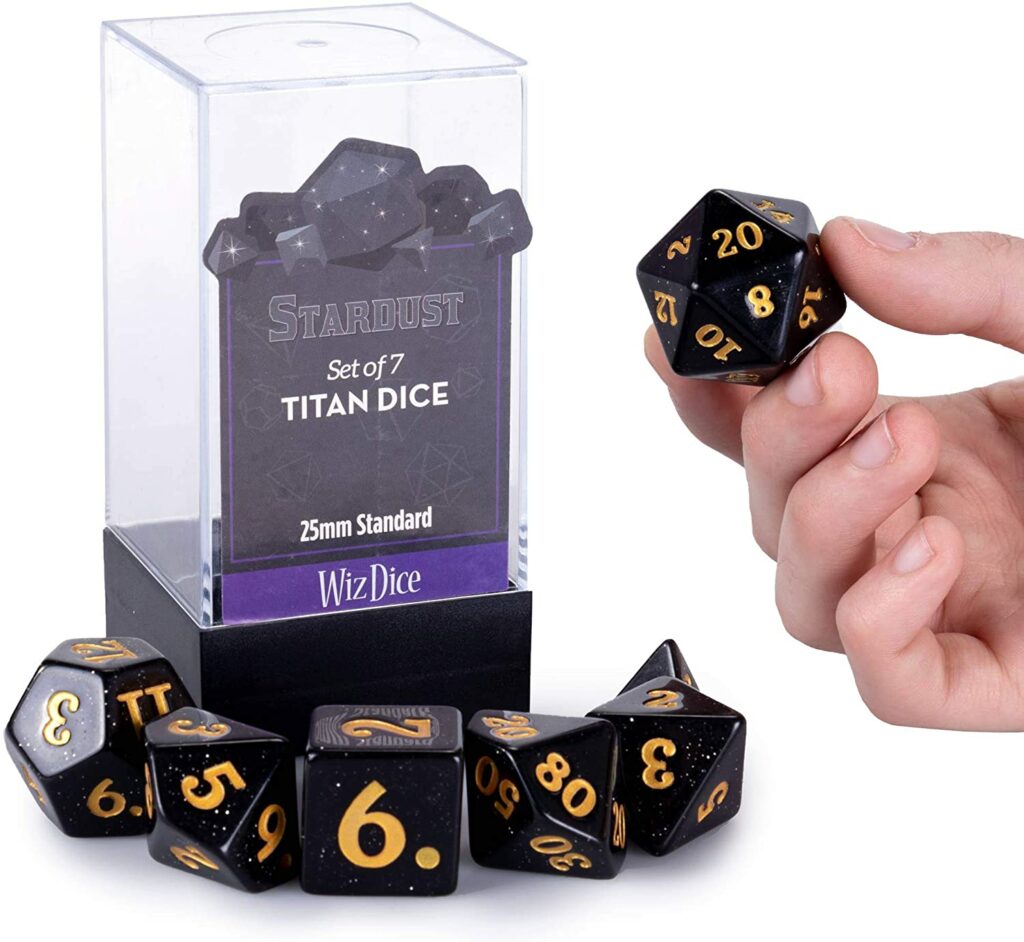 The days of the regular gaming dice are nearly over. Now, you will encounter many colorful dice sets with beautiful themes and sizes. One great example is the Wiz Dice Stardust polyhedral dice set. This dice is big, beautiful, and designed for many years of gameplay.
Made of a high-quality black shade improved by a stardust pattern, the Wiz Dice Titan Dice set is a real powerhouse item for collectors. This dice is excellent for long campaigns, especially ones that involve the gods and other cosmic forces. If you're not playing, you can put the Stardust dice on its display case for unlimited viewing.
The Titan Dice also has gold-engraved numbers, adding a touch of 'dreamy elegance.' The numbers are clear and readable, allowing your DM or anyone to confirm your critical hits and awe-inspiring rolls.
Unfortunately, Titan Dice's weight is also a problem. The dice set is bulkier than common sets, so you probably need a bigger pouch. As much as possible, don't use the dice on glass surfaces or tables with poor paintwork. You might also have minor troubles with number misprints – a common issue among Stardust sets.
7. MS Hong Steampunk Metal Gaming Dice Set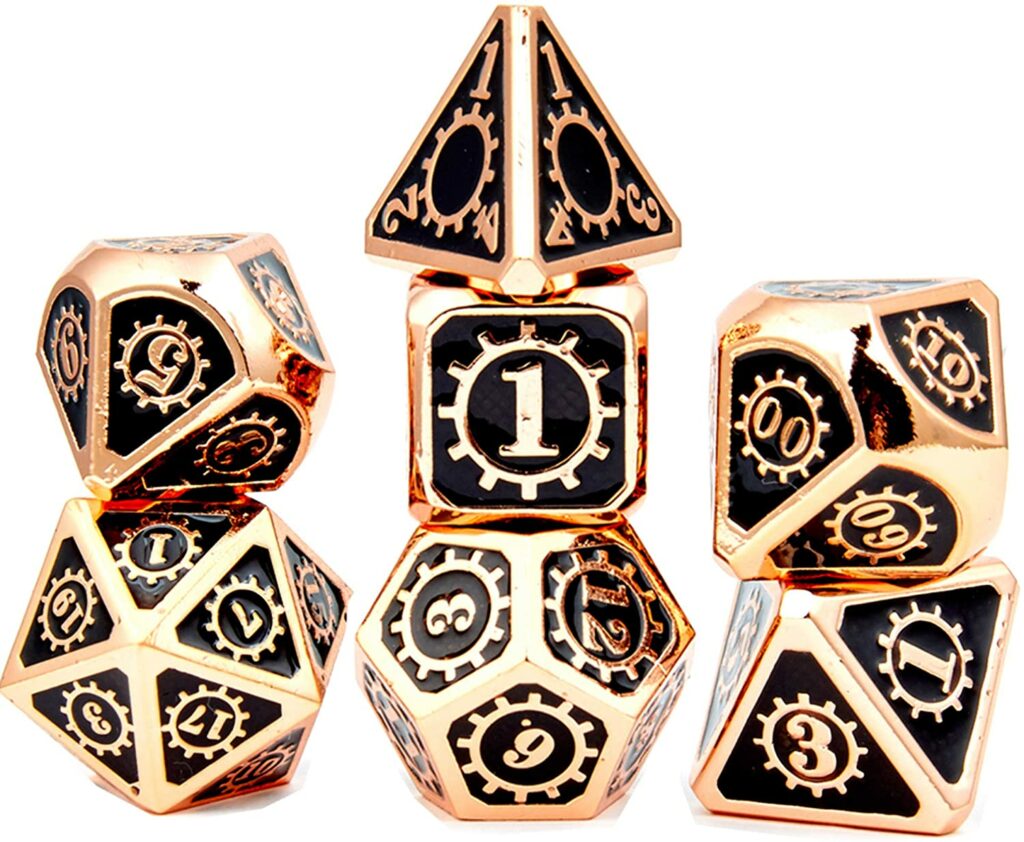 Themed dice sets are always fun to use because they reflect the adventure's subject. The MS Hong steampunk dice set, for example, is great for D&D games set in Eberron or any industrialized world. Or perhaps you can just put this steampunk dice on your special collectible shelf!
In terms of rolling function, this MS Hong metal dice is a winner. The dice is lightweight enough to pick up speed, but it's still dead-set accurate. The dice's sides and corners are strong against pressure, protecting the paintwork and aesthetics.
Your friends might think that your new steampunk dice is expensive. One of the reasons is the dice's undertones, combining elegant black and lustrous gold. Even the numerical symbols look cool because they're surrounded by steampunk-inspired cogs.
No dice is perfect, including the MS Hong dice set. Since this dice is made of zinc alloy with extra paints, it's shinier than many models. If you're playing outside, the dice can create glare but won't disrupt your game.
Be sure to double-check your MS Hong dice orders. Users have reported missing D4s, and they needed to contact the company for replacements.
8. UONUOT Fancy Metal Gaming Dice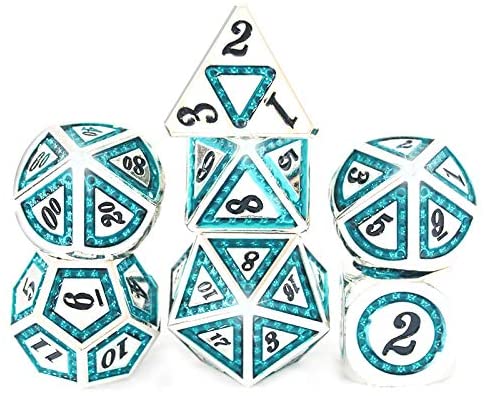 A dice set that looks straight out of Vegas, the UONUOT fancy dice will tickle your collector's itch. This dice has a cool enamel coating with a defined color and texture. It's like rolling a fancy aristocratic dice in a common game!
Made of strong materials, UONUOT's fancy metal dice can last for many gaming sessions. The painted layer won't break easily, even if you're fond of rolling or throwing hard. But be careful of the sharp edges, especially any edge from the notorious D4!
This metal dice from UONUOT shares a common drawback among other dice sets: misprinted numbers. If you ordered a dice set with misprints, just reach out to the company. The process may be fast or slow, depending on availability of the stocks and current demand.
9. HEIMDALLR Set-of-7 Weathered Bronze Gaming Dice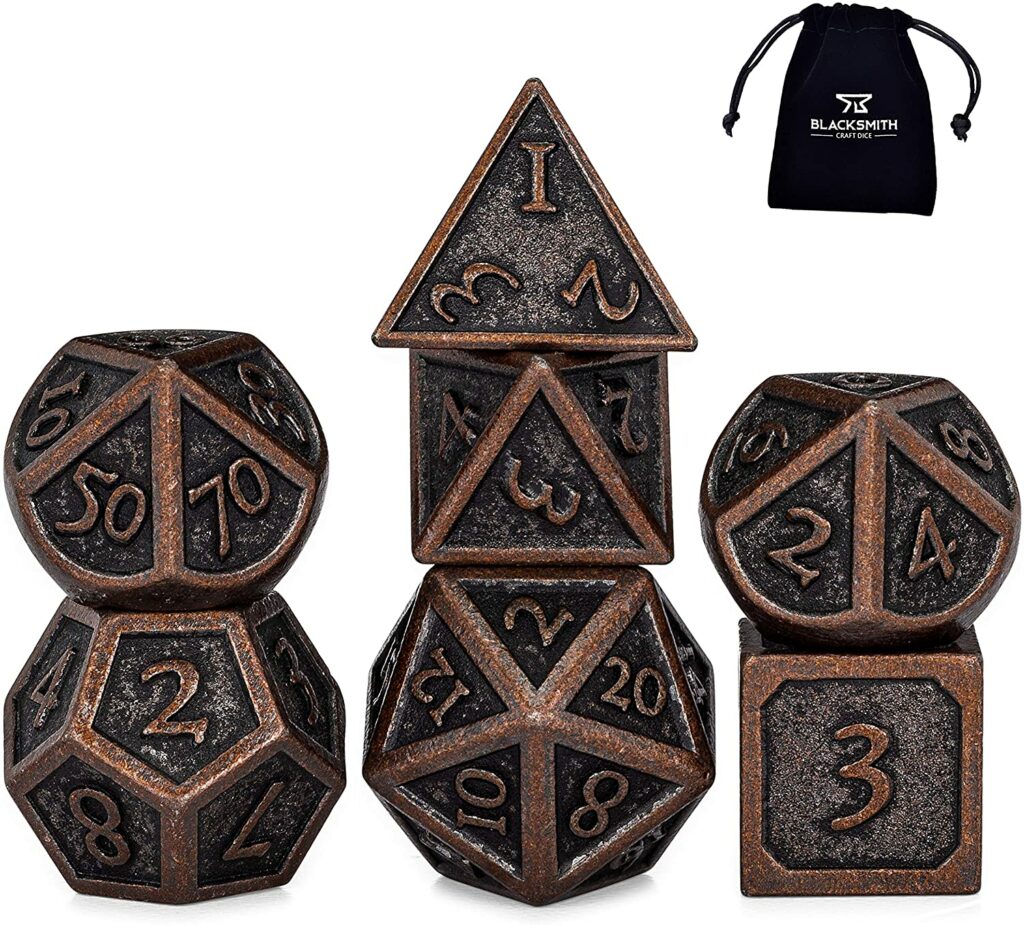 Playing with an antique gaming dice is a rewarding experience. It's like you're seeing a bit of the past while enjoying modern comforts. The best way to have this feeling is to play with HEIMDALLR's weathered bronze dice.
The HEIMDALLR dice is small but heavy. Because of the dice's weight, you may need to adjust your throws properly. A spacious dice tower or dice tray will make your rolls more accurate without damaging surfaces or hurting elbows.
If you saw that some of the HEIMDALLR dice pieces have uneven sizes, don't worry – they still have the same weight and won't compromise your rolls. This issue is just a common manufacturing problem.
Rolling A 20 With Style – How to Pick An Awesome D&D Dice
No one wants to buy a low-quality dice. So, if you want to own the best gaming dice set, you need to consider some quick important factors.
Novelty or Numbers?
It's normal to pick a D&D dice for the sheer purpose of novelty. Players often pick a D&D dice for its unique appearance and style. This makes cost a secondary factor unless you're really strapped for cash or hungry for store promos.
But here's an important thing: maximizing rolls. Players rarely buy D&D dice for the purpose of improving their roll outputs. Such a manner is purely mathematical or, at least, ascribed to the laws of randomness.
Still, the benefit is undeniable. If you can find a dice with a balanced weight and evenly cut sides, you'll see decent rolls in every gaming session.
Keep in mind that not all novelty dice sets can produce awesome rolls constantly. There are many things to consider such as throwing force, surface resistance, dice materials, and hard corners.
Bulk-Ordering For Future Games
As you get deep in tabletop gaming, you'll get the urge to buy many pieces of dice. You don't have to buy hundreds of dice right now but you'll reap an advantage as you do so.
Bulk-ordering dice pieces will help you save money in the long run. You can attend one convention after another without buying a new set of regular dice. Of course, you might get tempted to buy a novelty set but this is another matter.
It's always better to have many dice clusters in a table. You might need extra dice to roll big attacks such as multiple mecha-dragons spewing fire. In tabletop games requiring explosive dice (big criticals), large dice groups will help you save time.
Before you start ordering by bulk, make sure that the company is trustworthy. You'll know this by checking the product stars and current reviews.
Consider Extra Dice Sets
Some players finish campaigns with only one set of gaming dice. While you can do the same, you should think about getting extra dice sets. You never know when you'd lose a dice or two!
D4s and D6s are the ones that get lost often. These dice pieces are small and can usually fall between cracks or open spaces. If you want to avoid future hassles, you can just buy two or three affordable sets. During busy game sessions, just swap these dice sets around to lessen the wear and tear on your favorite dice.
Another purpose of extra dice sets is gifting. If one of your friends doesn't have any gaming dice, be a good soul and offer your extras. Maybe you can also receive gifts from your friend or he/she might save you from an angry Beholder.
And if you even spared a dice for your DM, who knows what leverage or rewards are waiting for you?
How To Take Good Care Of Your Flashy Dice?
As you play many tabletop sessions (one campaign has at least two games), the quality of your gaming dice will erode. You probably wouldn't notice the wear and tear over the first few games but the damage will still accumulate. Of course, it's easy to buy a replacement dice set but you can always apply some preventative measures.
Buy A Custom Dice Pouch
Gaming dice manufacturers usually include dice pouches in their product kits. These pouches are made of simple threads, and they can last for a long time. However, if you're aiming for higher quality, you should try ordering a custom dice pouch.
Custom dice pouches have distinct styles and levels of durability. Since these pouches are custom-made, expect that their cost is higher. The prices shouldn't be too far from generic dice pouches. Also, one advantage of custom-ordering pouches is the chance to get freebies. Maybe you can even get two pouches for the price of one!
To find the best custom dice pouch, you can simply follow numerous tabletop specialty stores. These stores usually have websites and socials, often promoted by big RPG sites like ENworld and Geek & Sundry.
Think About Your Dice Storage
If you're new to the D&D scene, you should know that having one set of gaming dice is almost a myth. Many players have multiple die sets, ranging from the mundane to the magnificent. Once you've bought your first dice set, you might end up buying new sets later.
Why is it fun to collect gaming dice? The first reason is aesthetics. Gaming die are colorful, and they even have numerous shapes and themes. The second reason is novelty – everyone wants to collect the next fancy thing. Gaming dice makes the process easy because of its low price barrier.
So if you're going to have a big dice collection later, you need to think about storage. A custom dice pouch is just the beginning. To store all of your gaming dice sets later, you need durable plastic storage boxes with easy-to-open lids. Toolboxes are also great options because they can fit in your car but spacious enough for multiple dice sets and even miniatures. If you're a Dungeon Master, a toolbox will also store your maps, DM covers, character sheets, and tons of other tabletop accessories.
Some of the best toolbox brands are DeWalt, Goodyear, and Maxpower. There are also tons of unbranded boxes that won't burn a hole in your wallet.
Clean Your Dice Regularly
Your new gaming dice set is part of your hobby collection. In tabletop, each dice represents your action – among many other things. Therefore, it's important that you take care of your fancy dice set by cleaning it after every game.
Remove fingerprint smudges from your dice by using an absorbent microfiber towel. Any towel is acceptable but microfiber will help you save a few minutes. Consistent cleaning will not only remove smudges but can also minimize the occurrence of paint chipping.
Hollowed dice require a more thorough cleaning process. The hollowed dots tend to collect more gunks over time, especially if you have sweaty fingers. If you love to eat while playing, small bits of food can fill the hollowed dots. To clean a hollowed dice properly, you need to use a Q-tip dipped in alcohol or sanitizing liquid.
The hardest type of dice to clean is artisanal dice. Artisan dice sets have weird shapes and extra spaces that can attract dust. You can clean a special artisan dice by using an affordable cleaning kit from online shops.
As much as possible, do not share your gaming dice. Every tabletop player must have a personal dice set – one of the hobby's unwritten rules. If you love to share, you can just bring a cheap dice set as a quick alternative.
Epic Bonus: Cool D&D Adventures To Get You Started
What if you already have a dice but you still haven't selected a module to play? Well, that's like having a delicious stew without any means to get a ladle!
We can still help you with such a dilemma. Here are our handpicked popular adventure modules for D&D:
Waterdeep: Dungeon of The Mad Mage – Can You Survive This?
The Dungeon of The Mad Mage (DOTMM) is one of the best modern modules for D&D Fifth Edition (5E). It features a mega-dungeon filled with many monsters, foes, and deadly traps. This is the handiwork of Blackcloak – the infamous Mad Mage of Waterdeep.
DOTMM is not a joke. Depending on your party composition, you will steamroll the early areas or you might experience your first gruesome TPK (Total Party Kill). It's important to have a considerate DM to finish DOTMM.
Since DOTMM is a classic dungeon crawl, expect little emphasis on plot. Your party must have a strong collective motivation to conquer the Mad Mage's realm. Sometimes, loot is just not enough.
Hoard Of The Dragon Queen – Prepare to Face Tiamat!
Have you ever wished to fight a terribly strong extradimensional deity at the comforts of your home? In that case, the Hoard of The Dragon Queen (HODQ) is a top choice. In this module, you and your pals must stop the Cult of the Dragon from bringing Tiamat, the Queen of Dragons, to Faerun.
If you're not fond of too much randomness, you won't be disappointed with HODQ. The module is almost linear with a few side-tracks here and there. Additionally, the encounters scale at a tolerable pace but you still have to be careful with some enemies. Proper tactics and planning will help your party survive this module.
Tomb of Annihilation – You Will Die. A Lot.
Known as a remake of the old-school and difficult Tomb of Horrors, the Tomb of Annihilation (TOA) brings you to the tropical hellscape of Chult Peninsula. Your goal is to stop the death curse affecting the entire world by finding the Soulmonger – a corrupted, necromantic artifact. You also have to face the legendary Demilich, Acererak.
Tomb of Annihilation is a meat grinder. This module will test your wits, desire for survival, teamwork, and combat prowess. A couple of bad rolls will mess up your journey. Your party might get lost, and one (or two) of your friends might succumb to traps.
To make TOA more interesting, you should play with complementing game mats and detailed grid maps. Miniatures can also make the battles more intense!
Recap: 9 Best Gaming Dice for D&D 2021
Having a flashy dice set in your D&D tabletop sessions is not just a plain vanity move. It will make you feel more authentic and special – as if you're part of a real adventure. More importantly, you can change dice sets depending on your mood. Try a fiery set to reflect your character's ambition or a turquoise set to emphasize your coolness. With a handful of gaming dice sets, the possibilities are semi-endless!
Do you agree with our brief selection of gaming dice? Share your thoughts in the comment section below!