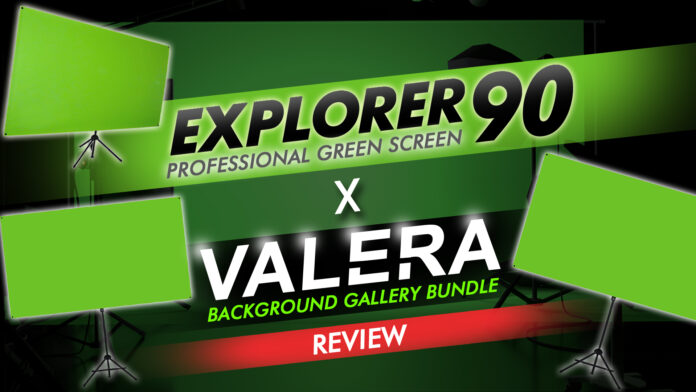 Finding a green screen to use for streams or video and photo production can be overwhelming.
For photographers and videographers, the right green screen can streamline the photo and video editing process. It allows content creators to take out the background flawlessly and effortlessly.
From a streamer's perspective, a green screen makes their broadcasts look more professional, as it gives the audience a better view of their content.
That's why we came up with detailed listicles on the best green screen for streaming and product-specific reviews like Explorer 90 Professional Green Screen, so you will have a better understanding when deciding which green screen best suits your needs.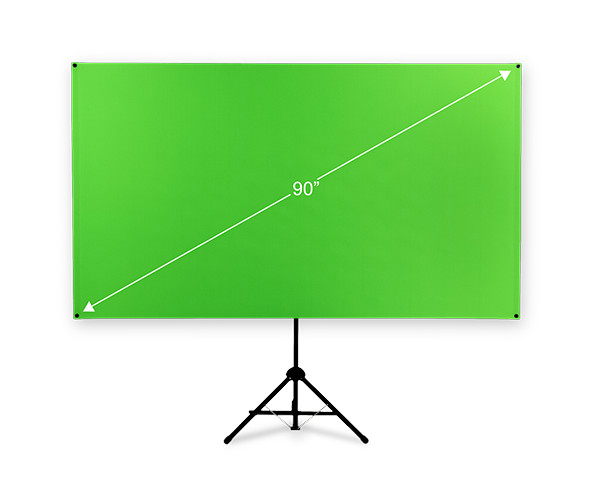 Specifications:
Material Type: Proprietary ChromaBoost wrinkle-resistant fabric | Measurement: 90″ diagonal (80 "W x 46 "H) | Rigging: Comes with tripod stand, stabilizer, wall mount bracket, and 2x mounting hub
Different green screens cater to different needs. If you're looking for something big that can be transported with ease, consider Valera Green Screen's Explorer 90.
Apart from being versatile and compact, it uses a professional-grade screen to ensure high-quality output when streaming or creating video content.
Setting it up is easy and doesn't take as long as other green screens on the market. But what really makes it stand out is the included wall mount, which you can use if you don't have enough space to set up the tripod.
Moreover, you won't have problems with screen wrinkles since the fabric is wrinkle-resistant. You can also adjust the screen to either landscape or portrait orientation to get the best angles.
Explorer 90 Professional Green Screen: Features
Size
Two of the most notable features of the Explorer 90 are its large screen and ultra-portable travel bag.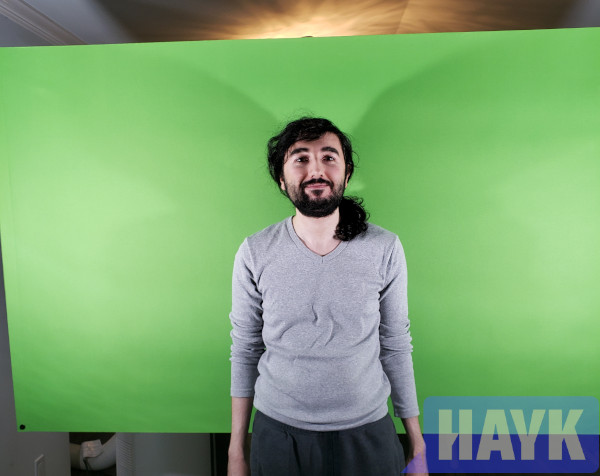 The green screen has a size of 80″ x 46″ or 90″ diagonally. Even though it's 46″ long, it's easy to carry around since it only weighs 8.5 lbs– considered the lightest in its class.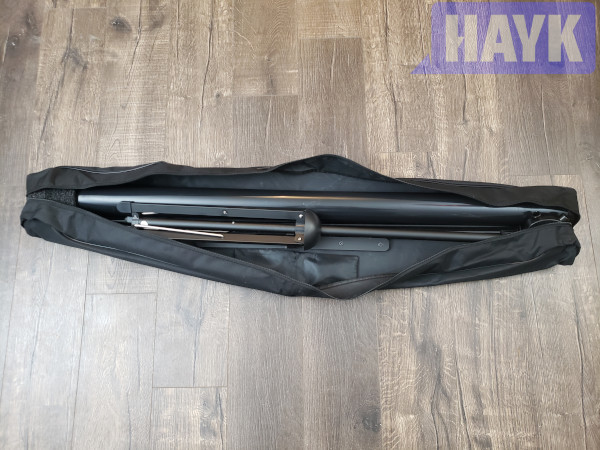 Material
The screen uses a proprietary ChromaBoost wrinkle-resistant fabric with high vibrancy, ensuring high-quality video and photo production. If you're going to use it for gaming, you can remove the background and use professional layouts.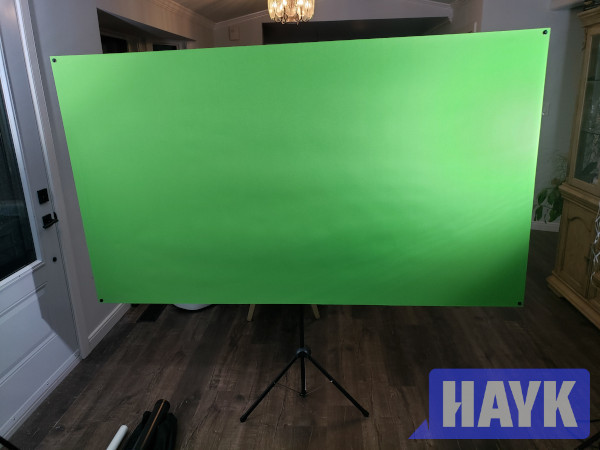 The fabric works exceptionally well, even in low lighting. If you're planning to take pictures or record videos in low-light conditions, this product is ideal.
Setting Up
Setting up the Explorer 90 is very simple and should take you only two minutes.
It is important to note that this green screen is intended to be used indoors. Although it can be used outdoors, it won't be as effective. A slight gust of wind and uneven surfaces are among the factors that could easily tip it over– even with the stabilizer bar.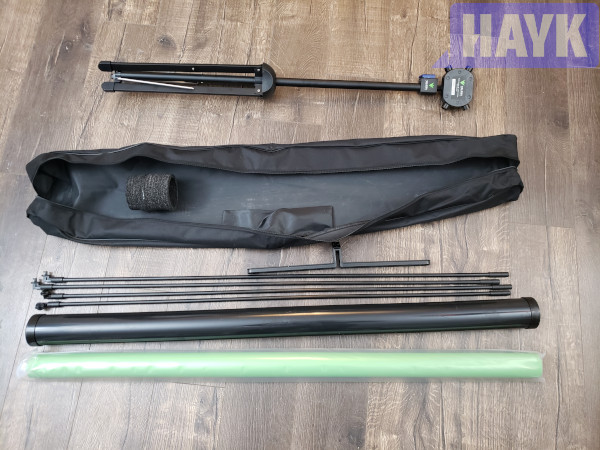 To start, make sure you find an even surface to set up the tripod. Two of the tripod's legs should be facing the camera while the remaining leg is facing away, supported by the stabilizer. If you have weights, you can also reinforce the stability of the tripod.
When the tripod is set, get the mounting hub and attach it to the pole using the two thumbscrews included in the package. Make sure you insert both thumbscrews into the holes next to the red arrows. Use your thumb to fit the screws clockwise until they are finger-tight.
Unlike most green screens, the four support arms go diagonally from the mounting hub sockets. Once they fit nicely, rotate the four support arms until the hooks on the edges face the shooting area.
Next, carefully unroll the green screen fabric on a clean surface. You can ask someone to help you attach the four corners of the material to the four support arms hooks for easier installation. For a more comfortable setup, always start with the top corner hooks before you attach the fabric to the bottom corner hooks.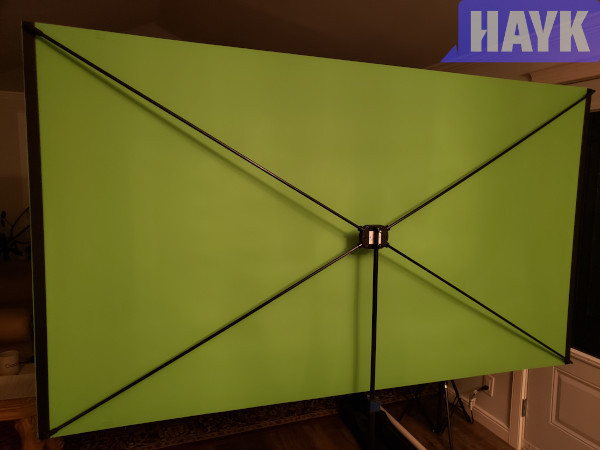 Once everything is set up, adjust the mounting hub with one hand and pull out the height adjustment lever. Raise the mounting hub to your intended height and push the height adjustment lever to lock the green screen fabric in place.
Convenience
Because it's light and compact, the Explorer 90 is perfect for on-the-go content creators and streamers. One might think it's too light even to withstand its own weight when set up, but it actually comes with a stabilizer bar.
No matter what you're going to use this green screen for, it should be able to hold its ground indoors.
BONUS!
Lastly, this bundle includes a #WorkingFromHome BONUS!
It gives you access to the Valera Background Gallery, where you can use free green screen backgrounds and streaming templates for unlimited use. Since the gallery is sold separately for $49.99, it's nice to know that you have it included in the bundle as a bonus.
Final Words: Is it Worth it?
If you frequently move from one place to another, this bundle should provide everything you will ever need during shootings. The included wall-mount bracket is also a welcome addition. Overall, it is an excellent product so long as you don't do outdoor shoots.