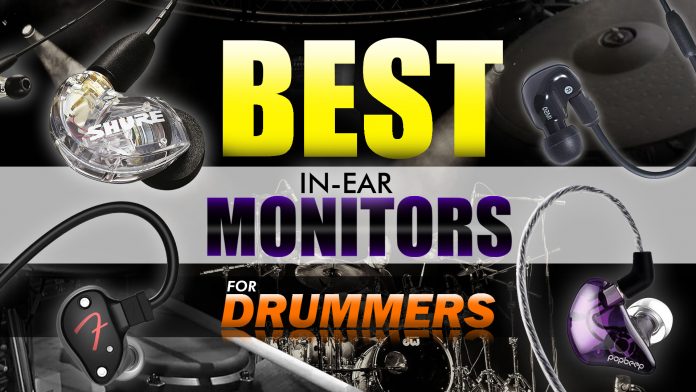 To be perfectly honest, in-ear monitors for drummers aren't a new thing. These are used by professional drummers to track their music progress whenever they are recording something. These equipment were already in the market for a long time now, and recording studios have been using these for years. Yet, the recent advancements in technology have allowed people to have access to these gear even if they aren't running a professional setup.
I know a lot of drummers often just use their "feel" or an "internal metronome" to get their beats going. As a drummer myself, I understand these things we tell ourselves. 
But quite frankly, back then, the only reason I wasn't able to use in-ear monitors for drumming was that I lack the funds to buy one. But as we've said previously, technological advancements are being made. And this means that these advancements make tech stuff much cheaper too.
Hence, I tried using an in-ear monitor, and I have been regretting the fact that I have never used this before. These are mainly due to two things:
Tempo – Keeping the score of your rhythm is a massive deal for drummers. This is primarily because it is us who gives off a song's beat for the band to follow. Just imagine if a song goes out of tempo because you, as a drummer, cannot keep the beat on a proper count. I was a very huge victim of this, especially when it's so "feel good" that you lose track of your beat, whether it's you playing faster or slower. 
Hearing other instruments – You are very close to your drums (duh), and frequently, this makes you understand your other members less. This ensues chaos in your sound that you wouldn't want to have other people hear, especially on a live stage. 
Owning a pair of in-ear monitors (or IEMs) for drumming actually solved these problems for me, and I did not regret getting one. And we want to share that feeling to you if you are a drummer yourself. If you're going actually to feel professional in your performances, we highly suggest you check out the best in-ear monitors for drummers on this list.
Best In-Ear Monitors for Quality Sound Output:


Audio Technica ATH-IM50 Dual Symphonic-Driver In-Ear Monitor Headphones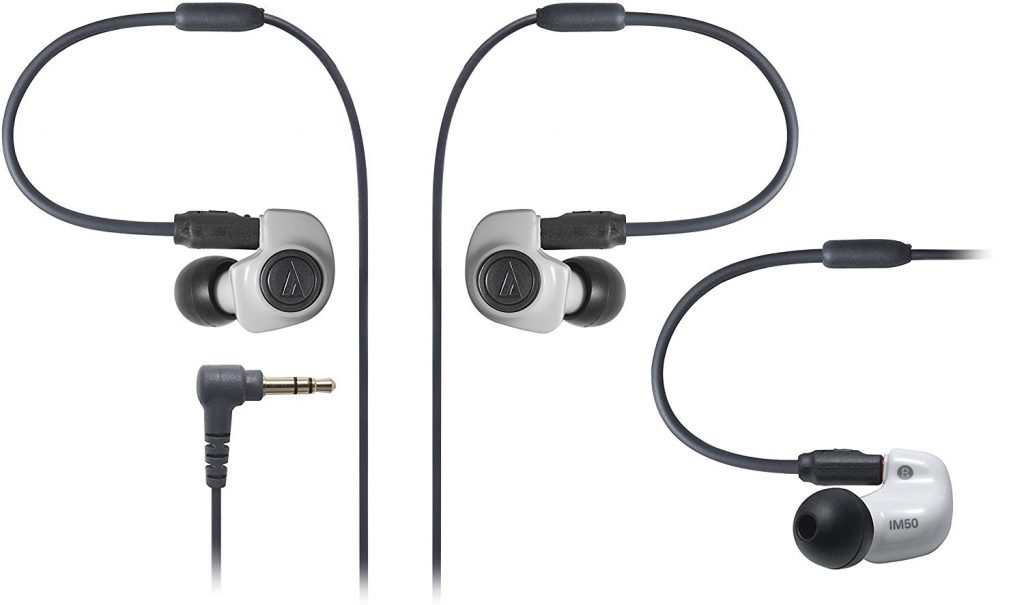 The Audio Technica ATH-IM50 Dual Symphonic-Driver In-Ear Monitor Headphones is a powerhouse when it comes to performance. Made by Audio Technica, a leader in music and sound equipment, the ATH-IM50 boasts impressive specs that most drummers are looking for in an in-ear monitor. Heck, even guitarists use this just because of how well the sound output of these is. 
For starters, let's talk about the headphones themselves. Weighing about 3.4 ounces, it is quite "heavy" compared to most in-ear monitors for drumming out in the market. The size is around 4 in x 2 in x 6.5 in. These are perfect for those drummers who actually want to feel a gear in their ears. 
These in-ear monitors also come with soft ear tips that sit comfortably in your ears. It also helps prevent any discomfort in long performances or recording sessions. The earbuds come in two different sizes and a lot of people who have experienced using the ATH-IM50 report that these stayed on their ears pretty well.
Performance-wise, the Audio Technica ATH-IM50 Dual Symphonic-Driver In-Ear Monitor Headphones is no slouch. The noise-canceling feature is one that all drummers would love. It isolates sounds without giving long-lasting damage to your eardrums. All of this without reducing the quality of the music you are listening to.
The ATH-IM50 provides high-quality, crisp sounds due to its symphonic-drivers. These are devices built inside the earphones that translate sound coming from the source in a very accurate manner. There are no imbalances found regarding bass and treble when using these in-ear monitors. There is also a horn-shaped conductor pipe that helps mitigate acoustic radiation resistance. 
All-in-all, the Audio Technica ATH-IM50 Dual Symphonic-Driver in Ear Monitor Headphones are a set of reliable in-ear monitors for drummers and guitarists alike. If you don't mind the pricey nature of the equipment, then pick this up, as the quality will not let you down.
Best In-Ear Monitors for Comfortability while Playing the Drums:


Shure SE215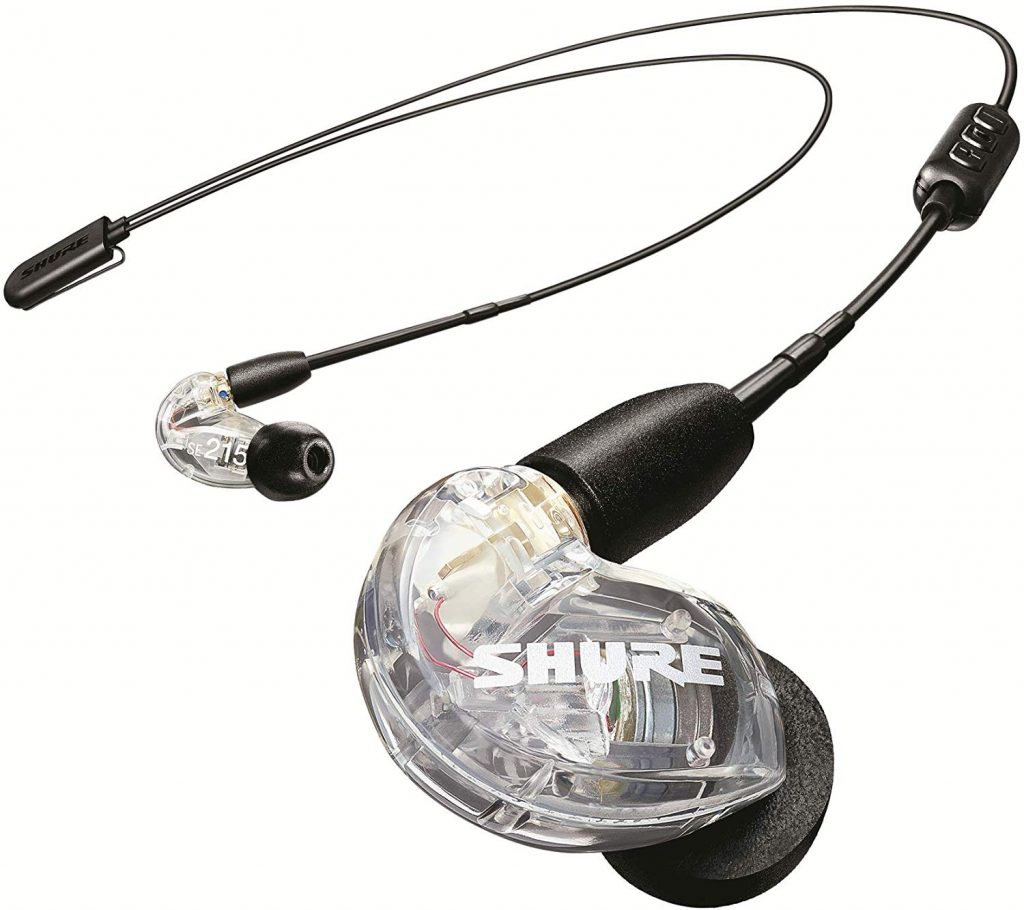 Tried and tested in-ear monitoring from a tried and tested brand.
Shure has always been that brand that gives quality music gear since, well, forever. Their line ranges from the best microphones for recording vocals, amplifiers, earphones, and more. They have continuously given out products that are in-demand on the music scene by many professionals. And with this product, it's no exception.
The Shure SE215 is a robust in-ear monitor for drummers. First of all, compared to some of the products on this list, the SE215 is priced correctly for its quality. It's not that pricey, but still commands a price that shows its quality. Also, unlike some of the competition, this IEM also relies on a Single Dynamic Driver for sound output. This enhances bass frequencies to a moderate degree, so you would not experience any drop in bass sound quality. Noise reduction is also not an issue since this in-ear monitor for drummers blocks up to 37 decibels.
Comfort is also not an issue, as there are three foam sizes that you can pick from. The Shure SE215 might be the most comfortable out of everything on this list, so if you value that, then definitely go for it.
Lightest In-Ear Monitors for Drummers:


MEE Audio M6 Pro Musician's In-Ear Monitors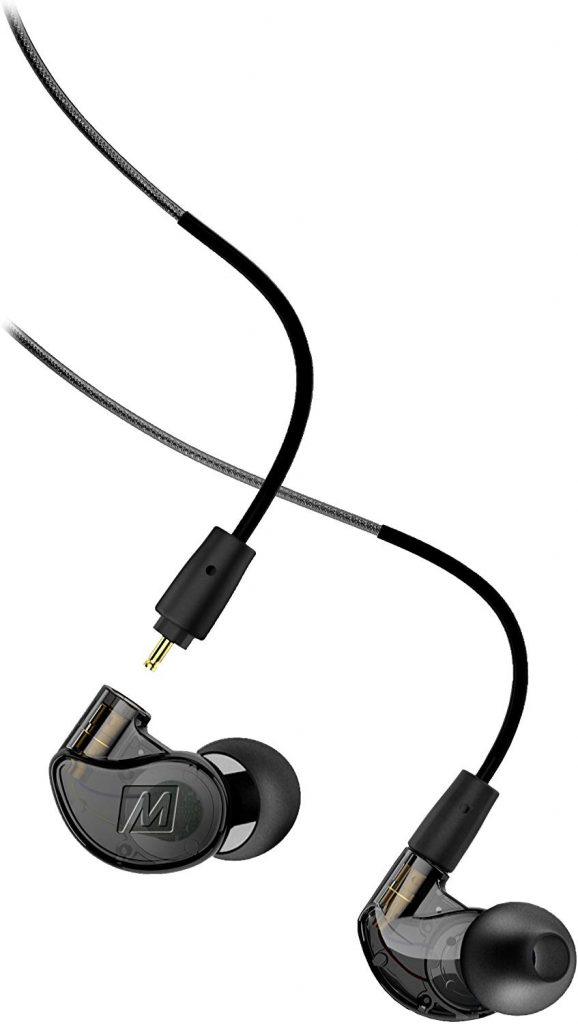 Probably one of the lightest in-ear monitors that a drummer can use, the MEE Audio M6 Pro is a good pick for those who are starting out.
ME Electronics is entirely new to the scene. They may not as established as Shure or as technologically pioneering like Audio-Technica, but they do have tricks up their sleeves their products worth checking. For example, for the MEE Audio M6 Pro, they made it probably the lightest in-ear monitor for drummers. Weighing only 0.6 ounces, once you plug in your ears, you can just forget that it's in there. This is quite good for those who are only new to wearing IEMs. These people might find it awkward or weirded out when they try to use a monitor for the first time. But the M6 Pro will take care of that feeling due to its lightness.
Sound-wise, the M6 Pro does deliver clear sounds. The performance it gives for something of its price is simply fantastic for beginners. Yes, only with beginners, apparently. See, music professionals tend to distinguish between sounds in a better fashion. Hence, the one flaw of the MEE Audio M6 Pro will stand out, which the fact that it has trouble is bringing out some higher treble frequencies.
Besides that last thing, the MEE Audio M6 Pro is one of the best buys you can have. If you have bass-heavy songs (that this product is more than capable of handling), or just want something that feels really comfortable, then try this one out.
In-Ear Monitors for High-End Drummers:


Westone AM Pro 30 Triple-Driver Universal-Fit In-Ear Musicians' Monitors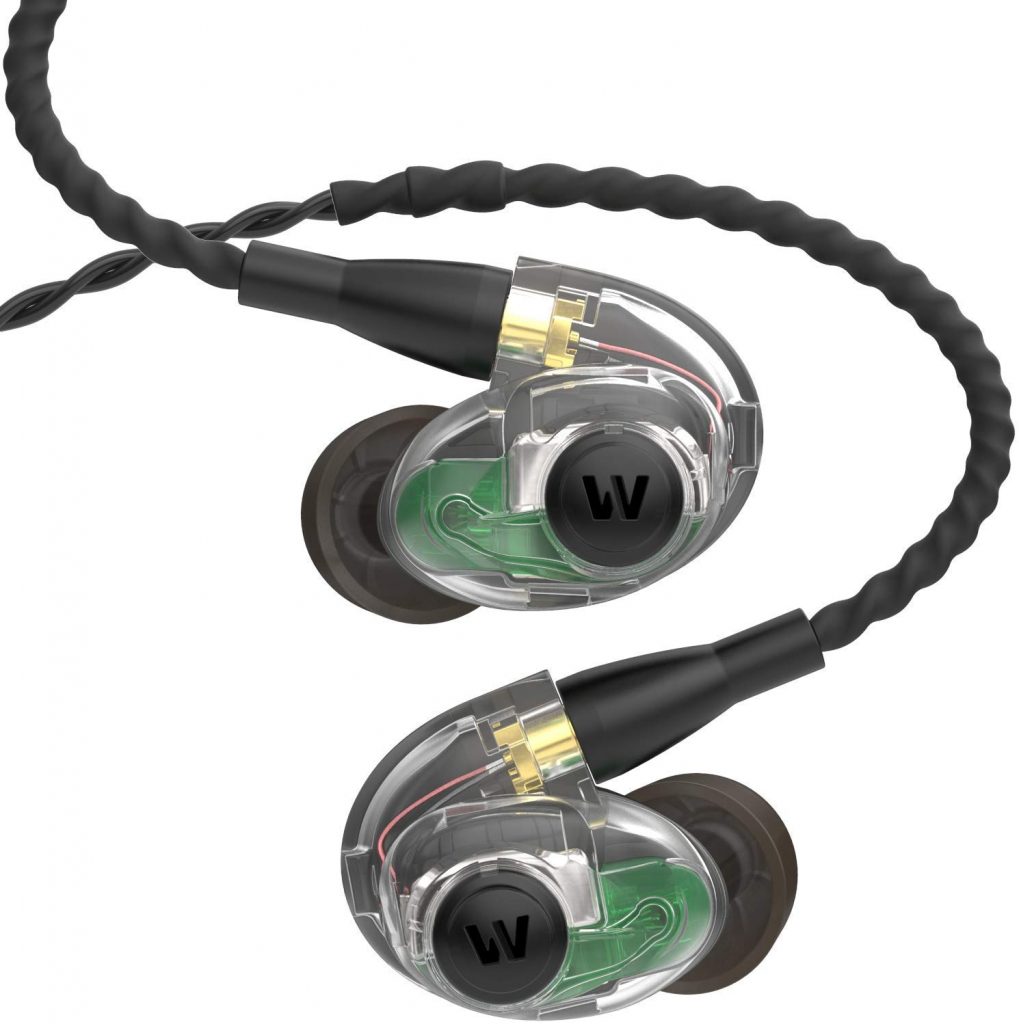 First of all, the price tag for the Westone AM Pro 30 Triple-Driver Universal-Fit In-Ear Musicians' Monitors is not for the faint of heart. But it's that priced for a reason, and the right amount too.
As its long name suggests, the AM Pro 30 has "Triple Balance-Armature" drivers that lets it do a three-way crossover. If you don't want the jargon and want the explanation, just know that it delivers crystal clear music all the time. The SLED Technology included on this device lets it dish out different levels of quality music output.
The AM Pro 30 in-ear monitor for drummers sports an ergonomically designed build. The case is made of very durable ABS plastic. This lets it withstand wear and tear from continued use without reducing the overall sound quality output. The case is also unobtrusive to the ear, although it might be on the heavier side. Of things. The wire is sweat proof and is twisted to avoid direct initial damage to it.
If you are worried about comfortability, then this product also got you covered. It has ten different ear tips included in the package. This lets you run these in-ear monitors without the worry of it being fit wrongly inside your ear. 
All-in-all, the Westone AM Pro 30 Triple-Driver Universal-Fit In-Ear Musicians' Monitors is perfect for high-end drummers that want high-end performance. Just keep in mind that it also comes with a high-end price tag.
Professional In-Ear Monitors for Musicians:


Sennheiser IE 40 Pro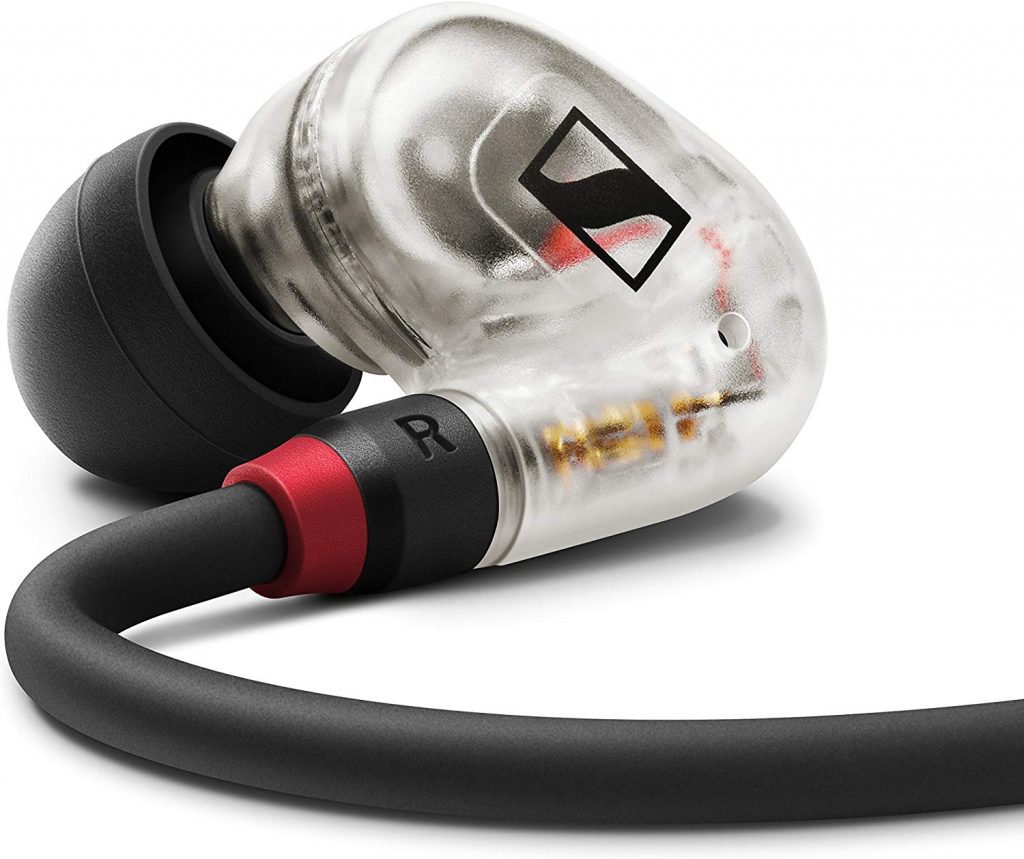 We haven't found an in-ear monitor for drummers that are as professionally made, such as the Sennheiser IE 40 Pro. From the build, the sound quality, to quite the strict sound output, everything from this IEM just screams "of professional" quality.
Starting with the build, the IE 40 Pro is built solidly. It comes in two colors, black and clear plastic. The ear hooks are comfortable when put on, and the cord placement does not get in the way of robust drumming action. It has a weight of 4.8 ounces, a bit on the heavy side on others on the list, but still feels comfortable to wear for long periods of time.
The sound output of the IE 40 Pro is powered by a dynamic single-driver. This allows the frequency range to be delivered in a single section, and let the sound coalesce perfectly. The cords are thicker, which offers excellent protection against things that might ruin sound quality. The frequency response rate for the IE 40 Pro raises up to 18,000 Hz, and SPL levels reach up to 115 dB. This makes it great for any on-stage performer, and of course, includes us, drummers.
In-ear monitors for musicians are often used as earphones used in other daily activities. But if you are looking for an in-ear monitor that acts solely as is intended, and at a very high level, then the Sennheiser IE 40 Pro is for you. We can only think of one other product that can provide maximum efficiency for drum monitoring, and that is…
In-Ear Monitors Made Especially for Drummers:


Sennheiser IE 500 Pro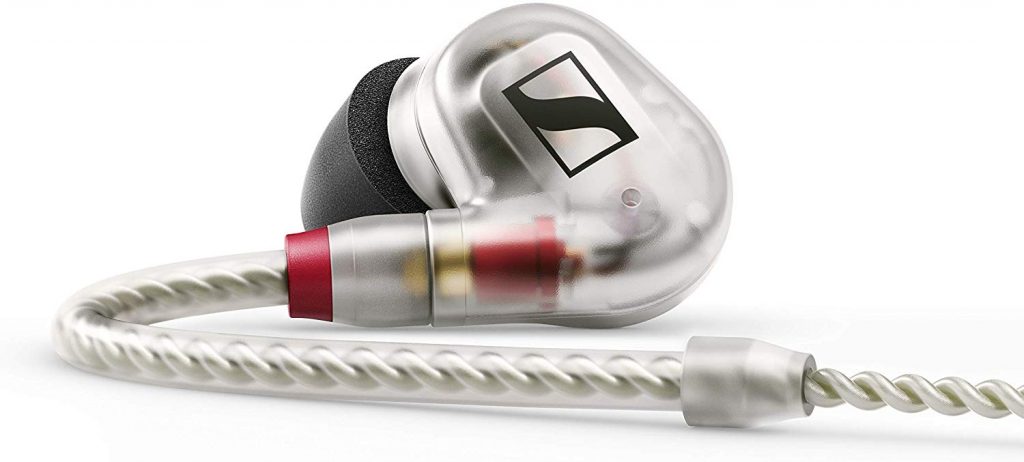 A powerhouse compared to most of its competition out there, the Sennheiser IE 500 Pro is a beast. And the most exciting thing to note is that it is explicitly made as in-ear monitors for drummers and bassists.
This IEM is a massive upgrade to the already powerful IE 40 Pro, and it's next in line, the IE 400 Pro. If the 40 Pro is suitable for any musician, they recommend the 400 Pro for vocalists and guitarists. Meanwhile, due to the sheer frequency response (a whopping 6 – 20,000 Hz max), the IE 500 Pro is best used by those who deal with instruments with a high-frequency range. This means it can ideally give you the lowest sound of the bass, and the highest vibrations of a thin drum cymbal. Couple that with a maximum pressure level of 126 dB, and you can see why the IE 500 Pro is a hardcore contender in this list.
It still retains the dynamic single-driver that its predecessor has. The sound will still continue to produce high quality, harmonious sound. It also comes equipped with TrueResponse driver technology, which reduces acoustic stress via distortion-free sound reproduction. Speaking of which, the 0.08 distortion factor which protects your hearing while giving a better sounding output on your earpieces. 
 For those that care about style points, the twisted cables look good on-stage while maintaining sound protection. This product comes with clear and smoky black colors.
If you can withstand the price, then the Sennheiser IE 500 Pro is a godsend for those looking to buy high-quality in-ear monitors for drummers. If you are planning to go professional and you want to invest in proper gear, then you might want to pick this up.
Stylish yet Budget-Friendly In-Ear Monitors:


BASN Bsinger+ Pro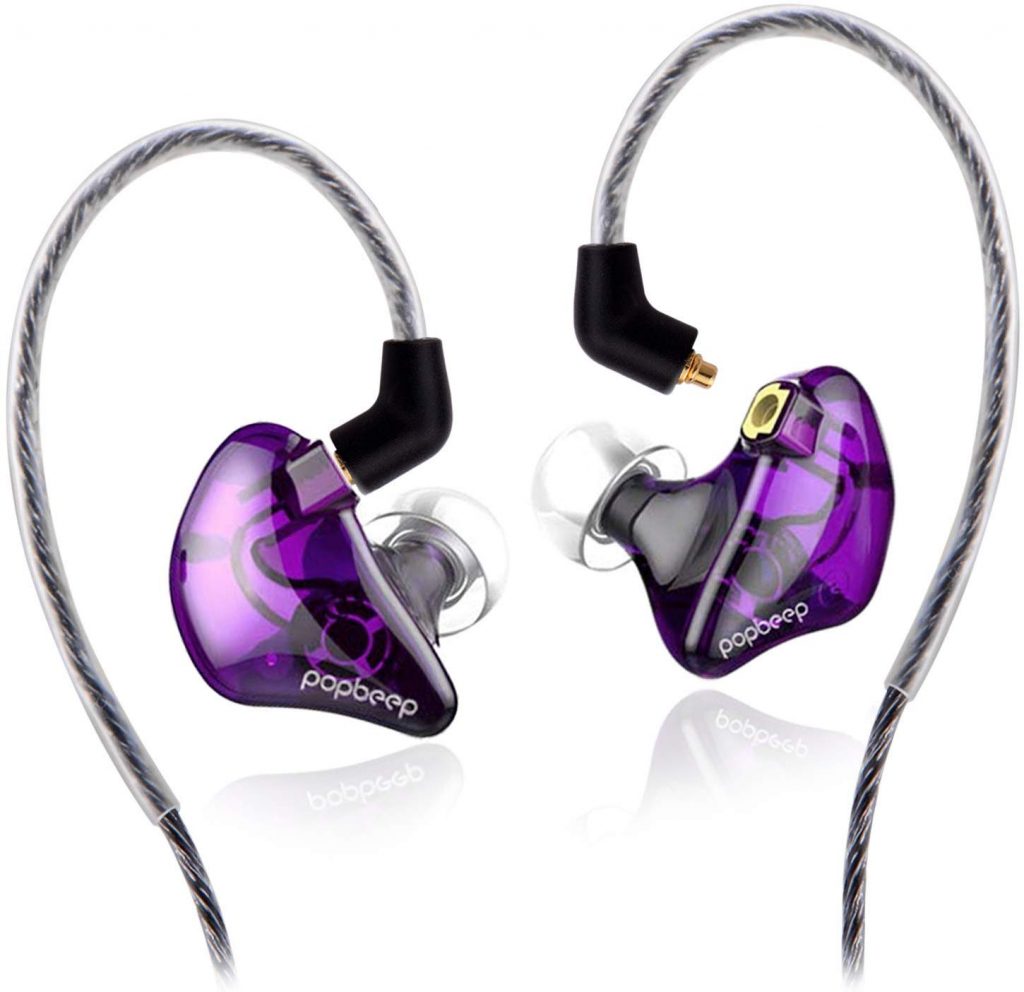 Let's say that you want to explore how it is to use an in-ear monitor for your drum sessions or gigs. You don't have a lot of cash on you, but you want to hone your skills in your craft. Also, you care about looking good while playing, because of one reason or the other. You browse through many lists and have yet to see something that triggers your sense of style. Well, why not look at the BASN Bsinger+ Pro and see how it fares?
Out of all the ones we've reviewed here, this particular pair of in-ear monitors for drummers actually look the most stylish. The Bsinger+ Pro comes in 5 colors: deep red, black, blue, green, and purple. The sweeping curve and design of the actual earphone unit is also more pronounced and looks a bit different. The plastic used for the casing is see-through, adding more flavor to its style.
Other accessories in the package include a neat carrying case and. five medical-grade ear tips. The cable that the Bsinger+ Pro use is an MMCX Replaceable cables, which fit most major brands of in-ear monitors. It works with Shure and Westone IEMs, in case you are planning to buy those in the future and would like to keep a cable handy for emergencies.
Do not expect immaculate sounds, though. Their Dual Drivers that offers high-definition sounds are good in paper, primarily since they use Neodymium magnets. But if you take a look closely, these are often standard for a lot of the best mid to high-tier earbuds. So the sound quality may be excellent, but for monitoring, they might fall short of what you were expecting. Nonetheless, for its price, the BASN Bsinger+ Pro is an excellent in-ear monitor for drummers that will definitely scream style.
Another In-Ear Monitor for Drummers from a Trusted Brand:


Fender IEM Nine, Black Metallic In-Ear Head Phone Monitor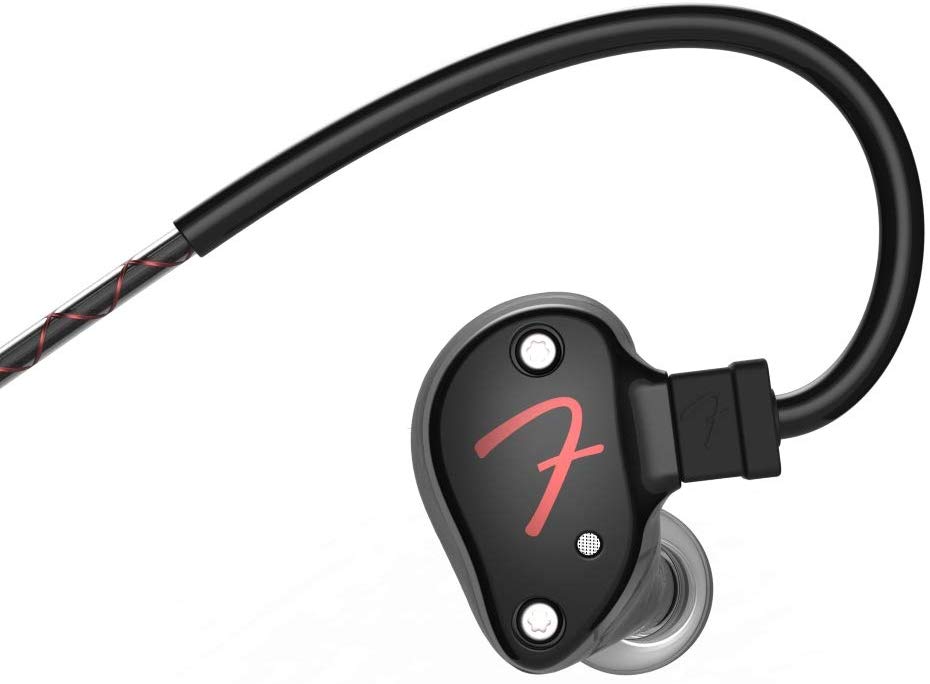 Fender has been that brand that almost, if not all, musicians know by heart. They have been in the business for more than 70 years. They are famous for the legendary Stratocaster and Telecaster guitars. Since then, they have continued to expand their repertoire of fantastic equipment for all types of musicians. One of these said equipment is the Fender IEM Nine.
The Fender IEM Nine is an in-ear monitor that has excellent specs explicitly made for guitarists. We know, this list is supposed to be the best in-ear monitor for drummers, but hear us out first. First, let's talk about its build. Sporting a robust, lightweight frame, the IEM Nine weighs up to 0.62 lb. The drive casing has a metallic finish that further makes it look elegant rather than flashy. It's also muted too. The Fender logo can be found on each of the buds, giving it fresh "rock" look. I can't believe I just wrote those words, but there's no other way to describe the sheer beauty of it. The cables are something they are proud of. It's a "Ballistic Composite Reinforced 2-Pin Talon Cable," which is a long term to describe a really sturdy cord. These won't cave in to pressure (unlike us when we perform on-stage) and will help your in-ear monitors stay in place. These also protect the sound frequencies traveling on the cables and make sure that the quality remains top-notch.
As we mention quality, do know that the Fender IEM Nine gives off high-quality performance. It has 9.25 mm, dynamic drivers, as its primary source of the sound. The sound will be a bit too standard for most hardened users of IEMs. However, you are just going into using one, then this is more than enough to tickle your fancy.
Accessories include a deluxe carrying case, four sizes of TPE tips and three sizes of foam tips. The variation of tips is a major plus for those looking for comfortability. A cleaning tool is also included in the package, which fits perfectly with the holes on the in-ear monitor.
Fender really did a great job on the IEM Nine. If you are someone who only trusts well-known brands and are willing to spend a couple of bucks for a quality item, then this might be the one you are looking for. 
High Quality But Inexpensive In-Ear Monitor for Drummers:


Knowledge Zenith AS10 Pure 5 Balanced Armature High-Fidelity In-Ear Monitors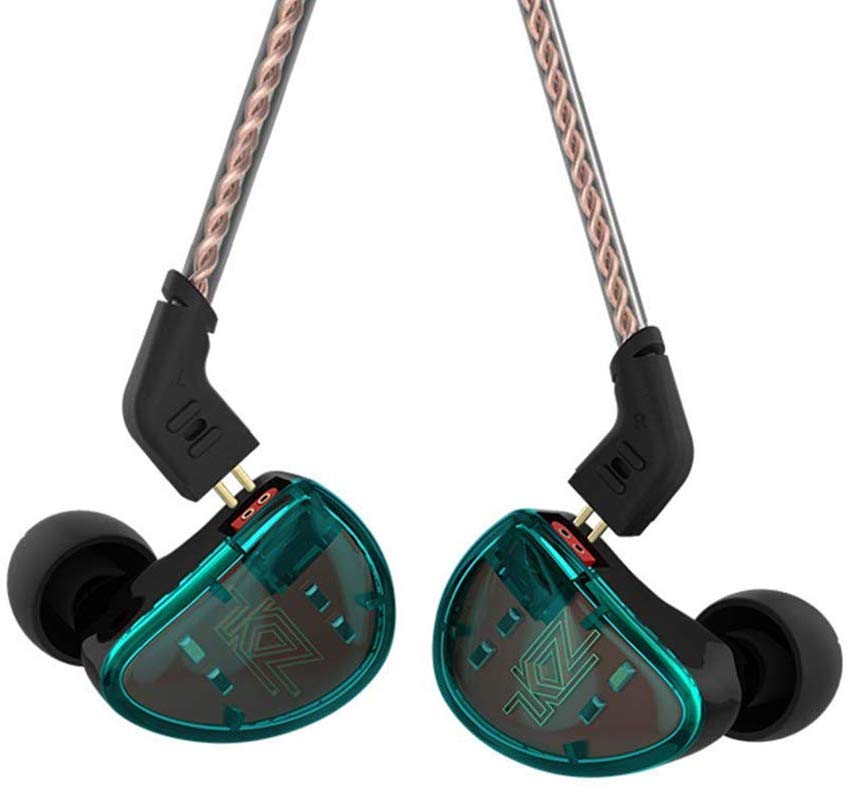 Knowledge Zenith has been one of the rising brands in terms of audio-related products. They have been providing products left and right with very competitive prices. And with the breathe, Knowledge Zenith AS10 Pure 5 Balanced Armature High-Fidelity In-Ear Monitors, they entered this list.
The KZ AS10, for lack of a better word, is marvelous. It has several features which put other competitors to shame, despite its price. First, it has five armatures drivers that separate music pickup. This gives off a lot of full signatures and produces a high-fidelity, yet balanced sounding output. The drivers they use are the following, in case you are interested in tech:
A 22955 BA driver for Lows, comparable to the usual dynamic driver 

A 296898 used for Mids

Two 30095 used for Highs

A 31005 for Mids and Highs
With these drivers, running in perfect sync, the sound gets enhanced more, let drummers hear precise sounds from these in-ear monitors. And that's a total of 10 drivers because you know, 5 on each earpiece. This is a massive thing than only a few companies attempt and offer at a high price. 
Adding more to the HiFi sound is a system that offers quick attacks and equally fast decays. Again, this adds to the sound precision you are looking for. This in-ear monitor for drummers has good bass impacts, although some of them fall off on certain levels. Mids offer warm sound signatures, while Highs are extended without overly boosting the sound, which often shatters the experience.
The KZ AS10 also features a detachable, OCC 2 Pin Cable. If the cable breaks after the warranty, you can be sure just to replace it, and you can still use the earpieces.
 The Knowledge Zenith AS10 Pure 5 Balanced Armature High-Fidelity In-Ear Monitors, despite its long name, is a compact marvel of technology that is definitely worth your money. 
Conclusion
Now that you have our list for the best in-ear monitors available in the market today, definitely make sure that the product you are eyeing fits what you need. Whether you are a beginner or already making it big, having this piece of equipment will definitely give your performance grind into a better beat.
If you want us to consider including other in-ear monitors for drummers, be sure to leave a comment down below! We'd love to hear more from you!