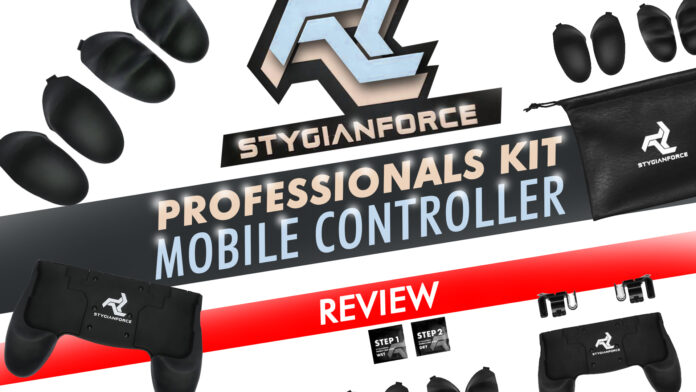 The idea of gaming on mobile devices was considered ridiculous just years ago. More and more people are investing a serious amount of time and dedication in rivaling the skills of other mobile gamers and even those who play on PC and console.
If there's one thing that puts mobile gaming behind, it's the lack of accessories that give you the advantage when playing competitive games. That's what the StygianForce Professionals Kit is for.
In this article, we'll cover everything you need to know about the StygianForce Mobile Controller and why you should consider upgrading your mobile gaming experience now.
How Does Using a Mobile Controller Help You?
Smartphones are not ergonomically designed for gaming, even though their hardware tells us otherwise. Mobile gamers still fight against discomfort from trying to hold the phone comfortably while gaming.
As a result, users won't last long when playing games. But with a better control alternative like the StygianForce Mobile controller, your gaming performance could significantly improve.
It's essentially the same with console controllers, so if you're a competitive mobile gamer, a mobile controller is something you should consider getting.
StygianForce Mobile Controller Review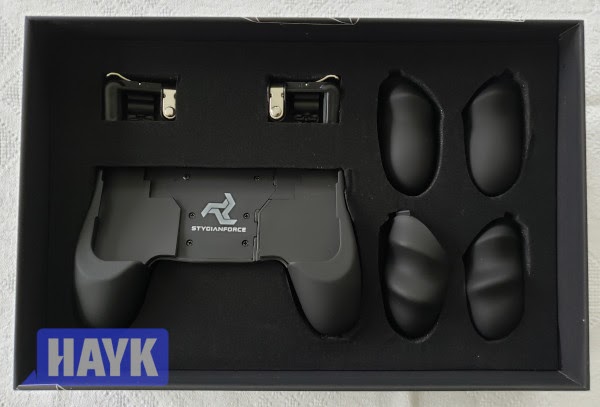 The StygianForce Mobile Controller allows users to hold their mobile phones like a game controller. The kit comes with an ergonomic two-hand grip and two detachable triggers that mimic a console controller's shoulder triggers.
The accessories it comes with are tailored to make your gaming experience as convenient as possible. It even comes with a leather carrying pouch so you can take it with you anywhere. It also comes with wipes and a microfiber cloth for easy cleanup.
Since the controller is made of viscoelastic foam, your phone will be protected from accidental drops. The grip is made of a special rubber synthetic coating to accommodate users with sweaty palms. It also comes with an interchangeable grip lock to match your preference and gaming style. With a telescopic boom design, it should fit well with most phone sizes.
I'm surprised at how comfortable this controller feels, and I certainly didn't expect it to work well for casual games. Unfortunately, it covers up the speakerphone port, so using Discord during a game can be challenging. If there were a better way to do voice chat while using the device, I'd happily give it a five-star rating.
StygianForce Mobile Controller Features
What's in the Box?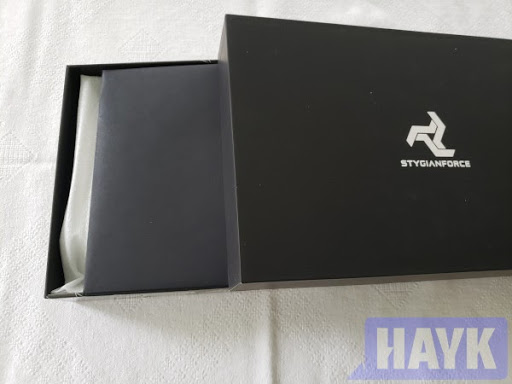 The StygianForce Professionals Kit is packed inside an elegant black box with a subtle design on the sides. Inside you'll find an envelope that holds the manual, and underneath is where you'll find the main controller body, detachable triggers, and two pairs of alternative grips.
There's also a handy carrying case, wipes, and a microfiber cloth. They deep clean and absorb unwanted particles on the controller and your phone screen.
Build Material
The StygianForce MobileGrip is made with materials that help users play comfortably and competitively. The grip is made of a special rubber synthetic coating that aids gamers with sweaty palms.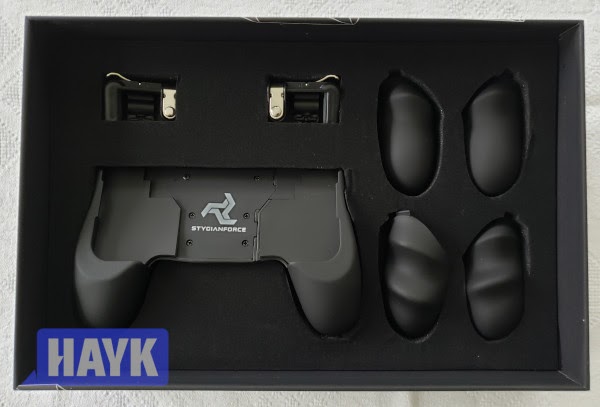 Your phone will also be protected from accidental falls and drops since the viscoelastic foam is nestled around your phone. If you're clumsy, this device will be a life-saver!
Accessories
The StygianForce mobile controller comes with a charging cable cutout so you can play games while charging. Beneath the device, you'll find the interchangeable grip locks.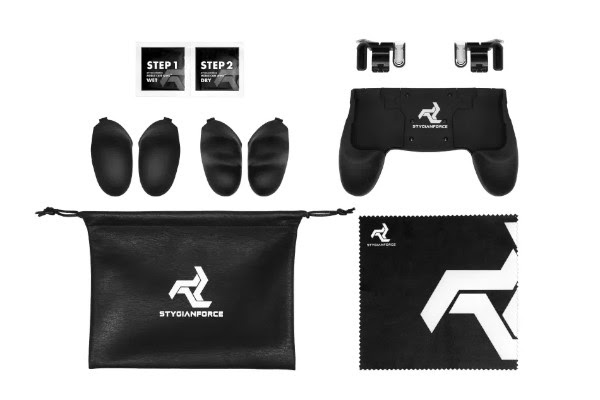 If you think that the default grip lock doesn't fit right, you can easily swap it with either of the two extra grip locks included in the box.
One pair of the alternative grips has one ridge, while the other pair has two ridges. You can test whichever suits your preference, but I find the pair with two ridges more comfortable. Swapping the grips was surprisingly easy, and it didn't require any tools since the grips are magnetic.
There is also a microfiber cloth and ten sets of separate wet + dry care wipes to keep your controller and your mobile phone screen clean. Overall, I appreciate how StygianForce ensures that its users keep things clean when gaming.
Setup
Setup was surprisingly easy as I was able to install it on my phone in no time.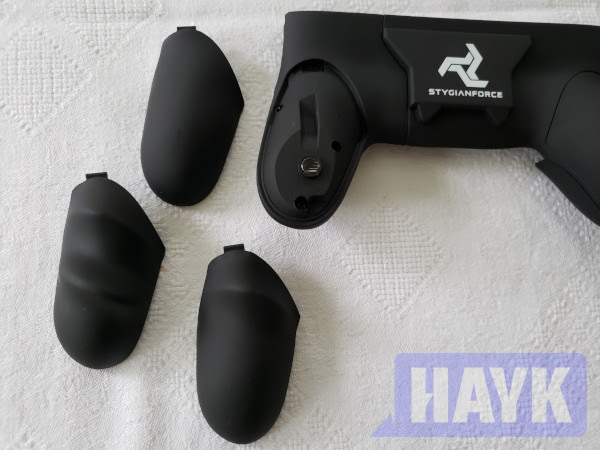 All I had to do was pull the left and the right side of the controller away from each other until it was wide enough to fit the width of my phone.
Even though the controller is versatile enough to fit in various phone sizes, it still can't accommodate a handful of phones. Nevertheless, as long as your phone was made in the last five years, it should be compatible with the controller.
To give you an idea, I have a Samsung S9, and it worked with the controller effortlessly. The foam padding underneath and the slight clip above ensures that the phone is snug in place. I could probably throw my phone around without any fear of it falling out.
Once everything is set up, you can use it right away without any fuss. You don't necessarily need the triggers if you don't want to, but they add a layer of immersion, especially if you play FPS games like PUBG Mobile, Fortnite, or COD Mobile.
If you're planning on using handheld emulators like PPSSPP, then this controller should make you feel right at home. It is significantly more comfortable than just holding your phone normally, especially during extended gaming sessions.
I tried the controller to play old Pokemon games, and it does make things feel really comfortable.
Conclusion: Is This for You?
The StygianForce professional kit mobile controller is the perfect accessory for dedicated mobile gamers. It is comfortable and doesn't require any tools to use it effectively.
Since it comes with two additional pairs of grips, you will surely find the right one for your preference. Unfortunately, it can be challenging to use Discord or any voice chat since it blocks the speakerphone on the back.
If you play PUBG Mobile, Fortnite, or COD Mobile and wish to stay ahead of the competition, this controller should be a worthy investment.