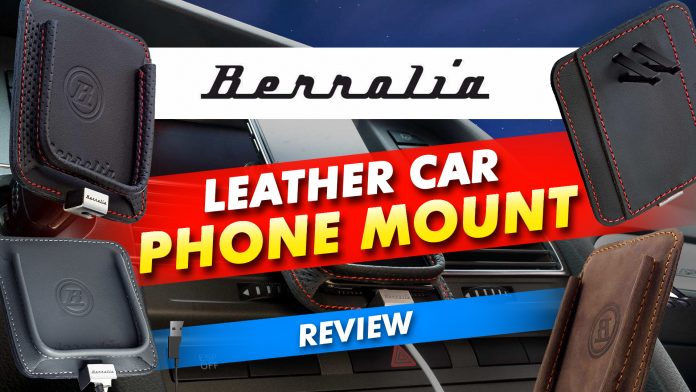 I received the Berollia Leather Car Phone Mount from our friends in Berollia recently and decided to take it out on a test drive. Berollia is a Polish company that's been producing these handmade leather phone mounts for four years now.
Owned by Michal Mackiewicz, a professor, and blogger, he created the phone mount with the idea of bringing Polish craftsmanship into the future, by creating well-designed products that work with today's technology – particularly, iPhones. And while their website sings their products' praises for being premium and well-designed, I wanted to put that to the test myself. So I loaded up my iPhone 11 Pro Max into this car mount and headed for some of the bumpiest roads I know to put it through the ultimate test.
In The Box
The Berrolia Leather Car Phone Mount comes in a pretty simple white box, with a transparent plastic panel showing off the car mount within. It's surprisingly simple and very spartan for a car mount that brands itself as a premium product, but in the end, what you pay for isn't the packaging but the product itself, which we'll get into a deeper dive later in this article.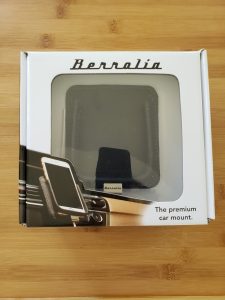 The box's copy is featured in three languages: English, French, and German, indicative of the markets it is trying to hit. However, it is puzzling to not see any Polish on the box, as it is its country of origin. I am chalking it up to Poland having its own packaging. We think it's a missed opportunity in terms of saving on packaging as it means they only have to print one type of packaging – but I'm not gonna pretend that I know anything about supply chains lol.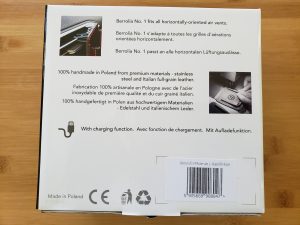 Opening up the box reveals the cardboard holder for the mount itself. It's pretty neatly designed as the mount holding the prongs is made to look like the air vents it is designed to hold on to, which gave me a pretty quick idea of where it's supposed to go.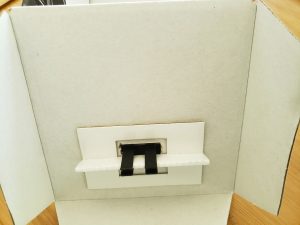 Deeper inside we see a zipper bag that contains a quick instruction manual and warranty card, as well as a leather holster for the prongs in case you want to store your phone mount for a while – but when this review is done, you're never going to take it out of your favorite car. As for my only car, a 2001 C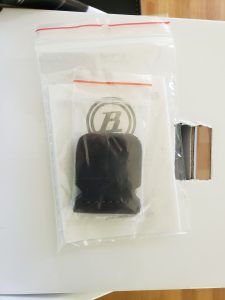 Design
The Berollia Leather Car Phone Mount is built like a premium Italian-made leather holster for your Colt Revolver. This design has been four years in the making, going through many revisions just to create a unique, high build quality design that will turn the heads of anyone who gets into your passenger seat.
You can see the touches that make this car phone mount feel truly handmade, such as the uneven stitches that you see lining the mount to the punches that don't quite seem to line up correctly. There are also creases on the leather itself that lend a bit more of a personal handmade touch. The leather seems to be made out of embossed leather with that fresh leather smell, as well. The embossed leather lends a bit of insulation that keeps the phone safe from the cold or hot air flowing from the air vent.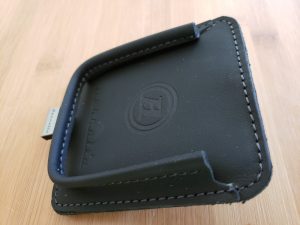 The build is nice and sturdy too thanks to the CNC machined aluminum plate that gives the car mount its unique signature shape. And since it's made of aircraft-grade aluminum, it feels solid while remaining lightweight. There's not much give when you bend it, and even if you do, the leather seems to stretch ever so slightly without any signs of fraying.
The Berollia logo is laser-engraved onto the metal itself, while the leather is molded around the depressions providing a sexy, really premium look to the car phone mount. It's a nice touch that makes the whole car mount look baller on the dash.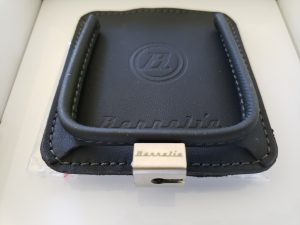 There is a machined aluminum notch on the bottom part of the mount that works as a gap to slip your charger pin into, allowing you to keep your phone topped up while using it for navigation or listening to music as you drive. On the notch itself, there is a gap upon which you could slip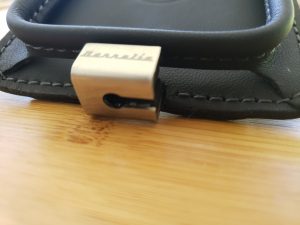 Due to the vertical mount design, messages easy to read on the fly. This design choice is important because keeps everything intuitive and easy to use, compared to using apps in a non-native landscape layout, which many horizontal phone mounts seem to disregard.
Overall the phone mount is ergonomically designed to be as user-friendly as possible. Its design is incredibly easy to use and works out of the box, even without the instruction manual.
Setup
Setting up the car mount is incredibly easy. The fact that it's designed so well makes installation as idiot-proof as possible, which is something the troglodyte in me truly appreciates.
All you truly have to do is pull the car mount out of its box, bring it to your car, and slip the prongs between one of the panels of your air vent. From there you only have to slip your charger cord in through the notch, secure it by light pulling down the cord, and inserting your phone into the rigid holder.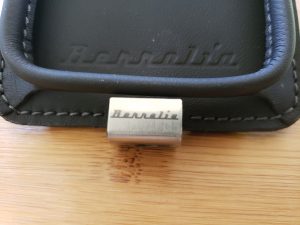 While many car mounts adopt the use of suction cups for your windows or double-sided tape to attach to your dashboard, the design choice of using prongs to hold on to the vents for support is a very inspired one, allowing as little chance for you to mess up your windows or dashboard. You don't need to attach anything to help the car mount adhere to the surface it is attached to, which is an amazing help for people who like to keep their dashboards spic and span.
Functionality
As for functionality, the Berollia Leather Car Phone Mount is pretty straightforward in its use. You slip your iPhone or Android smartphone into the holder and it keeps it in an upright vertical position. This allows the user to keep their phone in the position they are used to for using their smartphone, making using the phone intuitive and much faster than fiddling with a landscape layout.
While landscape does provide a bit more screen real estate, it does come with the disadvantage of people not being used to running their apps on landscape mode. Some apps do not even have landscape functionality, which can make using them on your car a bit harder. The only reason I think people would use landscape is if they are watching some sort of video as they drive – an activity we wholeheartedly do not recommend you do.
Keeping the phone's battery topped up during use is a breeze as well thanks to the aluminum notch provided at the bottom of the mount. I had no problem with keeping the iPhone charged during a long drive with this car mount, which is pretty neat. The notch proved to be very sturdy, with the cord not slipping even while I was driving down a bumpy road – nor did I find the mount itself to move during a bumpy drive. It kept its hold on the vent quite nicely, with me never fearing that it would slip as I chose to drive over a pothole.
Compatibility
As of the moment, the Berollia Leather Car Phone Mount produces phone mounts for most major smartphones, including iPhones, Samsung, Huawei, Xiaomi, LG, Sony, Honor, and OnePlus phones as well. They come in Large and Extra Large sizes to take care of your phablet type phones such as the Samsung Note 20. All of these, however, will only be mounted vertically so if you plan to use your phone horizontally.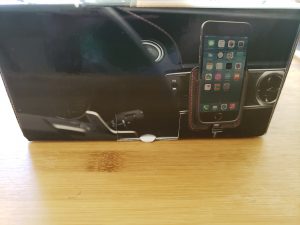 However, the Berollia line focuses mostly on the iPhone line of smartphones. They support the following iPhone models as of the time of writing:
iPhone SE 2.Gen 2020
iPhone 11
iPhone 11 Pro
iPhone 11 Pro Max
iPhone 7
iPhone 7 Plus
iPhone 8
iPhone 8 Plus
iPhone X
iPhone XS
iPhone XS Max
iPhone XR
So if you currently own a late-model iPhone, you can easily find a Berollia Leather Car Phone Mount that works for you. I used this phone mount for my iPhone 11 Pro Max and found it to be a stellar, snug fit, which kept the phone securely mounted throughout the drive.
Ideas
Honestly, do you even need a phone mount for your iPhone? I'm inclined to think that you do. Driving in today's world almost always requires you to have some sort of navigation app while you drive, such as Waze or Google Maps, to start. These apps help you out by showing you the safest, least traffic-jammed routes to take to help save time on your drive.
I also like playing media from my phone through my Bluetooth-enabled media center on the dashboard. I like listening to true crime podcasts and sometimes music while I drive, as it helps keep me awake and entertained while driving alone.
Finally, when parked or waiting during a prolonged red light, I get to check any messages I received while my hands and eyes were on the wheel and the road. The vertical view of the phone helped me reply quick enough with one hand if I needed to, and made scrolling through message threads easier and faster.
As a final test, I tried playing some Pokemon GO with my phone, using it as a sort of GPS and stopping at every Pokestop I come across while driving along the road. It worked pretty well enough as I threw Pokeballs and fought gym leaders – while my car was parked, of course.
Once out of the car I tried using it as a phone mount for my desk, and to great effect. It managed to hold up my phone in vertical mode as I typed this article down, with me answering messages every now and then. It wasn't that hard to use as the phone was nice and stable, without tipping over to the left or right. However I did kind of need to use the sleeve provided in order to keep it more stable.
I turned it over on its side and it worked like a nice kickstand, which allowed me to watch YouTube videos while at work. Don't look at me like that, you know you do this kind of stuff during work hours too.
These are just some of the things you can do to use your Berollia Leather Car Phone Mount to its fullest. If you find that you get to use it for other functions too, let us know!
Wrap Up
Overall, the Berollia Leather Car Phone Mount is an amazing product that catches the eye, even if it's a simple phone mount. Its incredibly sturdy build quality is something that truly surprised me when I first used it and found it a great companion during my drives. Something is satisfying about having a baller-ass phone mount in my aging Corolla, making it look a lot more premium than it is.
I highly recommend you pick up one of these when you can as it's a great addition no matter what car model you drive. Everyone needs a bit of luxury in their lives, and the Berollia Leather car Phone Mount is a within-reach luxury item that adds more personality to an otherwise bland dashboard.